It has been some time since be quiet! joined the RGB party with a handful of products with ARGB lightings, notably the Light Wings PWM that offers not just the looks but also an impressive performance at the same time. In this article, we'll be taking a look at the Pure Loop 2 FX 280mm AIO liquid cooler, one of the models available in the Pure Loop 2 FX lineup. While it's recommended to use an AIO liquid cooler with at least a 360mm radiator for the Intel 12th Gen Core i9-12900K even when you're running in on stock settings, we're still curious to know if the Pure Loop 2 FX 280mm can do any better.
Specifications
| | |
| --- | --- |
| Model | Pure Loop 2 FX 280mm |
| Dimensions radiator, incl. fan (H x W x D), (mm) | 317 x 140 x 52 |
| Total weight (kg) | 1.29 |
| Socket compatibility | Intel: 1700 / 1200 / 2066 / 1150 / 1151 / 1155 / 2011(-3) Square ILM AMD: AM5 / AM4 |
| Noise level (dB(A)) @ 25 % / 50% /100% rpm | 10.8 / 22.4 / 32.8 |
| Fan model, number | 2x Light Wings 140mm PWM high-speed |
| Pump speed (rpm) | 5500 |
| Pump adjustable | 4000 – 5500 rpm |
| Pump connector | 4-pin PWM |
| RGB connector | 3 Pin 5V Adressable |
| Tube length (mm) | 400mm |
| Refill port | ✓ |
Unboxing & Overview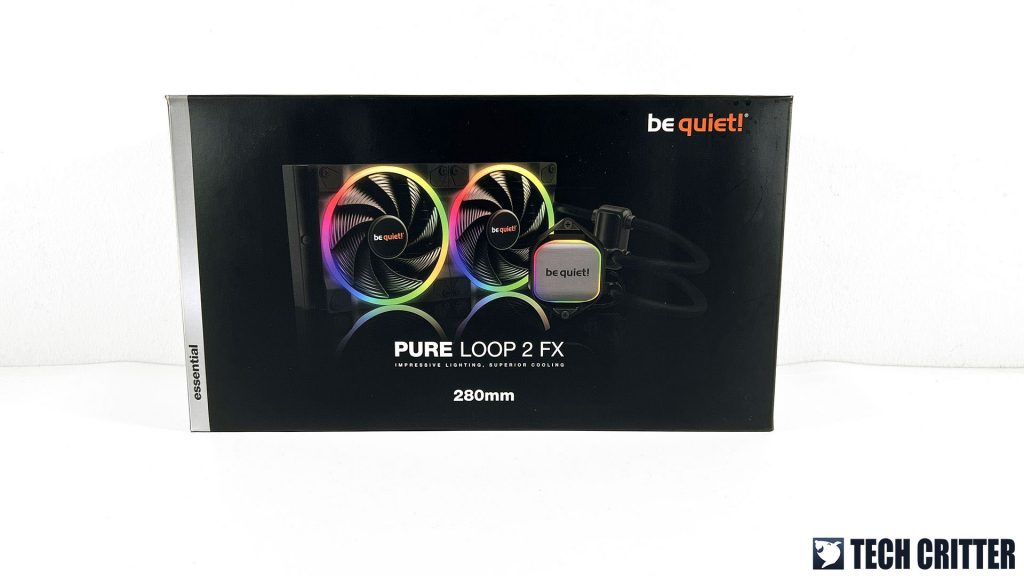 The Pure Loop 2 FX comes available in three different radiator sizes, 360mm, 280mm, and 240mm, a pretty common variation that can be seen across other AIO liquid coolers available in the market. Not much information can be found in front of the box but you'll find some specifications and features highlighted around the box itself.
Accessories that come together with the cooler include a user's manual, a fan header + ARGB header combo hub, a double-sided adhesive pad for the hub, a pair of Light Wings 140mm high-performance fans, screws for the radiator, installation brackets for Intel and AMD socket, some zip ties, a small bottle of coolant for refilling the loop, and a thermal compound tube.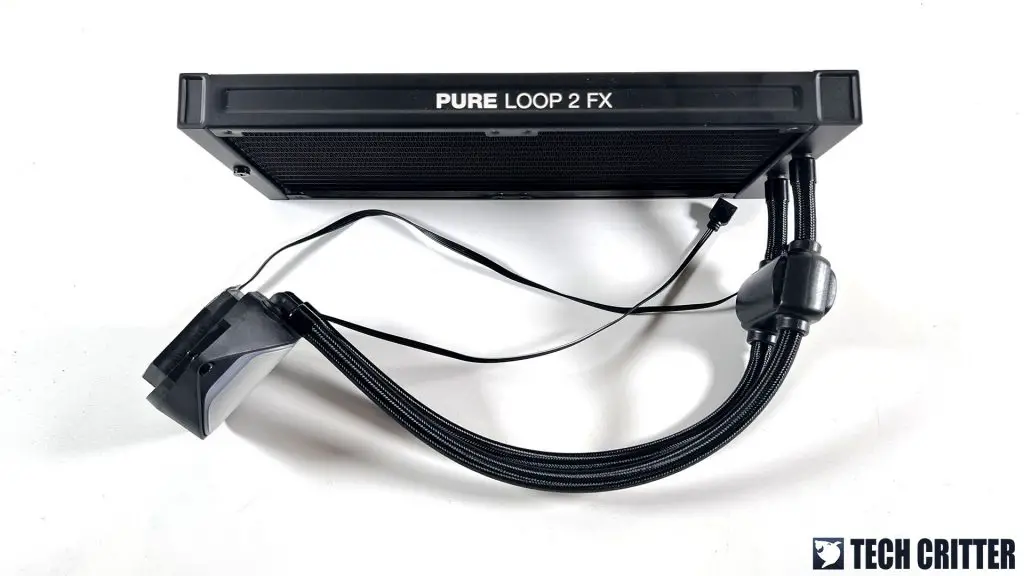 The cooler design is pretty standard, nothing really fancy in terms of the design except for the pump, which is a separate unit located near the tubes of the radiator instead of a built-in pump on the CPU block. This allows you to install the radiator below the CPU block level without having to worry about pump longevity issues as many in the PC community claim when the pump is placed on a higher level than the radiator.
You'll find two cables on the AIO unit, one from the pump unit to power up the loop and another one from the CPU block that is solely meant for the ARGB lightings. We did a build using the same cooler a while ago but immediately notice some small issues while doing the cable management. For most use cases, the cables will do just fine but I'd like to see a slightly longer cable for the pump and perhaps some extra velcro straps for better cable management.
The CPU block is the only part on the AIO that has ARGB lighting but there's actually a refill cap underneath the be quiet! logo cover for refilling the loop when the coolant level goes down. The polished, mirror-finish base is what we normally see on CPU coolers nowadays but I think this is probably one of the very few AIO coolers I have come across that doesn't come in a bare Copper base. I'm not sure if this is a Nickel-plated Copper base or a different kind of material but if the performance is good and it doesn't give me any issue throughout the 3-year warranty period, I'm actually fine with it.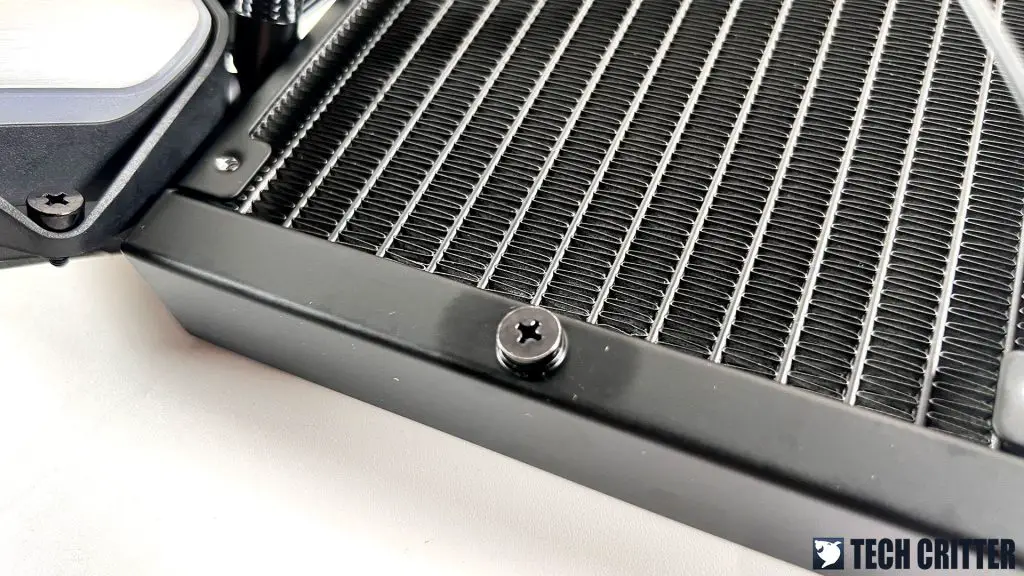 There is also another refill cap located on the radiator for refilling the loop. Depending on the orientation of your radiator, refilling the loop from the CPU block might be easier for most of the common orientations.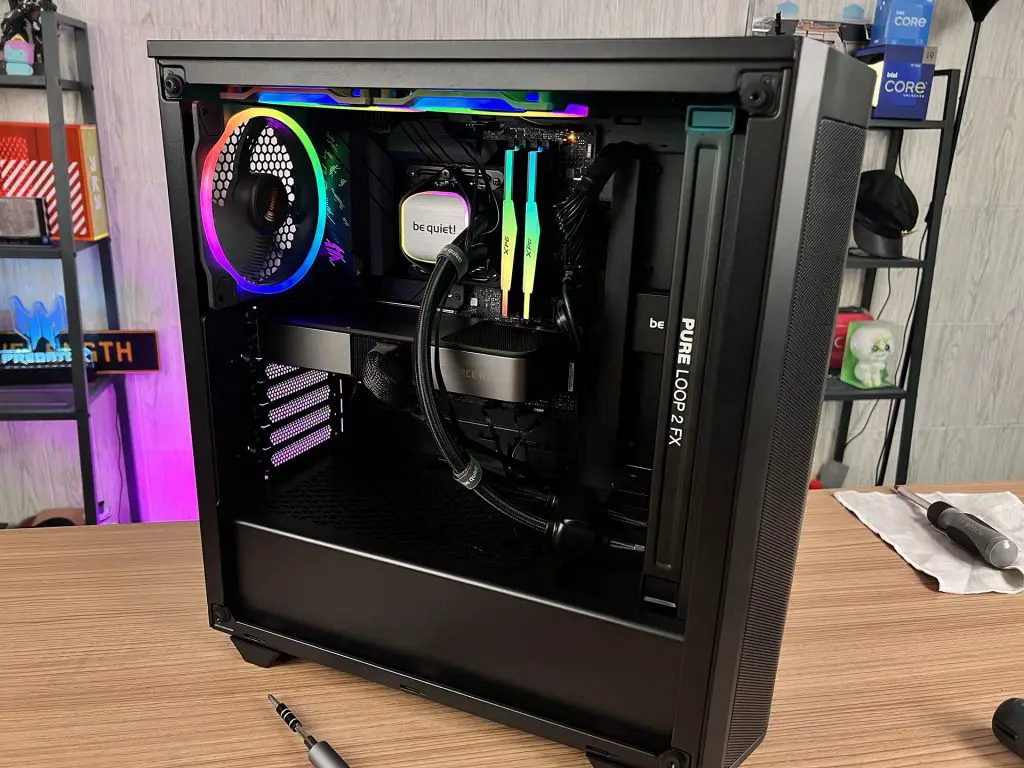 For the installation, I'd say Pure Loop 2 FX is not 100% first-time be quiet! cooler user friendly even though it's actually very easy to install. This is one of the few times that I will strongly recommend one to actually go through the user's guide before installing the cooler as I know many that will just skip all the documents provided, thinking that they can install the cooler on their own.
As for the clearance around the CPU socket, it's safe to say that you won't be facing any issues on the first slot as long as your memory kit doesn't come with an ultra-thick heatsink. And one more thing, yes, I think the RGB lighting is reasonable enough on this one, soft glow that doesn't hurt your eyes when looking directly into it.
Test System Setup 1
For the first set of tests, we've compared the Pure Loop 2 FX 280mm against the best-performing AIO liquid coolers in the same category just to see how well it can handle our Intel Core i9-12900K. The test is done with the following test system, you can refer to the table below for the parts and components used:
Performance Test 1
The test is done with the Intel Core i9-12900K running at stock settings with all the coolers used set to run at default fan settings under an ambient temperature of 28ºC, so we can see just how well each cooler can handle the CPU when it's on load – We're using Cinebench R23 for our load test, running continuously for 30 minutes.
As the Intel Core i9-12900K will easily draw up to 230W even when everything is left on stock, an AIO with a 360mm radiator is pretty much a common option you'll find on most of the i9-12900K build available. 92-93 ºC is pretty much the temperature range we see for all of our stress tests this time and I'm actually impressed by the performance from the Pure Loop 2 FX 280mm, which is very close to the rest of the AIO with 360mm radiator used in the test.
Fan noise is somewhat audible during heavy load, but this is pretty subjective I think, as it might be acceptable for me but some might not think the same. If you're using a PC case that is specially designed with silencing elements like noise dampening pads, it might help a little with reducing the noise level when the side panel is closed.
Test System Setup 2
For our second set of tests, we swapped out the CPU with a less powerful Intel Core i7-12700 to see how all the coolers handle a Core i7-12700, one that I will use mainly for gaming and some daily work. You can refer to the following list of parts and components used for this test:
Performance Test 2
Just like the previous test, we have the Core i7-12700 running at stock settings, no adjustments were done to any part of the BIOS, and an ambient temperature of 28ºC to see what kind of temperatures we can get using the three different coolers with the same settings in Cinebench R23, running for 30 minutes straight.
The final result for this is very similar to our first performance test, with the Core i7-12700 running slightly cooler at a more reasonable temperature. Again, I'm still impressed by the Pure Loop 2 FX 280mm for being able to keep up with some of the 360mm AIO we've used for the test. Fan noise is pretty much the same at this point and I still think it's acceptable for what it can deliver at this point.
Final Thoughts
I will not be focusing much on that whenever I look into a new cooler because I'm not really a big fan of all the fancy lighting but here are some of my personal complaints regarding the Pure Loop 2 FX 280mm. First off, the minimal RGB element and brushed metal texture on the CPU block cover are fine but I think that be quiet! can actually consider going for a magnetic cover for the CPU block to make orientation matching or refilling coolant much easier. Up next is the RGB and fan combo hub that uses a double-sided adhesive pad instead, which I think it's better if be quiet! can consider using magnets for the hub base to make cable management and future maintenance easier.
Performance-wise, the Pure Loop 2 FX 280mm is probably one of the reasonable coolers you can have for an Intel 12th-gen build at the moment. Based on the performance results from our tests using an Intel Core i9-12900K and Core i7-12700, the Pure Loop 2 FX 280mm is almost as powerful as an AIO with a 360mm radiator in many cases and it can definitely handle anything below the two processors we've using easily without a doubt. The pump is powerful and quiet enough to keep your system running at a reasonable temperature, but if someone were to unnecessarily nitpicking on the cooler for noise, I think the only part that is making a noticeable noise during load is the pair of Light Wings 140mm fans. Again, this totally depends on the user as I myself still find it okay as long as you keep it in a PC case that is specially designed with noise-dampening pads which be quiet! has a handful of them.
As for the price, the Pure Loop 2 FX 280mm is retailed at RM 545, which I think is a reasonable price for the performance it's capable of. The RGB elements might not be as fancy but if you want a powerful cooler for your system and still want that minimal RGB look and not go all out and turn your system into a new year countdown machine, the Pure Loop 2 FX 280mm is definitely an option that is worth considering.
Pros
Well packaged a lot of useful accessories
A solid performance that can even go on par with some AIO with 360mm radiator
Come with an ARGB and Fan combo hub for easier cable management
Quiet even when the system is under load
Cons
Fan and ARGB combo hub uses double-sided adhesive pads
The CPU block cover makes refilling coolant a bit troublesome
Subjective