The review embargo is finally over and we can finally show some data from our early findings with the latest Intel Core i9-12900K. For this test, we've compared it against the previous-gen Intel Core i9-11900K, as well as the highest-end offer from AMD, the Ryzen 9 5950X so we can get some basic idea on what kind of performance improvement to expect from the 12th Gen Intel Core i9-12900K.
Although Intel did recommend reviewers to do the tests on the latest Windows 11 operating system, we started out with Windows 10 out of curiosity and we quickly realize the reason behind that. Turns out that there's actually a major issue on Windows 10 where it can't take advantage of the new design of the 12th Gen Intel Core processors and ended up scheduling all the work to the efficient cores instead of the performance cores which result in a very low benchmark score for some tests. With that being said, the test results which you'll be seeing later in the article are all done on Windows 11.
Specifications
Intel Core i9-11900K
Intel Core i9-12900K
Cores / Threads
8C/16T
16C (8P+8E)/24T
Base Clock / Max Boost
3.5 / 5.3GHz
Performance cores: 3.2GHz / 5.1GHz
Efficient cores: 2.4GHz / 3.9GHz
Cache
16MB L3 cache
14MB L2 cache / 30MB L3 cache
Memory
Dual-channel, DDR4-3200
Dual-channel
– DDR4-3200
– DDR5-3800
Integrated Graphics
Yes, UHD Graphics 750 up to 1.3 GHz
 Yes, UHD Graphics 770
PCIe Lanes
16+4 lanes, PCIe 4.0
20 lanes, PCIe 5.0 and 4.0
TDP
125W
125W (not TDP but Processor Base Power)
Process
14nm
10nm
Socket
LGA 1200
LGA 1700
First Look on the Intel Core i9-12900K
The 12th Gen is Intel's ambitious take on the hybrid architectural design featuring the performance cores and efficient cores specially designed for scalable multi-threaded workloads. We're not going to talk much about this as we believe many of you have already done all the homework to get a good grasp on what the 12th Gen Intel Core processors are all about. For those who are just getting started, you can have a quick look at the summarized article we've published last week for a better idea on this.
The most obvious changes we can see on the 12th Gen Intel Core processors are of course the new LGA 1700 socket, which means that it will not be compatible with the previous-gen LGA 1200 socket motherboards. The same goes for the 10th Gen and 11th Gen Intel Core processors, you will not be able to fit them on any previous-gen motherboards.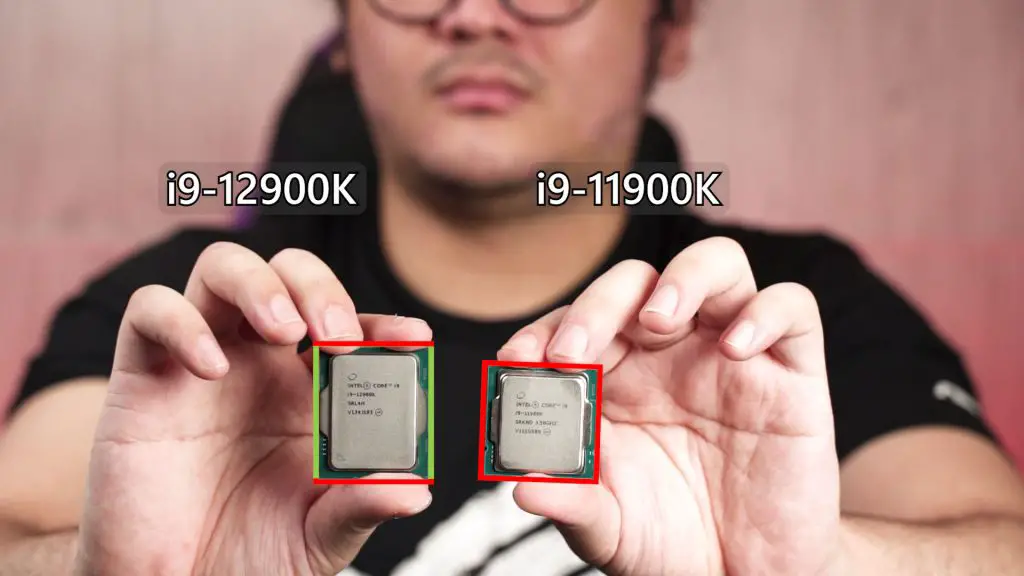 At first glance, you can immediately tell the difference by the size of the IHS and PCB of the i9-12900K and i9-11900K. Since the 12th Gen i9-12900K has a larger surface on the IHS, some of the older CPU coolers might have some issues with the contact between the base and the IHS surface even though you can still install them on some of the Z690 motherboards that cater to it.
Other than being noticeably bigger in size, there are plenty of new features packed into the 12th Gen Intel Core processors. Of all those features, the most notable feature that Intel board partners are pushing hard is the support for the latest PCIe 5.0 standard and DDR5 memory modules. With that being said, the focus for this article, for now, will be the performance difference against its predecessor and competitor, as well as the performance difference between DDR5 and DDR4.
Test System
| | |
| --- | --- |
| CPU | Intel Core i9-12900K |
| Motherboard | ASUS ROG Maximus Z690 Hero |
| Memory | ADATA DDR5-4800 |
| Graphics Card | NVIDIA GeForce RTX 3080 |
| Power Supply | Enermax MaxTytan 1250W |
| Primary Storage | PNY XLR8 CS3040 |
| Secondary Storage | WD Black 6TB |
| CPU Cooler | ROG Ryujin II 360 |
| Chassis | Cooler Master Test Bench V1 |
| Operating System | Windows 11 64bit |
CPU Benchmarks – Stock vs. Overclocked
For our CPU benchmarks, we have all the CPUs running on their stock settings, followed up by the overclocked settings, so we can have a look at the performance differences. The memory frequencies are set to DDR4-4800, the same across all the test systems except for the main Z690 boards, which is at DDR5-4800.
Cinebench R23 Benchmark
V-Ray 4.10.07 Benchmark
Blender 2.93.1 – BMW 2.7 CPU Benchmark
Corona 1.3 Benchmark
7zip File Compression & Decompression Benchmark
3DMark Fire Strike & Time Spy
Other than tasks that will still benefit from the higher cores and threads counts, the i9-12900K takes an easy win against the Core i9-11900K and Ryzen 9 5950X in both multi-core and single-core performance. Although the Ryzen 9 5950X still has some advantages on tasks that will benefit from having a lot of cores and threads, the i9-12900K is actually performing remarkably well against the red beast and we can finally see that the IPC are finally back in Intel's favor.
The performance difference between DDR5 and DDR4 isn't really significant in most of the tests and is almost negligible but because it's still fairly new at this point, it'll probably take a while before we can see more programs and applications that will take benefit of it. The single DDR5 DIMM performance did however surprises us, as it can be seen performing better than two sticks of DDR4 DIMMs on quite a lot of occasions.
Games Benchmarks – Stock vs. Overclocked
Moving on to the game's benchmark, this is probably one of the results that many are waiting for, and looking at the performance numbers here, we see the reason for Intel's bold claim of the i9-12900K being the best processor for gaming. In this part of the test, we're using the same GeForce RTX 3080 on stock settings and with Resizable BAR/Smart Access Memory disabled, while the CPU settings remain the same as what we have for the CPU benchmark tests.
Far Cry 6 – 1080P, High Settings
Horizon Zero Dawn – 1080P, High Settings
Metro Exodus – 1080P, High Settings
Shadow of the Tomb Raider – 1080P, High Settings
Tom Clancy's The Division 2 – 1080P, High Settings
Looking at both the stock and overclocked performance, the i9-12900K basically crushed the Ryzen 9 5950X in all the titles we've tested. As the i9-12900K is already taking a very significant lead even on stock settings, those who are well equipped with a powerful custom liquid cooling system can expect even more performance gain on higher CPU clocks.
CPU Overclocking Overview
Starting off with the CPU overclocking test, the i9-12900K can boost up to 5.2GHz on specific cores when needed but after a few rounds of stress tests, we quickly realize that a really capable cooling solution is required in order to tame the new beast from Intel.
While the ROG Ryujin II 360 is a really capable cooler that can handle the 10th Gen Intel Core i9-10900K really well (peaked at 75°C), the load temperature on stock settings for the i9-12900K is alarmingly high (peaked 88°C) even though there's still some distance before it hits TJMAX and starts thermal throttling on very heavy loads.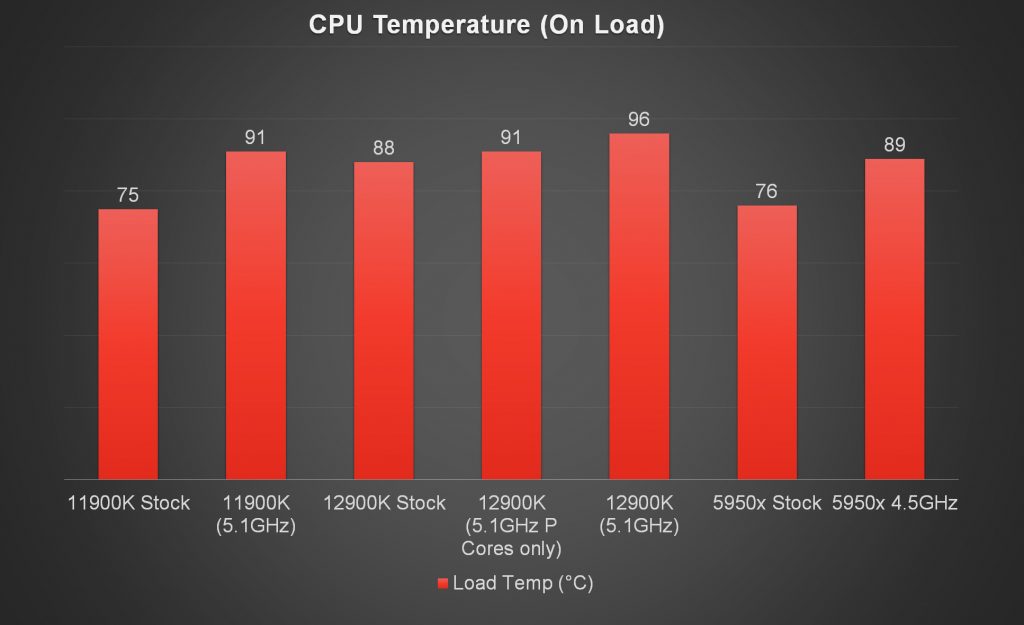 Disabling all the efficient cores will allow all the performance cores to run at 5.1GHz without going beyond 91°C at peak but this is not recommended as it will hinder the overall performance of the CPU itself. The highest frequency we're able to achieve with the limited cooling solution we have is at 5.1GHz on all performance cores while leaving the ratio of the efficient core to auto. It's not really the ideal setting as it can only survive our game benchmark without thermal throttling and will start to thermal throttle in most of the CPU benchmark tests, especially Blender and Cinebench R23.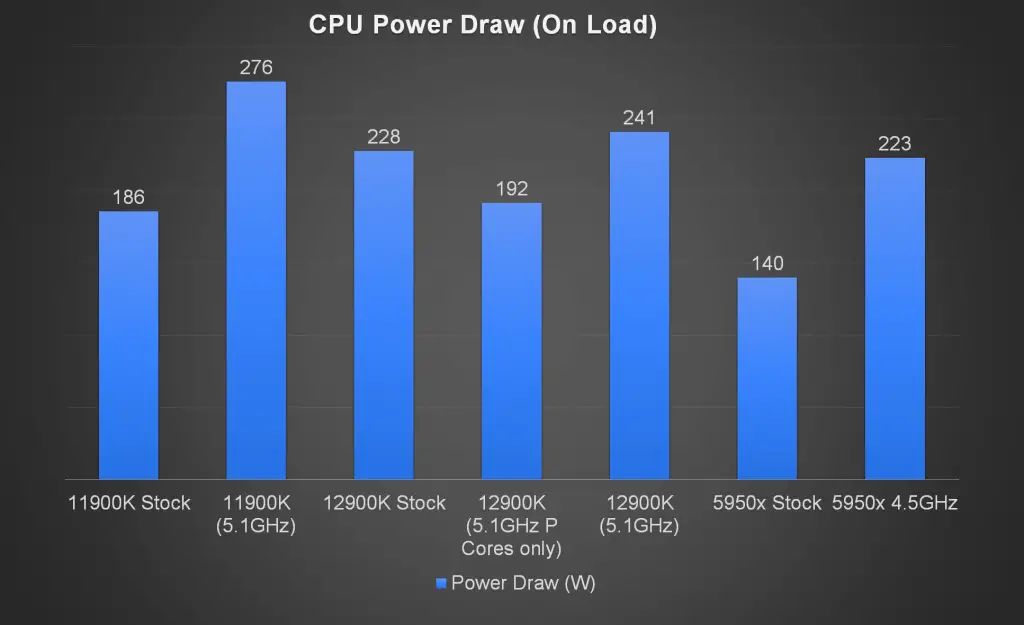 For the peak power draw, the i9-12900K can draw up to 228W on stock but if we compare its performance per watt against the competing Ryzen 9 5950X, I'd say that's pretty fair for what the i9-12900K is capable of. Do note that the numbers we have here are the peak power draw during heavier loads like the Blender and Cinebench R23 benchmark, while the actual average power draw on stock is mostly under 180W.
With all performance cores running at 5.1GHz and efficient cores on auto, the peak power draw observed on the i9-12900K is at about 241W. Despite the observable performance gain in some tasks, overclocking the i9-12900K isn't really worth it without a really capable cooling solution i.e a custom water cooling setup with at least 360mm radiator?
Memory Overclocking Overview
Moving on to memory overclocking, although the Z690 chipset motherboards will come in DDR4 and DDR5 variants, our experience with overclocking DDR4 memory on the Z690 DDR4 boards isn't as good as what we've achieved on the previous Z590 chipset motherboards. Even though it can easily support DDR4-4800 memory kits, going beyond DDR4-5400 seems to be rather difficult for now with my limited knowledge and skills.
As for DDR5 memory kits, the ADATA DDR5-4800 with Micron ICs is the only DDR5 memory kit we have during the test but we did manage to push it a little further despite being a non-XMP memory module, but going for 1T on the command rate is seeming impossible at the moment.
After several attempts on higher clocks, we only managed to achieve DDR5-5600 CL42 on the ADATA DDR5-4800 kit and using a slightly higher voltage on the memory controller (1.38), system agent (1.26V), and DRAM (1.38V). Your mileage may vary with different memory kits of course, as there are still other memory kits with Hynix and Samsung ICs which we have yet to get our hands on.
First Impression
The Core i9-12900K is definitely one of Intel's proper comeback after the long performance slump, easily crushing its competitor in the gaming segment and some of the creative work performance along the way. Although the targeted pricing for the i9-12900K is set at $589, which is just in between the Ryzen 9 5950X ($799) and 5900X ($549), the fact that it actually supports the new PCIe 5.0 standard and DDR5 memory modules make it somewhat more appealing to enthusiasts who want the latest technology for the next high-end build.
While the i9-12900K is undoubtedly an impressive release from Intel this time, the power and thermals of the i9-12900K can be a concern for mid-range enthusiasts who aren't really into a full-fledged water cooling system. Going beyond 5.0GHz on all performance cores might not be a good idea if you don't have an adequate cooling system. Though you can still selectively overclock only certain cores to boost up to 5.1GHz to keep the temperature under control and enjoy still be able to enjoy noticeable performance gain. Since there's not much LGA 1700 ready CPU coolers out there as of now, your current best bet is to run the i9-12900K at stock settings.
There's still room for refinement but all in all, I'm still pretty satisfied with what Intel has brought to the table this time.