The review embargo for both the 12th Gen Intel Core processors and the Z690 chipset motherboards has been lifted as of today and this time, we'll be revealing some of our early findings with the Z690 AORUS Xtreme, one of the enthusiast-grade Z690 motherboards you can get from the AORUS Z690 motherboard lineup.
In this article, we will be focusing on the design, features, and user experience of the Z690 AORUS Xtreme after using it for roughly almost a week time. Since there are still no signs of PCIe 5.0 devices available in the consumer market yet, DDR5 memory modules are probably the earliest new features we can take a look into for now. Without any further ado, let's dive in.
Specifications
CPU support
Intel LGA1700 socket
Chipset
Intel Z690
Memory

Support up to DDR5-6600 (O.C)
Dual-Channel memory architecture
4 x DDR5 DIMM socket support up to 128GB of system memory
Support for ECC Un-buffered DIMM 1Rx8 /2Rx8 memory modules (operate in non-ECC mode)
Support non-ECC Un-buffered DIMM 1Rx8/ 2Rx8/ 1Rx16 memory modules
Support for Extreme Memory Profile (XMP) modules

Expansion slots

1 x PCIe 5.0 X16 running at X16
1 x PCIe 5.0 X16 slot running at X8
1 x PCIe 3.0 X16 slot running at X4

Storage
CPU:

1 X M.2 Connector (PCIe 4.0 X4/x2 SSD support) (M2A_CPU)

Chipset:

1 x M.2 Connector (PCIe 4.0 X4/ x2 SSD support) (M2P_SB)
1 X M.2 Connector (PCIe 4.0 X4/x2 SSD support) (M2M_SB)
4 x SATA 6Gb/s ports

Network

Marvell AQtion AQC113C 10GbE (LAN1)
Intel 2.5GbE (LAN2)
Intel Wi-Fi 6E AX210

Back I/O Ports

1 x Q-Flash Plus button
1 x OC Ignition button
1 x Clear CMOS button
2 x SMA antenna connectors (2T2R)
2 x Thunderbolt™ 4 connectors (USB Type-C® port, with USB 3.2 Gen 2 support)
10 x USB 3.2 Gen 2 Type-A ports (red)
2 x RJ-45 ports
1 x optical S/PDIF Out connector
2 x audio jacks

* The mic in jack supports only mono microphone input.

Audio

1 ESS ES9280AC DAC chip + 2 ESS ES9080 chips
DTS Sound Unbound
High Definition Audio
2-channel
Support for S/PDIF Out

* The line-out jack and the optical S/PDIF out connector can only be used one at a time.

Internal I/O Ports

1 x 24-pin ATX main power connector
2 x 8-pin ATX 12V power connectors
1 x CPU fan header
1 x water cooling CPU fan header
4 x system fan headers
4 x system fan/water cooling pump headers
1 x noise detection header
1 x AORUS RGB Memory Armor power header
2 x addressable LED strip + RGB LED strip combo extension cable headers
4 x SATA 6Gb/s connectors
4 x M.2 Socket 3 connectors
1 x front panel header
1 x USB Type-C header, with USB 3.2 Gen 2×2 support
2 x USB 3.2 Gen 1 headers
1 x USB 2.0/1.1 header
2 x temperature sensor headers
1 x power button
1 x reset button

H/W Monitoring

Voltage detection
Temperature detection
Fan speed detection
Water cooling flow rate detection
Fan fail warning
Fan speed control

* Whether the fan (pump) speed control function is supported will depend on the fan (pump) you install.

Noise detection

Form factor
ATX Form Factor (305mm x 270mm)
Box & Accessories
At first glance, we can see that the Z690 AORUS Xtreme gets a total makeover for the box design with an even fancier looking AORUS Eagle than the
Z590 AORUS Xtreme
and we can clearly see that they're pushing hard on the PCIe 5.0 and DDR5 support on the Z690 chipset board. Information at the back of the box is still presented in a similar layout except that it's now with the new features for the Z690 AORUS Xtreme.
You'll find plenty of accessories inside the bottom compartment that includes the usual paper documents, SATA cables, velcro straps, Wi-Fi antenna, cables for the essential connectivity i.e front panel connectors and USB 2.0 headers, RGB cables, thermal probes, ESSential USB DAC, and a rather questionable looking 'memory shield' with RGB lightings to hide your memory modules. This isn't exactly as wholesome as the Z590 AORUS Xtreme and honestly, I'd prefer to get the NVMe SSD add-in-card instead of an RGB cover that doesn't really benefit me in any way.
The Z690 AORUS Xtreme
Design-wise, the Z690 AORUS Xtreme gets a revamped design as a whole, featuring a new rear I/O cover that obviously screams RGB no matter how you look at it, improved VRM design, a beefier looking VRM heatsink and a new M.2_1 SSD heatsink, and a much more simplified backplate.
Just in case if you're curious to know about the new M.2_1 slot SSD heatsink, here are some photos for a closer look at it. Unlike the usual Aluminum piece heatsink we've seen on most motherboards nowadays, it's actually a full-fledged heatsink with an array of Aluminum fins going through two copper heat pipes that will surely cool down your M.2 SSD much better than any cheap conventional design. And guess what? Reinstalling the heatsink is a breeze because of the shape of the bottom piece that can easily align with the screw holes.
The only downside for this design is that it's actually covering one of the holes for the stand-off screws and you have to remove it in order to secure the screws for that location.
Underneath the heatsink is a total of four M.2 SSD slots, which is great news for those who want a lot of M.2 SSDs on their system. The first M.2 slot is connected to the CPU while the bottom three go to the chipset, and all these slots support up to PCIe 4.0. PCIe 5.0 is currently only available on the first and second x16 slots, which can be configured in single x16 or x8/x8 modes.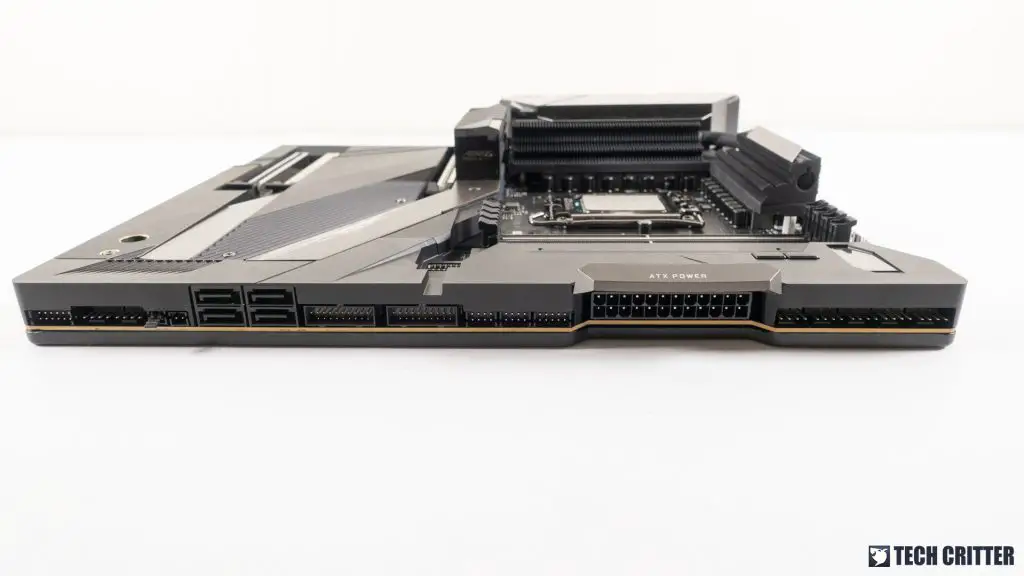 Other than the M.2 slots, you'll also find a total of four SATA ports at the side of the board in case if you still need SATA drives for your system.
One thing I really like about the AORUS Xtreme motherboards is the 90° angled headers at the side of the motherboard which you can take advantage of for really good cable management if you have a really big PC case for it to fit in. There are of course pros and cons for this kind of design because despite the clean look and easier cable management, losing any of the essential cables included will render some of these headers useless unless you know which pins go to which.
Looking at the power design, the Z690 AORUS Xtreme comes with a pair of 8-pin EPS 12V and a 20+1+2 Direct Digital VRM Design. It might seem like a minor upgrade from the Z590 but it's not exactly like that.
A closer look at the components shows that the power design on the Z690 AORUS Xtreme has an array of the RAA22010540 MOSFET from Renesas, each rated at 105A, and two different PWM controllers, the RAA229131 and RAA229130, also from Renesas. The RAA229131 can be spotted on quite a number of Z690 motherboards, which is a 20 phase PWM controller that handles the vCore rails, while the RAA229130 are used to handle the 1+2 phase on the VCCGT and VCCAUX.
While we can see some brands offer the compatibility design to cater to older coolers, Gigabyte has decided to not go along with that. They do have their reason for that because not all of the older coolers are designed to be future proof and some might not have proper contact with the IHS of the 12th Gen Intel Core processors, which as result, is unable to effectively cool down the processor. So it's best to go for a certified LGA 1700 compatible cooler if you're going to become an early adopter for this generation.
As for the memory, the Z690 AORUS Master comes with XMP 3.0 support and can support four DIMMs DDR5 which totals up to 128GB and is capable of reaching up to DDR5-6600. Even if you're not into the memory overclocking part, that 128GB memory support will still come in handy, especially for the content creators.
If you plan to use this on your test bench, useful features such as onboard power and reset button (also can be configured to direct BIOS or Safe mode function in the BIOS), and Q-code debug LED can be found at the top right corner of the motherboard. Q-Flash Plus and Clear CMOS buttons for failure recovery can be found at the rear I/O panel but for some reason, they've decided to relocate the Clear CMOS buttons and it took me quite some time to realize that I'm actually pressing on the OC Ignition button this whole time instead of clearing the CMOS.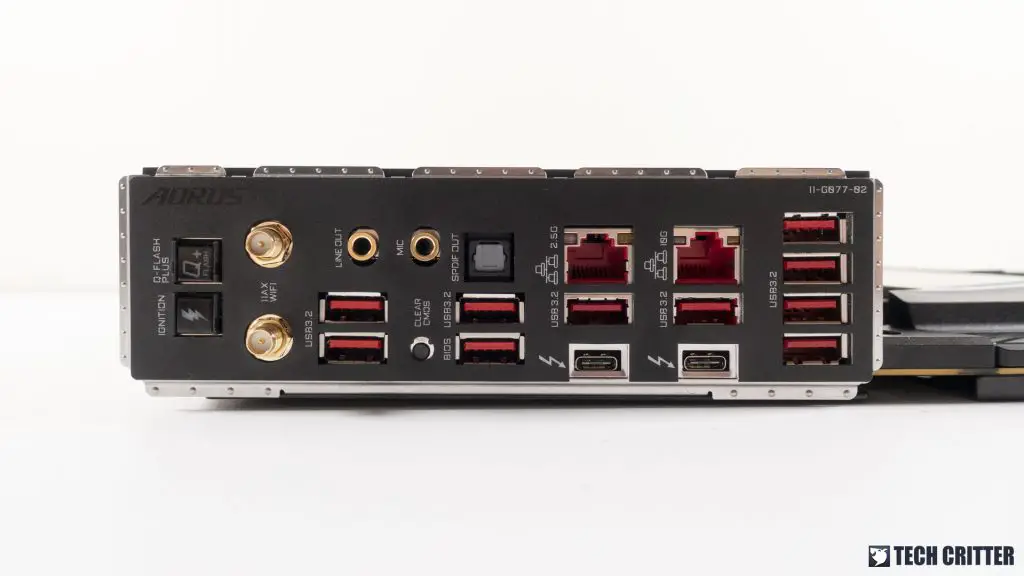 Now for the rear I/O, users who use a lot of USB devices will definitely love this because you'll get plenty of USB ports thanks to the relocated audio jacks. 10 x USB 3.2 ports, and 2 x USB Type-C ports with Thunderbolt 4 support, that's more than enough for me personally, and I think it should be the same for some users as well. The network connectivity option is great as well, as you get not only two Ethernet ports ( one supports 2.5Gb, and the other one supports 10Gb) but also Wi-Fi 6E.
BIOS Interface
This slideshow requires JavaScript.
The BIOS interface seems fine and I'm actually surprised to see that Gigabyte actually displays both the performance and efficient core frequencies on their BIOS instead of just displaying the performance core frequency, which can be useful for some users. That aside, you'll also find plenty of settings to play around with in the Tweaker tab, it's still not the best for now but compared to what we've seen from a few years back then, this is a lot more organized and I can actually live with this.
This slideshow requires JavaScript.
I did, however, notice that there are some functions that can only be accessed by going deeper and deeper into the options within options. Not only that but there are also some of the pages that are mostly empty as we navigate through. It feels as if Gigabyte is slowly going back to the old way and I hope they will realize this quick enough before it's too late.
Test System
| | |
| --- | --- |
| CPU | Intel Core i9-12900K |
| Motherboard | Gigabyte Z690 AORUS Xtreme |
| Memory | AORUS Memory DDR5 (DDR5-5200 32GB) |
| Graphics Card | NVIDIA GeForce RTX 3080 |
| Power Supply | Enermax MaxTytan 1250W |
| Primary Storage | PNY XLR8 CS3040 |
| Secondary Storage | WD Black 6TB |
| CPU Cooler | AORUS WaterForce 360 |
| Chassis | Cooler Master Test Bench V1 |
| Operating System | Windows 11 64bit |
CPU Overclocking Overview
For our CPU test, we paired the Z690 AORUS Xtreme with the Intel Core i9-12900K to see how well it can handle the 12th Gen Intel Core processor but we're again facing limitations on the cooling solution even with the AORUS WaterForce 360. This is pretty much a similar situation as what we've experienced with the ROG Ryujin II 360.
Even though both the coolers can easily take the previous gen i9-10900K and i9-11900K, the i9-12900K is seemingly too much for it to handle. 5.1GHz is pretty much what we can achieve as of now because the temperature will quickly spike up to 96°C during benchmark and stress test if we have the main performance cores clocked at 5.2GHz.
If left on stock settings, the i9-12900K can easily boost up to 5.2GHz with maximum load temperature at 89°C while still able to deliver a reasonable performance on synthetic benchmarks like Cinebench R23 and Blender. So unless if you have a very powerful cooling solution for the i9-12900K, it's best to leave the settings at default for the time being.
Thankfully, despite the not looking good load temperature on overclocked settings, the VRMs on the  Z690 AORUS Xtreme remain cool throughout our tests as it barely goes above 48°C.
Memory Overclocking Overview
Memory overclocking-wise, we didn't manage to get far due to the limited knowledge we have at the moment and DDR5-5333 CL40 is the highest stable setting we can get with the AORUS Memory DDR5 that can survive through the synthetic benchmark and game benchmark. Posting with DDR5-5466 is possible but the system will just end up crashing on the 7zip benchmark even though it can somewhat survive the majority of the benchmark without any issue.
DDR5 is still relatively new and it will probably take some time for us to learn more about the settings and what's new on the new memory, especially the two different memory controllers on the 12th Gen Intel Core processors. The latency might seem high at first glance but after all the initial benchmarks we've done, we can actually see that our test systems with DDR5 memory are doing better in the majority of the test results.
First Impression on the Z690 AORUS Xtreme
Of all the designs from Gigabyte that we've seen throughout the years, the AORUS Xtreme motherboards have one of the best-looking designs around and I'd still say the same for the Z690 AORUS Xtreme this time. My only complaint about the Z690 AORUS Xtreme would be the RGB memory shield, which I still believe will not benefit me in any way, as well as some of the deeply hidden options in the BIOS settings.
As the top of the line model in the AORUS enthusiasts motherboard category, the Z690 AORUS Xtreme packs plenty of features that will not only benefit the enthusiasts who are always there to tweak the settings to improve the overall system performance but also other useful features such as the support for higher memory capacity, high-performance PCIe Gen4 SSDs which content creators will appreciate as well. The connectors and headers at the side of the motherboard are also one of the features I like about the Z690 AORUS Xtreme but you'll have to make sure that your PC case is big enough to be able to support an E-ATX form factor board and has plenty of space behind the motherboard tray for cable routing.
For the new features which the Intel board partners are pushing hard on, notably the PCIe 5.0 and DDR5 support, DDR5 is the only one we're able to experience for now as PCIe 5.0 devices are still nowhere to be seen. There's always a risk to bear for the early adopters but if you're ready to take the leap, the Z690 AORUS Xtreme is definitely one of the worthy options to look into.
Pros
Good aesthetics and solid build quality
VRM runs cool even after long hours of stress tests
Customizable multi-function button
Tons of USB ports
Supports Thunderbolt 4
Supports 10GbE, 2.5GbE LAN, and Wi-Fi 6E
Supports the upcoming PCIe 5.0
Ready for DDR5 memory modules
Cons
The mirrored surface on the rear I/O cover and RGB memory shield is a true fingerprint magnet
No M.2 SSD expansion card like the Z590 but instead, replaced with the RGB memory shield which can only be used for aesthetics purpose
Some of the options are hidden deeply in the BIOS menu
Subjective
The repositioned Clear CMOS button can be confusing for existing AORUS motherboard users