Intel has lifted the embargo for its long-awaited 11th-gen Core processors and we can finally see more information on the new Z590 chipset motherboards, especially the performance numbers and new features that are made available this time. Of all the new features, the most notable advantage of the Z590 is of course the support for Thunderbolt 4, native PCIe 4.0 and x8 DMI when paired with the latest 11th gen Core processors, which is not available or limited when paired with the previous 10th gen Core processors.
The main highlight today is of course the motherboard we're using for the test, the Z590 AORUS XTREME, the highest-end model from Gigabyte that is technically the same tier as the ROG Maximus XIII Extreme and MSI MEG Z590 GODLIKE.  Without any further ado, let's see what kind of features and performance we can expect from the Z590 AORUS XTREME.
Specifications
CPU support
Intel LGA1200:

10th Gen Intel Core i9, Core i7, Core i5, Core i3, Pentium, Celeron
11th Gen Intel Core i9, Core i7, Core i5

Chipset
Intel Z590
Memory

11th Generation Intel Core i9 / i7/ i5 processors: Support up to DDR4-5400 (O.C)
10th Generation Intel Core i9 / i7 processors: Support for DDR4-2933/2666/2400/2133 memory modules
10th Generation Core i5/ i3/ Pentium/ Celeron processors: DDR4-2666/2400/2133 memory modules
Dual-Channel memory architecture
4 x DDR4 DIMM socket support up to 128GB of system memory
Support for ECC Un-buffered DIMM 1Rx8 /2Rx8 memory modules (operate in non-ECC mode)
Support non-ECC Un-buffered DIMM 1Rx8/ 2Rx8/ 1Rx16 memory modules
Support for Extreme Memory Profile (XMP) modules

Expansion slots

1 x PCIe 4.0 X16 running at X16 (PCIe 4.0 only supported by 11th Generation processors)
1 x PCIe 4.0 X16 slot running at X8 (PCIe 4.0 only supported by 11th Generation processors)
1 x PCIe 3.0 X4 slot running at X4

Storage

1 X M.2 Connector (PCIe 4.0 X4/x2 SSD support) (M2A_CPU)
1 x M.2 Connector (PCIe 3.0 X4/ x2 SSD support) (M2P_SB)
1 X M.2 Connector (PCIe 3.0 X4/x2 SSD support) (M2M_SB)
6 x SATA 6Gb/s ports

Network

Aquantia 10GbE (LAN1)
Realtek 2.5GbE (LAN2)
Intel Wi-Fi 6E AX210

Back I/O Ports

1 x Q-Flash Plus button
1 x Clear CMOS button
2 x SMA antenna connectors (2T2R)
2 x Thunderbolt 4 connector (USB Type-C port, with USB 3.2 Gen 2 support)
8 x USB 3.2 Gen 2 Type-A ports (red)
1 x HDMI port
2 x RJ-45 port
1 x optical S/PDIF Out connector
5 x audio jacks

Audio

Realtek ALC1220-VB codec
High Definition Audio
2/4/5.1/7.1-channel
Support for S/PDIF Out

Internal I/O Ports

1 x 24-pin ATX main power connector
2 x 8-pin ATX 12V power connectors
1 x CPU fan header
1 x water cooling CPU fan header
6 x system fan headers
2 x system fan/water cooling pump headers
1 x noise detection header
2 x integrated extension cable headers for addressable and RGB LED strips
6 x SATA 6Gb/s connectors
3 x M.2 Socket 3 connectors
1 x front panel header
1 x front panel audio header
1 x USB Type-C header, with USB 3.2 Gen 2×2 support
1 x USB 3.2 Gen 1 header
1 x USB 2.0/1.1 headers
2 x temperature sensor headers
1 x power button
1 x reset button
1 x OC Ignition button
2 x BIOS switches
Voltage Measurement Points

H/W Monitoring

Voltage detection
Temperature detection
Fan speed detection
Water cooling flow rate detection
Fan fail warning
Fan speed control
* Whether the fan (pump) speed control function is supported will depend on the fan (pump) you install.
Noise detection

Form factor
ATX Form Factor (305mm x 270mm)
Unboxing
Starting off with the packaging, we can see the new Intel logo for the current-gen release and most of the important features and specifications of the motherboard can be found at the back of the box. As the top of the line model in the lineup, premium packaging like this is something to be expected for the Z590 AORUS XTREME, as well as some of the premium the accessories that come together inside the box.
The accessories that come with the Z590 AORUS XTREME includes the usual stickers and paper documents, sleeved SATA cables, proprietary cables for the side connectors on the motherboard, a USB drive with drivers and some other utilities, thermal probes, ESSential USB DAC, two WiFi antenna (finally), and the NVMe SSD add-in-card.
The Gigabyte Z590 AORUS XTREME
The Z590 AORUS XTREME is very similar to its predecessor in terms of design and overall layout which radiates the same premium vibe. What differentiates it from the Z490 AORUS XTREME is the darker color scheme on the M.2 SSD heatsink and the beefier 20+1 power delivery design.
Despite the minimalistic design, RGB lighting is still available on the Z590 AORUS XTREME but not over-exaggerated. For those who aren't really into fancy RGB lightings like me, the minimal RGB on the Z590 AORUS XTREME is considered acceptable and can be disabled with the RGB Fusion 2.0 app if needed.
One of my personal favorites of the AORUS XTREME motherboards is the 90-degree angle connectors and the proprietary cables which give the system a clean look when it comes to cable management – of course, you'll need a good and reasonably-sized PC case for this.
The onboard buttons, switches, and Q-code display are the prominent features you'll find on enthusiasts-grade motherboards like the Z590 AORUS XTREME that will come in really useful for those who do a lot of hardware benching. There's no doubt that they're really handy for hardware benchmark sessions, but my complaint is the size of the power and reset button, and the rather weak feedback of the buttons when it's pressed.
The VRM heatsink is the same Fins-Array II Heatsink with Direct-Touch Heatpipe II and NanoCarbon Baseplate to keep the components cool. Due to a stripped screw on our unit here, we didn't take apart the heatsink to check on the power delivery design this time. Based on the specifications and details provided by Gigabyte, the Z590 AORUS XTREME comes with a beefier 20+1 phase power design which is technically a 10+1 phase design with doublers and 100A SiC840 smart power stage from Vishay.
Other than the 90-degree angle 24-pin ATX power connector, the crucial power connectors such as the dual 8-pin EPS, DIMM slots, and PCIe slots are all covered with the metal shield for enhanced strength so it doesn't break easily.
Apart from having the same support for 32GB single DIMM and up to 128GB with all 4 DIMM slots populated, the Z590 AORUS XTREME can now support up to DDR4-5400 (OC) when paired with the 11th-gen Intel Core processors. It might not be a noteworthy feature to the mainstream users, but enthusiasts and overclockers who like tweaking with the memory settings will definitely want to give it a try.
For the storage options, the Z590 AORUS XTREME supports up to 6 x SATA drives and 3 x M.2 drives ( up to 4 if using the included add-in-card). PCIe 4.0 is available on the first and second PCIe X16 slots and the first M.2 slot, but only when it's paired with an Intel 11th-gen Core processor.
If you used a lot of storage drives on your system, especially M.2 drives, it can be pretty frustrating for the Z590 AORUS XTREME. Accessing the first M.2 slot is easy because you only need to remove the top heatsink, but for the rest of the two slots below, you will need to remove all the screws on the big piece heatsink.
As for the audio solutions, the Z590 AORUS XTREME features an ESS SABRE USB DAC and reasonably powerful onboard audio that is capable enough to deliver a decent audio quality that suffices for most of your basic needs.
For the rear I/O panel, you'll find the SMA connector for both the AORUS Antenna from the accessories box, 1 X HDMI port, 2 x Thunderbolt 4 ports, 8 x USB 3.2 Gen 2 Type-A ports, 1 x Aquantia 10 GbE LAN port, 1 x Intel 2.5 GbE LAN port, 1 x S/PDIF out port and the gold plated audio jacks. The clear CMOS and Q-Flash+ button are located at the rear I/O as usual but what's more interesting here is that flashing your BIOS can be done without the need for a CPU, memory, and graphics card.
Test System
| | |
| --- | --- |
| CPU | Intel Core i9-11900K / Intel Core i9-10900K |
| Motherboard | Gigabyte Z590 AORUS XTREME |
| Memory | XPG Spectrix D50 Xtreme DDR4-4800 / XPG Spectrix D60G DDR4-3600 / AORUS RGB MEMORY 4800MHz |
| Graphics Card | AORUS GeForce RTX 3060 Elite 12G |
| Power Supply | Cooler Master V1200 Platinum |
| Primary Storage | Phidisk WrathKeeper 960GB M.2 PCIe NVMe SSD |
| Secondary Storage | WD Black 6TB |
| CPU Cooler | Thermaltake Floe Riing 360 |
| Chassis | Cooler Master Test Bench V1 |
| Operating System | Windows 10 64bit |
CPU Overclock
While the i9-11900K has a boost clock rated at 5.3GHz, we've noticed that it only applies to two of the cores while the rest of the cores will run at a lower frequency between the range of 4.6-5.0GHz depending on the task you're doing. With only two of the cores hitting 5.3GHz for a short period of time, the highest recorded temperature during our stress test session is 75°C and power draw at 127-130W, which seems pretty reasonable at first.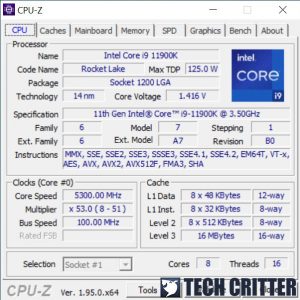 Going for 5.3GHz on all cores is pretty easy but your mileage may vary, depending on the quality of your CPU, which is basically silicon luck. For our case, the thermal throttle immediately kicks in with load temperature hitting TJmax in just a matter of seconds because of the high core voltage at 1.4V+ in order to keep our i9-11900K at 5.3GHz. In the end, we settled down at 5.0GHz with 1.32V on the core voltage, which gives us an average load temperature of 87°C.
The highest temperature recorded for the VRMs is at 62°C, which shows that the VRM heatsink is doing its job just as intended to keep the temperature under control. The only issue that we've noticed is the chipset temperature that can go up to 72°C during the stress test if we have a PCIe Gen4 SSD installed on the first M.2 slot. Removing the PCIe Gen4 SSD or using its included heatsink instead of the heatsink that comes with the motherboard will give a much lower reading at 65-66°C. So that's something to take note of in case if you face the same issue as we do.
Memory Overclock
Moving on to memory overclocking, achieving DDR4-5000 is definitely a lot easier as compared to the previous generation Z490 chipset motherboards and Intel 10th-gen Core processors. Although not recommended, achieving DDR4-5000 with a 10th gen Intel Core i9-10900K seems to be easier as well when it's installed on the Z590 AORUS XTREME. Pairing the Z590 AORUS XTREME or any other Z590 chipset motherboards with the latest 11th gen Intel Core processors is the ideal option if you want to get the most performance out of both the CPU and motherboard.
DDR4-5000 CL19
Apart from the higher frequency achieved with our other memory kits as compared to the previous generation Z490 chipset, we've also noticed that the support for high-frequency memory kits like DDR4-4800 is significantly better and doesn't require any extra tweak in order to get it fully stable for long hours of stress test.
The highest frequency we can achieve at the moment with the Z590 AORUS XTREME is DDR4-5400 CL20, which manages to survive up 250% on the usual HCI memtest. After seeing what the i9-11900K and Z590 AORUS XTREME is capable of in terms of memory overclock, we can see how enthusiasts and overclockers will want to get their hands on the 11th-gen CPU and Z590 chipset motherboard to experience the improvement themselves.
Final Thoughts
Other than the minor shortcomings of the somewhat higher chipset temperature and the inconvenient bottom two M.2 slots, the Z590 AORUS XTREME works great right out of the box, especially the overclocking capabilities. CPU overclocking is pretty reasonable even though our i9-11900K is a little disappointing, but we don't have any issue with the VRM temperature at all thanks to the well-designed VRM heatsink. Memory overclocking is surprisingly good as well if compared to the previous generation release, as we never thought that achieve DDR4-5000 can be this easy.
All in all, the Z590 AORUS XTREME is a great-looking motherboard with a lot of attention to detail, and non-overexaggerated RGB lightings that are actually great for minimalist theme builds. The RM 3879 price tag is definitely a steep price to most users, but if we look at the number of great features such as native support for PCIe 4.0 and Adaptive Boost Technology that are exclusive to the latest Intel 11th-gen Core processors, a beefy 20+1 phase power design, dual high-speed Ethernet port, etc, I'd say it's still somewhat justifiable to enthusiasts and overclockers who can actually afford it.
Pros
Solid build quality
Dual BIOS
Dual High-speed Ethernet Port (Realtek 2.5GbE) and Wi-Fi 6E (Intel Wi-Fi 6E AX210)
Solid VRM heatsink design with Aluminum fins for better cooling
Good overclocking capabilities
Pre-installed rear I/O shield
Plenty of USB ports on the rear I/O
Cons
Costly
Chipset temperature is rather high on load
Bottom M.2 slots require the removal of the entire heatsink plate