Kingston recently announced its new NV1 NVMe PCIe SSD, an entry-level SSD announced earlier this month to bring a high price-to-performance ratio for most casual use cases. The NV1 we'll be taking a look at is the 1TB model that comes with a price of RM 489, capable of up to 2100 MB/ and 1700 MB/s on the sequential read and write speed. As not everyone can afford the faster and more expensive PCIe 3.0 x4 SSDs or PCIe 4.0 x4 SSDs, the NV1 seems like a no-brainer upgrade deal to go for… Or is it?
Specifications
Form Factor
M.2 2280
Interface
NVMe PCIe Gen 3.0 x4
Capacities
500GB, 1TB, 2TB
Sequential Read/Write
Read: 2100MB/s, Write: 1700MB/s
Endurance
500GB – 120TBW

1TB – 240TBW

2TB – 480TBW

Power Consumption

(Idle/Avg/Read/Write)

500GB – 5mW / 205mW / 1.1W / 3.3W

1TB – 5mW / 220mW / 1.1W / 3.3W

2TB – 5mW / 340mW / 1.1W / 3.3W

Storage Temperature
-40°C~85°C
Operating Temperature
0°C~70°C
Dimensions
22mm x 80mm x 2.1mm
Weight
7G
Vibration Operating
2.17G (7-800Hz)
Vibration Non-Operating
20G (20-1000Hz)
Warranty/Support
Limited 3-year warranty with free technical support
Unboxing
The Kingston NV1 NVME PCIe SSD ships in the usual card packaging that many of us are familiar with. Not much information can be found on the packaging itself, not even the sequential read and write speed, so you'll have to do the digging on the official product page yourself.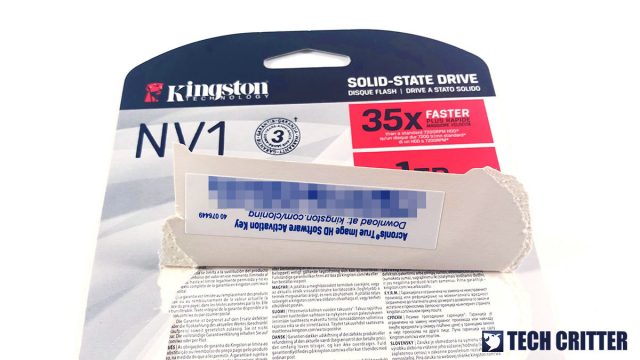 Before we move on with the SSD, here's something to take note of just in case if you're wondering why Kingston didn't include the license key for a free copy of Acronis True Image HD this time. That's right, instead of the usual small piece of paper with the license key printed on it, Kingston decided to get the license key printed on a piece of sticker and stick it inside the packaging. Pretty sure that some users will just destroy the packaging and throw it away without taking a look at what's inside.
Since it's being marketed as an entry-level SSD, don't get your hopes high with a fancy-looking heatsink on the NV1. The label sticker doesn't come with any heat-spreading capabilities that help to cool down the NAND flash and controller, so the cooling is entirely relying on the airflow of your system. But then again, most motherboards at the mid-end range nowadays will usually come with one or two M.2 SSD heatsinks, so it's not really something to worry about – I highly doubt that you'll get any thermal issue at all with this SSD anyway.
Under the label sticker, you'll find a total of four pieces of FH25608UCN1-4D NAND flash chips and a Phison PS5013-E13-31 controller. As there are no signs of DRAM chips can be found on the PCB, we can confirm that the NV1 is a DRAMless SSD, which a pretty common approach by manufacturers to keep the cost down for entry-level SSDs.
Test System Setup
Synthetic Benchmark
For our synthetic benchmark test, we'll be testing the Kingston NV1 under two different conditions: a fresh NV1 with 0% of its total usable capacity filled, and 90% of its total usable capacity filled. As it's a DRAMless SSD, we're expecting to see some drop in write performance after the SSD is filled to more than 80% of its total capacity.
CrystalDiskMark – 0% Fill
CrystalDiskMark – 90% Fill
AS SSD Benchmark – 0% Fill
AS SSD Benchmark – 90% Fill
Looking at the performance numbers, it's pretty close to its advertised speed but we can say that it's definitely not the fastest M.2 NVMe SSD around. Compared to the faster drives that run on 3000MB/s+ range for sequential read and write, the NV1 is considered slow but it's somewhat understandable since it's meant to target the entry-level market segment.
The temperature is fairly reasonable I'd say, as we only hit a 60°C max with a 20-30 minutes write loop, without any signs of performance drop. Despite not having a DRAM cache to begin with, we're surprised to see that the write performance remains the same even after having its total capacity filled to 90%.
File Copy Test
For this test, we're using different sizes of test data from 8GB to 64GB to see how well the drive deal with writing large files. The test scenario is as usual, in which the file copy test is done with the drive freshly formatted, followed by filling it up to at least 80% of its maximum capacity.
The write performance is looking pretty good when we first started the test just a few minutes after booting into the OS. For some cases, the write performance seems to be able to go beyond the advertised speed, depending on the type of data you're writing into the NV1.
Write performance drop is pretty significant after we have the file copy test running between our Kingston NV1 and KC2500 for around 30 minutes. Unlike how we started, the write performance to the NV1 is now at 700MB/s on average, regardless of the size of the data we're sending back and forth to both SSDs. It's definitely not the kind of performance you want to see if you're running a high-end PC with all the powerful components installed, but it's still a reasonable boost for casual users who are looking into a SATA SSD replacement that doesn't cost a bomb.
Final Thoughts
It's not the fastest M.2 NVMe SSD around and there are a lot of points to argue i.e the overall performance, price, write endurance, or even the warranty period, but if you were to take a look at all those arguable points, the Kingston NV1 is pretty much in the middle of all these points. To put it simply, the Kingston NV1 is not the SSD for picky enthusiasts and content creators. It is more of a SATA SSD replacement for those who are on a tight budget for upgrades or just simply want to make use of the unused M.2 slots on their motherboard.
As long as you're not dealing with a crazy write routine on a daily basis, the Kingston NV1 NVMe PCIe SSD will do just fine for most casual use cases. The write performance drop is definitely something that is unavoidable but at least it's still faster than any SATA SSDs available in the market, but if the somewhat lower write endurance still concerns you, you're better off with the slightly more expensive Kingston A2000 that comes with much higher write endurance of 600TBW.
Pros
Fairly reasonable performance
Affordable price
Acronis True Image HD license key included
Standard 3-year warranty and free technical support from Kingston
Cons
Significant write performance drop after the drive is filled to the brim
Low write endurance