The NVIDIA GeForce RTX 4070 Ti (formerly the RTX 4080 12GB) has been released for about a week and with all the controversies surrounding it, it is time to take a look at which AIB partner has pushed out their own offerings.
ASUS
For the first batch of releases, ASUS is debuting the card in flavors of ROG Strix and TUF Gaming since those are the most popular family out of the 8 to 10 different series by the brand. The ROG Strix model continues the brand new design first seen in the GeForce RTX 4090 variant with triple fans, a super large GPU shroud, and RGB lights everywhere including the front-facing side. Whereas the TUF Gaming variant plays it safe – a plain gray base with engravings here and there with a little hint of lighting on the top side.
And as expected, the ROG Strix model comes at a higher value due to it hosting the Dual BIOS feature, and additional ARGB headers to connect to the motherboard.
ROG Strix GeForce RTX 4070 Ti OC @ RM4,899
ROG Strix GeForce RTX 4070 Ti @ RM4,799
TUF Gaming GeForce RTX 4070 Ti OC @ RM4,399
TUF Gaming GeForce RTX 4070 Ti @ RM4,150
PNY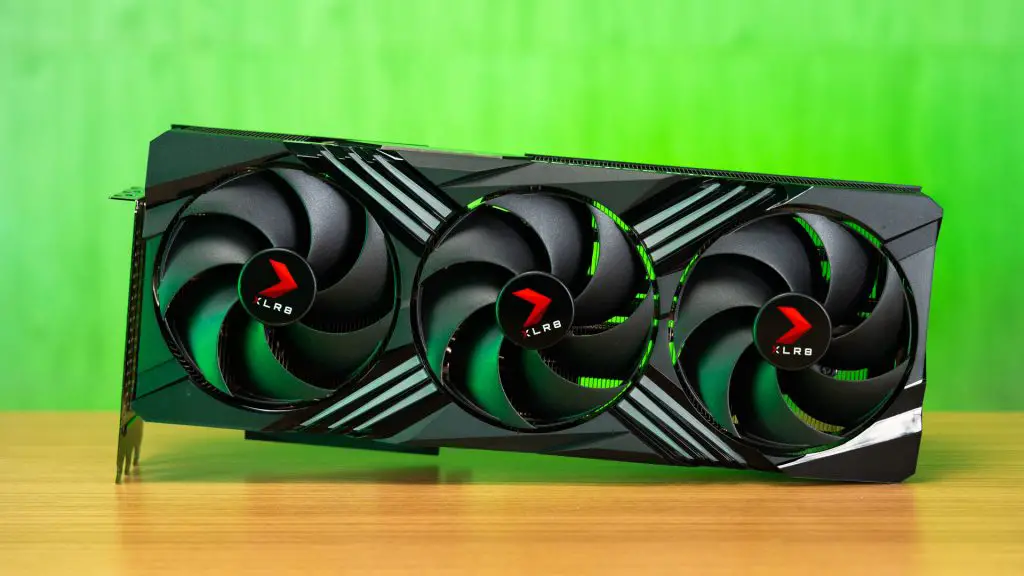 As of the time of writing, the only card officially announced by PNY is the XLR8 Verto Epic-X RGB TF variant but I'm sure some of you have been informed of leaks regarding other upcoming models but that's for another time. But anyway, this series might be one of the best from the manufacturer since we had quite a positive review result from the RTX 4090 of the same series from a couple of months ago and the TL;DR is you are really paying, for say, like 90% of the value purely for performance and cooling and just 10% for the aesthetic – suitable for the less flair and more FPS kind of gamer.
GeForce RTX 4070 Ti OC XLR8 Verto Epic-X RGB TF @ RM4,489
GeForce RTX 4070 Ti OC XLR8 Verto RGB TF @ RM4,149
ZOTAC Gaming
For ZOTAC Gaming, they'll be pushing the card into the AMP Extreme AIRO, AMP AIRO, and Trinity series, tiered from the top to bottom. The main difference is the amount of RGB flairs you get and slightly different boost clocks with little deviation since all of them utilize the IceStorm 2.0 cooling system featuring up to 9 copper heat pipes.  The premium flagship AMP EXtreme AIRO uses a counter-rotating center fan for better airflow and has Dual BIOS out of the box. All models also come with a GPU support stand to improve the PCIe connector longevity.
GeForce RTX 4070 Ti AMP Extreme AIRO @ RM4,449
GeForce RTX 4070 Ti AMP AIRO @ RM4,279
GeForce RTX 4070 Ti AMP Trinity OC @ RM4,099
GeForce RTX 4070 Ti AMP Trinity @ RM3,999
GIGABYTE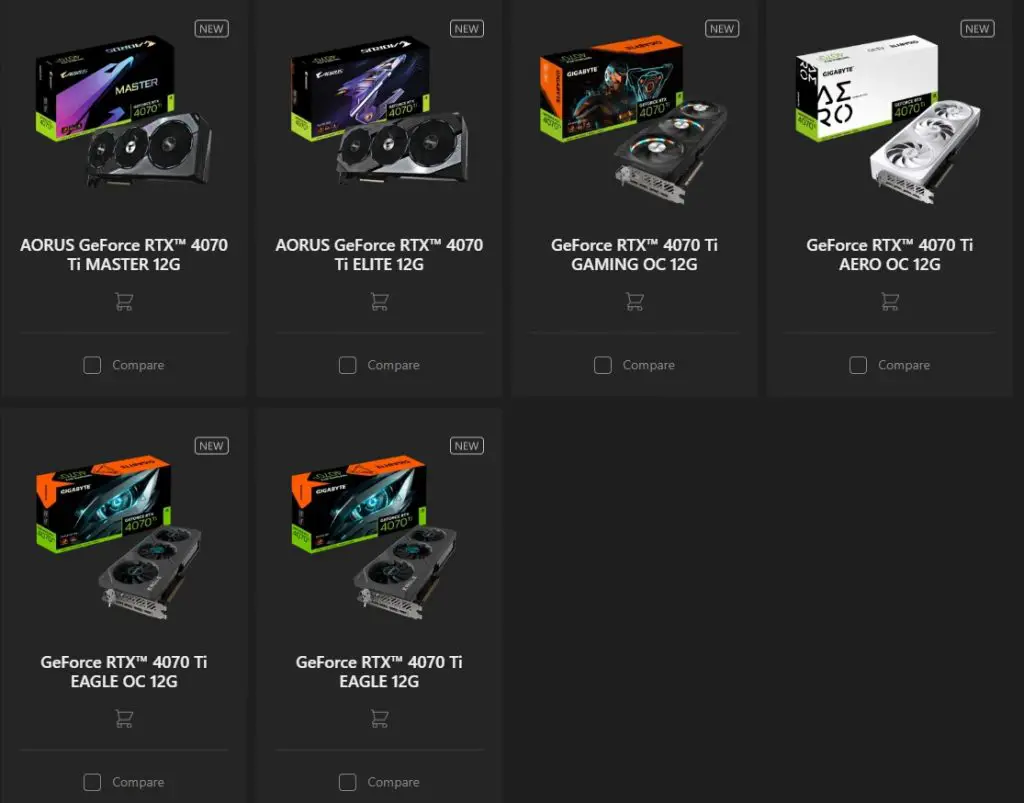 Turning direction to the eagle head AORUS, they are the ones with the most variants at launch at a total of 6 models with 2 of them going into the AORUS division. The core difference here is mostly for aesthetic and quality-of-life components as from our testing, we saw minimal deviation in terms of performance so if you're going for the most bang for your buck option, the EAGLE will be your choice.
AORUS GeForce RTX 4070 Ti MASTER @ RM4,759
AORUS GeForce RTX 4070 Ti ELITE @ RM4,629
GeForce RTX 4070Ti AERO OC – RM4,499
GeForce RTX 4070Ti GAMING OC – RM4,399
GeForce RTX 4070Ti EAGLE OC – RM4,249
GeForce RTX 4070Ti EAGLE – RM4,149
PALIT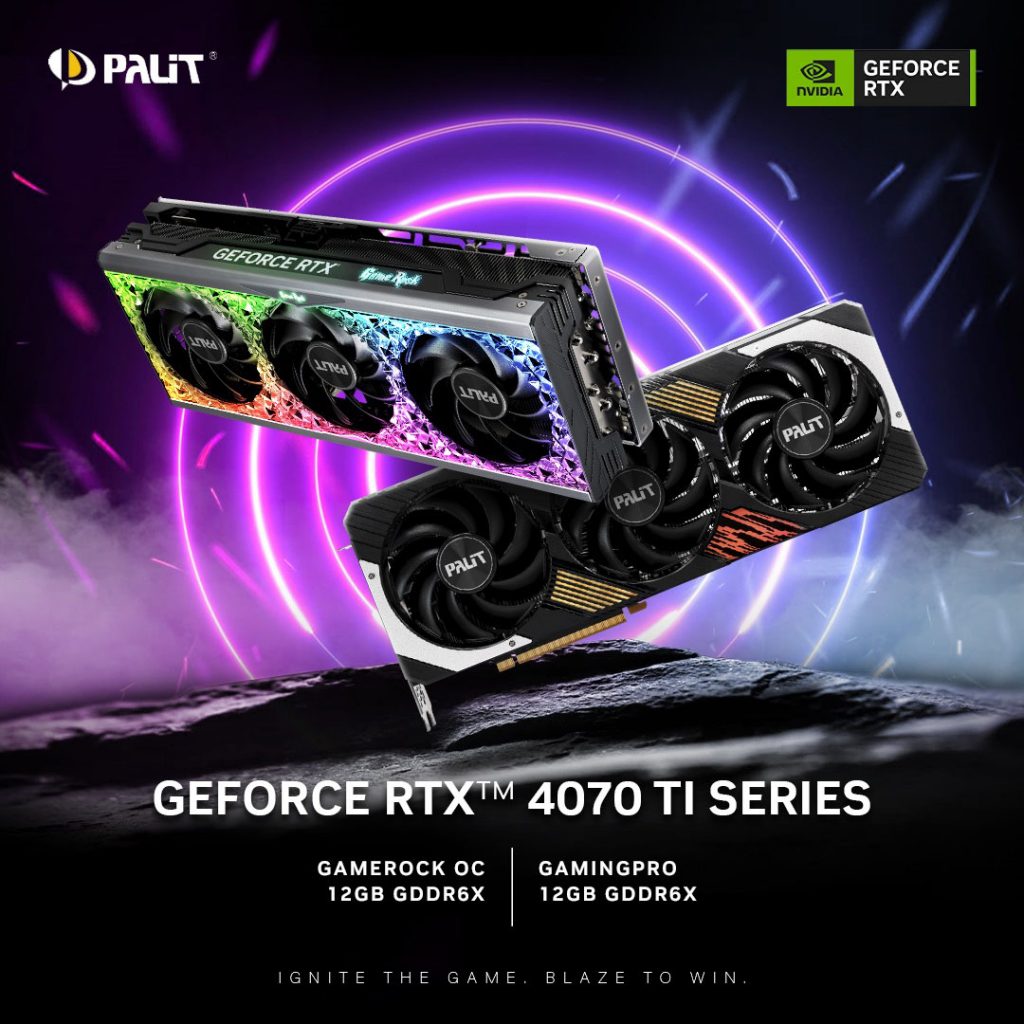 Moving onto PALIT, they are playing it safe as there's not really a new series or anything with the GAMEROCK and GAMINGPRO variants receiving the RTX 4070 Ti new member into the lineup for 2023 and the design is pretty much the same – RGB diffused crystals for the former and simple black and white base with orange accent for the latter.
GeForce RTX 4070 Ti GAMINGPRO @ RM3,919
GeForce RTX 4070 Ti GAMINGROCK OC @ RM4,199
MSI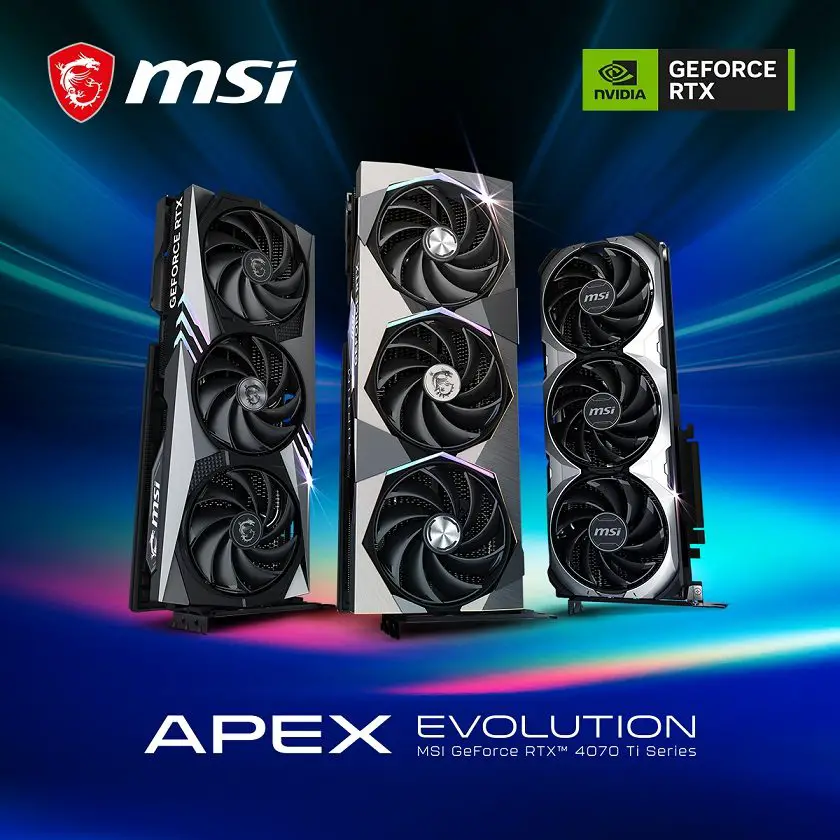 MSI being MSI, they are gunning for the trio series of SUPRIM, GAMING TRIO, and VENTUS lineup to provide a complete range of offerings from the premium to the more budget selections. As usual, the SUPRIM model has all the goodies – better cooling, more heat pipes, Dual BIOS, RGB Mystic Light, etc while the GAMING TRIO is pretty close to it but just with a  more "gamer" ish design. Lastly, the VENTUS series is your good old "Black and silver everything + performance first" buddy that doesn't hurt your wallet as much.
GeForce RTX 4070 Ti SUPRIM X @ RM4,790
GeForce RTX 4070 Ti GAMING X TRIO @ RM4,490
GeForce RTX 4070 Ti VENTUS 3X OC @ RM4,150
Review Links
On the other hand, we've done several reviews on some of the most popular models so you can get to know them better and pick the one that suit your needs the most.