Apart from the plethora of new Ryzen 7000 series CPUs and Radeon 7000 series GPUs, AMD also announced its new 65W Ryzen 7000 series Desktop processors at CES 2023. Thanks to the significantly lower MSRP that goes as low as $429 for the Ryzen 9 7900, these 65W CPUs offer value and performance for those who plan to adopt the latest Zen 4 architecture CPUs and DDR5 memory.
We manage to get our hands on the Ryzen 9 7900 this time for a quick test, thanks to the great folks at AMD. The Ryzen 9 7900 is tested against the Ryzen 9 7950X and 7900X, as well as an Intel Core i7-13700 so that we can get a better idea of the performance it can deliver and if it's really a CPU that is worth paying $429 for.
Specifications
SKU
Cores / Threads
Base / Boost Clock
Cache
TDP
Price (USD)
Ryzen 9 7900
12C/24T
3.7GHz / 5.4GHz
76MB
65W
$429 (With Wraith Prism Cooler)
Ryzen 7 7700
8C/16T
3.8GHz / 5.3GHz
40MB
$329 (With Wraith Prism Cooler)
Ryzen 5 7600
6C/12T
3.8GHz / 5.1GHz
38MB
$229 (With Wraith Stealth Cooler)
Overview
We can't really show you what the retail package looks like since the Ryzen 9 7900 we have here is not a retail unit, but rest assured, the actual retail unit will come with a Wraith Prism CPU cooler that can handle up to 105W TDP. While you won't be facing any thermal throttle issues if you use the Ryzen 9 7900 as it is with the Wraith Prism, AMD never really locks the overclocking capability on this CPU like what Intel did on its non-K SKUs and you can technically get a bit more extra performance out of this CPU by using a better cooling solution i.e AIO liquid cooler, big tower heatsink, etc.
As mentioned earlier, we have tested the Ryzen 9 7900 against the standard Ryzen 9 7950X and 7900X, and an Intel Core i7-13700 that we happen to get our hands on by chance to gauge the performance of this CPU.
Test System
CPU Overclocking?
While you can still overclock the CPU frequency on the Ryzen 9 7900 to gain extra performance to potentially match even the Ryzen 9 7900X, a better cooling solution is required but that doesn't mean you can't do anything with the Wraith Prism. Despite being a box cooler, the Wraith Prism can actually handle any CPU under 105W without breaking a sweat.
As the rated TDP of the Ryzen 9 7900 is only 65W, you can actually increase the performance a bit more with some adjustments in the BIOS settings.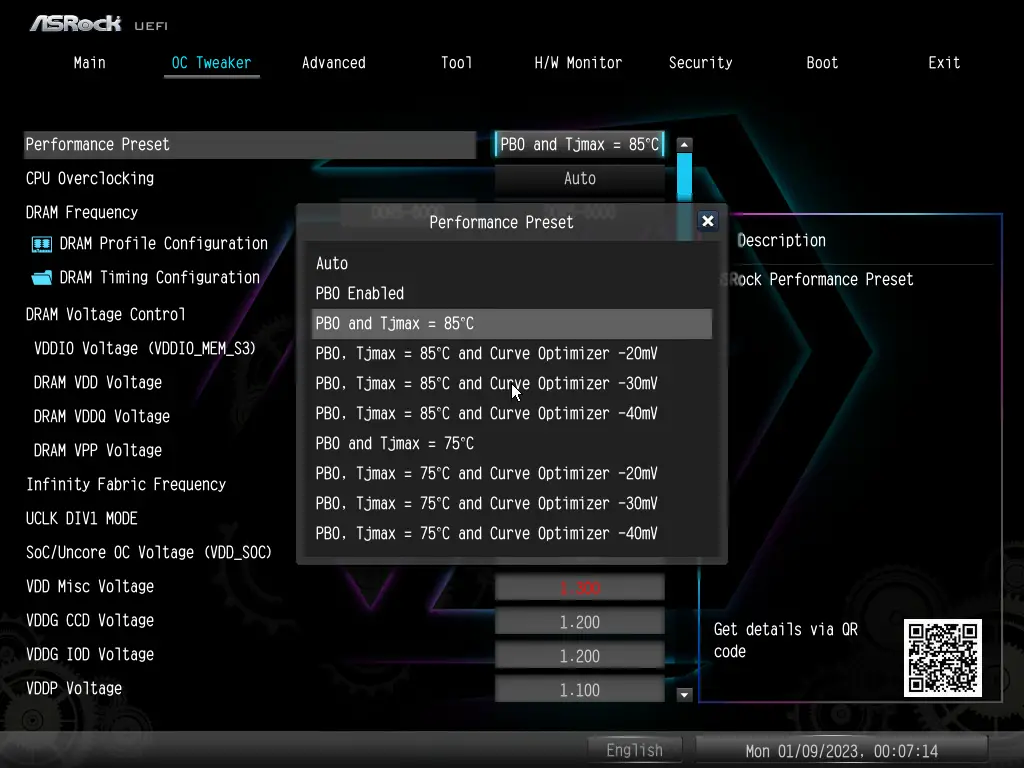 With the help of options like the Performance preset on the ASRock X670E Taichi, you can choose the options to enable PBO with a specific thermal limit that gives you that extra performance boost while keeping the CPU load temperature at bay. Other brands will have a different name for this feature but they all function similarly and I highly recommend everyone to explore this feature, especially the small form factor build owners.
Although the rated TDP is at 65W according to AMD, the Ryzen 9 7900 can actually draw up to 90W on load when dealing with tasks like rendering work that utilizes more CPU resources as compared to gaming. Though I still find this okay because it only gets up to 80°C most of the time, especially the fact that we're using a Wraith Prism here.
Power draw and load temperature have increased since we enabled the performance preset but it's still under 90°C and switching to better cooling solutions like a custom water-cooling setup or a better performing AIO liquid cooler is recommended if you're looking to squeeze even more performance out of the Ryzen 9 7900.
Memory Overclocking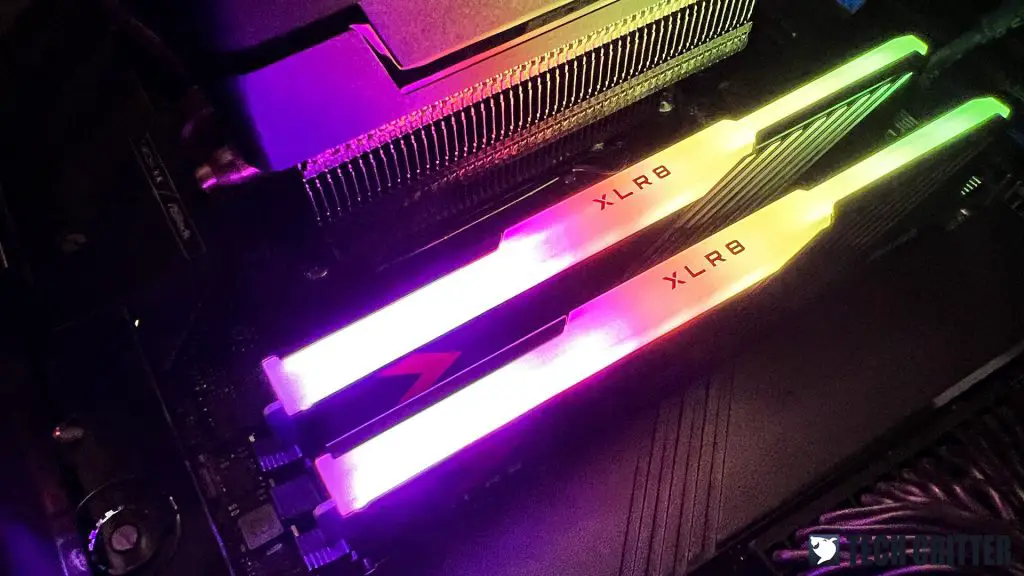 As for memory overclocking, DDR5-6000 CL30 is the sweet spot as recommended by AMD and we're able to achieve it with all the memory kits we've used in this test. It doesn't take too much effort to achieve and we believe it can be done on most of the AMD EXPO certified DDR5 memory kits with CL40, using roughly 1.4V on the DRAM VDD and VDDQ voltage, and 1.25 to 1.3V on the VDD_SOC voltage.
DDR5-6000 CL28 is achievable with some adjustments on the timings and relevant voltages, but it's not really recommended as we're only able to achieve it using the G.Skill Trident Z5 Neo.
As long as you're able to achieve DDR5-6000 CL30 and able to get past memory stability stress tests like TM5 on anta777 absolut cfg or Karhu RAM test at 10000% or more, you're good to go with your current settings. Tightening the timings allows you to lower the memory latency a bit more and depending on the timings you have but you should be able to lower the memory latency to 65 ns range with this.
Games Benchmark
Cyberpunk 2077
Dirt 5
Far Cry 6
Horizon Zero Dawn
Shadow of the Tomb Raider
The Division 2
Starting off with games benchmark, we're actually impressed by just how well the Ryzen 9 7900 can actually perform, given that we're running it on a Wraith Prism. Even without PBO enabled, it can perform just as well as the Ryzen 9 7900X across all resolutions on certain titles on stock settings, and enabling PBO will give you a bit more boost on the frames depending on the titles.  The best thing about this is that this behavior can be seen not only on 1080p resolution but on both 1440P and 4K resolution as well.
Looking at the power efficiency it has displayed during the test, the Ryzen 9 7900 is easily a highly considerable choice for a small form factor gaming PC build that has limited space for cooling solutions.
CPU Synthetic Benchmark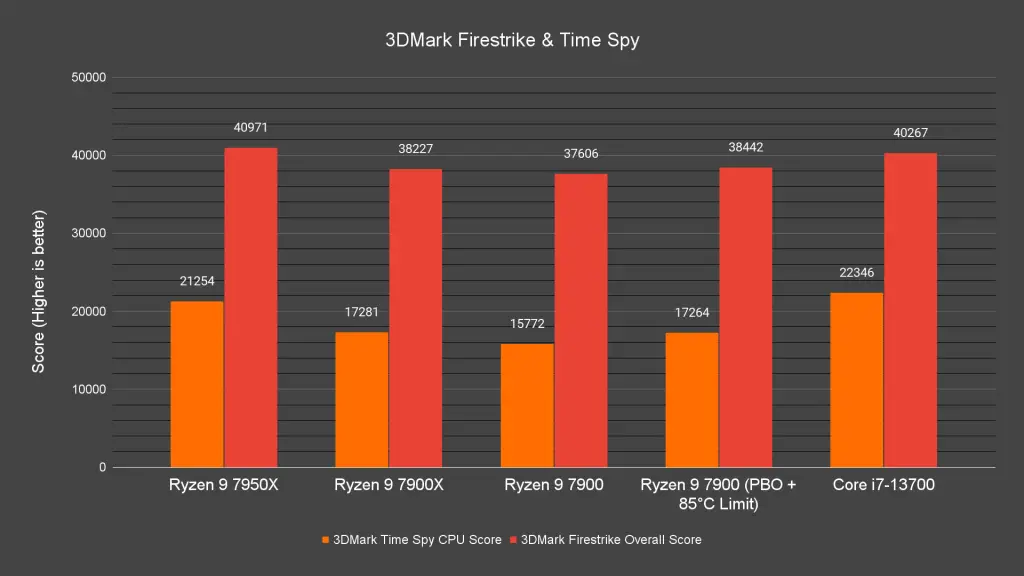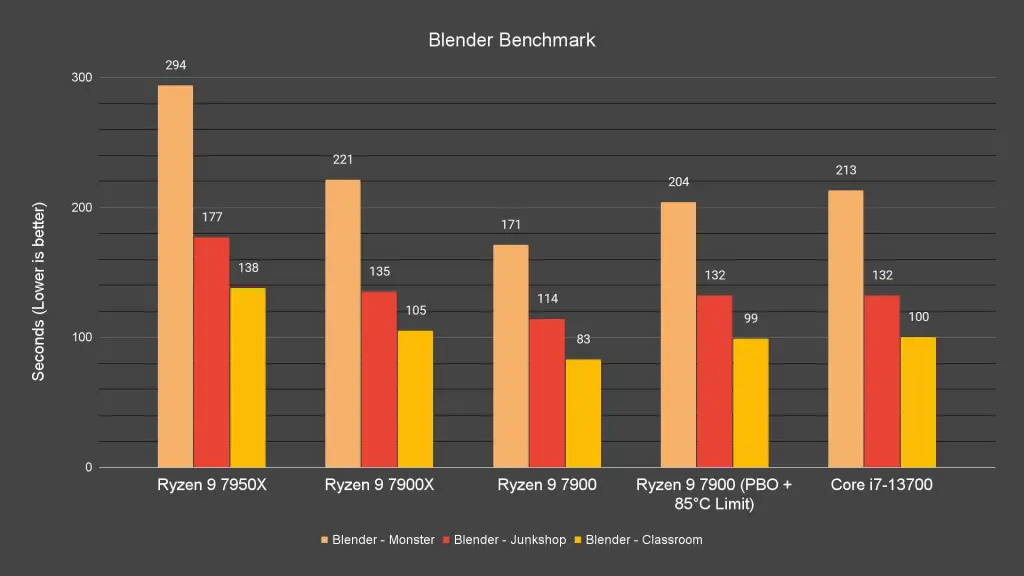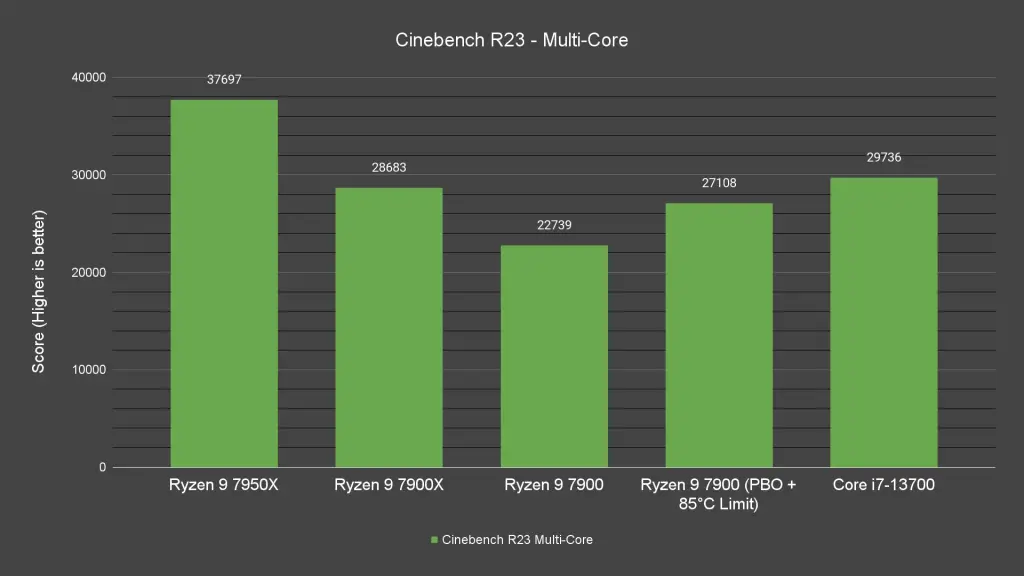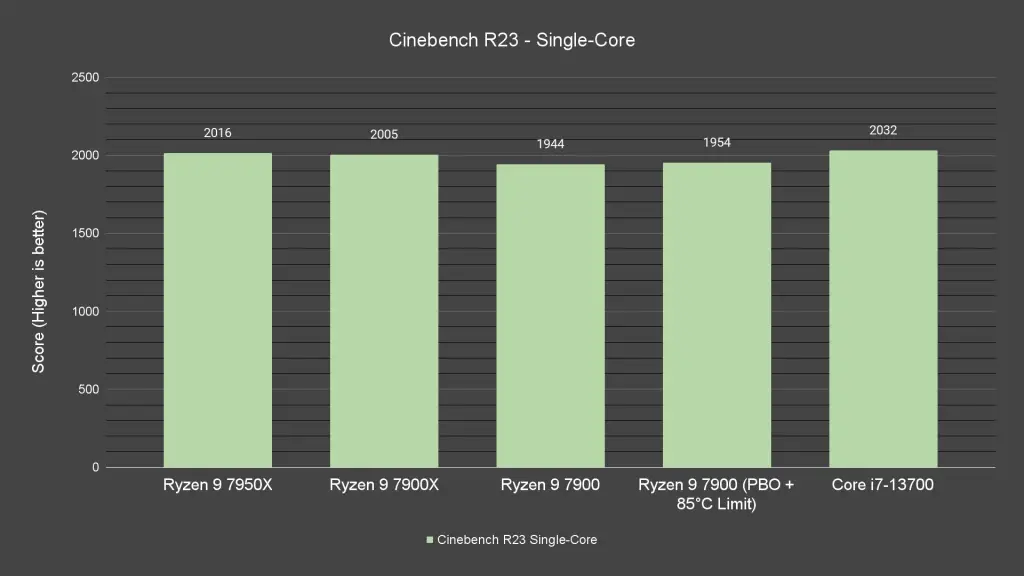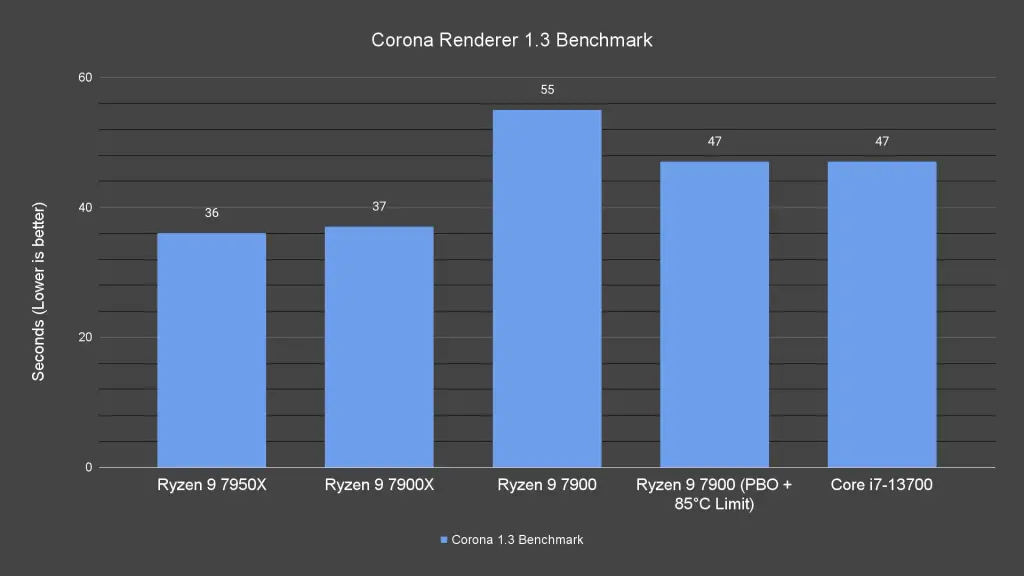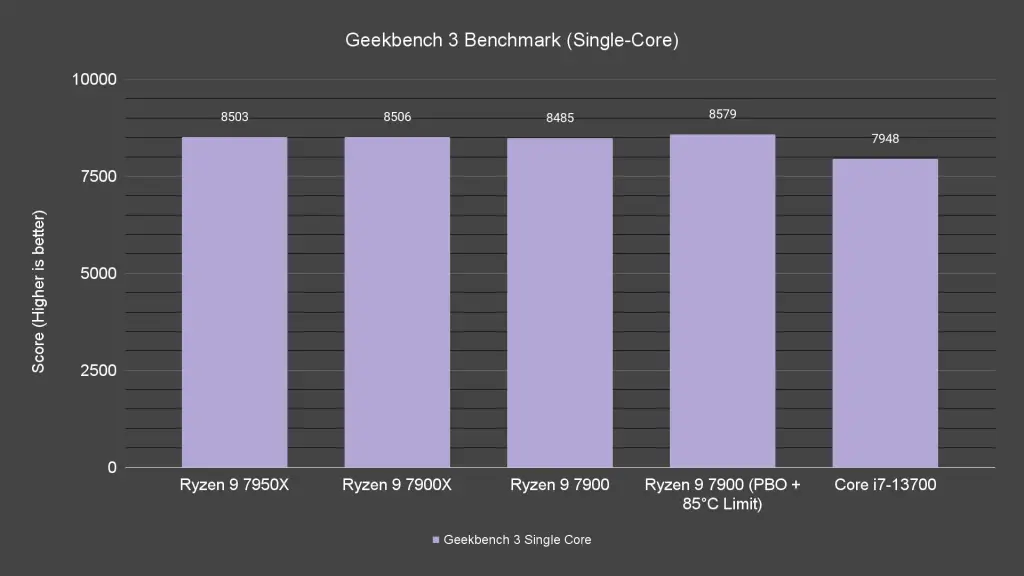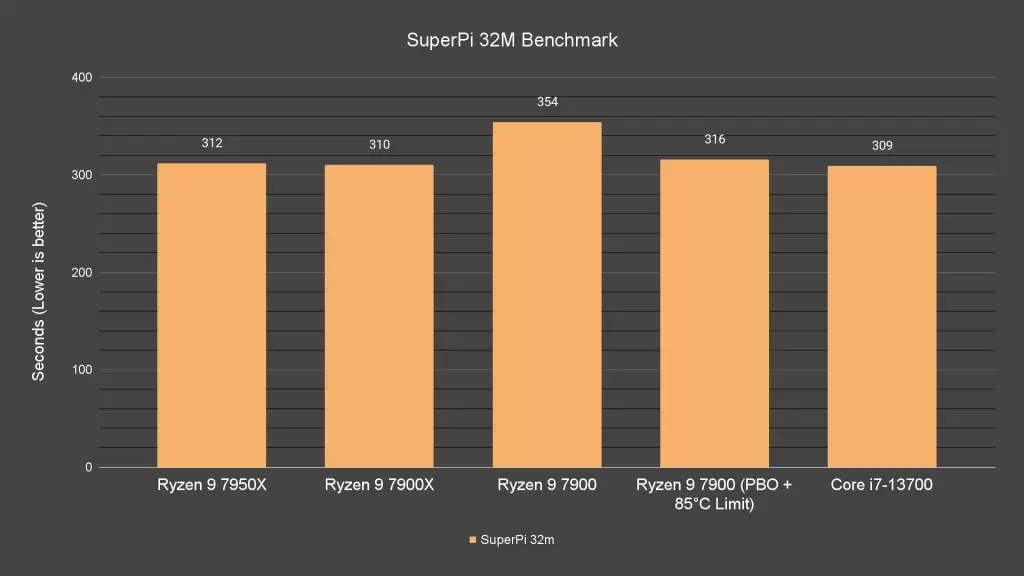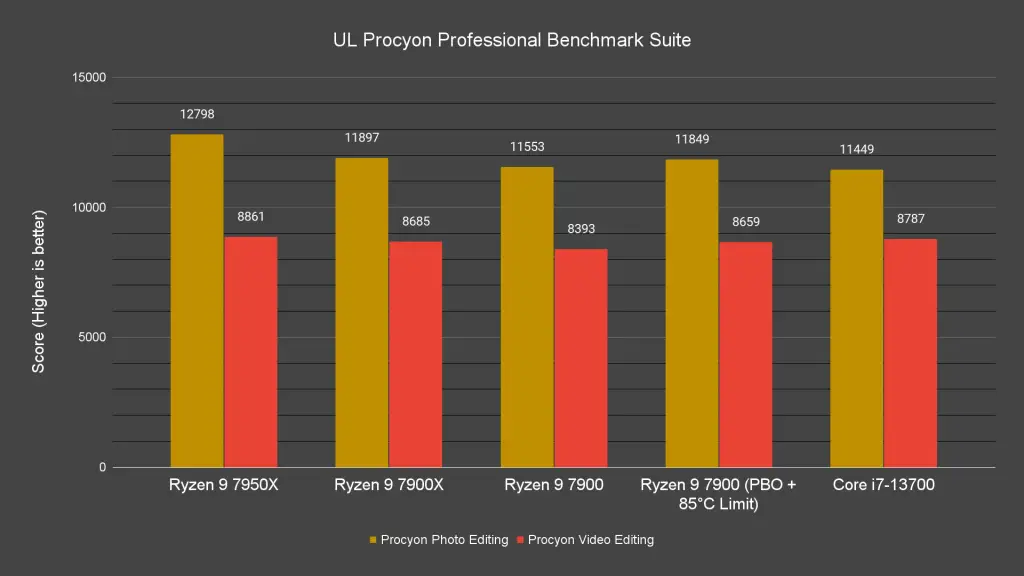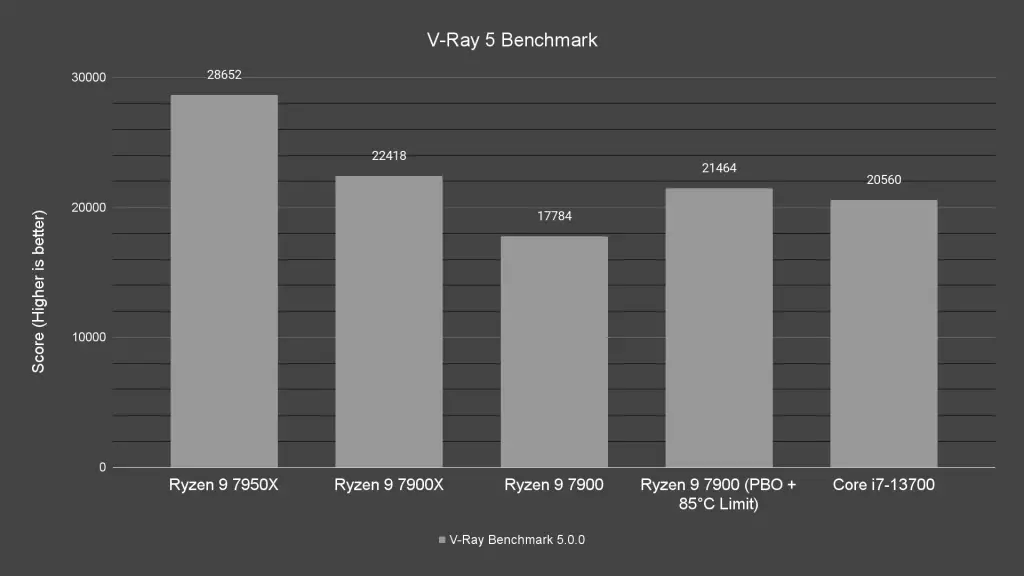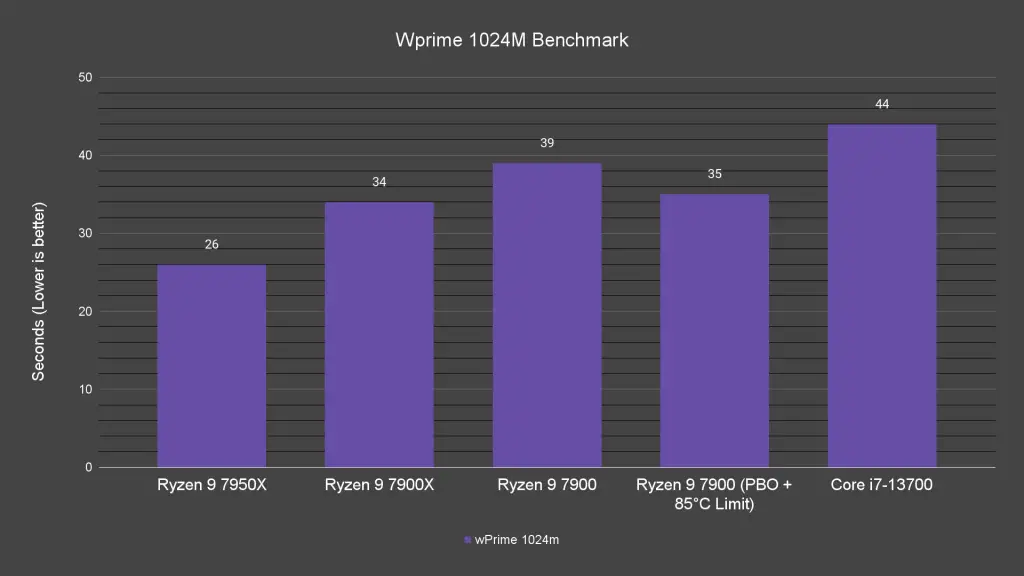 Moving on to the synthetic benchmark results, we can also see that the Ryzen 9 7900 is still performing really well despite the lower power draw and can be seen performing close to the Ryzen 9 7900X on some occasions. With PBO enabled and the thermal limit set to 85°C, the Ryzen 9 7900 gets a significant performance boost in tasks that utilizes more cores and can be seen trading blows with both the Ryzen 9 7900X and Core i7-13700 that easily draws up to 170W on load.
Final Thoughts
Despite the strong competition from the 13th-gen Intel non-K SKUs, the impressive performance and power efficiency the Ryzen 9 7900 has displayed is just better in many ways if we take high-frequency memory out of the equation. As of now, high memory frequency is still an Intel thing and DDR5-7000 is easily achievable on the 13th-gen Core processors while Zen 4 still struggles to stay stable at DDR5-6400. Though it's not really a major concern at the moment as DDR5-6000 will do just fine as it is easily achievable with both Intel 13th-gen and AMD Zen 4 using the existing DDR5 memory kit that uses Hynix M-die memory chips.
Given the fact that it's not losing too far behind the Ryzen 9 7900X on stock and can be overclocked or configured with ready-to-use presets that give it a performance that is close to a Ryzen 9 7900X, the Ryzen 9 7900 is in fact, a great CPU that makes the Ryzen 9 7900X look bad. To make things worse for the Ryzen 9 7900X, the Ryzen 9 7900 costs $120 less and comes with the Wraith Prism, which is easily one of the best box coolers around and you don't have to spend an extra on a 3rd-party CPU cooler if the settings are done right. Heck, it can trade blows with the Intel Core i7-13700 on most occasions as well, while running way cooler and consuming less power during load.
Retailed at $429, the Ryzen 9 7900 is easily the Ryzen 7000 series desktop processor that I will recommend to those who are ready for Zen 4 and DDR5 memory.