While XMP is technically something that is only available on the Intel platform, we can still see the effort from the board partners to provide the alternative on AMD platforms. Though that has changed since AMD launched its Zen 4 desktop CPU, as well as the introduction of a new standardized overclocking profile for the AMD platform known as the AMD EXPO.
In this article, we'll be taking a quick look at the Kingston FURY Beast DDR5 RGB Memory, one of the AMD EXPO-certified DDR5 memory kits that is ready for the new Zen 4 processors. We've tested the Kingston FURY Beast DDR5 RGB Memory for quite some time since the launch, so here is some information to share about our experience throughout the tests we've done with the memory kit.
Specifications
Capacities
Singles: 8GB, 16GB, 32GB
Kits of 2: 16GB, 32GB, 64GB
Speeds*
4800MT/s, 5200MT/s, 5600MT/s, 6000MT/s
Latencies
CL36, CL38, CL40
Voltage
1.1V, 1.25V, 1.35V
Operating Temperature
0 °C to 85 °C
Dimensions
133.35 mm x 42.23 mm x 7.11 mm
Overview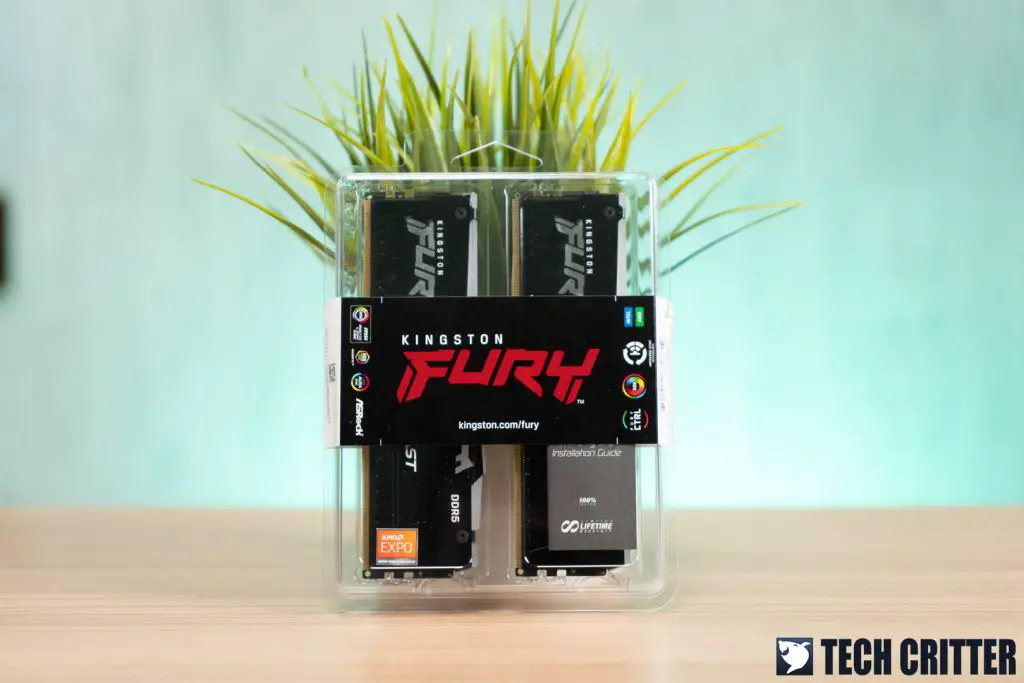 The FURY Beast DDR5 RGB comes in a single kit or a kit of two of up 64GB, and a rated speed of update 6000MT/s. The kit we have here is the kit of 2 DDR5-6000 CL40, which comes ready with Intel XMP and AMD EXPO profiles so it can be used on both Intel and AMD platforms.
Design-wise, Kingston kept the design simple for the FURY Beast DDR5 RGB, and in my opinion, it's the RGB-fied version of the FURY Beast DDR5 for those who can't live without the RGB lightings on the memory kits. We didn't take apart the heatsink this time for inspection but based on the information in CPU-Z, the Kingston FURY Beast DDR5 RGB is using the SK Hynix M-die that is known to clock better than both Micron and Samsung at the moment.
Test System
| | |
| --- | --- |
| CPU | AMD Ryzen 9 7950X |
| Motherboard | Gigabyte X670E AORUS Master |
| Memory | Kingston Fury Beast DDR5 RGB (DDR5-6000 CL40 kit) |
| Graphics Card | NVIDIA GeForce RTX 3080 |
| Power Supply | Cooler Master V1200 Platinum |
| Primary Storage | Kingston KC3000 2TB |
| Secondary Storage | WD Black 6TB |
| CPU Cooler | Cooler Master MasterLiquid PL360 Flux |
| Chassis | Cooler Master MasterFrame 700 |
| Operating System | Windows 11 64bit |
Memory Overview
As AMD is fully committed to DDR5 this time, your only option for the Zen 4 is to go with the new DDR5 modules, especially the AMD EXPO-certified kits. While Most of the existing DDR5 memory kits will work just fine with the JEDEC specs, the EXPO profiles work just like XMP on Intel and you can get the sweet spot DDR5-6000 frequency and easily get the latency down to 65ns.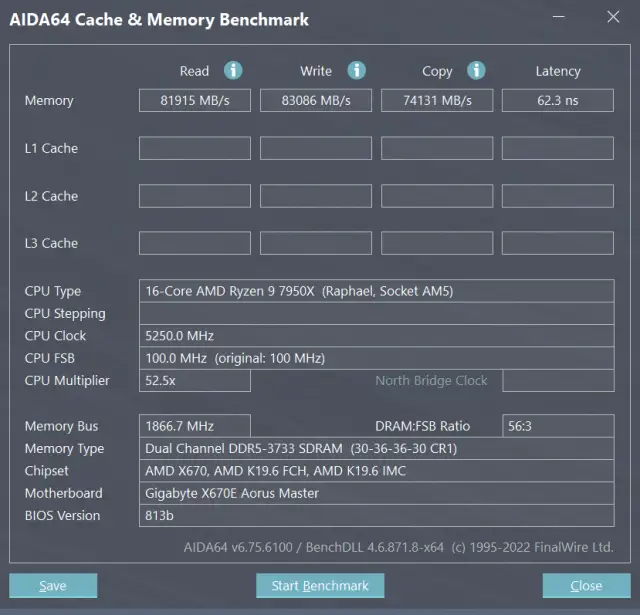 While DDR5-6000 is what AMD stated as the sweet spot for Zen 4, you can still reduce the latency a little further with a few adjustments to slightly tighten up the timings. Auto:1:1 for FCLK:MCLK:UCLK is technically the way to go for now and if you don't feel like going too high on the voltages, DDR5-6000 CL30 is easily achievable. In our case, it's done with a slight increase in the VDD at about 1.38V, and the rest is left on auto.
As for those of you who prefer to have all your DIMM slots populated, DDR5-6000 is technically impossible with just the EXPO preset alone. Without any adjustments to the voltage and memory settings, DDR5-3600 CL30 is what you'll find on the memory settings after the system boots up.
It's basically what AMD stated during the Zen 4 launch, but that doesn't mean you're locked at DDR5-3600 with 4 sticks. We didn't manage to get the system to run at DDR5-6000 with 4 sticks at the time the test was done but DDR5-5600 is still possible and it only requires minimal adjustments on the memory-related voltages like the VDD, VDDP, and a bit on the VSoc.
Verdict
While most DDR5 price has gone down quite a bit since Intel first launched its 12th Gen Core Processors, they still cost almost twice as much as a DDR4 memory kit at the same capacity. This is still one of the reasons that are holding some users back with the upgrade even though they're actually getting more bandwidth and higher frequency at lower operating voltage with DDR5 as compared to DDR4. Intel users can still get away with it as there are still a handful of motherboards that supports DDR4, but DDR5 memory kit is inevitable if you're going for an AMD Zen 4 upgrade.
As more DDR5 memory kits nowadays are using the Hynix M-die that is a lot easier to deal with, you can actually achieve similar or better timings than the more expensive kits at the same frequency with very little effort. The Kingston FURY Beast DDR5 RGB (DDR5-6000 CL40) we have tested here might not come ready with tighter timings like the expensive ones, but achieving the sweet spot DDR5-6000 CL30 is fairly easy even if you're feeling just a little bit more adventurous. For the price of about RM 1149, the FURY Beast DDR5 RGB (DDR5-6000 CL40)  pretty reasonable choice for a DDR5 memory kit, both Intel and AMD platform.
Pros
Reasonable overclocking headroom
Come ready with AMD EXPO-certified profiles and Intel XMP 3.0 profiles
Lower operating voltage compared to DDR4
Cons
Upgrade cost is still a little high