With Intel finally launching its 12th gen Core processors, we're moving forward to the long-awaited era of DDR5 memory modules and unlike the previous generational leap, an increase in bandwidth and frequencies isn't the only thing DDR5 has to offer because a lot of things have been redesigned this time around.
For this article, we'll be taking a quick look at one of the new DDR5 memory kits from Kingston, the Fury Beast DDR5-5200. As we don't have other DDR5 memory kits on hand for comparison, we'll be focusing on the overclocking and gaming performance, just to see what the Fury Beast DDR5-5200 has to offer for the early adopters.
Specifications
Capacities
Single module of 16GB
Kits of two 32GB
Frequencies
4800MHz, 5200MHz, 5600MHz, 6000MHz
Latencies
CL38, CL40
Voltage
1.1V, 1.25V, 1.35V
Operating temperature
0°C to 85°C
Dimensions
133.35 mm x 34.9 mm x 6.62 mm
Unboxing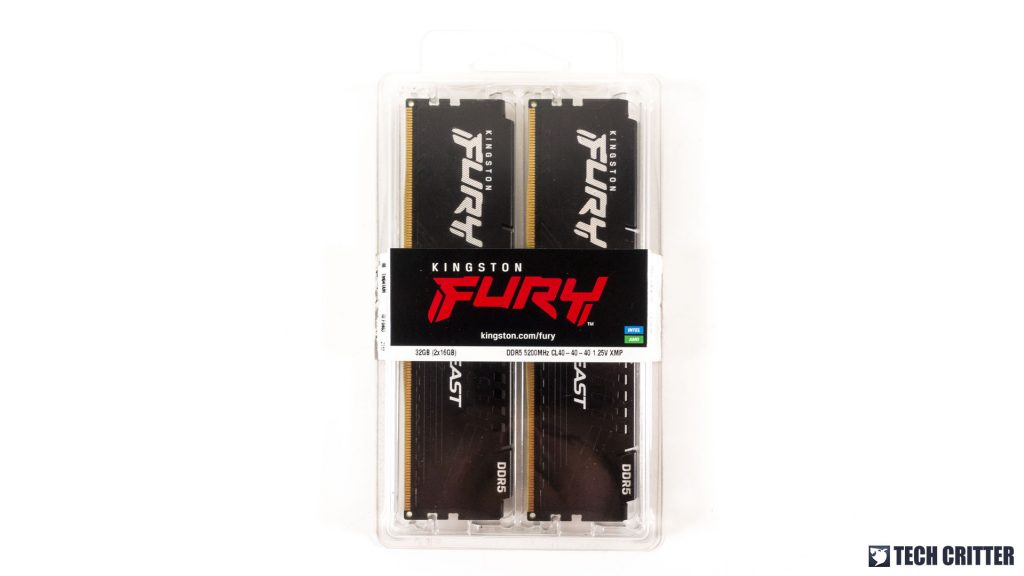 The Kingston Fury Beast DDR5 ships in the usual generic packaging you can get for a memory module but you'll still be able to see some of the product details i.e capacities, operating voltage, frequencies, and timings of the kit on the product label.
Kingston kept the design very simple and the Fury Beast DDR5 is technically one of the reasonable basic DDR5 memory kits you can get if you can't live with the bare naked kits – of course, the heatsink will also help to cool the components better during operation.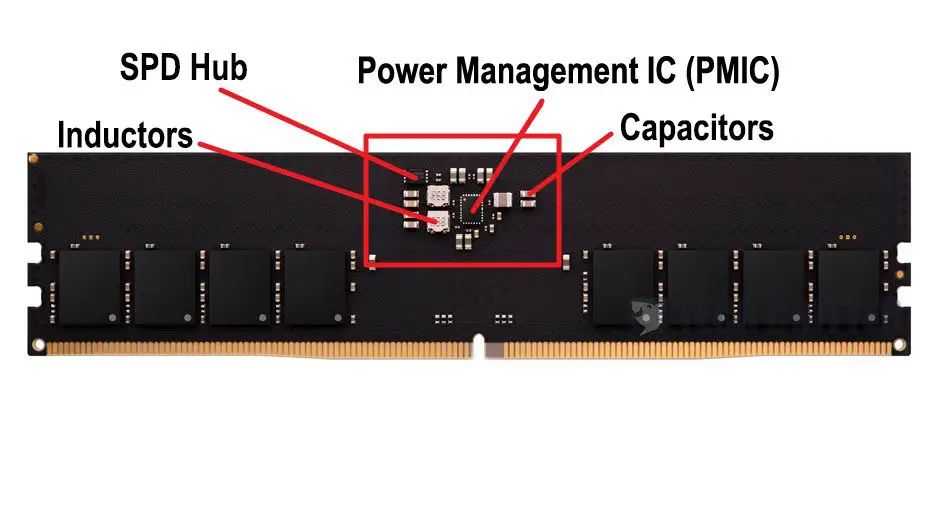 We didn't take apart the heatsink this time but this is what you'll find under the heatsink for most of the DDR5 memory modules out there. Unlike the previous-gen design where most of the power management is done on the motherboard, DDR5 now comes with its own power management which according to some motherboard manufacturers, will make things a bit more complicated for the DRAM manufacturers.
As for the memory ICs, you'll still see the Micron, Hynix, and Samsung ICs as usual but we have yet to identify the models used on DDR5 due to the limited samples at the time this article is being prepared.
Test System
| | |
| --- | --- |
| CPU | Intel Core i9-12900K |
| Motherboard | MSI MPG Z690 FORCE WIFI / ASUS ROG Maximus Z690 Hero / Gigabyte Z690 AORUS XTREME |
| Memory | Kingston Fury Beast DDR5-5200 |
| Graphics Card | NVIDIA GeForce RTX 3080 |
| Power Supply | Cooler Master V1200 Platinum |
| Primary Storage | PNY XLR8 CS3040 |
| Secondary Storage | WD Black 6TB |
| CPU Cooler | MSI MEG Coreliquid S360 |
| Chassis | Cooler Master MasterFrame 700 |
| Operating System | Windows 11 64bit |
Overclock Test
The Kingston Fury Beast DDR5-5200 comes with two XMP profiles and you can just go with DDR5-5200 CL40 if overclocking is not really your thing. Though you will need to perform some adjustments to the voltages depending on the motherboard model you're using because our test shows that higher DRAM voltage i.e 1.26-1.28V is required on some of the motherboards to avoid random crashes during stress tests and benchmarks.
We're able to slightly tighten the timings on DDR5-5200 to CL36-38-38 and slight overclock to DDR5-5400 CL38-40-40, which can be achieved easily on all three motherboards we've used for the test. DDR5-5600 on the other hand is only achievable with the ASUS ROG Maximus Z690 Hero and Gigabyte Z690 AORUS XTREME but with slightly different sub-timings.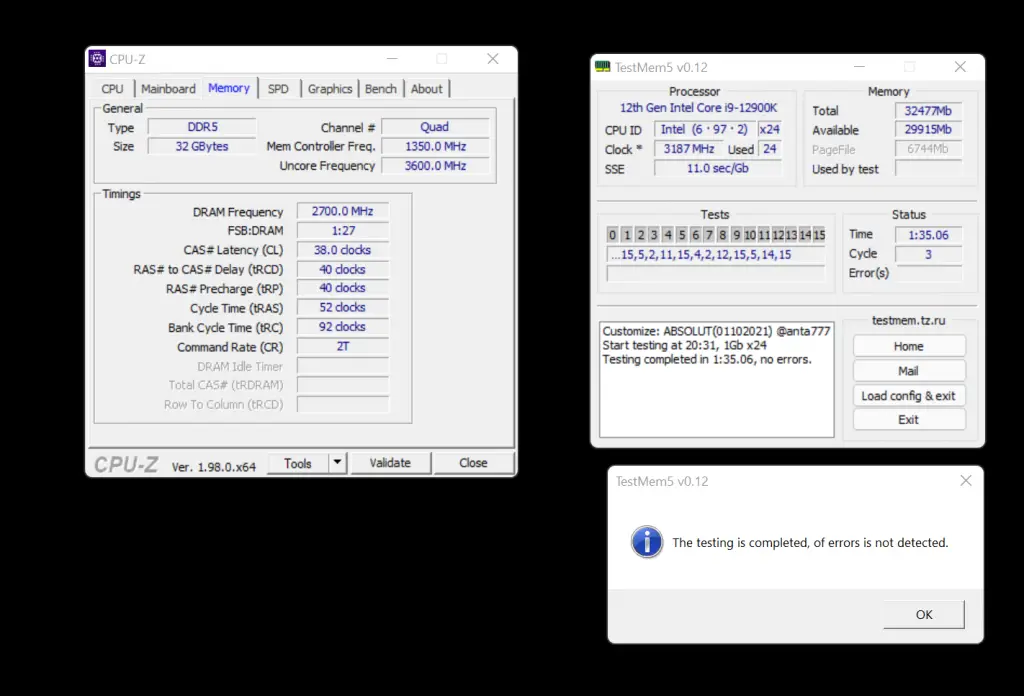 For stability tests, we settled with DDR5-5400 because our DDR5-5600 configuration wasn't able to complete all three cycles on TestMem5 with anta777 ABSOLUT config even though it didn't give us any major issue on gaming benchmarks. There's still a lot more optimization that can be done on the sub-timings but that totally depends on how much time you want to spend on it.
Game Performance Test
Moving on with the gaming performance benchmarks, we've compared the game performance of the selected titles at 1080P and high graphical settings using the XMP profiles and manual settings for a better look at the performance difference you might get if you've decided to optimize the timings even by just a little bit.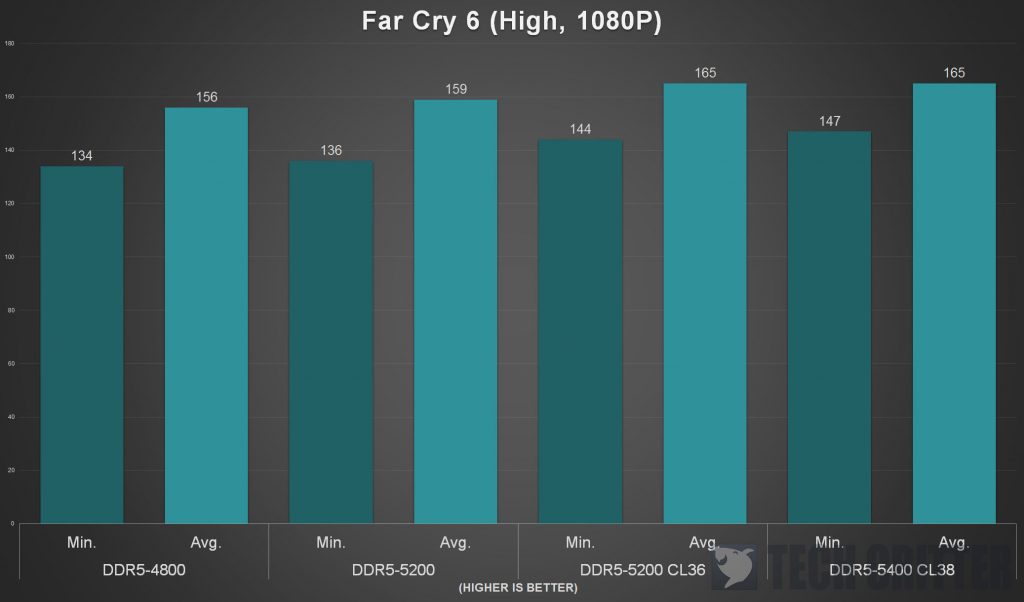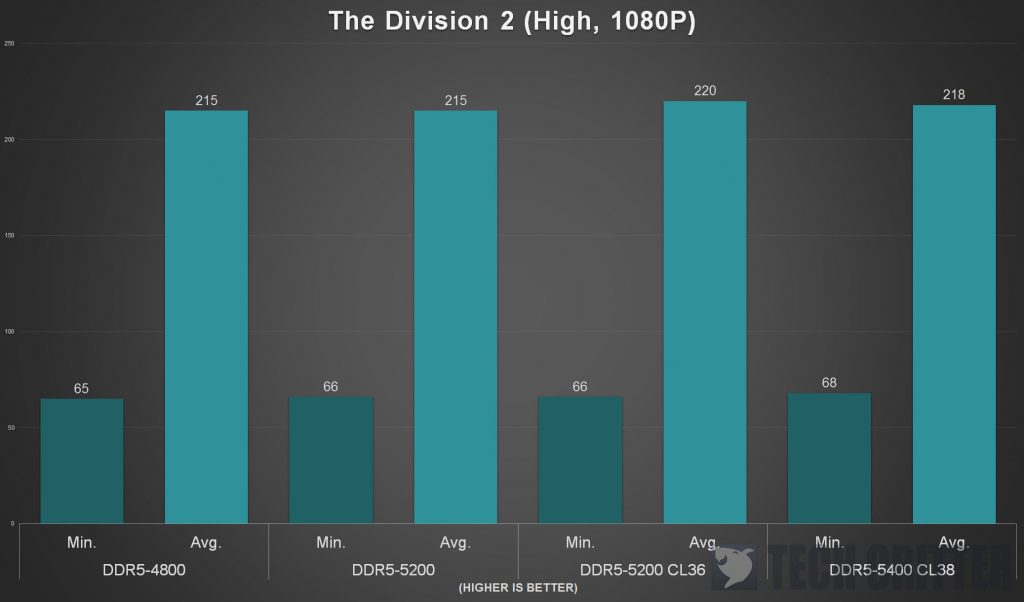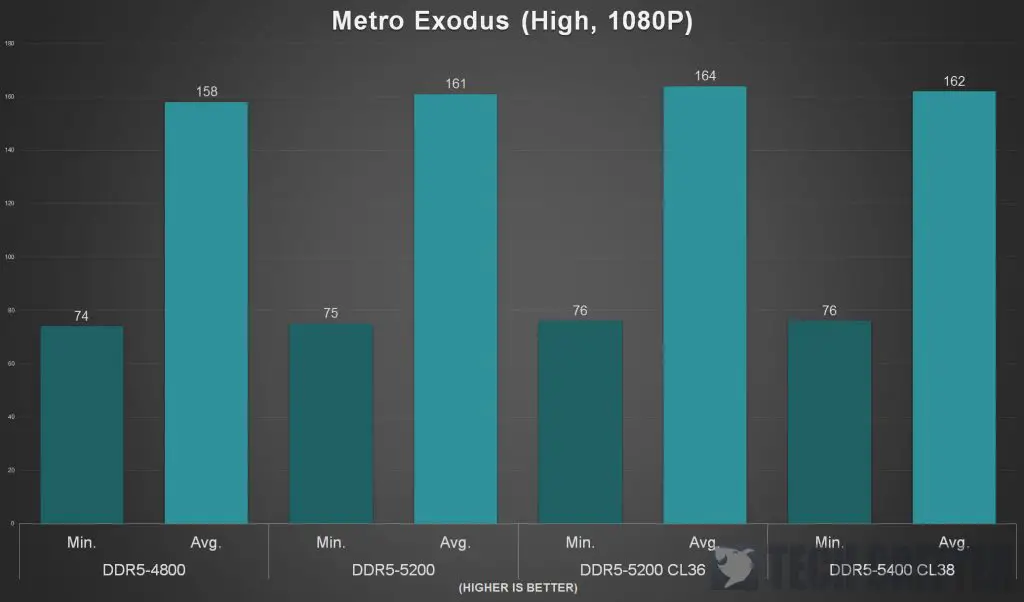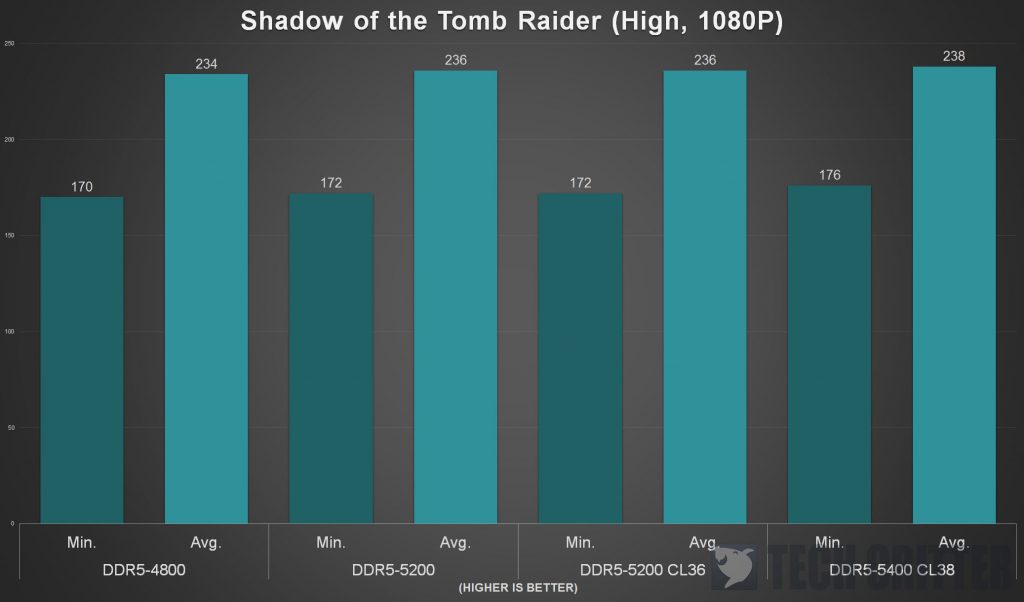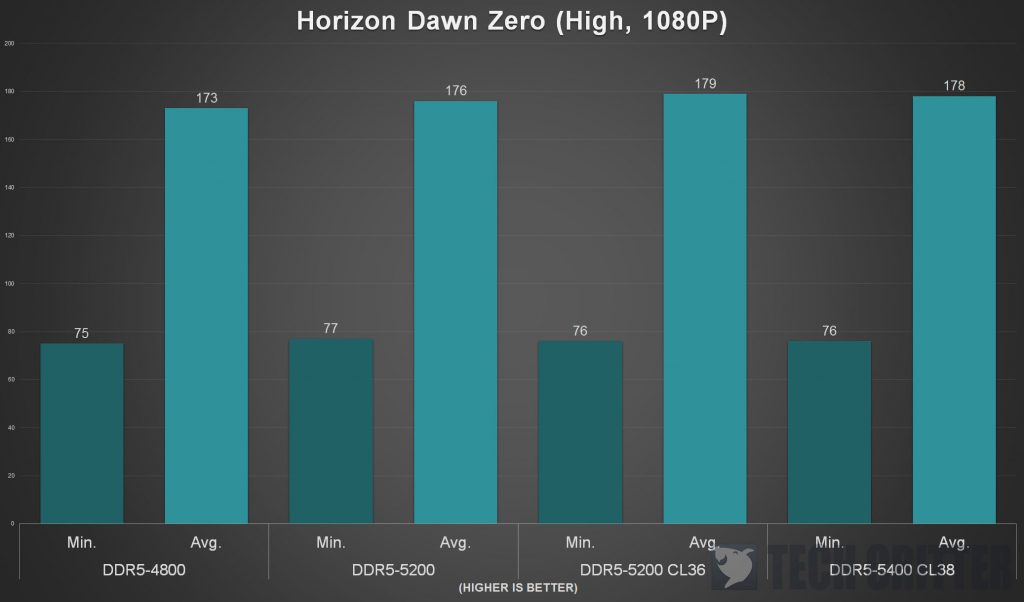 While the improvement on the average framerate isn't as significant on some of the titles, we can still see a reasonable improvement in the minimum frame on titles that can take advantage of higher memory frequencies, which translates to a smoother gaming experience. As for how much more improvement we can get with faster memory kits i.e DDR5-6000+, we'll leave it there for now until we manage to get our hands on one in the future.
First Impression
The Kingston Fury Beast DDR5 is one of the earlier releases of DDR5 memory kits that is made ready for the 12th gen Intel Core processors and the Z690 chipset motherboards. Design-wise, the Fury Beast DDR5 doesn't come with any RGB lightings, which might not be an appealing option to those who favor fancy lightings on their system. While most people will probably go with an AIO nowadays, you'll still be able to deal with most of the air coolers that come with a big heatsink without any clearance issue thanks to its low profile design.
For the performance, we can see that the overclocking headroom for this kit is somewhat different for each motherboard we've tested so far. DDR5-5600 isn't a guaranteed result as the voltage and timings are in favor of the higher-end motherboards, so DDR5-5400 is currently the most consistent result we can get using a similar configuration on other Z690 motherboards. We're not entirely sure if that's the limitation of the Micron ICs but despite the seemingly limited overclocking headroom, we can still see some reasonable increase in gaming performance after tightening the timings.
As far as the shortage goes, the Kingston Fury Beast DDR5 is one of the easily available DDR5 memory kits nowadays that comes at 1399 MYR. It's not the most affordable memory kit out there but looking at the overall performance it can deliver, it'll serve most users just well, especially the early adopters who just want to experience the 12th gen Intel Core processors and DDR5 memory first hand.
Pros
Offers higher capacity and bandwidth than DDR4
Lower stock operating voltage compared to DDR4
Cons
Subjective
Overclock capability and voltage required may vary by motherboard models