NVIDIA has finally announced the RTX 4070 Ti as the latest addition to its GeForce RTX 40 series graphics cards. As NVIDIA has confirmed that there will be no Founders Edition models for the RTX 4070 Ti, you'll have to look for the models from the board partners for the RTX 4070 Ti.
For this review, we'll be looking at the RTX 4070 Ti AMP Extreme AIRO from Zotac, one of the renowned board partners for NVIDIA GeForce graphics cards. As we'll definitely see comments on it being the supposed RTX 4080 12GB that was canceled months ago, we have compared the RTX 4070 Ti against the RTX 4080 and RTX 3090 to see what kind of performance we can expect from it.
Specifications
| | | | |
| --- | --- | --- | --- |
| GPU | GeForce RTX 3090 | GeForce RTX 4080 | GeForce RTX 4070 Ti |
| CUDA Cores | 8704 | 9728 | 7680 |
| Tensor Cores | 272 | 304 | 240 |
| RT Cores | 68 |  76 | 60 |
| ROPs | 96 | 112 | 80 |
| GPU Boost Clock | 1695 MHz | 2505 MHz | 2610 MHz |
| Memory Data Rate | 24 Gbps | 22.4 Gbps | 21 Gbps |
| Total Video Memory Size | 24G GDDR6X | 16G GDDR6X | 12G GDDR6X |
| Memory Interface | 384-bit | 256-bit | 192-bit |
| Memory Bandwidth | 936.2 GB/s | 716.8 GB/s | 504 GB/s |
| TDP | 350W | 320W | 285W |
| Recommended PSU | 750W | 750W | 700W |
| Power Connectors | 1 x 12-pin | 1 x 16-pin (12VHPWR) |  1 x 16-pin (12VHPWR) |
Overview
The RTX 4070 Ti AMP Extreme AIRO is equipped with the same massive triple fan cooler, this card is just as big as the previous RTX 4090 and 4080 AMP Extreme AIRO, which makes it a massive 3-slot graphics card as well. Zotac did include a graphics card holder stand in the box, so you can make good use of that to support the card's weight if you're not mounting the card vertically.
That aside, it also comes with a lower TDP of 285W, which can be powered using 2 x PCIe 8-pin cables instead of 3. But then again, your best option is always the power supply that is 12VHPWR ready. While the included adapter is still a 3 x PCIe 8-pin to 1 x 12VHPWR, you can get a 2 x PCIe 8-pin to 1 x 12VHPWR cable from a trusted custom cable manufacturer to make your cable management easier.
There's also a switch located next to the 12VHPWR connector, which is the dual BIOS switch that allows you to toggle between the AMPLIFY and QUIET profiles. The profiles can be identified by the flashes, 2 red flashes go for the AMPLIFY mode and 2 blue flashes that go for the QUIET mode.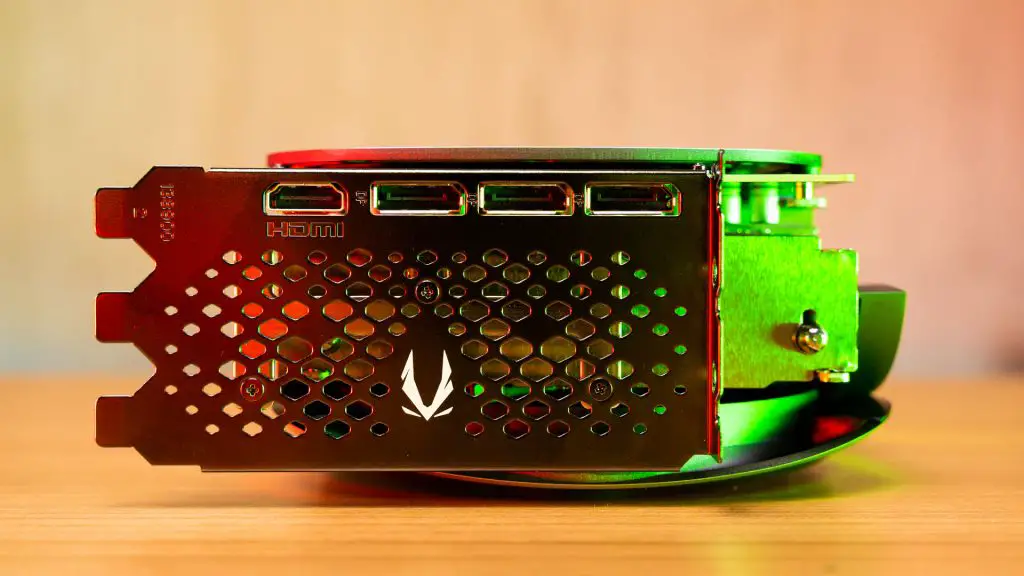 As for the display output, it's pretty standard I'd say, the commonly seen 3 x DisplayPort and 1 x HDMI.
Test System Setup
We have put together this review by testing the RTX 4070 Ti against the RTX 4080 and RTX 3090. For our games benchmark test, we've selected a number of AAA titles to run at their highest possible settings using the following setup under an ambient temperature of 28°C:
| | |
| --- | --- |
| CPU | Intel Core i9-12900K |
| Motherboard | ASUS ROG Maximus Z690 APEX |
| Memory | Kingston Fury Beast DDR5 RGB @ DDR5-6000 CL30 |
| Graphics Card | GeForce RTX 3090 / GeForce RTX 4080 / Zotac Gaming GeForce RTX 4070 Ti AMP Extreme AIRO |
| Power Supply | Cooler Master M2000 Platinum |
| Primary Storage | Kingston KC3000 2TB |
| CPU Cooler | Cooler MasterLiquid PL360 Flux |
| Chassis | Cooler Master MasterFrame 700 |
| Operating System | Windows 11 64bit |
For the test, we're using the Intel Core i9-12900K, ASUS ROG Maximus Z690 APEX, and the Kingston Fury Beast RGB DDR5 memory kit mainly to minimize the chances of bumping into any performance bottleneck.
As it's a pretty powerful graphics card that is still capable of handling quite a number of games on 4K resolutions, 1080P is the least to worry about if you're going for that. Though I won't be paying $799 for a graphics card just to play games at 1080P knowing that it can actually do much more than that.
Games Benchmark – Raster Performance
Assassin's Creed Valhalla
Control
Cyberpunk 2077
Far Cry 6
Forza Horizon 5
Hitman 3
Horizon Zero Dawn
Metro Exodus
Red Dead Redemption 2
Shadow of the Tomb Raider
Watch Dogs: Legion
If you're getting the RTX 4070 Ti to game at 4K resolution, it can still handle a handful of existing titles and get at least 60fps on average, but for graphically demanding titles like Cyberpunk 2077, you'll probably have to lower the graphics settings or enable DLSS to get higher framerates.
Compared to the RTX 3090 which can still handle quite a lot of games on 4K resolution, the RTX 4070 Ti is technically performing 10% better or almost on par.
1440P is the resolution that all the cards can handle, but being able to maintain an average fps at 100+, I'd say the RTX 4070 Ti is still slightly better than the RTX 3090.
Games Benchmark – Ray Tracing Performance
Control
Cyberpunk 2077
Far Cry 6
Forza Horizon 6
Hitman 3
Metro Exodus
Shadow of the Tomb Raider
Watch Dogs: Legion
As for the ray tracing performance, both the RTX 3090 and RTX 4070 Ti start to struggle to maintain 60 average fps on the demanding titles. With the highest graphics settings and ray tracing set to ultra, both cards struggle to hit 60 average fps on titles like Hitman 3, Cyberpunk 2077, and Metro Exodus.
For Watch Dogs Legion, however, the RTX 4070 Ti still manages to maintain an average of 61 fps despite the game being one of the most demanding on the list.
While this can be solved easily by lowering the graphics settings, ray tracing quality, and DLSS preset, I'd say that the RTX 4070 Ti is more suitable for 1440P if you're going all out in ray tracing and DLSS Quality preset. On 1440P, the RTX 4070 Ti has no problem with us going all out on all the settings, with all the titles tested being able to maintain more than 80 fps at ease.
DLSS 3 Hands-On
Now moving on to DLSS 3, one of the key selling points of the RTX 40 series cards… what's the current situation with the new tech? Well, more games are getting DLSS 3 for sure.
Apart from Cyberpunk 2077 with DLSS 3 that a lot of the reviewers have been showing to the mass, new titles in 2022 like Marvel's Spider-Man Miles Morales, A Plague Tale Requiem, and Loopmancer is getting their own highlight as well. Older titles like Portal, The Witcher 3, and Bright Memory Infinite also get a new breath of fresh air with DLSS 3 and some wholesome RTX for the extra aesthetics.
So that's something to look forward to, especially when NVIDIA finally announces the RTX 4060 in the future.
Synthetic Benchmark
For the synthetic benchmarks, we have the usual 3DMark, OctaneBench, Blender Benchmark, and V-Ray Benchmark for a quick performance gauge.
In the 3 test presets for the Blender benchmark, aside from the Junkshop test that requires more VRAM, the RTX 4070 Ti basically performs up to 25% better than the RTX 3090 with ease.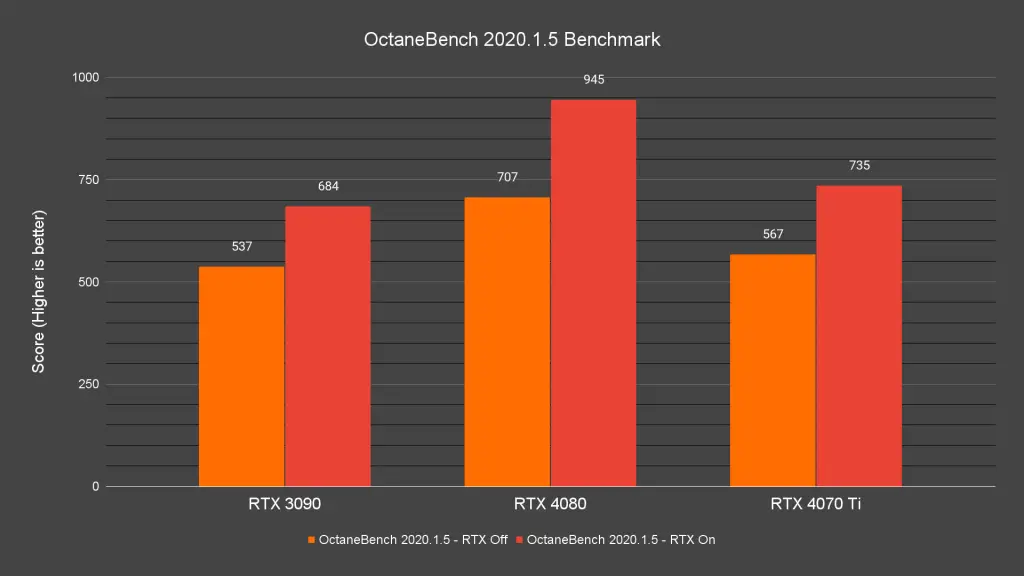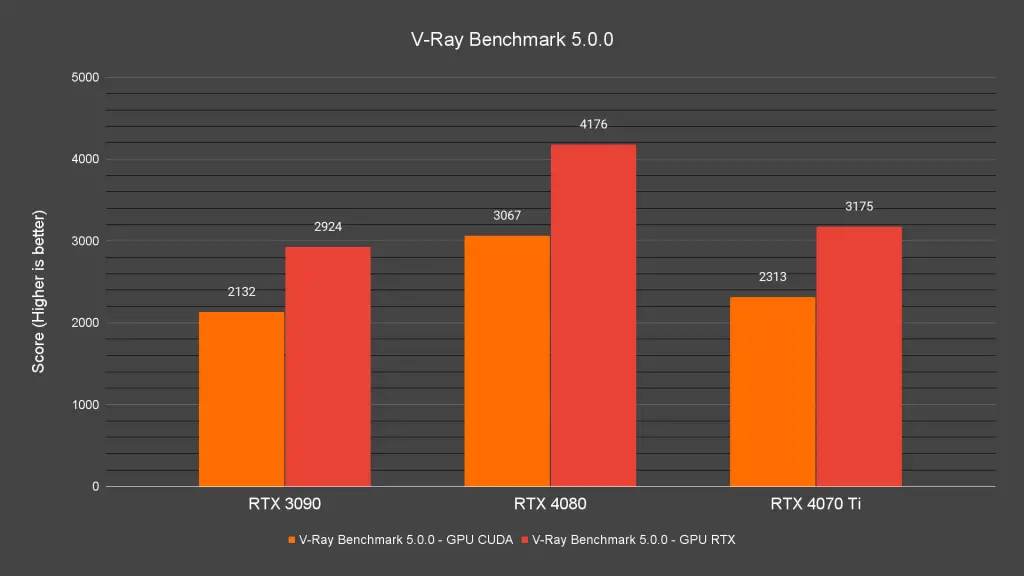 As for benchmarks that involve ray tracing works like OctaneBench 2020 and V-Ray, the RTX 4070 Ti also performs better than the RTX 3090, but the performance gap is only at about the 5-8% range, which is not as big as what we've seen in the previous benchmark.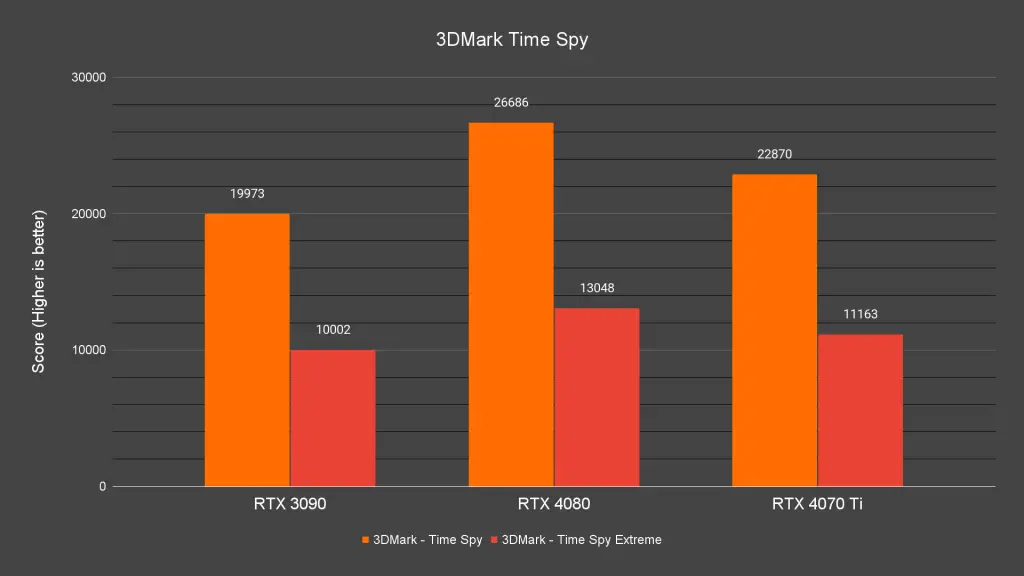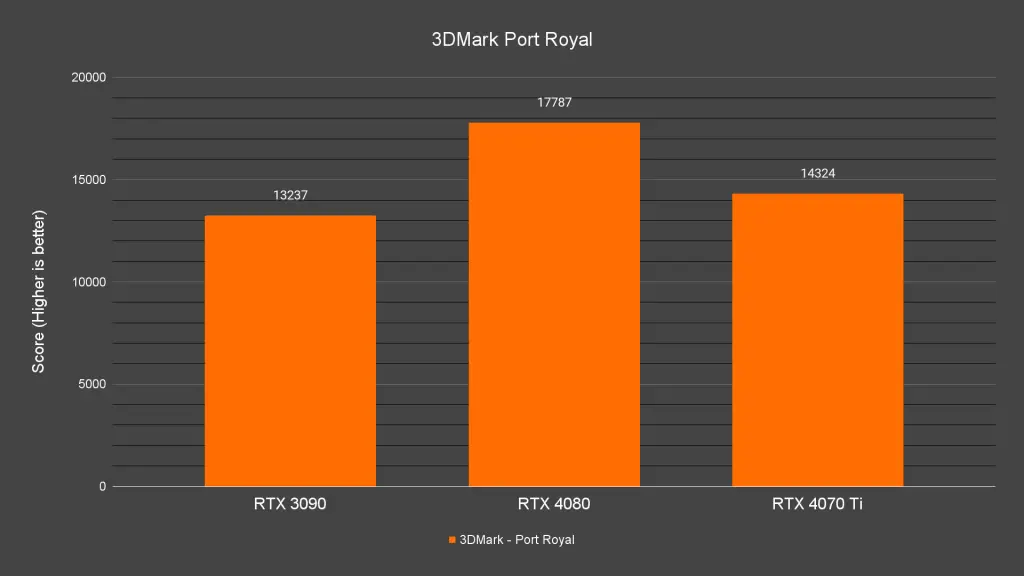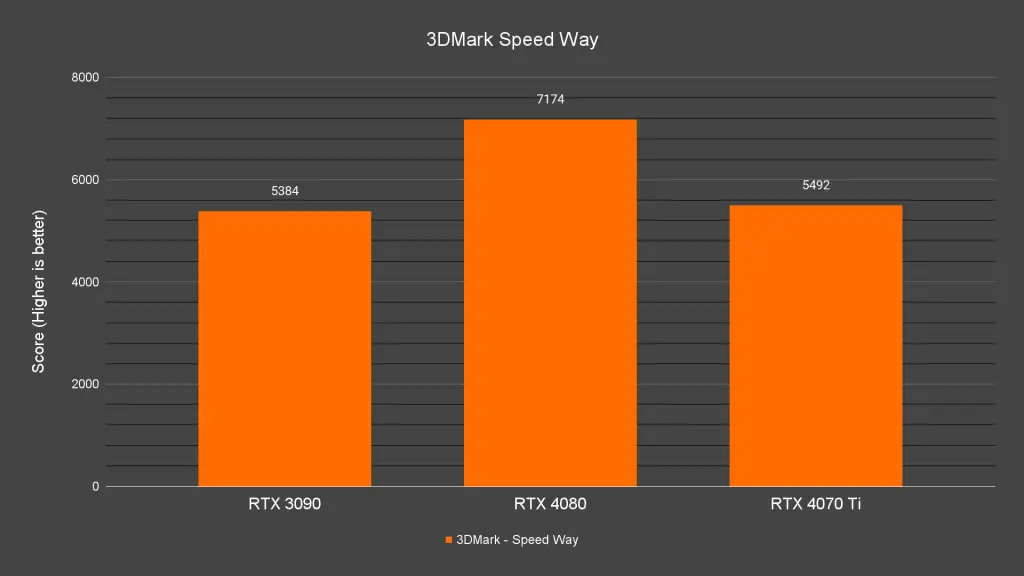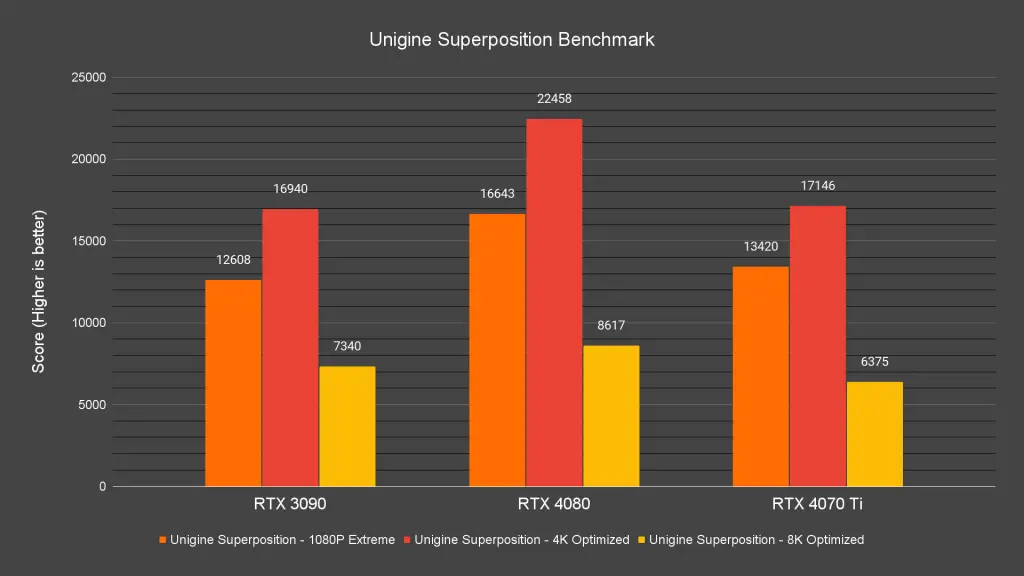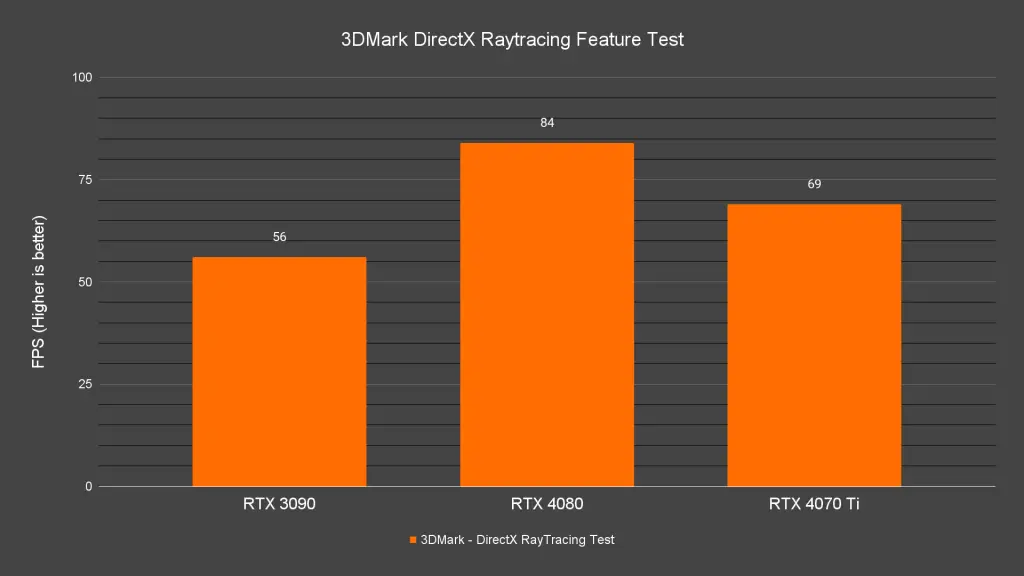 And for 3DMark, for the fun of it, the RTX 4070 Ti also takes the lead by quite a margin in Time Spy, Time Spy Extreme, and Port Royal. For the newer Speed Way test, however, the performance gap is surprisingly small, only at about 2% more than the RTX 3090.
Power and Thermals
Now for the power draw and performance, it's still pretty reasonable I'd say. The thermals will vary by the design from different AIC partners, but as far as what we've observed on the RTX 4070 Ti AMP Extreme AIRO, it's all good.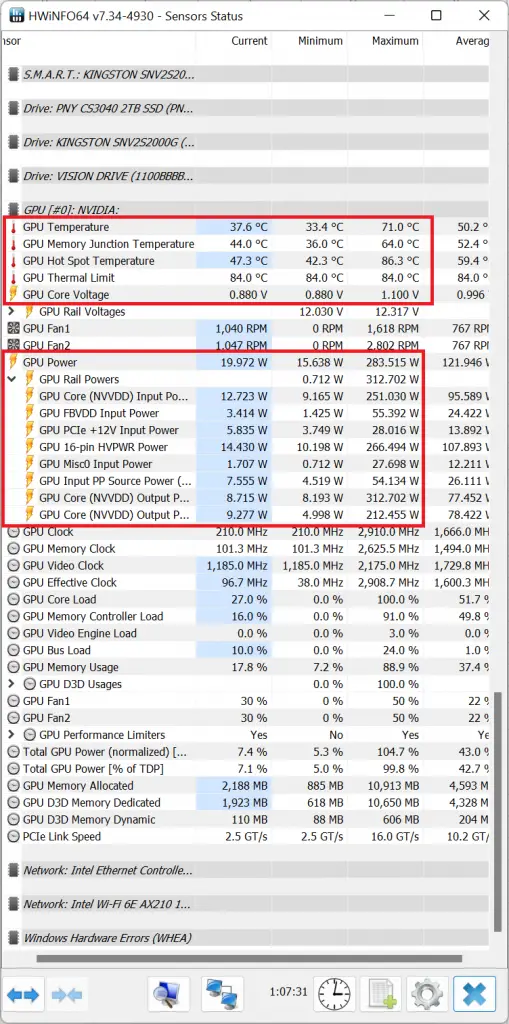 With heavy workloads that only peaked at about 71°C, you don't have to worry about the GPU overheating during gaming sessions as the highest GPU temperature recorded during our game benchmark session is only at the 62°C range. Other parts like GPU hotspot and GPU memory Junction Temp are looking okay at this point, which only peaked out at 64°C and 86°C respectively.
And for the power draw, while we did manage to get a max power draw at 283W, it's only when we're doing consecutive synthetic benchmarks that are trying to squeeze every drop of performance out of the GPU on long hours. If it's only used for gaming, 264W is the highest we can see, and most of the time, the power draw is hovering around 230W mostly.
This brings us back to the power supply requirement. While NVIDIA is recommending a minimum 700W power supply, there are chances that you can still get away with a 650W power supply if you're on mid-tier specs where the CPU is not going to draw like 200W+ on load.
Though 12VHPWR is not really common on a power supply that is below 850W as of now and your only option, for now, is probably the included adapter. Of course, you can go for custom cables from trusted custom cable manufacturers, but that's entirely up to you.
Final Thoughts
$799 is still a bit more expensive if we compare it to the RTX 3080 launch price of $699, but seeing what the RTX 4070 Ti is capable of, I'd say the $100 is still somewhat justifiable and reasonable as compared to the RTX 4080.
Why is that? If you're still aiming for an RTX 3090-like performance for your next upgrade if you don't need that extra VRAM, $799 which roughly translates to about RM 4000 range, the ZOTAC Gaming RTX 4070 Ti AMP Extreme AIRO which retails at RM 4,449 is still better than a brand new RTX 3090 that still goes at about 6000 MYR. Well again, given that you don't need that extra VRAM.
Looking at the gaming performance, it is like a beefed-up RTX 3080 Ti that performs better than an RTX 3090. It is still 4K gaming capable, ready for DLSS 3.0, and it runs cooler. So, that's a yes, recommended from me, easily more than the RTX 4080.
Where to buy? (Affiliate links)