NVIDIA has finally announced the new addition to its RTX 40 series graphics card lineup today but since there will be no Founders Edition this time, your source of the RTX 4070 Ti will be from the AIC and AIB partners with their respective designs. In this review, we got our hands on the AORUS GeForce RTX 4070 Ti MASTER 12G which is then tested against the GeForce RTX 3090 and RTX 4080 to see what the card is capable of.
Specifications
| | | | |
| --- | --- | --- | --- |
| GPU | GeForce RTX 3090 | GeForce RTX 4080 | GeForce RTX 4070 Ti |
| CUDA Cores | 8704 | 9728 | 7680 |
| Tensor Cores | 272 | 304 | 240 |
| RT Cores | 68 |  76 | 60 |
| ROPs | 96 | 112 | 80 |
| GPU Boost Clock | 1695 MHz | 2505 MHz | 2610 MHz |
| Memory Data Rate | 24 Gbps | 22.4 Gbps | 21 Gbps |
| Total Video Memory Size | 24G GDDR6X | 16G GDDR6X | 12G GDDR6X |
| Memory Interface | 384-bit | 256-bit | 192-bit |
| Memory Bandwidth | 936.2 GB/s | 716.8 GB/s | 504 GB/s |
| TDP | 350W | 320W | 285W |
| Recommended PSU | 750W | 750W | 700W |
| Power Connectors | 1 x 12-pin | 1 x 16-pin (12VHPWR) |  1 x 16-pin (12VHPWR) |
Overview
Just like the AORUS GeForce RTX 4080 16GB Master, the AORUS GeForce RTX 4070 Ti MASTER 12G is another huge graphics card that comes with the same cooler and will take up almost four expansion slots due to its sheer size. The cooler features not only a huge heatsink but also utilizes the AORUS bionic fan tech which claims to be able to reduce microturbulence and efficiently increase airflow to improve the cooling performance.
Gigabyte did include some support brackets in the box and you can see three screw holes on the other side of the card for other brackets to support the weight of the card.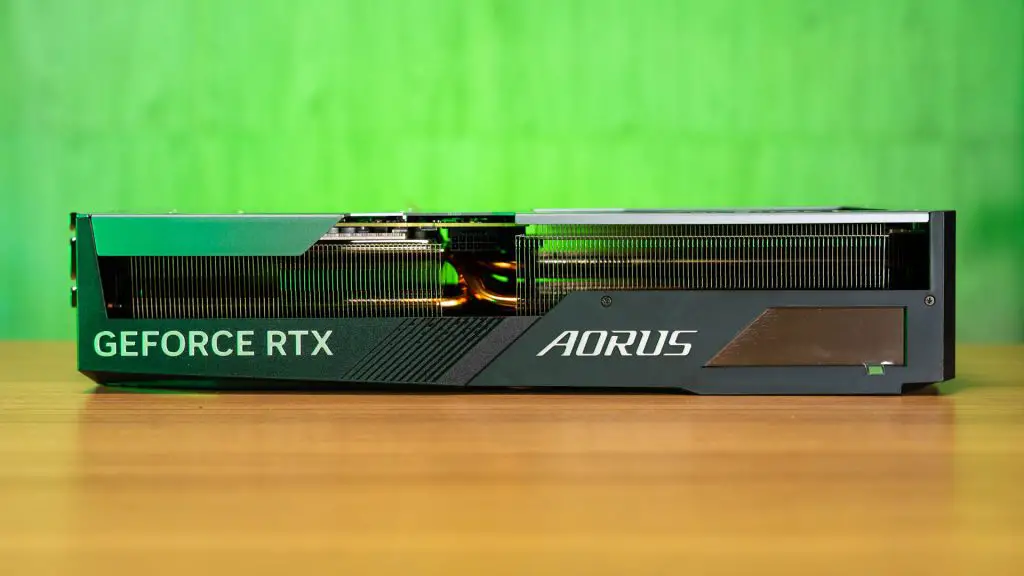 As all the RTX 40 series graphics cards are using the new 12VHPWR header, we'll have to live with this. You can either use the included adapter or a new ATX 3.0 power supply that comes with the 12VHPWR cable to power the card. If you're actually rocking on a good 700W or higher rated power supply but doesn't come with the 12VHPWR cable, you can also get a custom cable from a trusted custom cable manufacturer.
From the specs, the RTX 4070 Ti MASTER 12G has a rated TGP of 285W and NVIDIA recommends at least a 700W power supply for it. We get can a slight hint of the power efficiency here, as the power requirement is slightly lower than the RTX 3070 Ti which requires a 750W power supply.
The backplate design is very similar to the RTX 4080 16GB Master but with a much bigger cutout area at the back. Here we can see the actual length of the RTX 4070 Ti MASTER 12G PCB is actually half of the total length of the card including the heatsink and shroud.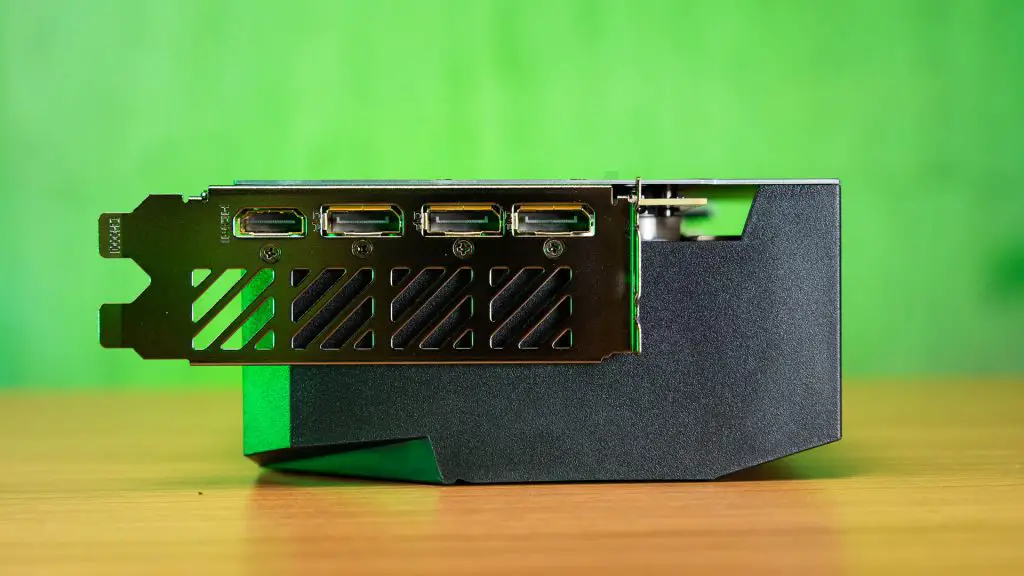 For the display output, the RTX 4070 Ti MASTER 12G has the standard 3 x DisplayPort and 1 x HDMI port combo that is commonly seen on graphics cards nowadays. Though my question here would be on the bracket itself – why is Gigabyte using a 2-slot bracket for this card when the card is clearly a 3-slot card?
Test System Setup
We have put together this review by testing the RTX 4070 Ti MASTER 12G against the RTX 4080 and RTX 3090. For our games benchmark test, we've selected a number of AAA titles to run at their highest possible settings using the following setup under an ambient temperature of 28°C:
| | |
| --- | --- |
| CPU | Intel Core i9-12900K |
| Motherboard | ASUS ROG Maximus Z690 APEX |
| Memory | Kingston Fury Beast DDR5 RGB @ DDR5-6000 CL30 |
| Graphics Card | GeForce RTX 3090 / GeForce RTX 4080 / RTX 4070 Ti MASTER 12G |
| Power Supply | Cooler Master M2000 Platinum |
| Primary Storage | Kingston KC3000 2TB |
| CPU Cooler | Cooler MasterLiquid PL360 Flux |
| Chassis | Cooler Master MasterFrame 700 |
| Operating System | Windows 11 64bit |
For the test, we're using the Intel Core i9-12900K, ASUS ROG Maximus Z690 APEX, and the Kingston Fury Beast RGB DDR5 memory kit mainly to minimize the chances of bumping into any performance bottleneck.
Games Benchmark – Raster Performance
Assassin's Creed Valhalla
Control
Cyberpunk 2077
Far Cry 6
Forza Horizon 5
Hitman 3
Horizon Zero Dawn
Metro Exodus
Red Dead Redemption 2
Shadow of the Tomb Raider
Watch Dogs: Legion
The RTX 4070 Ti appears to be holding up very well with more than an average of 60fps on most of the titles even on 4K resolution, except for Cyberpunk 2077. It's one of the most demanding titles we've tested for sure, but this can be easily solved by enabling DLSS. Although the same can be achieved on the RTX 3090, the RTX 4070 Ti has a better advantage here if we look at the pure raster performance alone.
Games Benchmark – Ray Tracing Performance
Control
Cyberpunk 2077
Far Cry 6
Forza Horizon 6
Hitman 3
Metro Exodus
Shadow of the Tomb Raider
Watch Dogs: Legion
For the ray tracing performance, we have the ray tracing effect set to ultra and DLSS on quality preset just to see how these cards will perform. Both the RTX 3090 and RTX 4070 Ti can be seen to struggle to maintain the average 60fps on titles like Hitman 3, Cyberpunk 2077, and Metro Exodus on 4K resolution.
While lowering the graphics settings is technically the easiest solution, I'd say that 1440P is the resolution that is suitable for both the RTX 3090 and RTX 4070 Ti even though both are actually 4K gaming capable cards if you're going all out on the graphics and ray tracing settings.
DLSS 3 Hands-On
Although there are a lot of reviewers using Cyberpunk 2077 as their DLSS 3 demo, there are actually a lot more titles that have DLSS 3 support ready right now since NVIDIA launched the RTX 4090.
Apart from the upcoming titles, existing titles like Portal, The Witcher 3, and Bright Memory Infinite are getting ray tracing and DLSS 3 support as well. The addition of ray tracing and DLSS technically breathes new air into these games, giving gamers a different experience even though the game has been around for years.
Synthetic Benchmark
For the synthetic benchmarks, we have the usual 3DMark, OctaneBench, Blender Benchmark, and V-Ray Benchmark for a quick performance gauge.
In productivity benchmarks, the RTX 4070 Ti is doing fairly well against the RTX 3090 most of the time. That is only until we came across tests such as the Junkshop preset in Blender Benchmark, in which the RTX 3090 can be seen scoring better than the RTX 4070 Ti thanks to the extra VRAM it has.
In 3DMark and Unigine Superposition Benchmark, the RTX 4070 Ti can be seen performing better than the RTX 3090 as well but still shows the same behavior in tests such as the Unigine Superposition 8K benchmark that will take advantage of the extra VRAM the RTX 3090 has.
Power Draw and Thermals
Moving on to the power draw and thermals of the AORUS GeForce RTX 4070 Ti MASTER 12G is probably one of the best around, so it's not just another RTX 4070 Ti that is slapped on with a huge cooler just for the sake of looking big and cool.
The GPU temperature observed for heaving workload peaked only at 65°C, surprisingly low if we compare it to the other RTX 4070 Ti we have tested so far. Both the GPU memory junction and hot spot temperature peaked at only 64°C and 80.2°C respectively, which is looking really good too. The GPU temperature during gaming sessions is slightly lower, which is at about 62°C even when we're playing Cyberpunk 2077 on 4K resolution, the highest graphics settings, and ray tracing set to ultra for an extended period of time.
The highest we observed during our test is about 282W despite its rated TGP of 285W but it actually draws about 260W at most when we're playing games like Cyberpunk 2077, and Watch Dogs: Legion. With that being said, you can actually power the RTX 4070 Ti using a 2 x 8-pin to 1 x 12VHPWR adapter that will make cable management a lot easier.
Final Thoughts
Despite its sheer size, there's no denying that the AORUS GeForce RTX 4070 Ti MASTER 12G has the best cooling solution among the other RTX 4070 Ti we've tested so far. The fan runs quietly even on load, which is an added plus and I think the supposed bionic fan blades actually work just as advertised. The RGB lighting on the fans, however, can be really distracting if you mount the card vertically. As I'm never a fan of flashy RGB stuff myself, I will just disable it for good.
If you're still looking for an RTX 3080 Ti right now, I'd say you might want to give the RTX 4070 Ti a try instead. One might argue that it's just a slightly buffed RTX 3090 with a nerfed VRAM while ignoring the fact that they're both different GPUs with different architecture but aside from the lower VRAM, the RTX 4070 Ti has a lot more to offer. Aside from the AV1 encoding and decoding capabilities that content creators can take advantage of, the better ray tracing performance and support for frame generation are some of the advantages the RTX 4070 Ti has to offer as compared to the RTX 3090.
Both are still 4K gaming capable cards without a doubt, but the RTX 4070 Ti is just better given the fact that DLSS 3 is only available on RTX 40 series GPUs and there will be more titles with DLSS 3 support on their way, which the RTX 4070 Ti will have a much better advantage over time. I do agree that the 24GB VRAM on the RTX 3090 will still have its benefits with games at very high resolutions and applications that will take advantage of every VRAM that is available on the graphics card but aside from the lower 12GB VRAM, the RTX 4070 Ti is still a powerful card that can handle both gaming and content creation work just as well.
For the starting price of $799, the RTX 4070 Ti is a pretty good bargain even though it's still $200 more expensive than the RTX 3070 Ti launch price of $599. The AORUS GeForce RTX 4070 Ti MASTER 12G will, on the other hand, will retail at RM 4,759. The price is still steep but I'd say the AORUS GeForce RTX 4070 Ti MASTER 12G is targeted at the premium segment and you can still go for the least expensive base model, the Gigabyte GeForce RTX 4070 Ti 12GB Eagle which is set at RM 4,149.
Where to buy? (Affiliate links)