NVIDIA's latest GeForce RTX 40 series graphics cards are truly the beast for PC gaming and GeForce RTX 4090 is the most powerful consumer graphics card we've tested to date. Though I'd only recommend it to those who just want the very best for their system or content creators who need powerful graphics cards to get their work done. So, there's the GeForce RTX 4080, the slightly more affordable but still powerful graphics card that is more reasonable for most of the users out there.
In this review, we put the RTX 4080 Founders Edition to test, against the RTX 3080, the RTX 3090, and the RTX 4090 just so you can have a better idea of what kind of performance you can expect from the RTX 4080.
Specifications
| | | | |
| --- | --- | --- | --- |
| GPU | GeForce RTX 3080 | GeForce RTX 3080 Ti | GeForce RTX 4080 |
| CUDA Cores | 8704 | 10240 | 9728 |
| Tensor Cores | 272 | 320 | 304 |
| RT Cores | 68 | 80 | 76 |
| ROPs | 96 | 112 | 112 |
| GPU Boost Clock | 1710 MHz | 1665 MHz | 2505 MHz |
| Memory Data Rate | 19 Gbps | 19 Gbps | 22.4 Gbps |
| Total Video Memory Size | 10G GDDR6X | 12G GDDR6X | 16G GDDR6X |
| Memory Interface | 320-bit | 384-bit | 256-bit |
| Memory Bandwidth | 760.3 GB/s | 912.4 GB/s | 716.8 GB/s |
| TDP | 320W | 350W | 320W |
| Recommended PSU | 700W | 750W | 750W |
| Power Connectors | 1 x 12-pin | 1 x 12-pin |  1 x 16-pin (12VHPWR) |
Overview
Unlike what we've seen on the RTX 30 series Founders Edition cards, the RTX 4080 Founders Edition ships in the same package and has the same design as the RTX 4090 Founders Edition. So, do expect to free up some space on your shelves if you're planning on adding a new RTX 40 series Founders Edition card to your collection.
From the accessories box, you'll find a 3 x 8-pin PCIe to 1 x 12VHPWR adapter that can supply up to 450W power to the graphics card.
While it shares the same design as the RTX 4090 Founders Edition, the included adapter is a 3 x 8-pin PCIe to 1 x 12VHPWR as shown earlier. Despite having one less cable from the adapter, cable management is still a pain to deal with and we recommend getting a new power supply that comes ready with a dedicated 12VHPWR cable.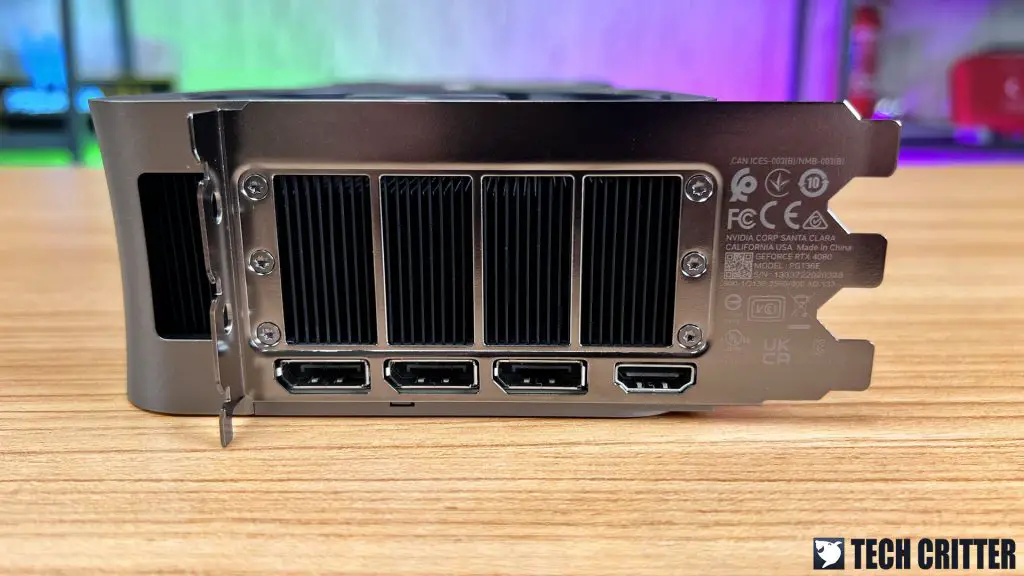 For the display output, the RTX 4080 Founders Edition is equipped with 3 x DisplayPort and 1 X HDMI for the display output, which is pretty standard across all the graphics cards we've seen to date. Due to its massive size, you'll definitely need a big PC case and some retention bracket or so to support the weight of the graphics card itself.
Test System Setup
We have put together this review by testing the RTX 4090 against the RTX 3080 and RTX 3090. For our games benchmark test, we've selected a number of AAA titles to run at their highest possible settings using the following setup under an ambient temperature of 28°C:
| | |
| --- | --- |
| CPU | Intel Core i9-12900K |
| Motherboard | ASUS ROG Maximus Z690 APEX |
| Memory | Kingston Fury Beast DDR5 RGB @ DDR5-6000 CL30 |
| Graphics Card | GeForce RTX 3080 / GeForce RTX 3090 / GeForce RTX 4090 Founders Edition / GeForce RTX 4080 Founders Edition |
| Power Supply | Cooler Master M2000 Platinum |
| Primary Storage | Kingston KC3000 2TB |
| CPU Cooler | Cooler MasterLiquid PL360 Flux |
| Chassis | Cooler Master MasterFrame 700 |
| Operating System | Windows 11 64bit |
For the test, we're using the Intel Core i9-12900K, ASUS ROG Maximus Z690 APEX, and the Kingston Fury Beast RGB DDR5 memory kit mainly to minimize the chances of bumping into any performance bottleneck.
The power supply required for the RTX 4080 Founders Edition is a bit lower than the RTX 4090 Founders Edition, and a decent 850W should be able to handle it. Of course, we still recommend going for a new power supply that comes with a 12VHPWR cable if you don't feel comfortable using the included 3 x PCIe 8-pin to 1 x 12VHPWR adapter that comes with the graphics card.
Games Benchmark – Raster Performance
We've tested a handful of games with all the graphics cards used for this comparison, all the way from 1080p to 4k resolution using the highest possible settings and DLSS quality preset if allowed. I'd still say it's not a wise decision to buy an $1199 card and use it for 1080p gaming, but we got the numbers here just in case.
Assassin's Creed Valhalla
Control
Cyberpunk 2077
Deathloop
Dirt 5
Far Cry 6
Godfall
Horizon Zero Dawn
Metro Exodus
Red Dead Redemption 2
Shadow of the Tomb Raider
The Division 2
Watch Dogs: Legion
Games Benchmark – Ray Tracing Performance
Moving on to ray tracing, as DLSS is technically the way to go if you want to enjoy the best ray tracing gaming experience, we will be focusing on the DLSS + RT quality if the game allows.
Control
Cyberpunk 2077
Deathloop
Dirt 5
Far Cry 6
Godfall
Metro Exodus
Shadow of the Tomb Raider
Watch Dogs: Legion
Be it pure raster performance or ray tracing performance with DLSS 2, the RTX 4080 gets the job really well and easily beats the previous-gen RTX 3080 and RTX 3090 by quite a margin.
With the RTX 4080, CPU bottleneck issues are minimal. Unlike like what we have encountered with the RTX 4090, titles like Deathloop and Watch Dogs: Legion are looking fine this time around. 4K is also the resolution where the RTX 4080 shines the most and it's getting mostly 80 to 100 average fps range and a reasonably high 1% low across all the titles we've tested. Well, except for Metro: Exodus at 66 fps on average with the settings maxed out.
DLSS 3 Hands-On
More titles with DLSS 3 support are on the way and we manage to get our hands on even more early previews of these titles just for a quick showcase. For DLSS 3.0, we recommend these settings if you're using an RTX 4080 and RTX 4090 for the best experience – 4K resolution, highest graphics settings, ray tracing enabled, DLSS performance preset, and DLSS frame generation enabled.
Cyberpunk 2077, Forged in Shadow Torch, F1 22, Destroy All Humans! 2, Microsoft Flight Simulator, and even Tower of Fantasy are some of the supported titles we've tested this time and with DLSS 3 enabled, the game looks great on 4K resolution and it's actually playable with the graphics setting set to the highest.
Synthetic Benchmark
Moving on to the synthetic benchmarks, the RTX 4080 takes a big lead against the previous-gen RTX 3080 and RTX 3090.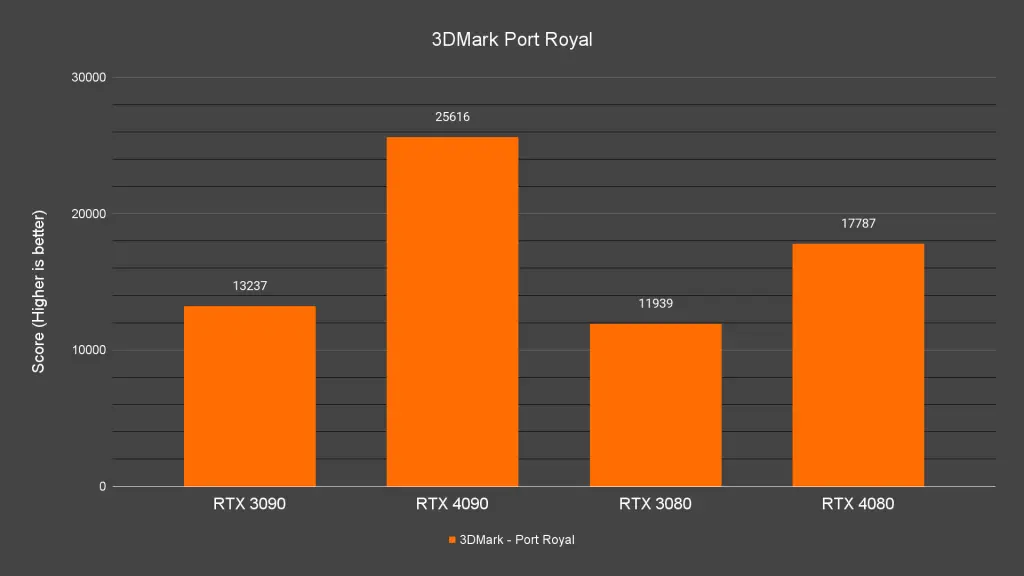 For the popular 3DMark benchmark, we can see the RTX 4080 easily scores about 30% better than the RTX 3090 and around 45% better than the RTX 3080, which is still quite a feat I'd say.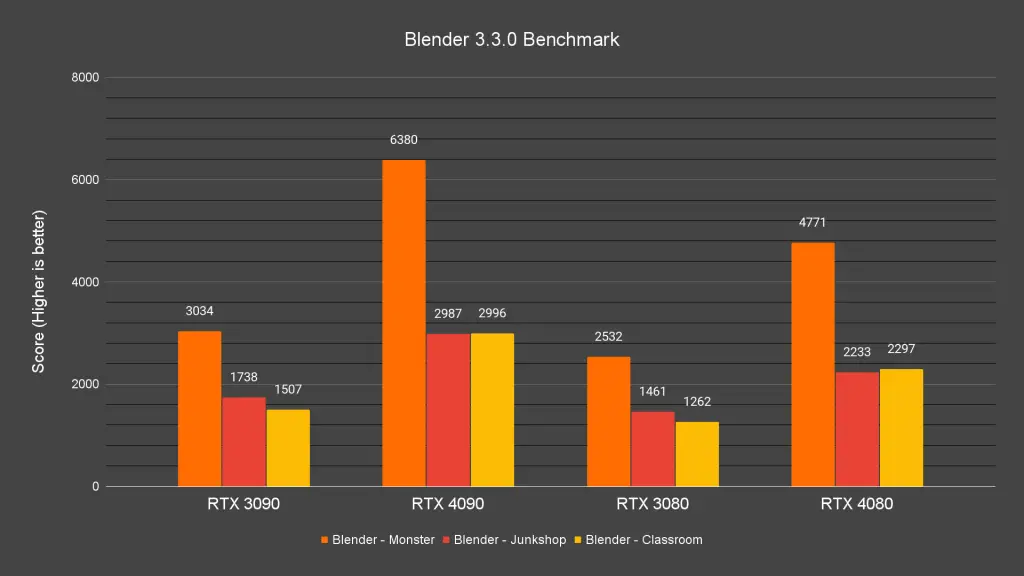 As for benchmarks that are more focused on the rendering work i.e V-Ray Benchmark, OctaneBench 2020, and Blender benchmark, the RTX 4080 easily overpowers the RTX 3080 and RTX 3090 by up to 80% and 50% respectively. And with that 16GB worth of VRAM, you can do quite a lot with the RTX 4080 as compared to the RTX 3080 with 10GB or 12GB VRAM.
Thermals and Power Draw
Now for the thermals and power draw, I'm not really surprised after seeing what the RTX 4090 can deliver.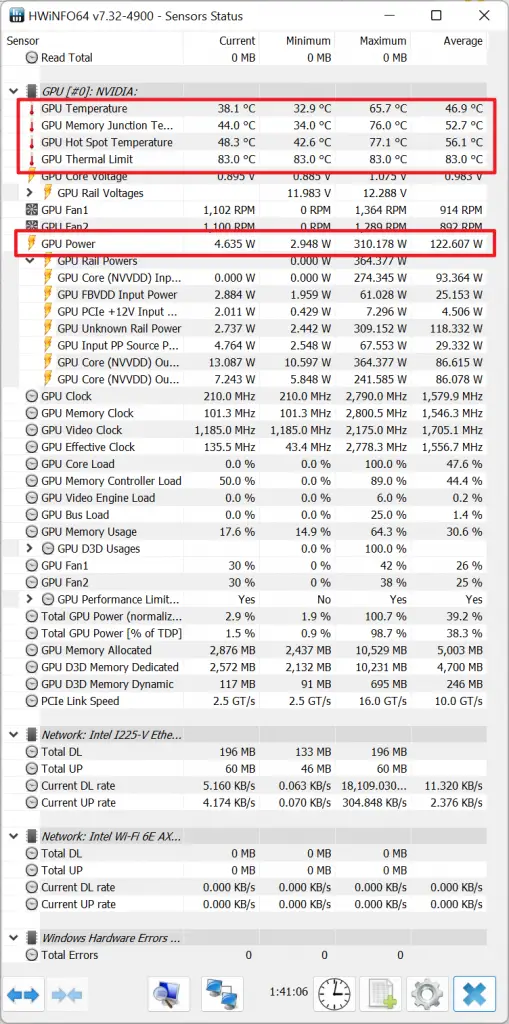 The highest load temperature recorded is at 65°C on the GPU and 77°C on the GPU hotspot, and with the GPU thermal limit set at 90°C according to the official specs, overheating is very unlikely to happen on the RTX 4080 FE. Although it comes with a rated TDP of 320W, the RTX 4080 barely draws over 300W when it's used only for gaming, and the only time it'll draw close to 320W is when we're running the synthetic benchmarks.
And in terms of power efficiency, we have prepared a simple graph for this. We already know that the RTX 40 series is pretty power efficient from our previous experience with the RTX 4080 but I didn't really expect that the RTX 4080 is this efficient.
Final Thoughts
Be it for gaming or content creation work, the RTX 4080 is what I consider the alternative to the RTX 4090 if the price is right because it's also a great GPU from NVIDIA this time around. Unlike the RTX 4090, CPU bottleneck is very minimal throughout our tests, I'd say it's a lot more reasonable option if you're not going all-in with the latest-gen Intel Core-i9 or AMD Ryzen 9.
Personally, I don't have anything to complain about the card when it comes to performance. The only complaint I have is still the included adapter, which is going to be a pain when it comes to cable management. So, I'd recommend getting a PSU that comes ready with the new 12VHPWR cable, especially for those who don't feel comfortable with the included adapter.
As for the price, the MSRP for the RTX 4080 is set at $1,199, which is still pretty expensive if we compare it with the RTX 3080 that is priced at only $699 when it was first launched back in 2020. So, is it worth getting the RTX 4080 now? Well, that really depends on the local MSRP from the AIC partners. We don't expect it to be priced in RM 5,000 range but looking at what the RTX 4080 can deliver, RM 6,000 range still seems to be somewhat acceptable. If it's anything beyond that, you might want to consider increasing your budget and go for an RTX 4090 instead.