Although it shares the same 24GB worth of GDDR6X memory, the GeForce RTX 4090 is powered by NVIDIA's latest Ada Lovelace architecture GPU and It's currently the best consumer graphics card NVIDIA has to offer. Today is the day we can finally reveal some of the performance numbers we have gathered so you can see just how much performance gain the GeForce RTX 4090 has over its predecessors.
Specifications
| | | | |
| --- | --- | --- | --- |
| GPU | GeForce RTX 4090 | GeForce RTX 3090 Ti | GeForce RTX 3090 |
| CUDA Cores | 16384 | 10752 | 10496 |
| Tensor Cores | 512 | 336 | 328 |
| RT Cores | 128 | 84 | 82 |
| ROPs | 176 | 112 | 112 |
| GPU Boost Clock | 2520 MHz | 1860 MHz | 1695 MHz |
| Memory Data Rate | 21.2 Gbps | 19.5 Gbps | 19.5 Gbps |
| Total Video Memory Size | 24G GDDR6X | 24G GDDR6X | 24G GDDR6X |
| Memory Interface | 384-bit | 384-bit | 384-bit |
| Memory Bandwidth | 1,018 GB/s | 1,008 GB/s | 936.2 GB/s |
| TDP | 450W | 450W | 350W |
| Recommended PSU | 850W | 850W | 750W |
| Power Connectors | 1 x 16-pin (12VHPWR) | 1 x 16-pin (12VHPWR) |  1 x 12-pin |
| Dimensions (LxWxH) | 336mm x 140mm x 61mm | 336mm x 140mm x 61mm | 336mm x 140mm x 61mm |
Overview
For starters, we're taking a look at the GeForce RTX 4090 Founders Edition (or FE for short) this time. Design-wise, the RTX 4090 FE looks almost identical to its predecessors at first glance and it's huge. Though a closer look reveals that NVIDIA has done some changes to the overall design of its latest Founders Edition card here.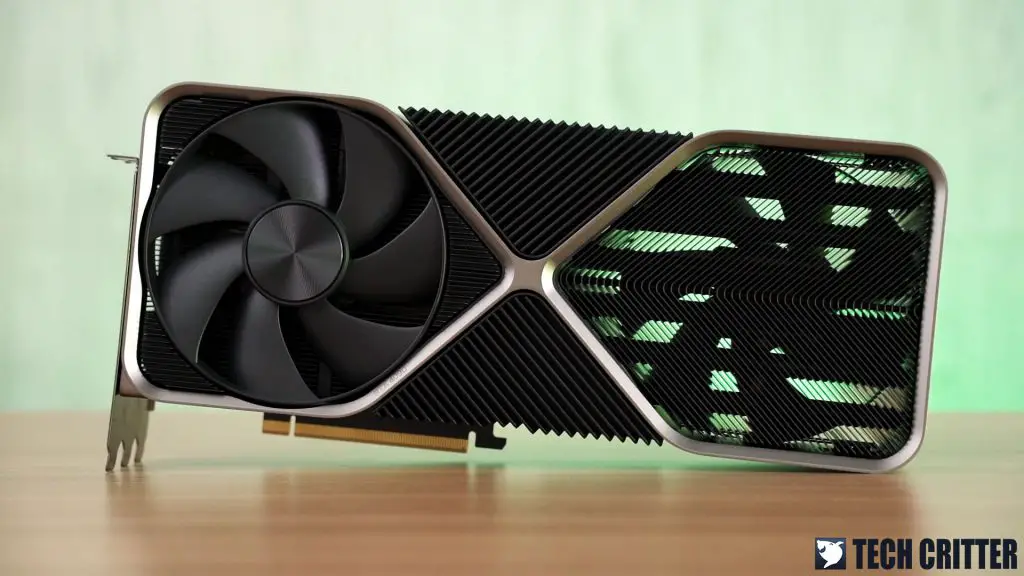 Apart from the heatsink design that seems to be the same as the RTX 3090 and RTX 3090 Ti, the metal frame design is now a bit curvier on the sides, cooling fans, a different design on the fan blades, and of course, the font type used for the branding.
Now the 16-pin PCIe 5 power connector, better known as the 12VHPWR connector now, is something we first saw when NVIDIA first releases the RTX 3090 Ti. Unlike the 12-pin power connector on the RTX 3090 our lower Founders Edition cards, it has 4 extra sense pins on top of the 12-pins that act as a safety measure to deliver only up to 450W from the 12VHPWR connector if it's not connected.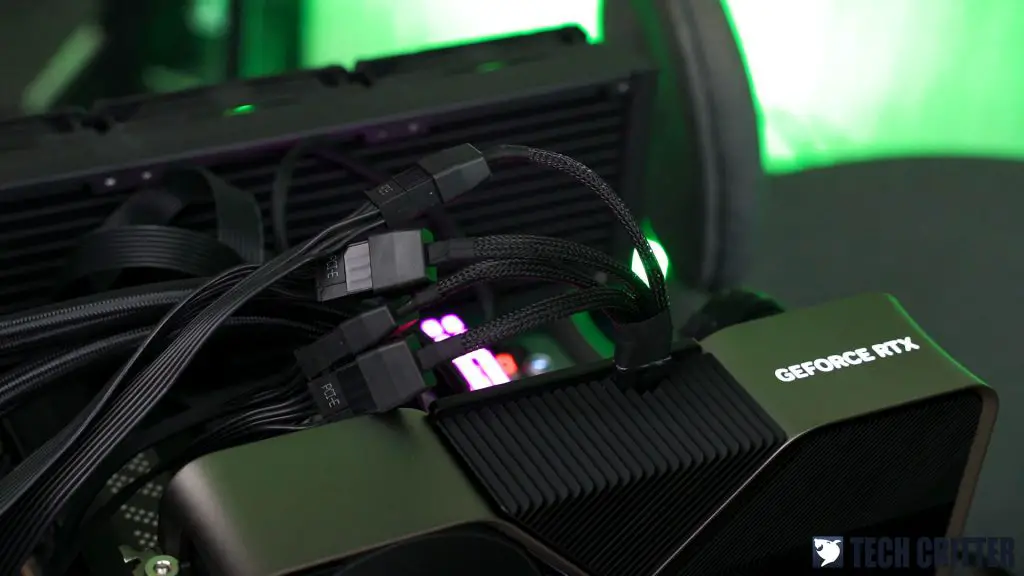 This, however, can be overcome on existing power supplies using the provided 4 x 8-pin PCIe to 1 x 12VHPWR adapter to deliver up to 600W instead of 450W on the power connector if you need more power for your overclocking session. For most normal use cases, it's almost impossible to draw that much power on load, at least that's what we can see during our tests.
There are some concerns regarding the longevity of the 12VHPWR cables and connectors but NVIDIA has already got that addressed. You can refer to the link here to learn more about the mentioned issue: https://www.tech-critter.com/nvidia-geforce-rtx-40-series-faq/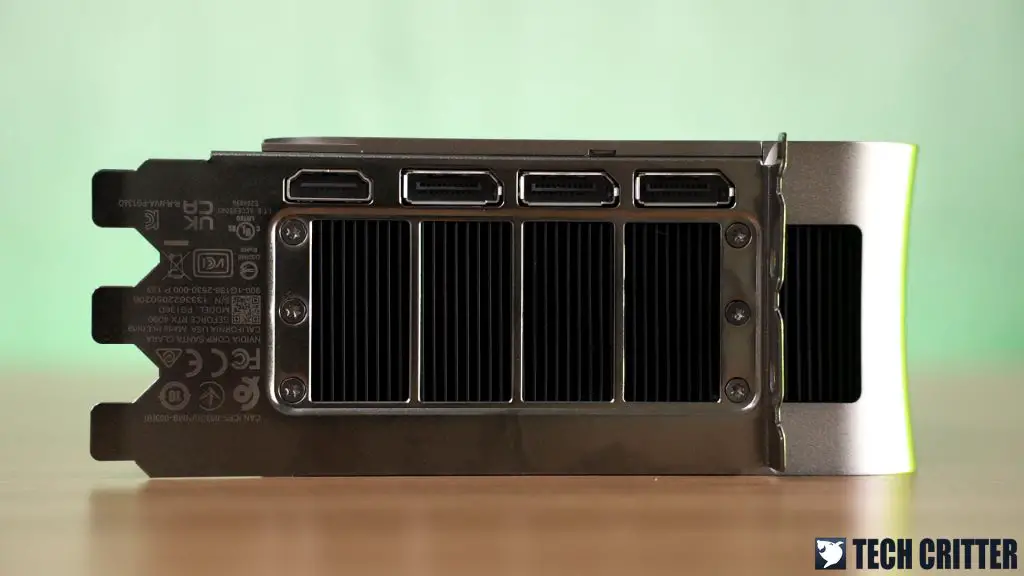 At the back of the card, we can see that the RTX 4090 Founders Edition has the same 3 x DisplayPort and 1 X HDMI for the display output, which is pretty standard across all the graphics cards we've seen to date. You will definitely need a BIG PC case for it because it also comes with the same 3-slot design as its predecessors and you can expect the same from the partner's custom designs when it hits the shelves.
Test System Setup
We have put together this review by testing the RTX 4090 against the RTX 3090 ti and RTX 3090. For our games benchmark test, we've selected a number of AAA titles to run at their highest possible settings using the following setup under an ambient temperature of 28°C:
| | |
| --- | --- |
| CPU | Intel Core i9-12900K |
| Motherboard | ASUS ROG Maximus Z690 APEX |
| Memory | Kingston Fury Beast DDR5 RGB @ DDR5-6000 CL30 |
| Graphics Card | GeForce RTX 3090 / GeForce RTX 3090 Ti / GeForce RTX 4090 Founders Edition |
| Power Supply | Cooler Master M2000 Platinum |
| Primary Storage | Kingston KC3000 2TB |
| CPU Cooler | Cooler MasterLiquid PL360 Flux |
| Chassis | Cooler Master MasterFrame 700 |
| Operating System | Windows 11 64bit |
We've tested a handful of games with the RTX 4090, all the way from 1080p to 4K with the highest graphics settings. For games with the DLSS feature, we will go for the Quality preset and ray tracing at Ultra if available.
I don't know why you would want to spend $1599 and play games at 1080p but hey, we got the numbers here for those of you who need them. Seeing the results here, it's clear that 4K gaming is where the 4090 shines the most as it can easily maintain above 100 fps on most of the titles tested while we see the 3090 and 3090 Ti struggle.
Games Benchmark – Raster Performance
Assassin's Creed Valhalla
Control
Cyberpunk 2077
Deathloop
Dirt 5
Far Cry 6
Godfall
Horizon Zero Dawn
Metro Exodus
Red Dead Redemption 2
Shadow of the Tomb Raider
The Division 2
Watch Dogs: Legion
For the raster performance alone, 4090 is crushing it on pretty much every title. It is so powerful that you start to see frame rate limitations either by the game itself or CPU bottleneck.
Take Deathloop and Watch Dogs: Legion as examples, both games give us almost the same performance across all the resolutions with the 4090, unlike the 3090 and 3090 Ti which show a consistent FPS drop as the resolution goes up. Then we have crazy fps from Shadow of the Tomb Raider at 1080p and 1440p resolution.
Games Benchmark – Ray Tracing Performance
Moving on to ray tracing, as DLSS is technically the way to go if you want to enjoy the best ray tracing gaming experience, we will be focusing on the DLSS + RT performance if the game allows.
Control
Cyberpunk 2077
Deathloop
Dirt 5
Far Cry 6
Godfall
Metro Exodus
Shadow of the Tomb Raider
Watch Dogs: Legion
For all the games we have ray tracing enabled at the highest preset, Metro Exodus and Cyberpunk 2077 are the only 2 games that go under 100 fps while the rest easily maintains at 100fps+. Although they're below the 100fps mark, the average fps is still relatively high and you can still enjoy a smooth 4K RTX On gaming experience without any hiccups.
Looking at how much the 4090 leads in the gaming performance, I'd say this is the card that easily goes on the recommended list if you're going full-on 4K gaming.
DLSS 3 Hands-On
One new thing that NVIDIA introduced is DLSS 3. You might be wondering – what warrants the version number increment? As expected, it is an upgraded version of DLSS that is only exclusive to the RTX 40 series GPUs as it is dependent on the 4th gen Tensor cores and optical flow accelerator to significantly improve the overall performance while keeping things looking nice.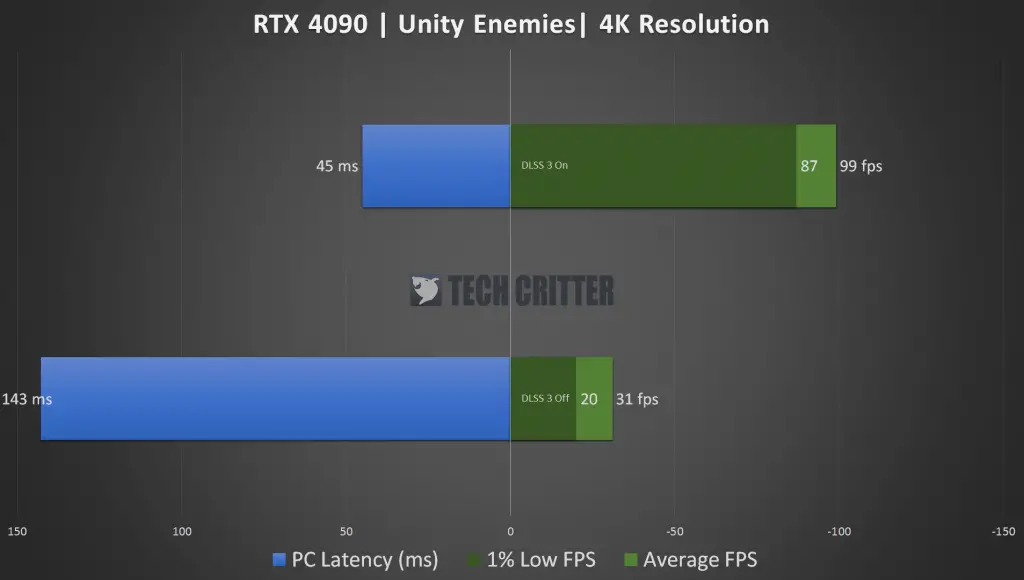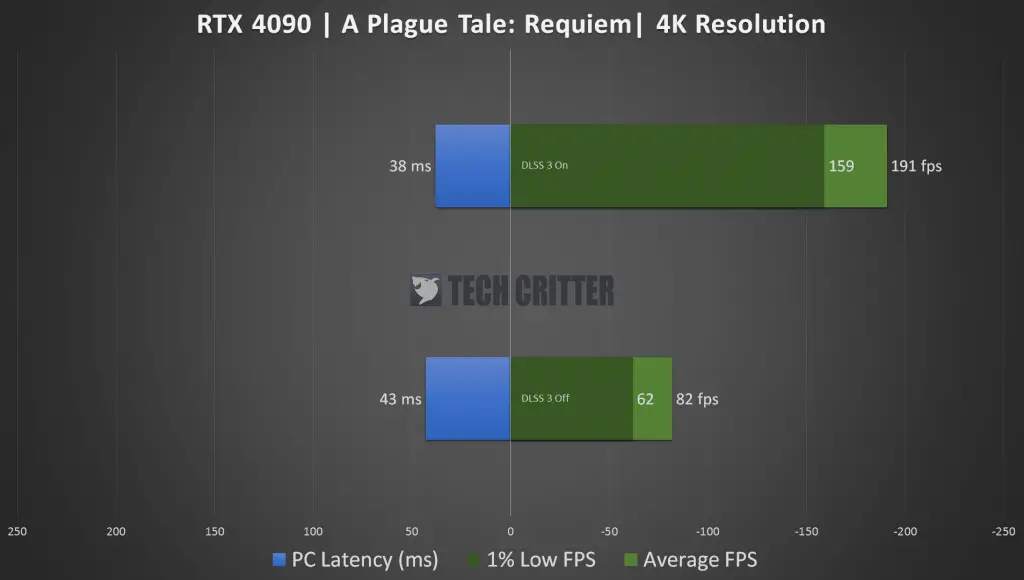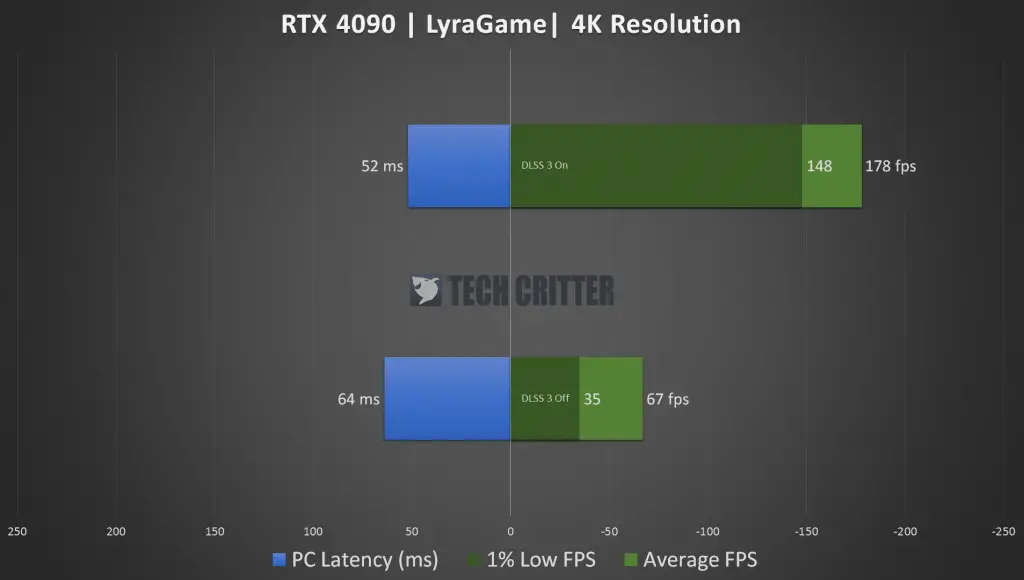 While DLSS 3 is still fairly new, we managed to get our hands on some press build for an early experience of what the latest revision of DLSS is all about. We can see that the performance gain is actually significant while the difference in graphics quality is almost unnoticeable in a good way. As for the PC latency, as someone who has gotten used to cheap equipment and somewhat trained to self-adjust to compensate for the delay, I can really feel that some of the games are actually a bit more responsive with DLSS 3 enabled.
More games with DLSS 3 support and support for existing games are on their way so we'll have some separate content for that in the future.
Synthetic Benchmark
Now for the synthetic benchmark, we've tested all 3 cards with 3DMark and benchmarks that focus on rendering work, and here's what we get.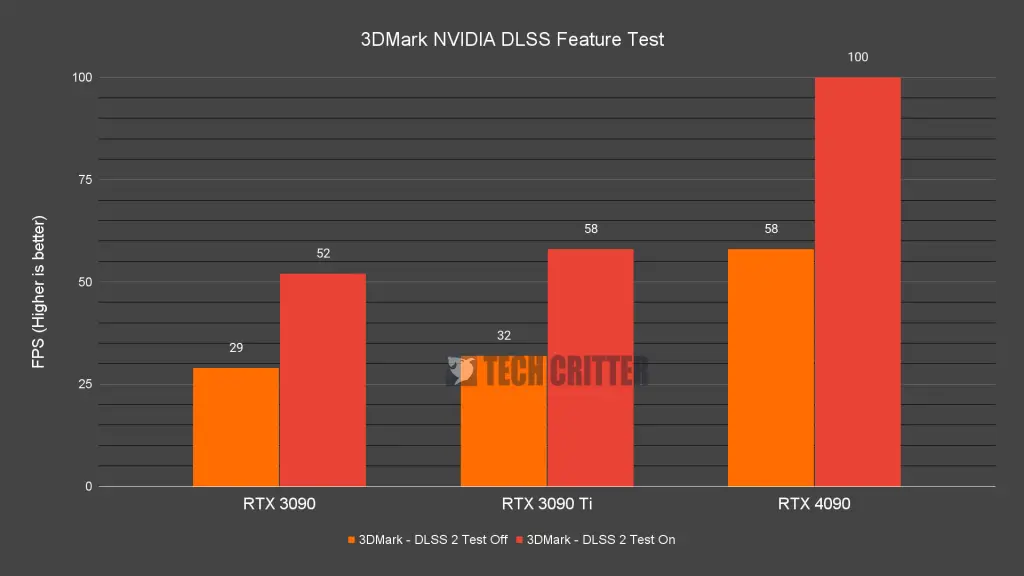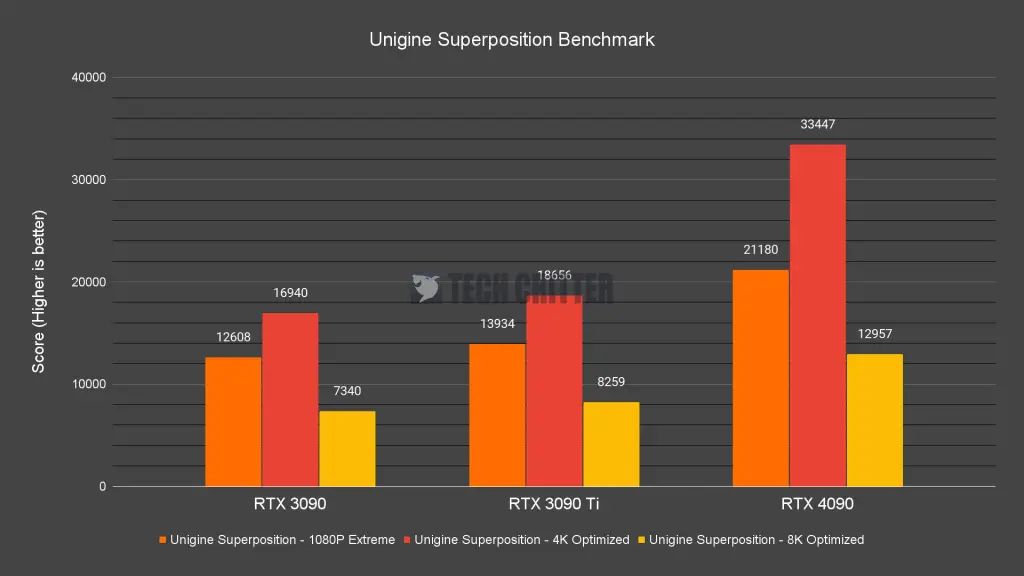 In 3DMark, the RTX 4090 scores almost doubled in Time Spy and Port Royal, as well as fps almost doubled in the DLSS feature test and DirectX RayTracing feature test than its processors.  We can also see similar patterns in the Unigine Superposition benchmark, where the RTX 4090 just scored almost two times more than both RTX 3090 and 3090 Ti as well.
For benchmarks that are more towards rendering work i.e V-Ray benchmark, OctaneBench 2020, and Blender Benchmark, we can also see that 2 times better score across the charts.
Thermals & Power Draw
Moving on to the thermals and power draw, these two are what excite me the most. To my surprise, we're unable to get the RTX 4090 to go beyond 64°C with FurMark this time and this is my first time seeing the furry doughnut animation running so smooth.
The highest recorded GPU load temperature and hotspot temperature are at 75°C and 86°C, which is achieved using the Unigine Superposition benchmark on the 8K optimized preset. So this is definitely much better than what we initially anticipated and it's actually reasonable now.
Apart from the temperature, the power draw is another thing to take note of. While it's true that it'll still easily draw 450W on load just like the RTX 3090 Ti, the performance it can deliver is almost doubled.
In terms of power efficiency, we have prepared a simple graph for this and we can see that the RTX 4090 is actually up to 42% more power efficient than the RTX 3090 Ti.
First Impression
Okay, so we have seen what kind of performance the RTX 4090 can deliver, and here's what I think. Yes, Finally a powerful GPU for me to play Minecraft with RTX On without any stutters, and no, this is not a joke.
The RTX 4090 is a real beast and I actually doubted myself a couple of times during the test, thinking that I got the settings wrong but it's not. Seriously, I can see that the existing hardware and games I have right now are not fully ready for the RTX 4090. Well, aside from content creation work that will probably benefit the most from it at this time of course.
The temperature is reasonable for a founders edition card, especially the hotspot temperature, as it's no longer at the alarming 90-100°C like what we've seen on the RTX 3090 back then. If the RTX 4090 Founders  Edition card is already doing such a good job, I'm really looking forward to seeing what the partners can deliver with their custom design when we can finally get our hands on one or two.
The only thing that I'm not a fan of is the 4 x PCIe 8-pin to 1 x 12VHPWR adapter, which makes cable management a hell. So, I'd recommend going for ATX 3.0 power supplies that come ready with the 12VHPWR cable.
Price-wise, some can argue that $1599 is a hefty price to pay but it's just so powerful and I will not even hesitate to recommend it if you have that budget for a new GPU upgrade.