Gigabyte launched its new UD1000GM power supply that is tailored for the upcoming PCIe 5.0 graphics cards, notably the rumored GeForce RTX 40 series graphics cards. While we wait for the arrival of these new graphics cards, let us take a first look at what the UD1000GM has to offer.
Specifications
Model
GP-UD1000GM
Type
Intel Form Factor ATX 12V v2.31
PFC
Active PFC (>0.9 typical)
Input Voltage
1200-200 Vac (full range)
Input Current
6.5-15A
Input Frequency
50-60Hz
Output Capacity
1000W
Dimension
150 x 140 x 86 mm
Fan Type
120mm Hydraulic Bearing fan
Efficiency
80 PLUS Gold (90% at typical load)
MTBF
>100,000 hours
Protection
OVP/OPP/SCP/UVP/OCP/OTP
Power Good Signal
100-150ms
Hold Up Time
>16ms
Cable Type
Flat, All black
Connectors

ATX/MB 20+4 Pin x 1
CPU/EPS 4+4 Pin x2
PCIe 6+2 Pin x 3
SATA x 8
4 Pin Peripherals + 4 Pin floppy x 1
Unboxing
As the UD1000GM is currently the only model in the series that is ready for PCIe 5.0 graphics cards, Gigabyte has specifically highlighted the PCIe Gen5 compliant for this model at the front of the box. The cables, connectors, and specifications can be found at the back of the box if you want to know more information on the product before making your purchase.
While they still technically belong to the same series, lower power models like the UD850GM and UD750GM don't come with the 16-pin power cable, so that's something to take note of.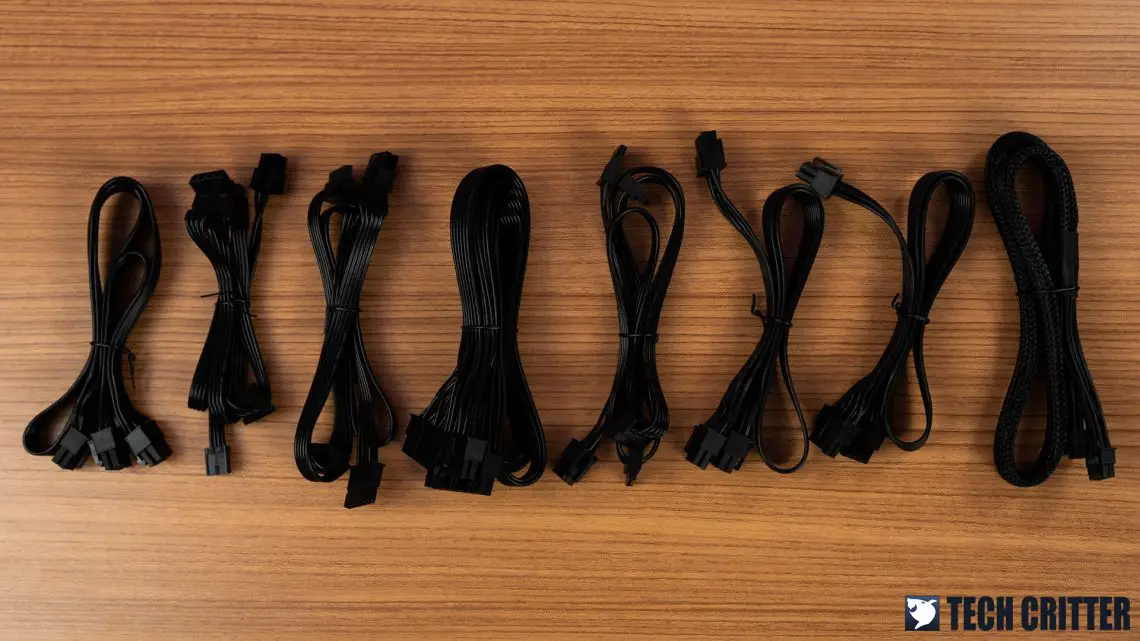 The cables that come together with the UD1000GM include the ATX/MB 20+4 Pin, a pair of CPU/EPS 4+4 Pin, three PCIe 6+2 Pin cables, a 16-pin PCIe power cable for PCIe 5.0 graphics cards, SATA power cables, and the 4 Pin Peripherals + 4 Pin floppy.
I did notice that some of the cables are actually not labeled while inspecting the included accessories. It's not really an issue for experienced PC builders, but for those who are just getting into PC building, this can cause some serious damage if not plugged into the correct socket. So I think it's best that Gigabyte can look into this and make necessary changes.
And here it is, the much-hyped 16-pin power cable for the new and upcoming PCIe 5.0 graphics cards. It somehow reminds me of the power cable used on the NVIDIA GeForce RTX 30 series Founders Edition cards, but the design is actually different and it can actually supply up to 600W power with just one single cable.  That's actually something I'm really looking forward to, as this new design can greatly improve the overall look and cable management of your system, much better than the existing PCIe power connectors.
The Gigabyte UD1000GM Power Supply
The design of the UD1000GM is rather simple I'd say – no unnecessary RGB lighting, honeycomb grill design to maximize airflow, etc.
On the other side of the power supply, you'll find this label with information on the specifications of the UD1000GM. For the PCIe power output, we can see that you can go with either the standard PCIe power connector or the new standard for PCIe 5.0 graphics cards (+12VHPWR), which are capable of 1000W output.
Moving on to the allocated sockets on the power supply itself, it's pretty much what we normally see on a fully modular design power supply, but with an extra socket for the 16-pin PCIe power for PCIe 5.0 graphics cards.
User Experience
We weren't able to put the new 16-pin PCIe power to the test due to not having any PCIe 5.0 graphics cards but we'll still be doing the usual system load test with the UD1000GM. The following list is the components used for the tests we've done for those who are interested to know about our test system configuration.
| | |
| --- | --- |
| CPU | AMD Ryzen 9 5950X |
| Motherboard | X570S AORUS MASTER |
| Memory | TeamGroup T-Force Dark Z FPS DDR4-4000 CL16 |
| Graphics Card | NVIDIA GeForce RTX 3080 |
| Power Supply | Gigabyte UD1000GM |
| Primary Storage | CORSAIR Force MP600 Gen4 PCIe x4 NVMe M.2 SSD |
| Secondary Storage | WD Black 6TB HDD |
| CPU Cooler | Cooler Master MasterLiquid ML360R |
| Chassis | Streacom BC1 Open Benchtable |
| Operating System | Windows 11 64bit |
For the stress test, we're going with the usual FurMark GPU stress test tool, ROG RealBench, Cinebench R23, Prime95 and have each running for a minimum of 1 hour. The highest total system power draw will go up to about 673W for some of the more demanding tests but we never experience any failure throughout the test sessions.
Although not recommended, we've also tried running NiceHash miner on the test system for the entire day and it's safe to say that the UD1000GM can handle this with ease as well. We then increases the test period to longer duration and we can see that the UD1000GM managed to go through all the tests without any signs of failure. The temperature hovers at around  48-52ºC most of the time, so we can say that there is still plenty of headroom there.
First Impression
Design-wise, Gigabyte kept things very simple and the flat cable is definitely something that I'd prefer more than anything else. The cable has a good length to it, which is good for getting clean cable management, especially for the picky ones like me. The only concern I have for the cables is the lack of labeling on some cables, which can be confusing to first-time builders who are not familiar with the difference between a 4+4 pin EPS connector and a 6+2 pin PCIe power connector.
While the Gigabyte UD1000GM didn't give us any issue throughout the tests we've done, we didn't manage to get any information on how the new 16-pin PCIe power works due to not having any graphics cards with us that is compatible with the new standard. So that's something we'll have to leave for the future until we manage to get our hands on such a graphics card when it's finally available on the market. Though, it's still a fairly reasonable power supply, given that it can handle some pretty demanding load on our Ryzen 9 5950X and GeForce RTX 3080 test system easily with no signs of hiccups.