With AMD Zen3 and Intel 12th Gen CPU able to take advantage of higher memory frequency to improve the overall performance, low-latency high-performance memory kit has been a popular choice among enthusiasts who are into optimizing system performance through memory overclocking. Memory kits with exceptionally low latency are usually the main target and especially the TEAMGROUP T-Force Dark Z FPS we have here. As it's not that often for one to come across a DDR4-4000 CL16 kit, we're very looking forward to seeing what kind of performance we can expect from this kit.
Specifications
| | |
| --- | --- |
| Module Type | 288 Pin Unbuffered DIMM Non ECC |
| Frequency | DDR4-4000 |
| Latency | CL16-18-18-38 |
| Capacity | 8GB x 2 |
| Data Transfer Bandwidth | 32,000MB/s (PC4 32000) |
| Voltage | 1.45V |
| Dimensions | 435mm x 141mm x 83mm |
| Heat Spreader | Aluminum heat spreader |
| Warranty | Life warranty |
Unboxing
The packaging for the Dark Z FPS is pretty straight to the point and we can somewhat get an idea of what does the FPS on the product name means. You can find two cutouts at the back of the box that allows you to get a bit more information on the memory kit, especially the timings.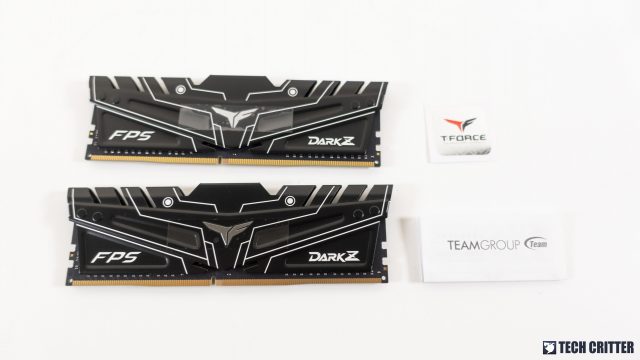 Inside the box, you'll find the Dark Z FPS memory kits, a T-Force case sticker, and a user's guide. The content is fairly simple and nothing fancy, but that's what you get from most of the memory kits nowadays.
Design-wise, the Dark Z FPS looks very similar to the Dark Za but with more geometrical lines that give it a slightly more striking appearance. There are no RGB lightings on the kit, which is great for those who don't want to have any kind of RGB lightings for their system.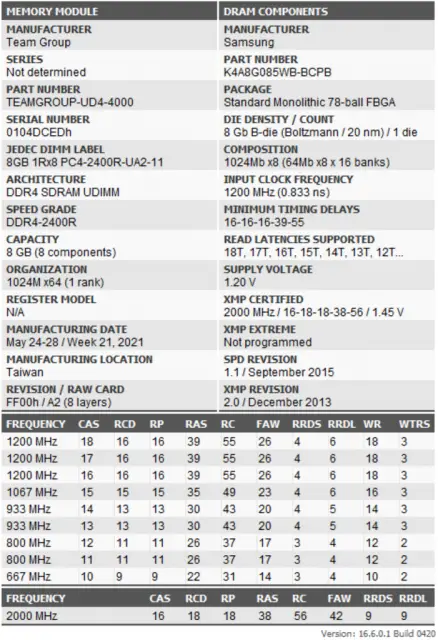 By using Thaiphoon Burner, we can identify the memory chips on the module, as long as the information didn't get removed by the manufacturer on purpose. For motherboards that support XMP, you'll be able to run it at 4000MHz CL16-18-18-38 with XMP enabled.
Test System Setup
The test is conducted with the following setup and 16 instances of HCI MemTest with at least 400% coverage to ensure that the system is stable to run 24/7 without any random crashes.
Overclocking
In this test, we tried to push this T-Force Dark Z FPS DDR4-4000 as much as possible and see just how far can we go with it. The adjustments done during the test include increasing the VDIMM, primary timings, and sub timings to ensure the settings are stable and able to clear HCI MemTest with at least 400% coverage each.
XMP – DDR4-4000 CL16-18-18-38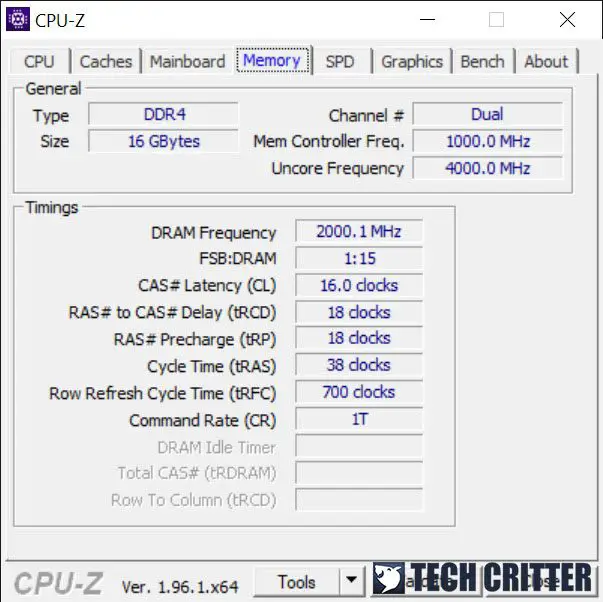 Manual – DDR4-4000 CL16-17-17-28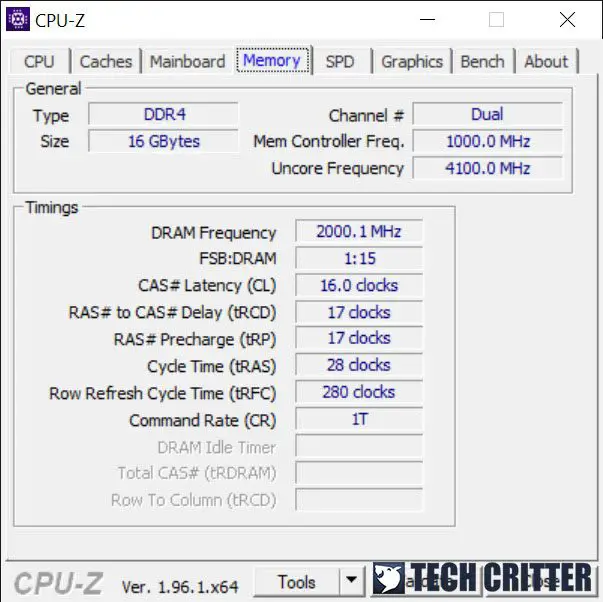 Manual – DDR4-4533 CL16-18-18-34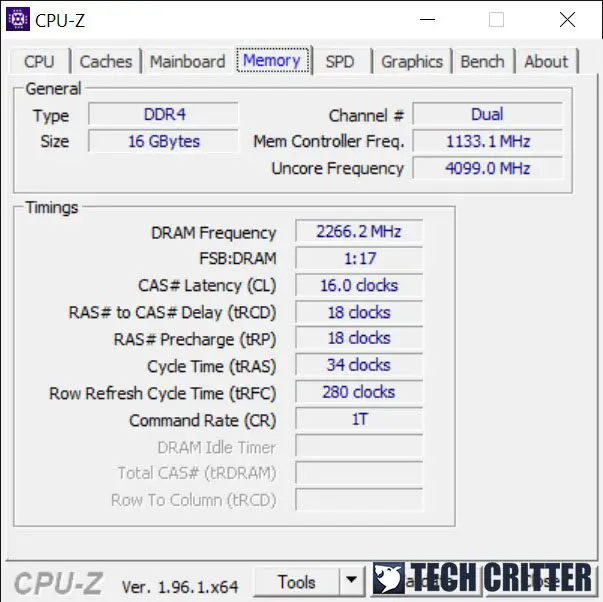 Manual – DDR4-5066 CL18-20-20-42
By enabling the XMP profile, the Dark Z FPS will run at 4000MHz with timings of CL16-18-18-38 and DRAM voltage at 1.45V. While we're able to slightly tighten the timings to CL16-17-17-28 without having to increase the DRAM voltage and able to complete 400% coverage on HCI MemTest without any issue, the result may vary depending on the CPU and motherboard. For most use cases, this is more than enough for most users as the performance improvement will not be that significant if they don't plan to further overclock other components like the CPU and graphics cards.
We're able to achieve DDR4-4533 with the XMP profile timings, DRAM voltage at 1.56V, and some adjustments on the subtimings but CL17 is required for DDR4-4600 onwards in order to get the system to boot normally – and more adjustments to make it stable. As for those who wants to give DDR4-5000 a try, the Dark Z FPS is totally capable of that and we're able to achieve DDR4-5066 with DRAM voltage of 1.62V.
Manual – DDR4-4000 CL14-15-15-28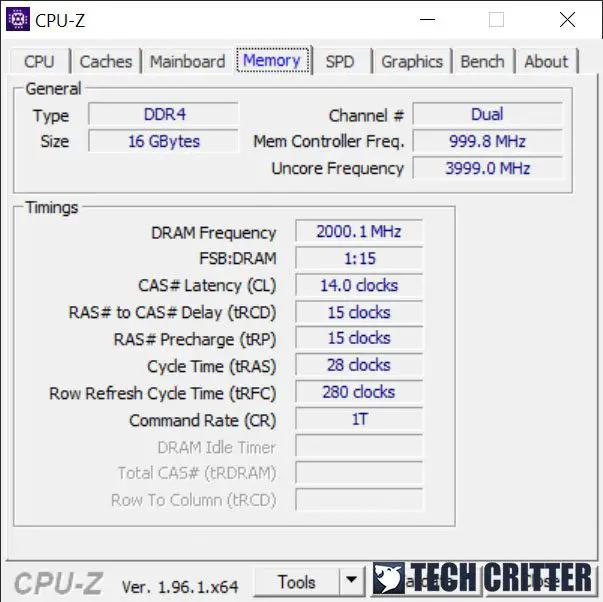 You can also further tighten the timings for some benchmark purposes to achieve DDR4-4000 CL14 with DRAM voltage of 1.58V but we don't recommend using this setting for daily use as it will inevitably reduce the lifespan of the modules at some point.
Final Thoughts
If you're upgrading from slower memory kits like DDR4-2666, the performance improvement after switching to the Dark Z FPS is definitely noticeable, but that's pretty much it for the gaming part. For users who likes to play around with the memory settings, the main highlight for the Dark Z FPS is none other than the lower than average latency. Compared to the DDR4-3200 CL14 and DDR4-3600 CL14 kits we have, going for DDR4-5000 is significantly easier the on Dark Z FPS, but of course, that's just for the fun of it.
While the lack of RGB lightings might be a turn-off for some users, enthusiasts who are into the performance will definitely appreciate what the Dark Z FPS is capable of. We have yet to see any local availability for the Dark Z FPS but we're actually surprised to see that it's only priced at $129.99 Amazon and Newegg even though it's originally retailed at $169.99, which is a steal for such an amazing kit.
Pros
Excellent overclocking headroom
RGB-less design, good for those who prefer to not have RGB lightings
Solid build quality
Surprisingly affordable for a DDR4-4000 CL16 kit
Lifetime warranty from TeamGroup
Cons
Lack of RGB might be a turn-off for some users