Despite having the GeForce RTX 3080 Ti as the new flagship model in the RTX 30 series lineup, we can't overlook the fact that the GeForce RTX 3090 is still the best consumer graphics card NVIDIA has to offer right now. It's been quite some time since NVIDIA launched the big ferocious GPU but we're revisiting another RTX 3090 this time and it's the TUF Gaming GeForce RTX 3090 from ASUS.
Specifications
| | | |
| --- | --- | --- |
| GPU | ASUS TUF Gaming GeForce RTX 3090 | GeForce RTX 3090 Founders Edition |
| CUDA Cores | 10496 | 10496 |
| Tensor Cores | 328 | 328 |
| RT Cores | 82 | 82 |
| ROPs | 112 | 112 |
| GPU Boost Clock | 1725 MHz (OC Mode) / 1695 MHz (Gaming Mode) | 1695 MHz |
| Memory Data Rate | 19.5 Gbps | 19.5 Gbps |
| Total Video Memory Size | 24G GDDR6X | 24G GDDR6X |
| Memory Interface | 384-bit | 384-bit |
| Memory Bandwidth | 936.2 GB/sec | 936.2 GB/sec |
| TDP | 350W | 350W |
| Recommended PSU | 750W | 750W |
| Power Connectors | 2 x 8-pin |  1 x 12-pin |
| Dimensions (LxWxH) | 300mm x 127mm x 52mm | 336mm x 140mm x 61mm |
The ASUS TUF Gaming GeForce RTX 3090
Just like the TUF Gaming RTX 3080, the cooler design for the current generation looks 1000 times better than we've seen in the past and I'm not overexaggerating it because that's the fact. The ASUS TUF Gaming GeForce RTX 3090 is equipped with a sturdy Aluminum shroud, a gigantic heatsink with six heat pipes, and triple Axial-tech fans where the middle fan will spin in an alternate direction to reduce air turbulence and provide better coverage on the heatsink for better cooling performance.
From the side, we can see that the TUF Gaming RTX 3090 is pretty much identical to the TUF Gaming RTX 3080 from our previous test. Compared to the colossal triple-slot RTX 3090 Founders Edition, this can easily fit into most standard ATX cases and some ITX cases.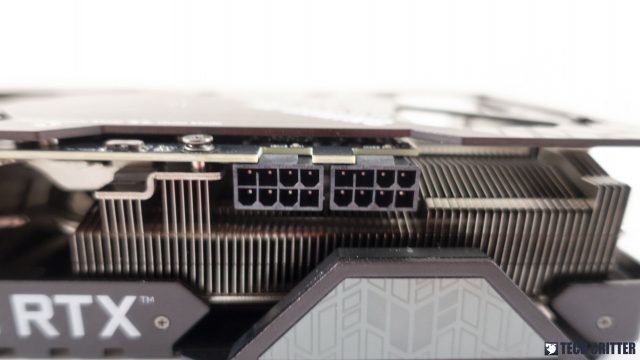 Unlike the Founders Edition cards that come with a 12-pin PCIe socket, the TUF Gaming RTX 3090 retains a dual 8-pin PCIe socket that is more compatible with the existing power supplies we have. Though that doesn't change the power requirement of the card, which is a minimum 750W power supply and a TDP rated at 350W.
At the back of the card, you'll find the familiar-looking cutout with the rear part of the heatsink exposed to enable better cooling performance on the card. You'll also find a dip switch located next to the power socket to toggle between performance and quiet mode, a useful feature to lower the operating fan noise if you're into low noise build.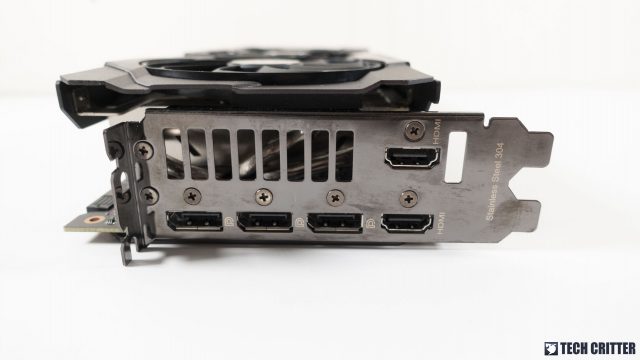 For the display output options, it's nice to see that ASUS actually included an extra HDMI port on the TUF Gaming RTX 3090, which can be really useful if you need more than 4 displays.
Test System Setup
For our games benchmark test, we've selected a number of AAA titles to run at its highest possible settings using the following setup under an ambient temperature of 31°C:
| | |
| --- | --- |
| CPU | Intel Core i9-10900K |
| Motherboard | ASUS ROG Maximus XII Apex |
| Memory | TEAMGROUP T-FORCE XTREEM ARGB DDR4 @3600MHz |
| Graphics Card | NVIDIA GeForce RTX 3090 Founders Edition / ASUS TUF Gaming RTX 3090 |
| Power Supply | Cooler Master V1200 Platinum |
| Primary Storage | Kingston NV1 PCIe NVMe SSD 1TB |
| Secondary Storage | WD Black 6TB |
| CPU Cooler | Cooler MasterLiquid Master ML360R RGB |
| Chassis | Streacom Open Benchtable BC1 |
| Operating System | Windows 10 64bit |
Games Benchmark (DX12)
For the raster performance, we can see an almost identical performance on both the TUF Gaming RTX 3090 and RTX 3090 Founders Edition. With Cyberpunk 2077 as an exception, the RTX 3090 can handle pretty much any AAA titles without any noticeable hiccups. The slightly higher boost clock on the TUF Gaming RTX 3090 does give it a slight advantage on some games but it's not too far off from the RTX 3090 Founders Edition.
Games Benchmark (DXR)
Moving on to the ray tracing performance, the RTX 3090 is shown to be able to handle some of the games quite well even without having to enable DLSS, but that's only up to 1440P. DLSS is still playing a very important role here when it comes to ray tracing enabled gaming play on 4K, especially on the newer titles that can really take advantage of DLSS 2.0 which offers more options for gamers to choose the best preset for their system.
Other than Cyberpunk 2077 which is clearly still not well optimized as of now, we're using the highest ray tracing settings and quality preset on DLSS for all of our tests here. You can opt for slightly lower ray tracing settings and balanced preset on DLSS if you want to see higher numbers on the framerate.
Thermals & Power Draw
The RTX 3090 Founders Edition is definitely one of the biggest graphics cards we've seen to date but we're actually a little surprised to see that ASUS decided to equipped the TUF Gaming RTX 3090 what appears to be the same cooler as the TUF Gaming RTX 3080. As both cards are technically the same RTX 3090, we're excited to see what kind of cooling performance NVIDIA and ASUS have to offer.
| | | |
| --- | --- | --- |
| | FurMark Load Test | Gaming Load Test |
| RTX 3090 FE | 70ºC | 68ºC |
| TUF Gaming RTX 3090 | 74ºC | 71ºC |
While the cooler on the RTX 3090 Founders Edition seems to be better when it comes to cooling performance, the TUF Gaming RTX 3090 itself is doing pretty well despite having a smaller heatsink. The highest load temperature observed during the FurMark stress test is 74ºC but that's not really something to worry about because for most cases, gaming especially, the load temperature will be much lower.
As for the power draw, we're seeing identical numbers here on both cards, which ranged at 334-350W. Switching from performance to quiet mode doesn't really affect the performance and power draw overall but we're seeing a slight 1ºC lower load temperature and lower fan noise than before. It's not a fancy feature but it can be really useful for those who are into low noise setup.
Final Thoughts
The TUF Gaming RTX 3090 is definitely a beast when it comes to gaming performance but for most use cases, unless you're using it for rendering work or the luxurious 8K gaming, the extra 24GB worth of VRAM will probably be left underutilized for sure. Unless you're going all-in for your setup, the RTX 3080 Ti or RTX 3080 is still your best option to go for – at least there's a much higher chance for you to actually utilize that 12GB or 10GB worth of VRAM better.
Price-wise, the TUF Gaming RTX 3090 was the most affordable RTX 3090 at the price of RM 7208 but it's definitely not a good time to get a graphics card right now due to the overinflated price. With the current ongoing GPU shortage, it's very unlikely that you'll be able to find one at a reasonable price if it's not sold in a bundle.
Pros
Excellent performance out of the box
Greatly improved 4K and DXR performance
Excellent build quality
Excellent cooling performance
Runs silently even during full load
Dual BIOS to toggle between performance and quiet mode
Come with two HDMI ports instead of one
Cons