NVIDIA has finally announced its new GeForce RTX 30 series graphics cards, featuring the new Ampere GPU that packs plenty of new features and a pretty promising performance gain over the previous GeForce RTX 20 series graphics cards. ASUS, like many of NVIDIA's major board partners, has come up with their own variant of the RTX 30 series cards under three different lineup: ROG Strix, TUF Gaming, and Dual.
For this review, we will be taking a good look at the TUF Gaming GeForce RTX 3080 OC Edition, which ASUS has decided to equip with a surprisingly big and beefy looking cooler, unlike the rest of the TUF Gaming graphics cards we've seen in the past. Has ASUS finally decided to step up the game for its TUF Gaming series graphics cards?
Specifications
| | | |
| --- | --- | --- |
| GPU | GeForce RTX 2080 Ti | ASUS TUF Gaming GeForce RTX 3080 OC Edition |
| SMs | 68 | 68 |
| CUDA Cores | 4352 | 8704 |
| Tensor Cores | 544 | 272 |
| RT Cores | 68 | 68 |
| Texture Units | 272 | 272 |
| ROPs | 88 | 64 |
| GPU Boost Clock | 1545 MHz | 1815 MHz |
| Memory Data Rate | 14 Gbps | 19 Gbps |
| Total Video Memory Size | 11G GDDR6 | 10G GDDR6X |
| Memory Interface | 352-bit | 320-bit |
| Memory Bandwidth | 616 GB/sec | 760.3 GB/sec |
| TDP | 250W | 320W |
| Recommended PSU | 600W | 850W |
| Power Connectors | 2 x 8-pin | 2 x 8-pin |
| Dimensions | 267mm x 116mm x 35mm | 299.9mm x 126.9mm x 51.7mm |
Unboxing
Starting off with the packaging, we can immediately notice the new TUF Gaming logo that was announced just a month ago. The new logo has a much more simplified look as compared to the previous winged-shield design that many of you enthusiasts are familiar with.
This exciting new look will complement the foundation of TUF Gaming while signaling the start of what's yet to come. The first product line to implement the new TUF Gaming logo will be the latest ASUS TUF Gaming NVIDIA® GeForce RTX™ 3000 series graphics cards, launching now. Additional TUF Gaming products will adopt the new family design language starting in early 2021, including motherboards, graphics cards, laptops, desktop PCs, cases, keyboards, mice, headsets, monitors, power supplies, and coolers. – ASUS, September 16, 2020
Logo aside, the rest of the design is pretty much in the same format as the rest of the existing ASUS products, except for ROG. You won't' find much information regarding the specifications and features at the front of the box, so you'll have to check on the back, which has most of the prominent features of the product printed on.
The accessories that come with the TUF Gaming GeForce RTX 3080 OC Edition include the certificate of reliability which you will normally get from a TUF product, a thank you note, a speed setup guide, and a trading card? The driver CD is nowhere to be found, we're not sure if it went missing while it's on its way to us, or ASUS has decided to not include it anymore since not many people are using a CD/DVD drive nowadays.
The TUF Gaming GeForce RTX 3080 OC Edition
After getting all the harsh criticism from reviewers and community members of the PC hardware enthusiasts, we can see that ASUS has totally redesigned the cooler for the new TUF Gaming cards. The cooler looks way much beefier and cooler than the older design, which I personally think that it's the best looking RTX 30 series graphics card from ASUS. As a long time fan of the TUF series lineup myself, this is probably the first-ever TUF Gaming product that deserves the proper love from the fans, long after ASUS' decision to rebrand TUF as an entry-level gaming product.
The TUF Gaming GeForce RTX 3080 OC Edition is equipped with a sturdy Aluminum shroud, a gigantic heatsink with six heat pipes, and triple Axial-tech fans where the middle fan will spin in an alternate direction to reduce air turbulence and provide better coverage on the heatsink for better cooling performance.
Together with the cooler, the card measures a 51.7mm thickness, which takes up 2.7 slots on the expansion slots on your motherboard. Despite the 2.7 slot thickness, the TUF Gaming GeForce RTX 3080 OC Edition will still fit in most of the PC case that can support at least 300mm length graphics card. So, compatibility is probably the last thing to worry about if you're planning to upgrade to this card if you already have a huge graphics cards sitting in your system.
If you're a fan of minimalistic build, the TUF Gaming GeForce RTX 3080 OC Edition is probably one of the nice options that are worthy of your attention. ASUS kept the RGB lightings to a bare minimum on this card and can be disabled anytime with ASUS AURA software for a full stealth look.
Like many of the other board partners, ASUS has opted for the usual dual 8-pin PCIe power connector instead of the new 12-pin power connector design as what we can see on the Founders Edition cards. The minimum power supply required for this card is 850W as according to the official specifications and not 750W as what we can see on the power requirement of the RTX 3080 Founders Edition. So that's one thing to keep in mind if you plan to upgrade or build a new system with this card.
A metal backplate is much to be expected on a card of this category and it's good to see that the pretty decent looking and is equipped with a very solid metal backplate that is reasonable for its size and weight. The cutout on the metal backplate with the exposed heatsink works pretty similarly to what we've seen on the Founders Edition design, which directs hot air removed from the GPU to the top instead of letting it trapped around the card for better cooling performance.
There's also a dip switch located near the power connectors that allows you to toggle between performance mode and quiet mode. The card is on performance mode by default but you can always switch to quiet mode if you need it to run quieter in exchange for a slightly higher temperature.
As for the display output, you'll find a total of three DisplayPorts 1.4a and two HDMI 2.1 ports on the TUF Gaming GeForce RTX 3080 OC Edition, which plentiful. With NVIDIA announcing its RTX 30 series cards to be the first to come with a dedicated AV1 decoder for high-quality 4K and 8K video streaming, HDMI 2.1 is the only display standard that can support up to 8K resolution at 60Hz.
Test System Setup
For our games benchmark test, we've selected a number of AAA titles to run at its highest possible settings using the following setup under an ambient temperature of 30°C:
| | |
| --- | --- |
| CPU | AMD Ryzen 9 3900X |
| Motherboard | MSI MEG X570 GODLIKE |
| Memory | TEAMGROUP T-FORCE XTREEM ARGB DDR4 @3600MHz |
| Graphics Card | GeForce RTX 2080 Ti / ASUS TUF Gaming GeForce RTX 3080 OC Edition |
| Power Supply | Enermax MaxTytan 1250W |
| Primary Storage | Force Series Gen.4 PCIe MP600 2TB NVMe M.2 SSD |
| Secondary Storage | WD Black 6TB |
| CPU Cooler | Cooler MasterLiquid Master ML360R RGB |
| Chassis | Streacom Open Benchtable BC1 |
| Operating System | Windows 10 64bit |
Games Benchmark
1080p gaming is definitely a piece of cake for both the RTX 2080 Ti and RTX 3080, easily going way beyond the 60fps smooth gaming standard without any issue. It's definitely a waste if you only game on 1080p with such a powerful card but hey, it's still your choice anyway.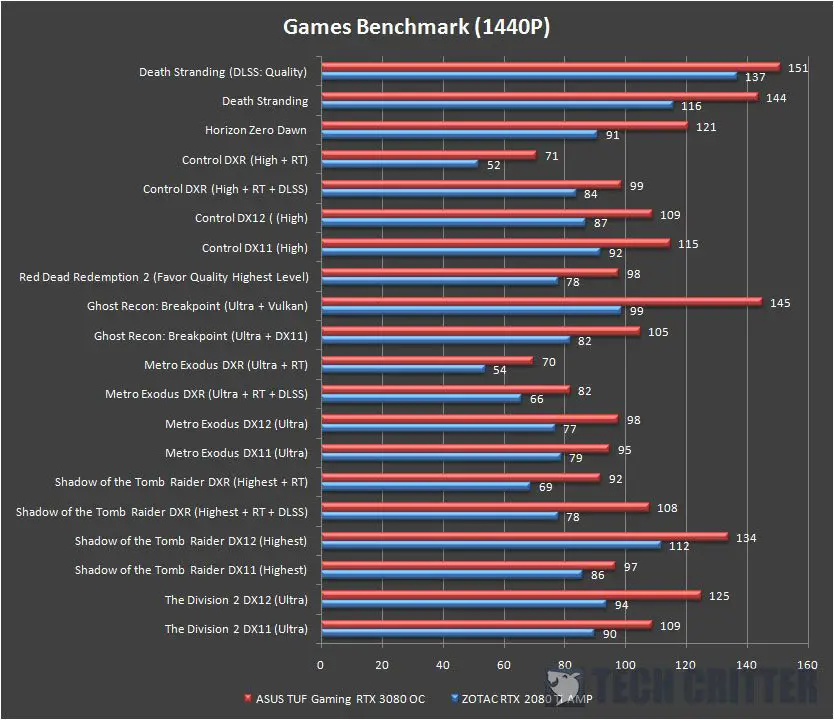 With more gamers slowly moving forward to 1440p which can offer better details and not overly taxing on the graphics card as 4K did, I'd say that this is definitely the sweet spot for the RTX 3080. Both cards still holding pretty well at this point but the RTX 3080 is still a clear winner here, especially on games that are CPU bound on 1080p, which is no longer CPU board as we increase the resolution to 1440p.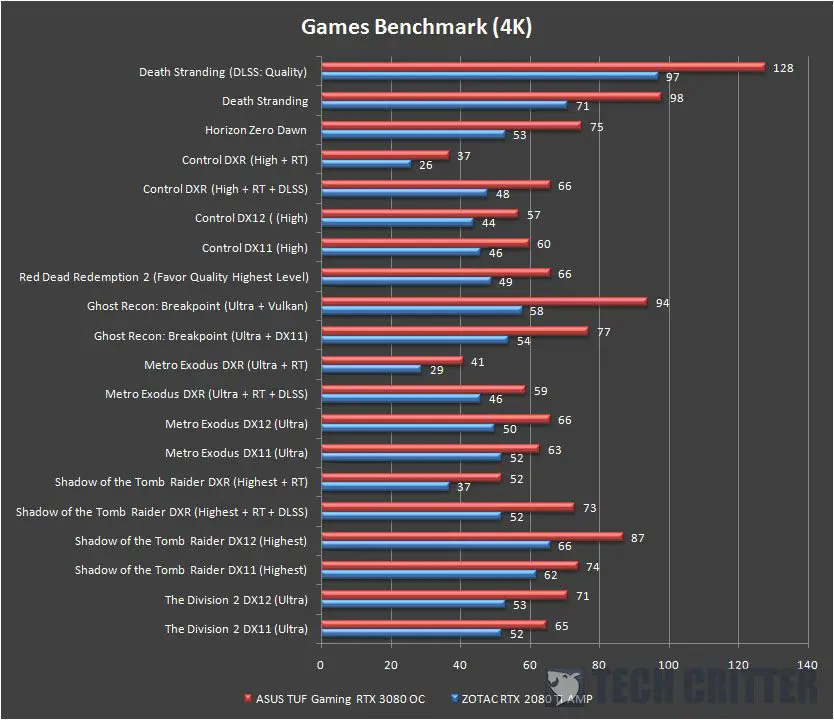 Moving on to 4K gaming, we can definitely confirm NVIDIA's claim on the 'huge leap for 4K gaming and ray tracing' after seeing how well the RTX 3080 can perform. Raw performance, double the CUDA cores, new architecture – the TUF Gaming GeForce RTX 3080 OC Edition has everything ready to get you into 4K gaming and ray tracing performs better but costs much lesser than the RTX 2080 Ti at launch.
Operating Temperature
The idle temperature of the TUF Gaming GeForce RTX 3080 OC Edition is very similar to the rest of the RTX 3080 we've tried, which is at 43°C as the fan will not spin before the GPU temperature hits 55-56°C. We left the to run 6 hours on the FurMark stress test and the highest temperature recorded is at 66°C with performance mode and 73°C in quiet mode. Depending on the games you're playing, as it is unlikely for the GPU to hit 66°C unless your game is much more CPU bound than GPU. For the games we've tested so far, we only see the GPU temperature hovering around 60-63°C at most.
Final Thoughts
The RTX 3090 is definitely the most powerful graphics card in the RTX 30 series lineup but the $1499 price tag is definitely not everyone can afford and only enthusiasts and content creators who really want to take advantage of the powerful GPU for a next-level gaming experience or more efficient rendering work will consider getting one for themselves.
Seeing how the TUF Gaming GeForce RTX 3080 OC Edition performs, we can see just how confident NVIDIA is with the 'huge leap for 4K gaming and ray tracing' claim for its RTX 30 series cards. Having experienced it ourselves, we can definitely see a very significant gain in both raw performance and ray tracing on the new Ampere GPUs as compared to the previous generation Turing GPUs. With more game developers adopting DLSS and ray tracing for their games, you will definitely need a graphics card that will support either one of these features if you want to enjoy the game to its fullest.
The TUF Gaming GeForce RTX 3080 OC Edition might not be the most affordable RTX 3080 available but its higher RM 3770 price tag is still somewhat justifiable by its build quality, features, and performance it can deliver even though you're paying for the slightly higher clock speed. If you don't mind the slightly lower clock speed (you can still overclock it anyway), the non-OC variant TUF Gaming GeForce RTX 3080 which is priced at RM 3360 is obviously a much wallet-friendly choice to go with.
Pros
Excellent performance out of the box
Greatly improved 4K and DXR performance
Excellent build quality
Excellent cooling performance
Runs silently even during full load
Come with two HDMI ports
Cons
More expensive than the non-OC variant over the slight increase in clock speed