It's not really a surprise to most of you enthusiasts who are really paying attention to all the ongoing RTX 30 series related leaks prior to the announcement, but the wait is finally over as NVIDIA has announced its new RTX 30 series graphics cards today.
A total of three cards was announced during the short announcement by the CEO of NVIDIA, Jensen Huang himself, the GeForce RTX 3090, GeForce RTX 3080, and GeForce RTX 3070 which is based on the latest Ampere architecture. According to the information provided, the new RTX 30 series is capable of up to 2 times the performance and 1.9 times the power efficiency over the previous generation Turing architecture-based GPUs.
NVIDIA has yet to update any information on the newly announced RTX 30 series graphics cards its website as of now, but here's some of the information you might need to know and we'll continue to update this article as soon as we've received the latest updates on the specifications of these new RTX 30 series cards.
GeForce RTX 3070 – $499, available in October 2020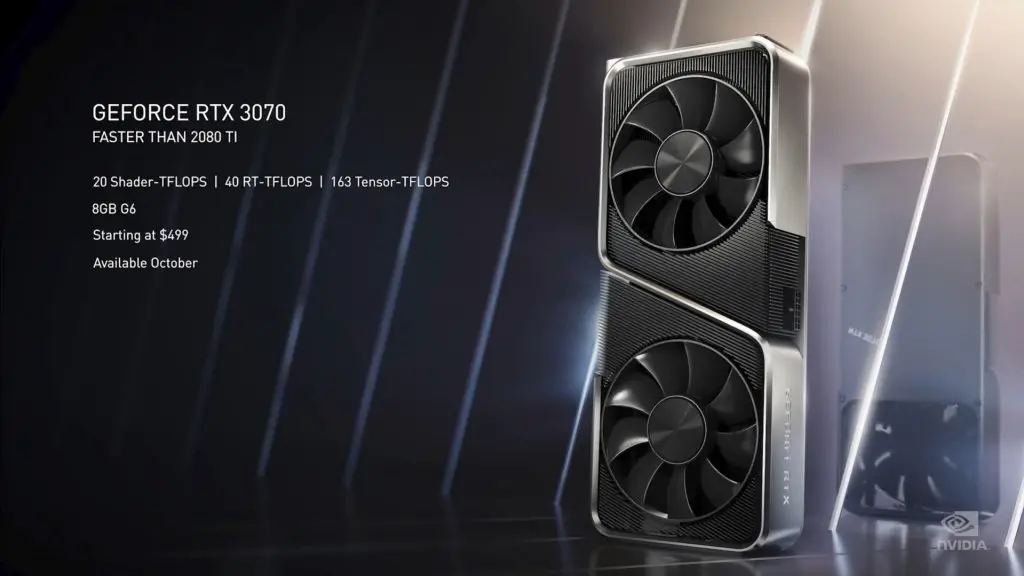 The GeForce RTX 3070 is the least powerful model announced today but it's shown that it's actually faster than the previous generation flagship GeForce RTX 2080 Ti, but at a surprisingly affordable price of $499. It comes with 8GB GDDR6 memory, 20 shader-TFLOPS, 40 RT-TFLOPS, and 163 Tensor-TFLOPS (more information later). There's no exact date when will the RTX 3070 be available, but it will be available soon later in October 2020 and I'm sure that this is probably the card which many of you are waiting for.
GeForce RTX 3080 -$699, available on September 17, 2020
Up next is the more powerful RTX 3080, the new flagship(?) of the current generation RTX 30 series graphics cards, offering twice the performance of an RTX 2080. It comes with a total of 10GB GDDR6X memory, 30 shader-TFLOPS, 58 RT-TFLOPS, 238 Tensor-TFLOPS, and a pretty reasonable starting price of $699 (more information later). The RTX 3080 will the earliest RTX 30 series card to be available in the market, ETA on September 17, which is about 2 weeks from now.
GeForce RTX 3090 – $1499, available on September 24, 2020
And last but not least, the beefiest card announced today, a total beast that is made ready for 8K gaming at 60FPS, the GeForce RTX 3090. Also known as the 'BFGPU' as when Jensen Huang mentioned during the announcement, the RTX 3090 has a total of 36 shader-TFLOPS, 69 RT-TFLOPS, 285 Tensor-TFLOPS (more information later). The RTX 3090 is also equipped with a whopping 24GB GDDR6X memory, probably the largest memory available for a consumer graphics card to date. Price-wise, it's a little bit out of hand for gamers on the budget, a staggering price at $1499 but if you can afford to own this beast… why not?
[Update – 02/09/2020]
Specifications?
NVIDIA GeForce RTX 3070
NVIDIA GeForce RTX 3080
NVIDIA GeForce RTX 3090
CUDA Cores
5888
8704
10496
Boost Clock (GHz)
1.73
1.71
1.70
Base Clock (GHz)
1.50
1.44
1.40
Performance

20 Shader TFLOPS
40 RT TFLOPS
163 Tensor TFLOPS

30 Shader TFLOPS
58 RT TFLOPS
238 Tensor TFLOPS

36 Shader TFLOPS
69 RT TFLOPS
285 Tensor TFLOPS

Memory
8GB GDDR6
10GB GDDR6X
24GB GDDR6X
Memory bus width
256-bit
320-bit
384-bit
TGP rating
220W
320W
350W
Recommend PSU
650W
750W
750W
Power connector(s)
1 x PCIe 8-pin
2 x PCIe 8-pin
2 x PCIe 8-pin
NVLink
–
–
Yes
Dimensions

Length: 242mm
Width: 112mm
Height: 2-slot

Length: 285mm
Width: 112mm
Height: 2-slot

Length: 313mm
Width: 138mm
Height: 3-slot

Price
$499
$699
$1499
Availability
October 2020
17th September
24th September
According to the latest update, the RTX 30 series GPUs are built on the Samsung 8nm manufacturing process and features new Micron GDDR6X memory, as well as the long-awaited PCIe 4.0 support.
That aside, the new RTX 30 series GPUs also feature several world firsts features as what NVIDIA claims:
Dual-Axial, Flow-Through Thermal Solution — Up to 2x more cooling performance, with a stunning unibody design. Gamers and creators will be able to enjoy the unrivaled performance while their GPUs simultaneously run cooler and quieter than ever.
Exquisite Mechanical and Electrical Design — A stronger mechanical structure — with a new low-profile leaf spring along with a new 12-pin power connector — allows more space for components and cooling, and is compatible with 8-pin connectors in existing power supplies, with an included adapter.
HDMI 2.1 — The increased bandwidth provided by HDMI 2.1 allows, for the first time, a single cable connection to 8K HDR TVs for ultra-high-resolution gaming.
AV1 Decode — First discrete GPUs with support for the new AV1 codec, enabling gamers to watch up to 8K HDR internet video using as much as 50 percent less bandwidth.
For a limited time, gamers who purchase a new GeForce RTX 30 Series GPU or system will receive a PC digital download of Watch Dogs: Legion and a one-year subscription to the NVIDIA GeForce NOW cloud gaming service.
[Update – 03/09/2020]
GeForce RTX 30 Malaysia Pricing Revealed?
NVIDIA has finally updated the RTX 30 series section on their official website and we can finally have a better idea or reference on the pricing of these new cards when the stocks arrive in Malaysia. As NVIDIA never specifically mention anything about making the Founders Edition cards available in Malaysia, we won't be making any wild guesses for now.

Starting off with the BFGPU aka big ferocious GPU, the RTX 3090, a hefty price starting at RM7,208. It's definitely not going to be the first choice for the majority of gamers who are looking for an upgrade from their GTX 10 series cards, but if you really have a ton of extra cash to go for the best option, this is the best consumer-grade graphics card available to date for you to go for.
Moving on to the RTX 3080, a slightly better and reasonable price starting at RM 3,360, which is almost the same as the RTX 2080 SUPER when it was first launched but even more capable than the RTX 2080 Ti. We have yet to see the actual performance of the RTX 3080 as of now but if it can indeed perform even better than the RTX 2080 Ti as what NVIDIA claimed, the RM 3,360 starting price seems like a very good deal for those who are planning on upgrading from a GTX 10 series card, GTX 16 series card or the mid-tier RTX 20 series cards.
Last but not least, the RTX 3070, probably the RTX 30 series card that many gamers are eyeing on for now. At a starting price of RM 2,399, the RTX 3070 is a pretty good deal if you're looking for an RTX 2080 like performance for your next upgrade – of course, it's definitely going to be better than the RTX 2080.