The Gigabyte Z490I AORUS ULTRA was released together with a series of new Intel Z490 chipset based AORUS motherboards and it's currently the only mini-ITX form factor available in the series. As Gigabyte has shown us quite a number of very well built mini-ITX boards in recent years, we're having our hopes high for the Z490I AORUS ULTRA when Gigabyte announced its new Intel Z490 chipset motherboards lineup.
Specifications
CPU support
Intel LGA1200 (10th Gen Intel Core i9, Core i7, Core i5, Core i3, Pentium, Celeron)
Chipset
Intel Z490
Memory

Intel Core i9 / i7 processors: Up to DDR4-5000 (O.C)
Intel Core i5/ i3/ Pentium/ Celeron processors: DDR4-2666 memory modules
Dual-Channel memory architecture
Support for ECC Un-buffered DIMM 1Rx8 /2Rx8 memory modules (operate in non-ECC mode)
Support non-ECC Un-buffered DIMM 1Rx8/ 2Rx8/ 1Rx16 memory modules
Support for Extreme Memory Profile (XMP) modules

Expansion slots

1 x PCIe 4.0 X16 slot (operate in PCIe 3.0 X16 with Intel 10th Gen processors)

Storage

1 x M.2 Connector (PCIe X4/ x2 SSD support) (M2P_SB)
1 X M.2 Connector (PCIe X4/x2 SSD support) (M2A_CPU)
1 X M.2 Connector (PCIe X4/x2 SSD support) (M2M_SB)
4 x SATA 6Gb/s ports

Network

Realtek 2.5GbE
Intel Wi-Fi 6 AX201

Back I/O Ports

1 x DisplayPort
1 x HDMI port
1 x USB Type-C port, with USB 3.2 Gen 2 support
1 x USB 3.2 Gen 2 Type-A port (red)
4 x USB 3.2 Gen 1 ports
2 x USB 2.0/1.1 ports
1 x Q-Flash Plus button
1 x RJ-45 port
2 x SMA antenna connectors (2T2R)
3 x Audio Jacks

Audio

Realtek ALC1220-VB codec
Support for DTS:X Ultra
High Definition Audio
2/4/5.1/7.1-channel

Internal I/O Ports

1 x 24-pin ATX main power connector
1 x 8-pin ATX 12V power connector
1 x CPU fan header
3 x system fan headers
1 x addressable LED strip header
1 x RGB LED strip header
4 x SATA 6Gb/s connectors
2 x M.2 Socket 3 connectors
1 x front panel header
1 x front panel audio header
1 x speaker header
1 x USB Type-C™ header, with USB 3.2 Gen 1 support
1 x USB 3.2 Gen 1 header
1 x USB 2.0/1.1 header
1 x Clear CMOS jumper
1 x chassis intrusion header

H/W Monitoring

Support for APP Center
Support for Q-Flash Plus
Support for Q-Flash
Support for Xpress Install

Form factor
Mini-ITX Form Factor (170mm x 170mm)
Unboxing
Gigabyte is moving to a more colorful design for its packaging for its Intel 400 series chipset release this time and you can see that they have moved the majority of the highlighted features of the motherboard to the back of the box.
For the accessories, you'll find the numbers of accessories included with the Z490I AORUS ULTRA is much lesser than what we've expected from a considerably high-end tier mini-ITX motherboard.
The user manual, drivers CD, AORUS case badge, relevant cables, and the Wi-Fi antenna is much to be expected actually but it'll be great if Gigabyte can consider including a little bit more stuff to the accessories pack? The AORUS velcro straps are one of the accessories that come in really useful for cable management, be it for the cables inside your PC case or the cables on your desk.
The Gigabyte Z490I AORUS ULTRA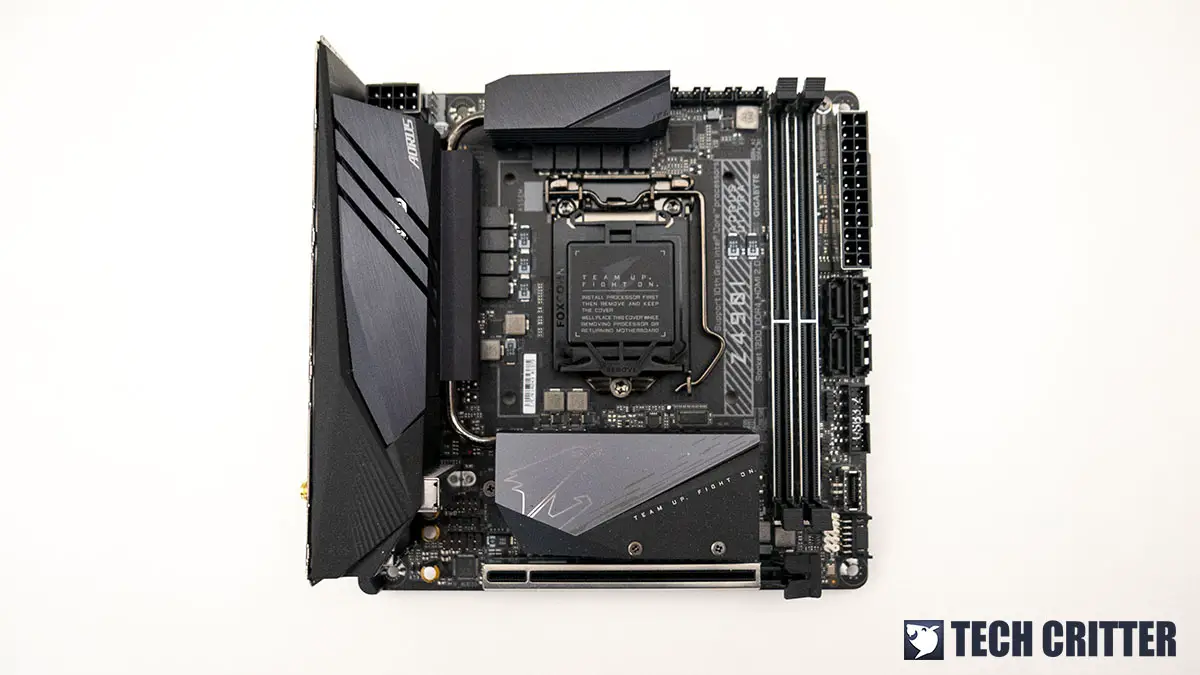 At first sight, there's almost no trace of RGB lightings elements that can be seen on the Z490I AORUS ULTRA.  The RGB fans might not like the direction of the current design but as I'm never really a fan of RGB lightings myself, I'm much more inclined to the new minimalist design.
Design-wise, the Z490I AORUS ULTRA looks very similar to the X570 I AORUS PRO WIFI, which has a much darker color scheme as compared to the Z390 I AORUS PRO WIFI. The VRM heatsink also appears to be slightly beefier and connected together by a single 8mm heat pipe to distribute the heat throughout all three heatsinks. It's sad to see that they didn't go with the same the cooling fan for the heatsink just like the one on the X570 I AORUS PRO WIFI.
Looking at the heatsink design, we can see that these heatsinks are basically sharing the 'load' through the 8mm heat pipe that connects all these heatsinks together.  The heatsink doesn't come with the Aluminum fins type heatsink on the higher-end AORUS boards but at least they didn't just slap on blocks or chunks of Aluminum blocks on the components and call it a day.
Moving on to the back of the board, you'll find the metal backplate of the board that helps to enhance the strength of the motherboard and of course, better aesthetics. The cutout on the metal backplate is notably larger this time, which we have no problem with the installation of the AIO liquid coolers that has a compatibility issue with the smaller cutout of the previous-gen design.
The metal backplate at the back of the motherboard also acts as the heatsink for the components at the back of the motherboard that is in direct contact with the thermal pads as shown in the images above.
The power design on the Z490I AORUS ULTRA doesn't involve any use of phase doublers but a direct 8+1 phase design, which is pretty beefy for a mini-ITX motherboard. Under the heatsink, you'll find components such as the ISL99390 90A and SiC651A 50A power stages for the VCore rail and IGP respectively, Tantalum Polymer Capacitors Array, and ISL69269 controller that is capable of driving up to 12 distinct phases.
We can see more 'shielded' or 'strengthened' connectors on the Z490I AORUS ULTRA, especially on the 24-pin ATX and 8-pin EPS 12V headers. Well, these metal shields are mostly for the aesthetics as to slightly improve the overall durability of the connectors to a certain extent, but it's good to see that Gigabyte never went overboard with the function of these metal shields like some other brands did.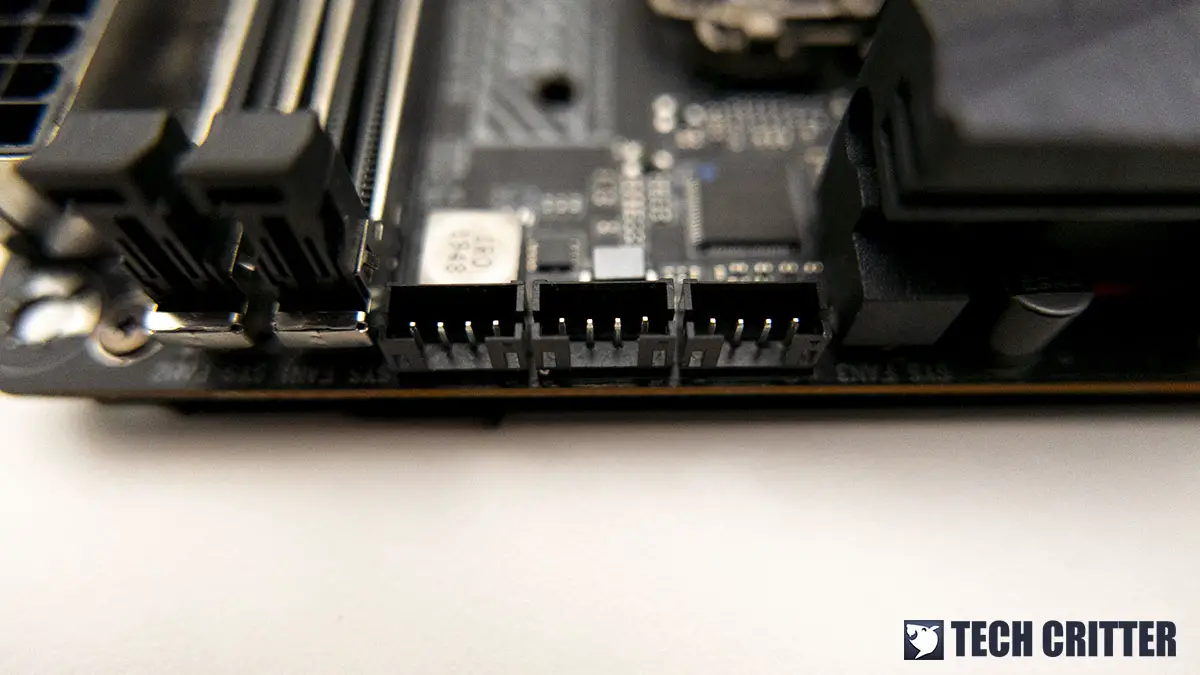 You'll find these similar fan headers on the Z390 I AORUS PRO WIFI as well and Gigabyte stepped up a little from there with a total of three connectors. I myself do have a love and hate for this type of connector though. The love, cleaner cable management can be done as compared to most of the generic mini-ITX form factor boards out there. The hate? Lose all these cables and you're down to only one fan usable fan header for the CPU cooler fan.
For the storage options, you have a total of 2 x M.2 SSDs and 4 x SATA SSDs available on the Z490I AORUS ULTRA. If you're looking for a PCIe 4.0 support on this board, you might have to wait for quite a while, probably until Intel releases its next desktop CPUs. While it's true that Intel Z490 chipset motherboard is made ready with PCIe 4.0 support, that's exactly what the current Intel 10th-gen desktop CPUs don't have.
Due to the form factor limitation, Gigabyte only included one M.2 SSD heatsink for the Z490I AORUS ULTRA. The design of the heatsink, however, is rather interesting and somewhat questionable because of the top Aluminum cover for the first M.2 slot. With the cover installed, you're basically defeating the purpose of having these extra fins on the SSD heatsink as there almost no airflow in that area.
The Z490I AORUS ULTRA has a couple of Nichicon audio capacitors paired with Realtek ALC1220 audio chip for its onboard audio solution, which according to Gigabyte, capable of doing quite a number of interesting functions such as detecting the impedance of your headphone, offers better microphone audio and other audio enhancements through DTS Headphone:X.
It's as great as those dedicated soundcards for sure, but it can provide you with a much better audio quality as compared to most of the generic onboard audio solutions you'll find on the entry-level products with bare minimum design for basic audio output as you interact with the system.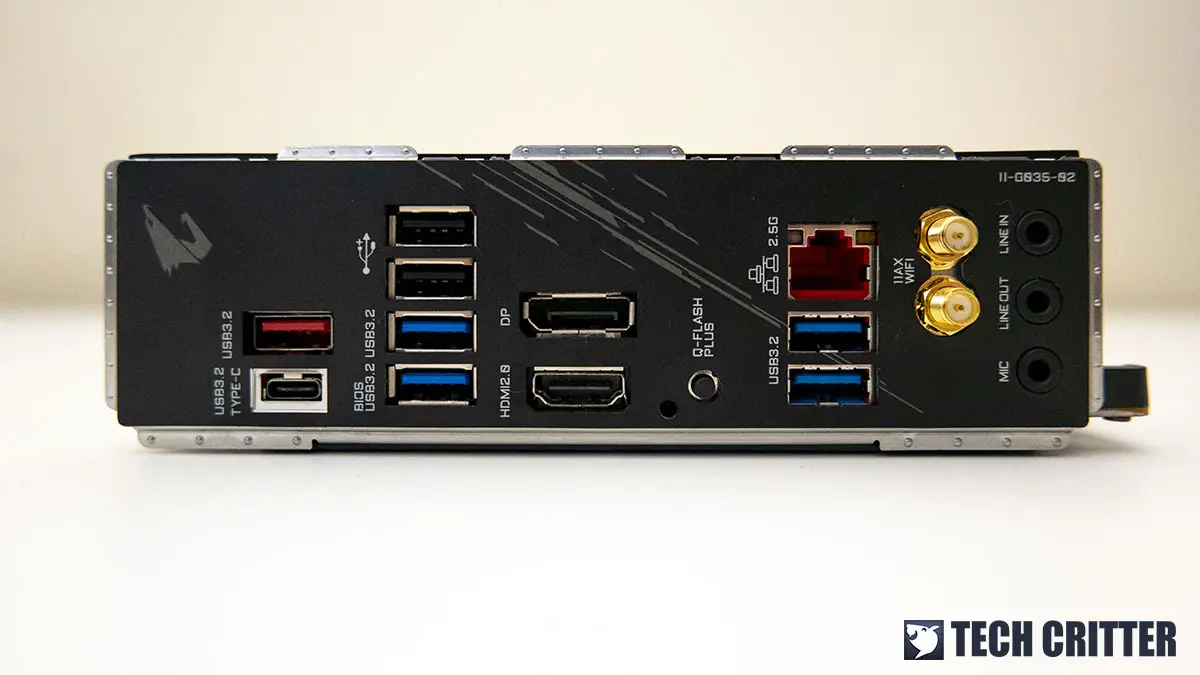 As for the rear I/O, the Z490I AORUS ULTRA has a total of 4 x USB 3.2 Gen 1 ports, 1 x USB 3.2 Gen 2 Type-A port, 1 x USB 3.2 Gen 2 Type-C port, 2 x USB 2.0/1.1 ports, 1 x HDMI port, 1 x DisplayPort port, 1 x Q-Flash button, SMA connector for the AORUS Antenna, 1 x Intel 2.5 GbE LAN port and the audio jacks. Like most of the newer AORUS motherboards nowadays, the rear I/O shield is already preinstalled on the Z490I AORUS ULTRA for convenience sake.
BIOS
At the time the Z490I AORUS ULTRA reaches us, the BIOS is on version F2 and everything seems to be working as intended as we run our tests. If you don't plan to do much with the memory, a decent kit like the TEAMGROUP T-FORCE XTREEM ARGB DDR4 can do DDR4-3200 CL14-14-14-34 1T on XMP without any issue. We'll be doing more than just XMP as usual, but let's leave the overclocking part for now.
Test System
| | |
| --- | --- |
| CPU | Intel Core i7-10700K /  Intel Core i9-10900K |
| Motherboard | Gigabyte Z490I AORUS ULTRA |
| Memory | TEAMGROUP T-FORCE XTREME ARGB DDR4 |
| Graphics Card | NVIDIA GeForce RTX 2080 Super Founders Edition |
| Power Supply | Cooler Master V1200 Platinum |
| Primary Storage | Phidisk WrathKeeper 960GB M.2 PCIe NVMe SSD |
| Secondary Storage | WD Black 6TB |
| CPU Cooler | Thermaltake Floe Riing 360 |
| Chassis | Cooler Master Test Bench V1 |
| Operating System | Windows 10 64bit |
CPU Benchmark
V-RAY Benchmark 4.10.07
Blender 2.82 BMW 2.7 CPU Benchmark
Corona 1.3 Benchmark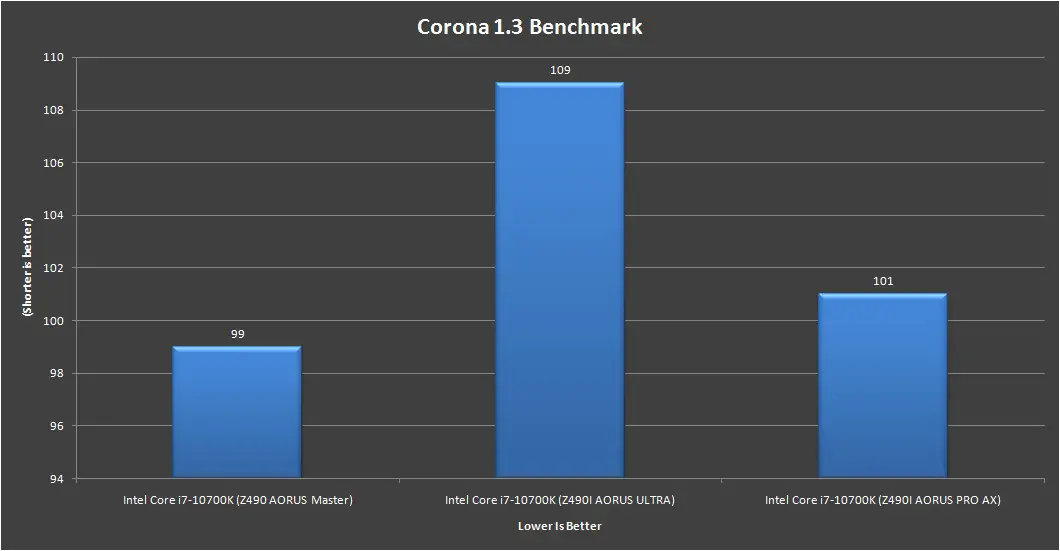 7zip Benchmark Compression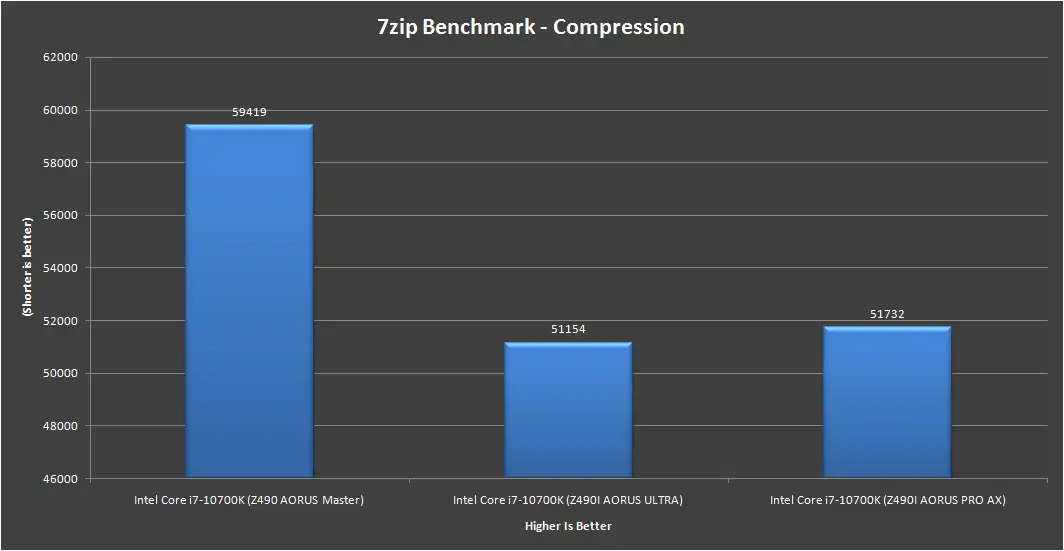 7zip Benchmark Decompression
Cinebench R15 – Multicore
Cinebench R15 – Single-Core
Cinebench R20 – Multicore
Cinebench R20 – Single-Core
HWBot X265 Benchmark 1080P
HWBot X265 Benchmark 4K
SuperPi 32M
wPrime 1024M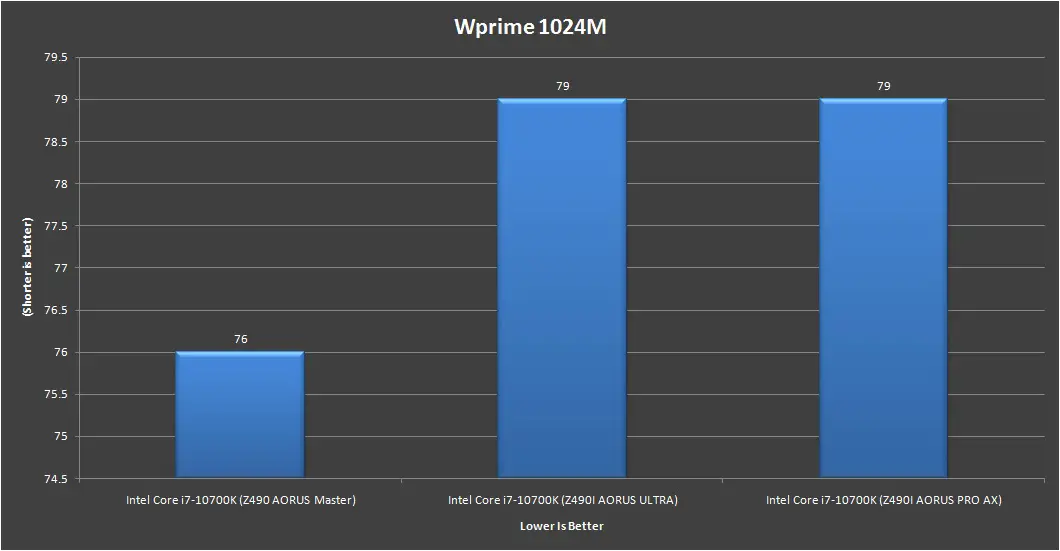 Overclocking
With the current 10th-gen Intel CPU being able to boost up to 5.0GHz and more on specific cores, overclocking all cores to 5.0GHz doesn't really take as much effort as how we used to do a few years back then. On a separate set of tests, we're able to achieve 5.0GHz on all cores on the i7-10700K with 1.32V, and 5.0GHz on all cores on the i9-10900K with 1.3V. Both of the i7-10700K and i9-10900K passed a 1-hour stress test on Realbench, with a peak load temperature of 86°C for the i7-10700K and 89°C for the i9-10900K.
If you're interested in going with a higher CPU clock, going beyond 5.0GHz will require a better cooling solution such as a custom liquid cooling setup. 5.1GHz is probably the highest we can go with our 360mm rad AIO liquid cooler which gives us a peak load temperature of 93°C on the i7-10700K and 97°C on the i9-10900K. It's not something we would recommend but if you got yourself a good quality chip that doesn't require a higher than average Vcore to maintain a stable performance at the configured speed.
Memory overclock is pretty decent for the Z490I AORUS ULTRA as well, but we're only able to achieve DDR4-4933 on the TEAMGROUP T-FORCE XTREME ARGB DDR4 kit. Even with the G.SKILL Trident Z RGB kit that we've used to hit DDR4-5000 with, DDR4-4933 is still the highest we can achieve as of now on the Z490I AORUS ULTRA.
Final Thoughts
Despite its much smaller form factor as compared to the larger ATX and mATX boards, the Z490I AORUS ULTRA is packed with pretty much every essential feature that you'll get from an Intel Z490 chipset board i.e PCIe 4.0 support for future LGA1200 Rocket Lake-S CPU, high-speed network solution Intel 2.5GbE LAN and Wi-Fi 6 AX20. You'll also get two M.2 slots and a hand full of ready to use USB ports on the rear I/O of the Z490I AORUS ULTRA, which is more than enough for most users nowadays. Then again, regardless of how fancy these new features are, you can only take advantage of it if the devices and equipment you have around you, especially Intel 2.5GbE LAN and Wi-Fi 6 AX20 which usually only available on the newer network devices and the PCIe 4.0 which is not available still on the current 10th-gen Intel Core processors.
Features aside, the Z490I AORUS ULTRA is also well built for overclocking – even components used for its power design is exactly the same as the Z490 AORUS MASTER. Our only concern here when it comes to CPU overclocking is the VRM temperature, which hit the 68°C mark during the hour-long stress test session at 5.1GHz and the slight increase as we bump up the CPU clock to the 5.2-5.3GHz range. Even though the temperature never really goes up to the 90°C mark throughout our tests,  some users might feel uncomfortable with the 70°C-ish temperature on their VRM. Since the heatsinks are connected together, it's basically sharing the load from the rest of the components that it's attached to, resulting in a higher temperature reading. The cooling fan on the heatsink which we've mentioned earlier will definitely be a great help to keep the temperature down, just like how it's done on the X570I AORUS PRO WIFI.
For the price of RM 1369, the Z490I AORUS ULTRA is one expensive mini-ITX motherboard to own. We don't really recommend going for one if you're not really inclined to a small form factor build, but it does have a lot to offer in terms of feature and build quality, which some small form factor build enthusiasts would really appreciate having.
Pros
Very solid build quality
High-speed Ethernet Port (Realtek 2.5GbE) and Wi-Fi 6 (Intel Wi-Fi 6 AX201)
Good overclocking capabilities
Pre-installed rear I/O shield
Plenty of USB ports on the rear I/O
Cons
Price is rather high
VRM heatsink might struggle on very high load