A lot of people are now seeking to buy a monitor to be used for desktops or consoles, or even laptops for that matter. So, when MSI sent in MSI Optix MAG274QRF-QD, I was intrigued for a few reasons – and today, we're going to show you why.
Okay, so let's start off with the reasons.
1. QD backlight
As the name suggests, this monitor has a quantum-dot backlight which means this monitor will be supremely bright, but without the risk of getting burn-in like OLED monitors.
Quantum dot backlighting isn't particularly new as we already have experienced it in some 8K TVs before. But, this is the first time we're seeing it on a 27-inch monitor.
From our test, we found out that this 27-inch panel can output a maximum brightness of 333 nits of brightness. This huge 27-inch at 333 nits is superbly bright.
With such brightness means that the MSI Optix monitor supports HDR too – and it actually looks good! But that's only half of the equation because this monitor also has highly accurate colors too.
2. Accurate colors with HDR
We took out our colorimeter to test out the colors and see how accurate it is. From our own test on our particular unit, we got about 95% DCI-P3 color gamut coverage and also 98.8% Adobe RGB, and impressively – 99% sRGB color gamut coverage. That's impressive.
But – that is when we tested with the highest possible brightness. I don't think anyone will use this monitor at its highest brightness anyway because honestly speaking – I like my monitors dimmer. I mean, at its full brightness – the MSI Optix MAG274QRF-QD is really bright. Like blindingly bright.
So, I tested the color accuracy again at about 100 nits of brightness – and we got about the same level of color accuracy too.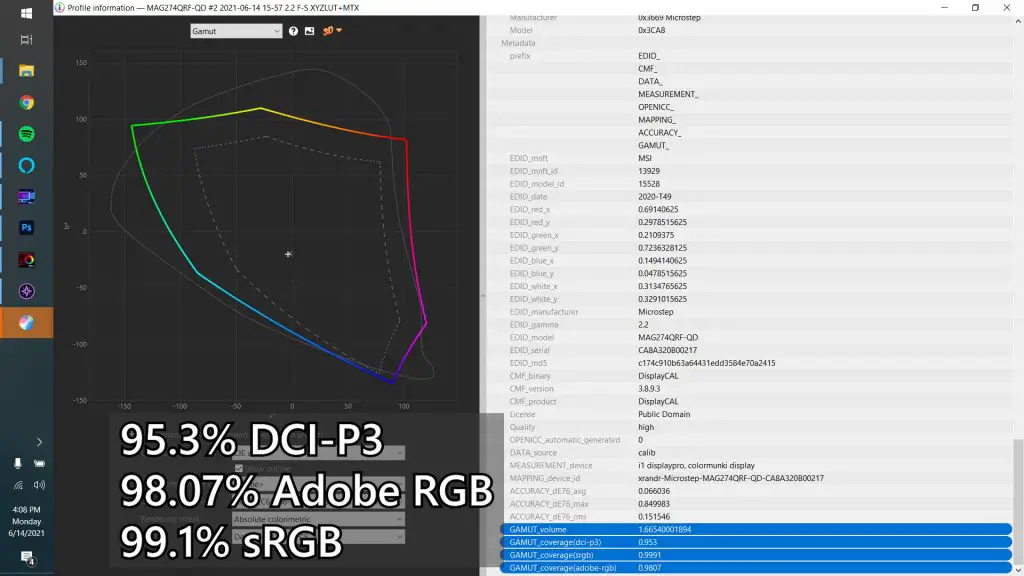 And hey – the Delta E number is very low too – which means the colors of the MSI Optix MAG274QRF-QD is very accurate.
3. Fantastic specs
Other than that – we need to talk about the specs of this monitor. It is capable of running at these specs:
1440p
165Hz refresh rate
1ms GtG response time
NVIDIA G-Sync compatibility
This list of specs will be fantastic for competitive games like CS:GO, Valorant, and even Fortnite.
4. Fantastic slew of ports
This MSI Optix MAG274QRF-QD has an inclusive slew of ports. It comes with:
1x DisplayPort 1.2a
2x HDMI 2.0b
1x USB-C with DisplayPort alt mode
What I'm liking here is the inclusion of USB-C so that certain users who don't have a gaming PC but have a console for play and an ultrabook for work, then that USB-C port will come in handy. This monitor is the embodiment of "working in the day, gamer at night."
5. MSI Console mode
The new generation of consoles are out in the market right now – and they've skipped 1440p resolution as though it never exists. This new generation of consoles outputs either 1080p or 4K – and nothing in between.
So, this MSI Optix MAG274QRF-QD, being a 1440p monitor, solves this problem by accepting 4K signals and downscale it down to 1440p, preserving its sharpness and clarity.
MSI's solution is actually great as other 1440p monitors upscale from 1080p to 1440p and causes the image to look blurry.
6. Bonus misc. reasons
Let's do a quick lightning round to talk about the features that I love about the MSI Optix MAG274QRF-QD. The monitor stand that comes with this monitor has tilt, pivot, rotate, and pan.
The OSD menu of the MSI Optix MAG274QRF-QD is also nicely laid out and has a bunch of features built-in. However, we won't need to touch the monitor to adjust the settings. MSI has something called the Gaming OSD app that we can install in our Windows PC.
This Gaming OSD app allows us to change all of the OSD settings, and also to customize the customize the RGB lights at the back of the MSI Optix MAG274QRF-QD!
There are a few LEDs that can be individually customized, and has a slew of built-in lighting modes too.
With that said…
If you're interested in getting the MSI Optix MAG274QRF-QD, then make sure you get it as soon as possible. It's priced at RM2,349, which is actually quite a good price since it is does have a lot of different features built-in.
Monitors are going out of stock pretty much everywhere right now. So, if you're interested – then check out these affiliated links: