Apart from the ROG Maximus XII Apex and Z490 AORUS Master we have here, we've also seen plenty of the Intel Z490 chipset motherboards from all of Intel's board partners a few weeks ago but unboxing and preview is the only thing we can see as performance review are still under NDA at that point of time. With the NDA finally being lifted, we can finally see more information on Intel's latest CPU and chipset, and what are they capable of.
Intel's 10th gen processors are still not available in the market at the time of writing this article, but we have ASUS to thanks this time for sending over an Intel Core i5-10600K loan unit so we can have our first hands-on experience with the Maximus XII Apex we have here. We were told that this i5-10600K isn't working well as intended, but this is only for temporary and we'll continue updating this article after we managed to buy ourselves a retail unit of the Intel 10th gen desktop processors as soon as it's available in the market – so, please bear with us for now.
Update
So we did manage to get our hands on a retail version of the Intel Core i9-10900K for a week with the help of the awesome folks at ASUS Malaysia. With a better Intel 10th gen CPU on hand, we can finally put the overclocking capabilities of the Maximus XII Apex to test.
Specifications
CPU support
Intel LGA 1200
Chipset
Intel Z490
Memory
2 x DDR4 DIMM, max. 64GB un-buffered memory
Memory frequency up to 4800MHz (O.C)
Supports Intel Extreme Memory Profile (XMP)
Double Capacity DRAM support depends on DRAM models
Multi-GPU Support
NVIDIA 2-way SLI
AMD 2-way CrossFireX
Expansion slots
2 x PCIe 3.0 X16 (single at X16, dual at X8/X8)
1 x PCIe 3.0 X4
1 x PCIe 3.0 x1
Storage
1 x M.2_1 socket 3 (Support PCIe 3.0 X4 mode)
2 X M.2 Socket 3 via ROG DIMM.2 Module (Support SATA and PCIe 3.0 X4 mode)
6 x SATA 5Gb/s ports
Network
Intel Wi-Fi 6 AX201
Intel I225-V 2.5GbE
Bluetooth 5.1 (Windows 10 build 19041 or later)
Back I/O Ports
1 x PS/2 keyboard (purple)
1 x PS/2 mouse (green)
1 x LAN (RJ45) port(s)
4 x USB 3.2 Gen 2 (red)
1 x USB 3.2 Gen 2 (black)Type-C
5 x USB 3.2 Gen 1 (blue)
1 x Optical S/PDIF out
1 x Clear CMOS button(s)
1 x USB BIOS FlashBack™ Button(s)
1 x ASUS Wi-Fi GO! module (Wi-Fi 802.11 a/b/g/n/ac and Bluetooth v5.0
5 x Gold-plated audio jacks
Audio
ROG SupremeFX 7.1 S1220A CODEC
Internal I/O Ports
1 x W_IN header
1 x W_OUT header
1 x W_FLOW header
1 x Node Connector(s)
2 x Aura Addressable Strip Header(s)
1 x ReTry jumper
3 x USB 2.0 connector(s) support(s) additional 5 USB 2.0 port(s)
1 x S/PDIF out header(s)
1 x Front panel audio connector(s) (AAFP)
1 x LN2 Mode jumper(s)
1 x W_Pump+ Header
1 x AIO PUMP Header
1 x USB 3.2 Gen 2 front panel connector
2 x 4-pin Full Speed Fan connectors
3 x onboard LED ON/OFF jumper(s)
1 x USB 3.2 Gen 1 connector(s) support(s) additional 2 USB 3.2 Gen 1 port(s)
1 x RGB Header
1 x FS Mode switch
Overclocking Features
EZ PLUG
FlexKey Button
LN2 Mode
Probelt
ReTry button
Safe boot button
Start button
Slow Mode
Included accessories
1 x Supporting DVD
1 x ROG big sticker
1 x Q-Connector
1 x M.2 screw kit (long screw and mount)
2 x M.2 screw kit (short screw and mount)
1 x Wi-Fi Antenna(s)
1 x Extension Cable for RGB strips (80 cm)
1 x Extension cable for Addressable LED
User manual
1 x ROG coaster(s)
1 x Customizable Name Plate Accessory Pack
1 x ROG Thank you card
1 x ROG DIMM.2 with heatsink
1 x M.2 Pad for ROG DIMM.2
Form factor
ATX Form Factor (305mm x 244mm)
Unboxing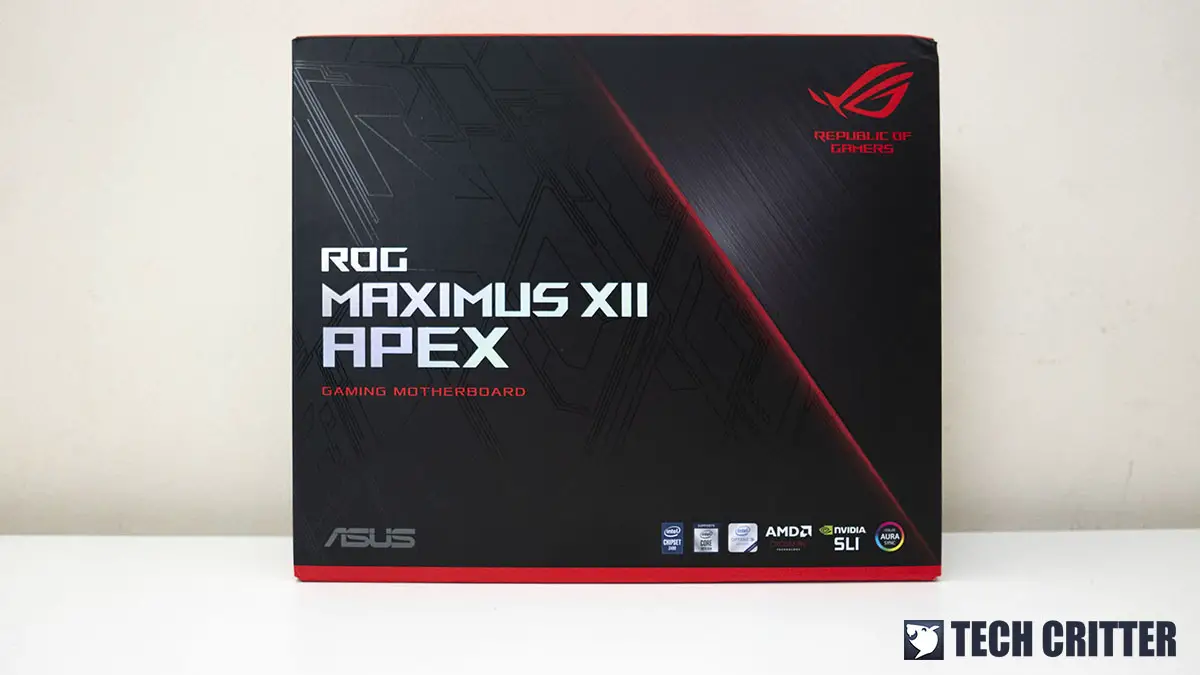 The Maximus XII Apex ships in the usual ROG red-black themed box and if we take a closer look at the design, you'll notice that it actually comes in a similar fashion as the previous Maximus XI Apex. It doesn't come with the fancy RGB theme that you'll find on the ROG Strix lineup that is targeted for the gamers, but it does have ASUS AURA support for those who really want RGB for their system.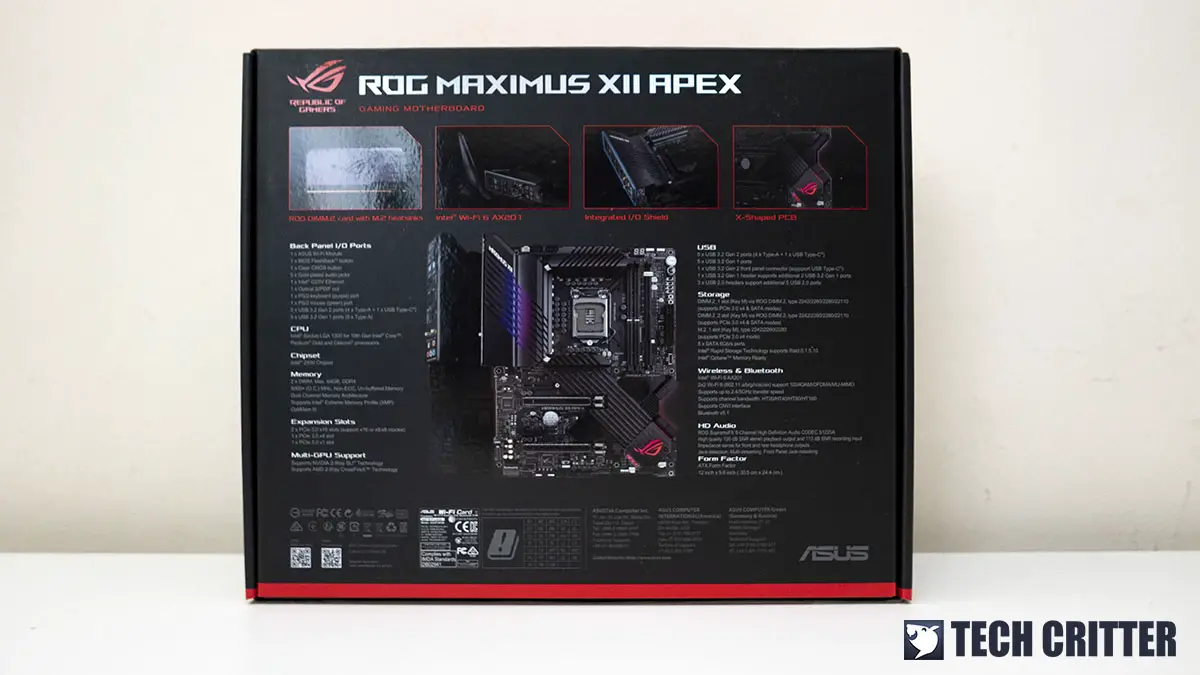 Highlighted features of the Maximus XII Apex can be found at the back of the box, alongside the specifications such as the supported CPU and memory, I/O ports available, etc. There's also a preview of the motherboard at the back of the box, in case if you're wondering how the product looks like.
Accessories
The accessories that come with the Maximus XII Apex includes the decorative ROG coaster, ROG keychain strap, ROG stickers, drivers CD, user's guide, ROG welcome note, CableMod discount coupon, SATA cables, RGB cables, thermal probes, DIMM.2 module, and a Wi-Fi antenna.
The included DIMM.2 module is similar to the one included with the previous Maximus XI Apex, allowing users to install up to two more M.2 SSD to the system if one isn't enough. Thermal pads are present on both sides of the heatsink as well, which helps to improve the heat dissipation on high-performance SSD if it runs hot.
The Maximus XII Apex
At first glance, the new Maximus XII Apex PCB looks just like a mixture of both the Maximus XI Apex and Maximus X Apex. While the PCB shape is merely for the looks, we can see some changes in the design, larger heatsinks, and layout optimized for overclocking.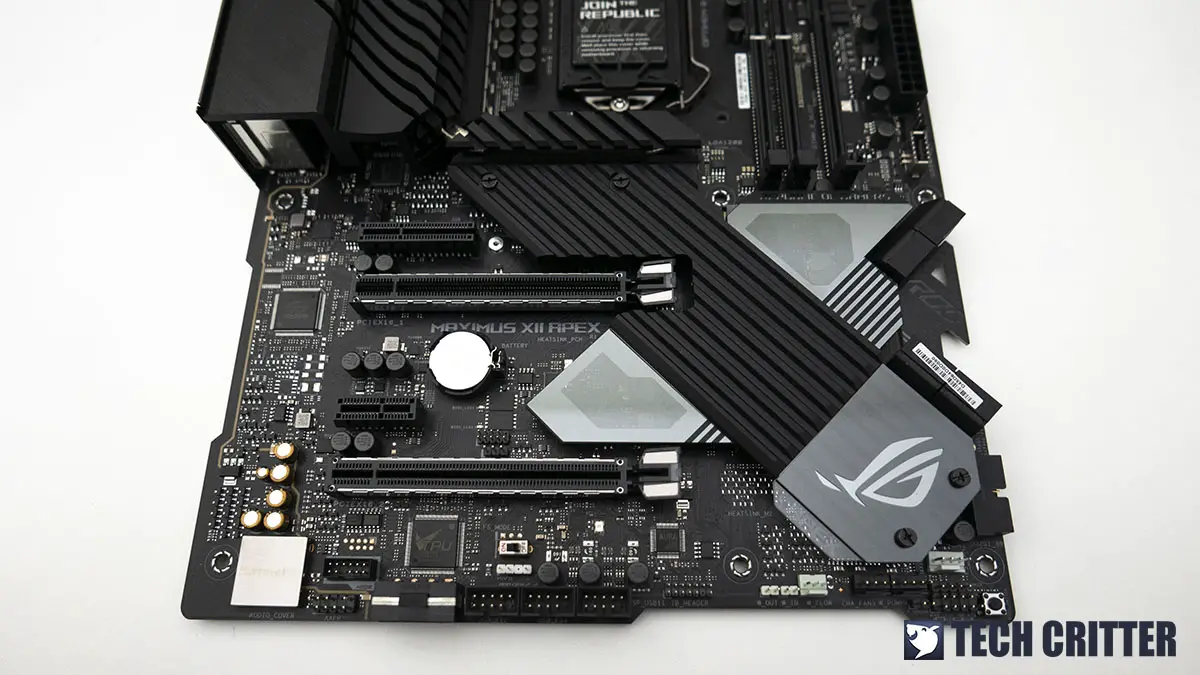 The PCIe expansion slots have been revised to two PCIe X16 slot instead of three, a single PCIe x1 and PCIe X4 slot, with an additional M.2 slot for those who prefer to have an onboard M.2 SSD than having one attached to the DIMM.2 module as seen on the previous generation APEX motherboards.
While most of the high-end motherboards we've seen today have both its  EPS12V, ATX 24-pin, PCIe slots, DIMM slots covered with the metal shield for enhanced strength, the metal shield on the Maximus XII Apex is only on its 8-pin EPS12V and PCIe slots.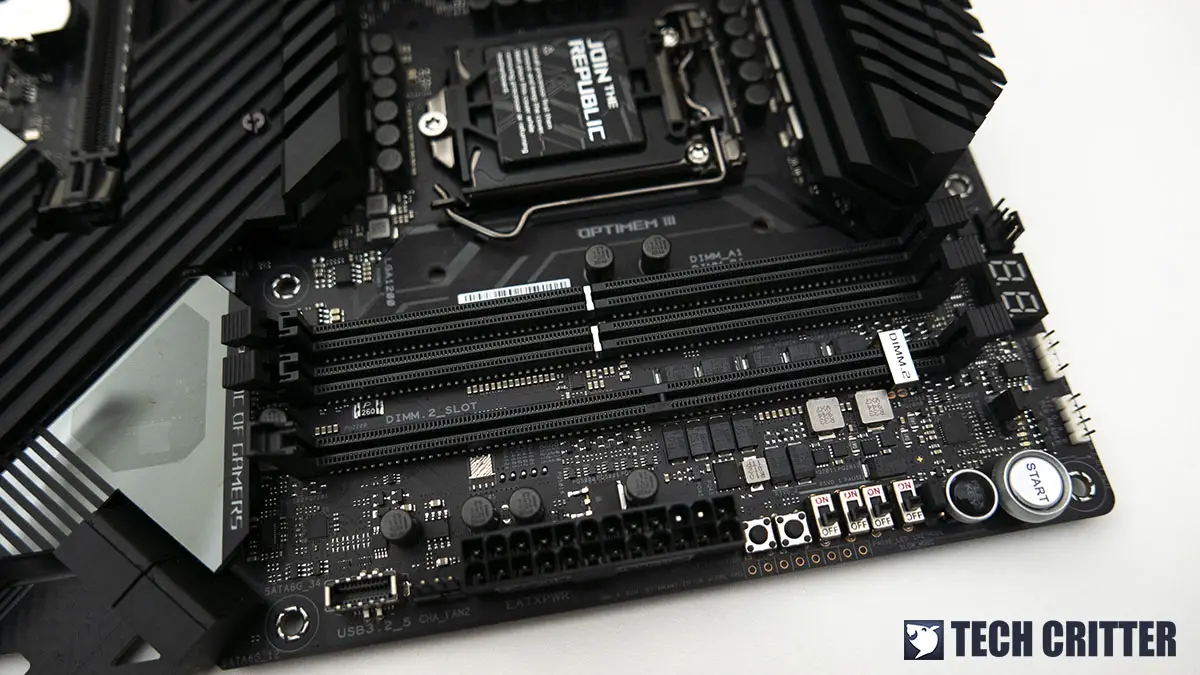 It retains the DIMM.2 for M.2 SSDs and dual DIMM slots just like the previous Apex boards which are specially made for memory overclocking. According to the specifications, the current Maximus XII Apex can support memory up to 4800MHz via XMP and you can definitely go higher than that with some tweaks to the memory settings.
For the onboard buttons, the Maximus XII Apex retains pretty much all the buttons and dip switches you'll find on the previous Maximus XI Apex. The Q-code LED display, mode toggle dip switches, Power button, FlexKey button, ReTry button and safe boot button are now placed in the top right section of the board in a group, which I personally prefer for overclocking.
The VRM heatsink on the Maximus XII Apex nothing like we've seen on the previous generation Apex motherboards, a rather interesting approach I must say. The rear I/O cover has been integrated into the VRM heatsink design and connected to other heatsinks with a heat pipe, which helps to increase the surface area on the heatsink to effectively dissipate the heat on the chokes and MOSFETs.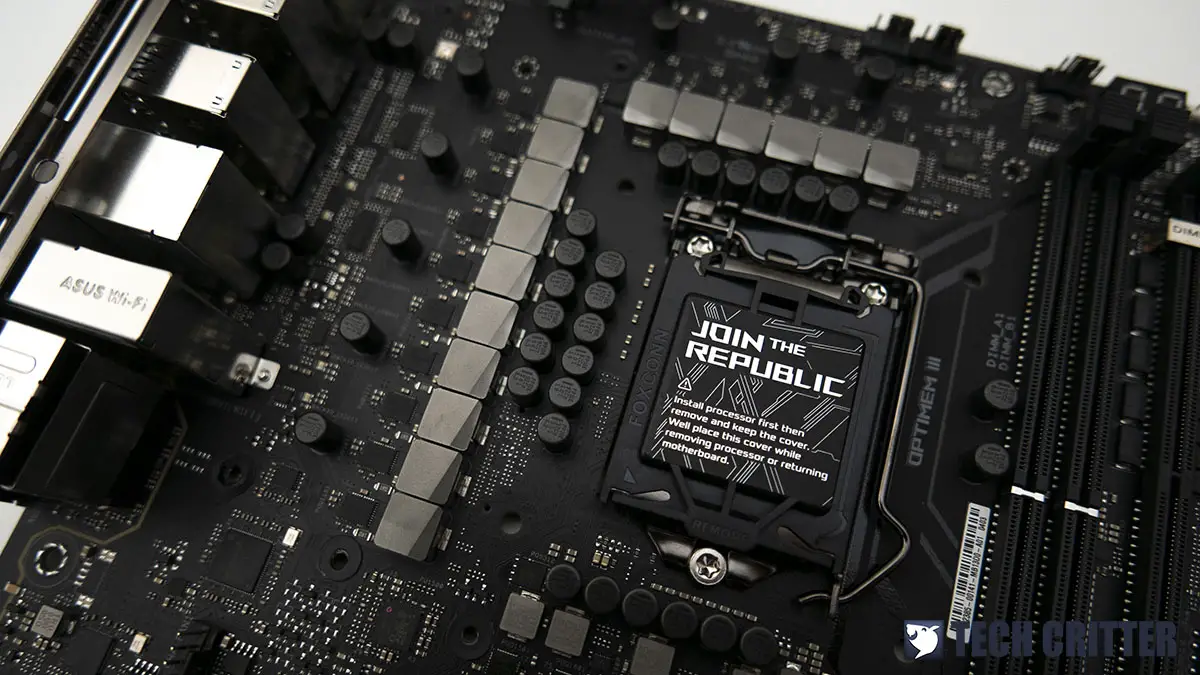 Moving on to the VRM design, the Maximus XII Apex features a '16 power stage' design using teamed configuration which is effectively an 8 phase VRM. So you're basically getting a beefy 8 phase board with 2 of each working in parallel in each phase, without the use of doublers like some manufacturers would do.
Taking a closer look at the components, we can see that ASUS uses Infineon TDA2147the ASUS Digi+ VRM EPU ASP1405I on the Maximus XII Apex. The ASUS Digi+ VRM EPU ASP1405I is the higher-end VRM controller which ASUS usually used on its higher-end motherboards, which is most likely to be a rebranded Infineon IR35201 8-phase PWM controller. As for the Infineon TDA21472 power stage, it is rated to handle 70 A, slightly lesser than the Infineon TDA21490 used on the Maximus XII Extreme which is rated to handle 90 A.
As for the onboard I/O headers, the Maximus XII Apex has a front USB 3.2 Gen2 header, USB 3.2 Gen1 header, and three USB 2.0 headers. Personally, I think that it's very unlikely for one to utilizes these if the board is used on a generic test bench and it's too overkill for a simple gaming rig but the USB 2.0 does come in handy if you have an AIO liquid cooler with software control support installed.
The unusual SATA ports layout is definitely an eye-opener to us all but how it's positioned is somewhat questionable. Managing SATA cables can be a pain with such an unusual angle even if you can still get some clearance by breaking off that small piece of PCB from that area – according to the images from the official product page.
As we've mentioned earlier, the Maximus XII Apex now comes with an onboard M.2 slot which isn't present on the previous Apex boards. One thing to take note is that it is sharing the bandwidth of the PCIe x4 slot and if you have an SSD running on PCIe x4 mode on the M.2 slot, the PCIe x4 slot will be disabled.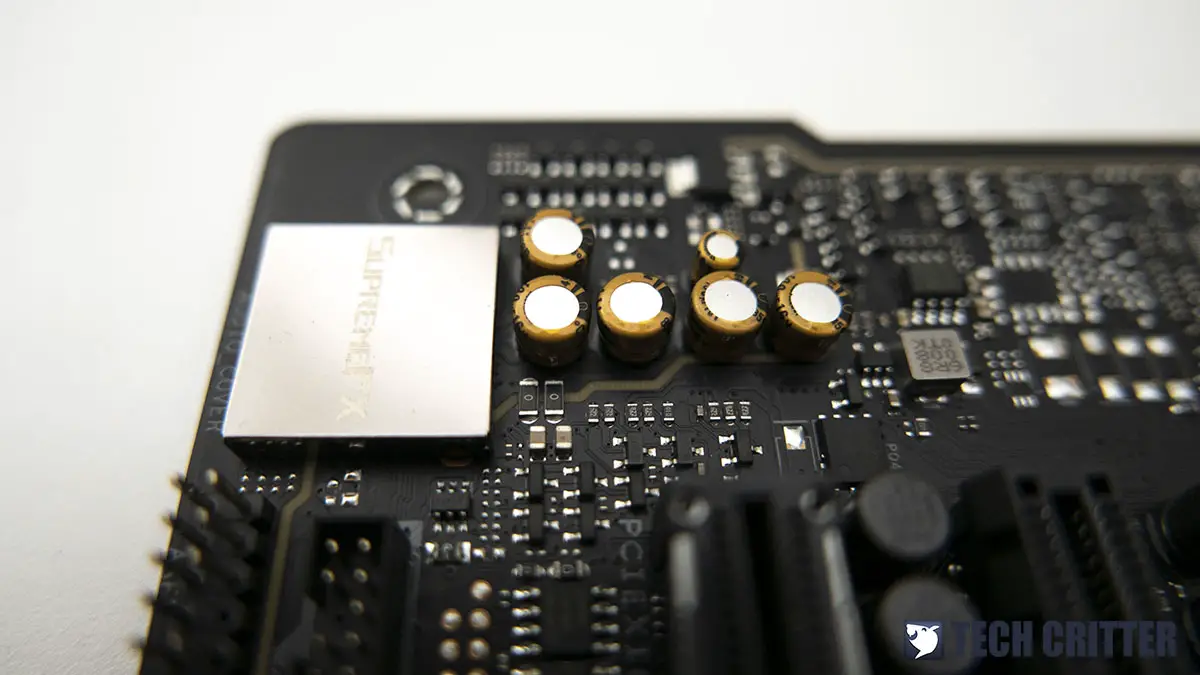 For the onboard audio solution, the Maximus XII Apex is equipped with the SupremeFX S1220A codec, high-quality Japanese Nichicon caps, and the usual audio line shielding to provide cleaner audio as compared to the generic onboard audio solutions. ASUS also included switching MOSFET in its design, which they claimed to offer the impedance-sensing function to be ported with either the front or rear headphone outputs.
It's been a while since ASUS announced the pre-mounted I/O shield and we must say, it's the best kind of solution for PC builders as some will tend to forget about the rear I/O shield until they're almost done with the build. On the rear I/O, you'll find a number of useful ports and features that will come in handy for overclockers, especially for the clear CMOS button and BIOS flashback button, a surprise inclusion of PS/2 port.
It has plenty of USB ports available for all your USB needs, 5 x USB 3.2 Gen1 ports, 4 x USB 3.2 Gen2 Type-A ports, a USB 3.2 Gen2 Type-C port. For network connectivity, it comes with Intel I225-V  which gives 2.5GbE LAN via cable connection or Intel Wi-Fi 6 AX201 for Wi-Fi 6 if you have an 802.11ax WiFi 6 router.
BIOS – EZ Mode
BIOS – Advanced Mode
Test System
| | |
| --- | --- |
| CPU | Intel Core i5-10600K |
| Motherboard | ASUS ROG Maximus XII Apex |
| Memory | G.Skill TridentZ RGB 16GB @3200MHz |
| Graphics Card | NVIDIA GeForce RTX 2070 Super Founders Edition |
| Power Supply | Enermax MaxTytan 1250W |
| Primary Storage | Phidisk WrathKeeper 960GB |
| Secondary Storage | WD Black 6TB |
| CPU Cooler | Thermaltake Floe Riing 360 RGB |
| Chassis | Cooler Master Test Bench V1 |
| Operating System | Windows 10 64bit |
Storage Speed Performance Overview – USB 3.2 Gen2 Type-C and M.2
For our storage speed test, we've tested SSDs on the onboard M.2 slot and type-C port just to see what kind of performance can we expect from the new Z490 chipset and turns out that it's not too much of a difference as compared to the results we get from a different set of test conducted on a Maximus X Apex on our main test bench. There are claims that higher-end Z490 boards are made ready with PCIe 4.0 support which will only be available on the next-gen Intel CPU, but PCIe 4.0 will still be limited to AMD platform as of now, as the current 10th gen Intel processors don't have support for PCIe 4.0.
CPU Overclocking Performance Overview
As the Intel Core i5-10600K will only run on stock settings, we will have to put the CPU overclocking on hold until we get a proper working retail unit as soon as it's available in the market.
We have the retail version of Intel Core i9-10900K with us this time, the top of the line model in the current Intel 10th gen core processor family. The i9-10900K is capable of reaching 5.3GHz via Thermal Velocity Boost if the CPU temperature remains under 70°C, so you will need a really good cooler to keep the temperature low. You'll see the CPU frequency boosted to 5.0~5.2GHz on load most of the time, so you can pretty much leave it as it is without overclocking if you don't have a very powerful CPU cooler and it will still perform fairly well.
With everything left on default settings, the peak temperature recorded during heavy load is 89°C and that's actually with the Thermaltake Floe Riing 360 RGB. After limiting the CPU clock to 5.0GHz (all cores), the peak temperature during heavy load dropped slightly to 82°C, so we can see that you'll really need a very capable cooler to tame this 10C20T monstrosity. Of course, it's still a very capable processor even if you limited to clock to 5.0GHz just to keep the temperature low.
If you wish to push the Intel Core i9-10900K above 5.4GHz, a 360mm radiator AIO is definitely not going to be enough for it. We went with a not so long-lasting cooling solution, which is by submerging our Thermaltake Floe Riing 360 RGB in ice and water for a quick test. We manage to get the CPU running at 5.5GHz with 1.49V on the Vcore and load temperature of 96°C but it doesn't take long for the ice to melt and thermal throttle kicks in.
Memory Overclocking Performance Overview
Memory overclocking seems to be working fine with the unit and we manage to get a decent result using a G.Skill TridentZ RGB 16GB DDR4-3200 memory kit.
For memory overclocking, we've done the test previously using a not so great sample that couldn't even reach 5.0GHz on the CPU frequency but still manage to give us a fairly well result in the end.
Memory overclocking is noticeably easier with the Maximus XII Apex and reaching DDR4-4600 takes less effort as compared to the Maximus X Apex. We manage to hit DDR4-4700 CL19-20-20-42 on the memory frequency, the highest we can reach for now with our G.Skill TridentZ RGB 16GB DDR4-3200 memory kit.
Now with the retail Intel Core i9-10900K,  we managed to go slightly further with the memory frequency at DDR4-5000 (as highlighted on the official product page) after some additional tweaking on the memory sub timings. If you don't plan to spend the extra time to get a lower-rated kit to run at DDR4-5000, the Maximus XII Apex can support DDR4-5000 kit from Corsair and G.SKILL
Verdict
Overall, the ROG Maximus XII Apex is an amazing motherboard that has not only the aesthetics but also the features that are specially tailored for overclocking. After using the Maximus XII Apex for more than a week now, we must say that it's a very significant upgrade from the Maximus X Apex which has been our main test bench for nearly 2 years since its launch. The ROG Maximus XII Apex performs exceptionally when it comes to overclocking, memory overclocking especially – DDR4-5000 is way much easier to achieve with this board. The only sad thing here is that there is support for OC Panel on the Maximus XII Apex, a very useful device for overclocking that is available from the previous-gen ROG motherboards.
Overclocking features aside, the Maximus XII Apex also features many useful connectivity options such as the large numbers of USB ports for all your USB needs, onboard M.2 slot for Apex users who have been longing for it, high-speed 2.5GbE LAN and Wi-Fi 6 network connection, as well as the surprise inclusion of the legacy PS/2 ports that will come in really handy on situations where the motherboard doesn't detect any USB input during an overclocking session. Although PCIe 4.0 is still not supported in the current Intel 10th gen CPU, we believe the extra pins on the LGA1200 socket has something to do with more lanes to support PCIe 4.0 when it's finally available on the next-gen Intel Core processors.
As much as we liked the Maximus XII Apex, there are some designs on the board that are somewhat questionable, such as the SATA ports layout, revised PCIe expansion slots from 3 x PCIe x16 slots to only 2 x PCIe x16 slots, and the semi-asymmetrical PCB shape. We don't really understand why ASUS would go with such unusual SATA ports layout and the PCB shape after they've gone back to the usual PCB design with the Maximus XI Apex, except for revision on the PCIe expansion slots which is to cater for an onboard M.2 slot.
Pros
Excellent overclocking capabilities
Solid chipset and VRM heatsink
DIMM.2 module comes with a heatsink
Pre-installed rear I/O shield
Made ready for LN2 overclocking
Support for Wi-Fi 6
Cons
No support for OC Panel / OC Panel II
Unusual SATA layout
The wireless antenna base is not magnetic