Nvidia has recently launched the GeForce RTX 4070 as the latest addition to its RTX 40 series lineup. While it's nice to see that NVIDIA will still have the Founders Edition model for the RTX 4070, you can also find the custom design from other board partners. ZOTAC as one of the renowned NVIDIA board partners has released its custom design as usual and the RTX 4070 AMP AIRO we are reviewing this time is one of them.
To better gauge the performance of the RTX 4070 AMP AIRO, we have tested it against an RTX 3080 OC, RTX 4070 Ti, and the RTX 4070 Founders Edition. So without any further ado, let's see what kind of performance can the RTX 4070 AMP AIRO deliver.
Specifications
| | | | |
| --- | --- | --- | --- |
| GPU | GeForce RTX 3080 | GeForce RTX 4070 Ti | GeForce RTX 4070 |
| CUDA Cores | 8704 | 7680 | 5888 |
| Tensor Cores | 272 | 240 | 184 |
| RT Cores | 68 |  60 | 46 |
| ROPs | 96 | 80 | 64 |
| GPU Boost Clock | 1710 MHz | 2610 MHz | 2475 MHz |
| Memory Data Rate | 19 Gbps | 21 Gbps | 21 Gbps |
| Total Video Memory Size | 10G GDDR6X | 12G GDDR6X | 12G GDDR6X |
| Memory Interface | 320-bit | 192-bit | 192-bit |
| Memory Bandwidth | 760.3 GB/s | 504 GB/s | 504 GB/s |
| TDP | 350W | 285W | 200W |
| Recommended PSU | 750W | 700W | 650W |
| Power Connectors | 1 x 12-pin | 1 x 16-pin (12VHPWR) |  1 x 16-pin (12VHPWR) / 8-Pin PCIe |
Unboxing
This slideshow requires JavaScript.
As ZOTAC has equipped the RTX 4070 AMP AIRO with a big chunky cooler, having a bigger box is inevitable. The design is similar to what you'll find on the rest of the RTX 40 series AMP AIRO lineup and you'll find the details on the features available around the box.
Inside the box, you'll find the RTX 4070 AMP AIRO and other accessories such as the user's manual, GPU stand, and the 2 x PCIe 8-pin to 1 X 12VHPWR adapter.
This slideshow requires JavaScript.
Albeit slightly smaller in size, the RTX 4070 AMP AIRO still features a similar cooler design as the higher-end RTX 40 series AMP AIRO with a thickness of about 2.5 slots. The backplate design is similar to the higher-end card design but from the cutout, we can see just how small the actual PCB is.
There are custom RTX 4070 that uses an 8-pin PCIe instead of 12VHPWR, but for OC models like the RTX 4070 AMP AIRO, 12VHPWR is almost certain. You can also find the BIOS switch located right next to the 12VPHWR that allows you to toggle between Amplify and Quiet modes. For most use cases, Amplify mode is the much-preferred option as you'll get better performance from the card with minimal sacrifice on the fan noise.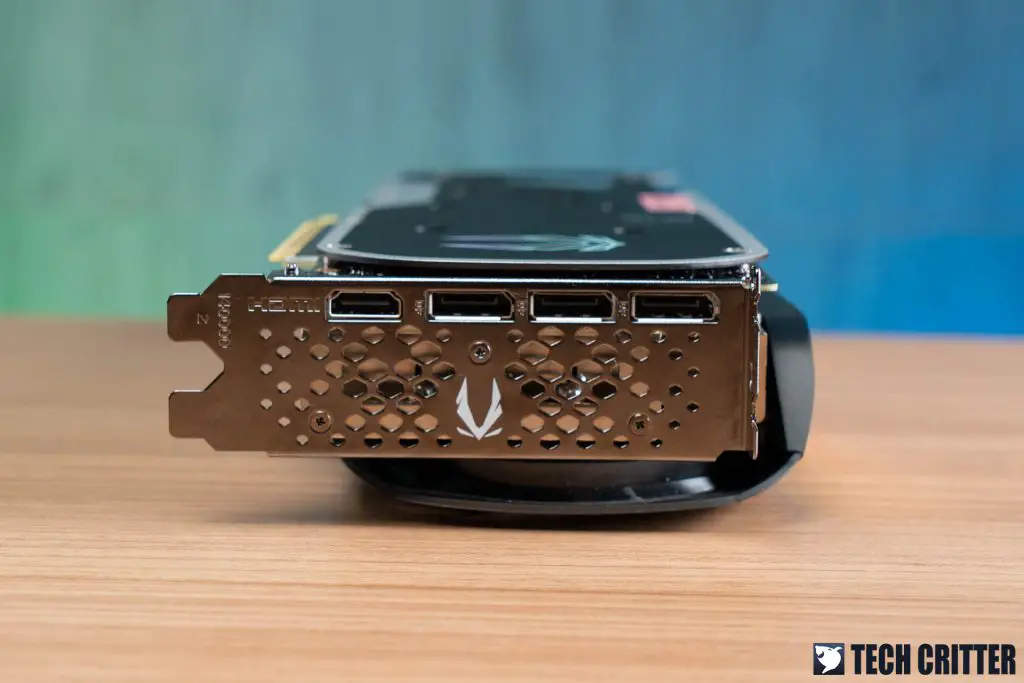 And for the display output options, you'll find the usual 3 x DisplayPort and 1 x HDMI combo on the RTX 4070 AMP AIRO.
Test System Setup
As mentioned at the beginning of this article, we've tested RTX 4070 AMP AIRO against the RTX 3080 OC, RTX 4070 Ti, and RTX 4070 Founders Edition to gauge the performance of this card. For our games benchmark test, we've selected a number of AAA titles to run at their highest possible settings using the following setup under an ambient temperature of 28°C:
| | |
| --- | --- |
| CPU | Intel Core i9-12900K |
| Motherboard | ASUS ROG Maximus Z690 APEX |
| Memory | ADATA XPG LANCER RGB DDR5@6000MHz CL30 (16GB x2) |
| Graphics Card | NVIDIA GeForce RTX 4070 Founders Edition / ASUS  ROG Strix GeForce RTX 4070 Ti / ASUS ROG Strix GeForce RTX 3080 10G OC Edition / ZOTAC Gaming GeForce RTX 4070 AMP AIRO |
| Power Supply | Cooler Master M2000 Platinum |
| Primary Storage | Kingston KC3000 2TB |
| CPU Cooler | Cooler MasterLiquid PL360 Flux |
| Chassis | Cooler Master MasterFrame 700 |
| Operating System | Windows 11 Pro 64-bit 21H2 (Build 22000.1696) |
Games Benchmark – Raster Performance
From the results, we can see that the RTX 4070 is still a strong contender for 4K gaming, with the exception of a few demanding games such as Watch Dogs Legion and Cyberpunk 2077.  The RTX 4070 AMP AIRO can be seen performing similarly to the RTX 3080 OC, which the latter still remains a very powerful card even today. There are, of course, test results that show the RTX 3080 OC is still better in some titles.
In 1440P gaming which NVIDIA has been promoting for the RTX 4070, it can achieve 100fps or higher on most tested games with ease. The RTX 4070 AMP AIRO generally outperforms the RTX 3080 OC at this point, with only a few exceptions where the differences are minimal.
1080P is hardly a challenge as all the cards tested here is just too powerful for 1080P, and I don't think you should be playing games at this resolution because you're basically limiting what the card can actually do. We still do the test, of course, just for the fun of it and to show you the numbers we've gathered.
Games Benchmark – Ray Tracing Performance
Moving onto the ray tracing performance, we have our test titles configured with the highest graphics settings if possible, and DLSS preset set to Quality. With DLSS enabled, the RTX 4070 is still capable of 4K gaming and we can see slightly better numbers on the RTX 4070 AMP AIRO with its factory overclocked settings. However, games such as Cyberpunk 2077, Metro Exodus, and Watchdogs Legion may prove too demanding for both RTX 3080 OC and RTX 4070. In these cases, it's recommended to switch the DLSS preset to Performance or Balanced for 4K gaming. Some details may be lost but when it comes to fast-paced games, it's hardly noticeable most of the time if you don't specifically look for it.
The RTX 4070 pretty much nailed all the titles tested at 1440P resolution. While not all the titles are getting crazy high 100fps on average, the average framerates is still what I consider as highly playable and that's fair enough considering that we're actually running the games at the highest settings and ray tracing on full blast.
The situation is pretty much the same here with ray tracing performance I'd say, which I don't see any reason for someone to buy an RTX 4070 at the price of $599 or more but only play games at 1080P resolution.
DLSS 3 Hands-On
One of the main highlights of the RTX 40 series GPUs when it comes to gaming is of course the new DLSS 3. On top of the existing technology, new tech like DLSS Frame Generation has been added into the package alongside NVIDIA Reflex to deliver not only higher framerates for a smoother gaming experience but better responsiveness overall.
Be it the existing titles or the upcoming ones, DLSS 3 support is being added to more games, but it's only available on RTX 40-series cards and not on previous-generation GPUs due to hardware limitations. This means that users with RTX 30 series or older GPUs will need to upgrade to an RTX 40 series GPU to experience this new feature.
Synthetic benchmark
This slideshow requires JavaScript.
In synthetic benchmarks such as 3DMark and Unigine Superposition, which focus on game performance, the difference between the 4070 Founders Edition and RTX 4070 AMP AIRO is slightly noticeable but the RTX 3080 OC is still giving out impressive numbers for now. Even with its factory overclocked settings, the RTX 4070 AMP AIRO just managed to give us numbers that are close to what the RTX 3080 OC can do.
For benchmarks that focus on content creation tasks like Blender, OctaneBench 2020 1.5, and V-Ray Benchmark 5, the RTX 4070 Founders Edition and RTX 4070 AMP AIRO will have a better advantage thanks to the new architecture and the extra 12GB VRAM.
Thermals & Power Draw
Since our first tests, power efficiency has been a clear win for the RTX 40 series GPUs, and this applies to the RTX 4070 as well with its rated TDP of 200W. Even the RTX 4070 AMP AIRO only draws about 5-16W more than the Founders Edition model but is able to deliver a noticeably better performance. The RTX 3080 OC on the other hand, peaked at 375W and that's almost doubled from what the RTX 4070 is drawing at peak while delivering similar performance.
Temperature-wise, we're seeing an impressive 67°C max on the GPU load temperature and temperature on the memory junction and hotspot temperature that is noticeably lower than the Founders Edition model by about 3-4°C. So it looks like the cooler did live up to the expectation of how Zotac has been promoting its new cooler design.
Final thoughts
Although NVIDIA stated $599 as the starting price for the RTX 4070, you can expect to see a higher price for the custom design by the board partners. While we wait for the official price from Zotac Malaysia, here are our thoughts on the RTX 4070 AMP AIRO.
Performance-wise, it's definitely better than the Founders Edition model due to its factory-overclocked settings. The cooler is definitely doing its job well as we can observe lower load temperatures across the board during operation. The fan noise is still tolerable in my opinion, but if you need it to run quieter, the Quiet mode is the option you can look into. Though you'll be losing about 3-5% performance there as Quiet mode is basically the GPU running at the base settings. For performance conscience users, I'd always recommend going for the Amplify mode all the way.
Of course, DLSS 3 isn't the only thing the RTX 4070 has to offer. There are other features like AV1 video encoding, RTX VSR video upscaling that are also coming to VLC player, and other AI-accelerated features on content creation tools available on all the RTX 40 series GPUs. The only issue here is that not all users will be utilizing all these features. Users who don't care about these new features will probably prefer to get their hands on a used RTX 3080 or RTX 3090 for the performance it still packs.
Where to buy? (Affiliate links)