After seeing just what the GeForce RTX 4090 is capable of, I can't wait to see what kind of design and performance we can expect from the board partners. The first to arrive in the lab this time is the ZOTAC Gaming GeForce RTX 4090 AMP Extreme AIRO, featuring NVIDIA's latest AD102 Ada Lovelace GPU, and of course, a rather interesting-looking cooler design. So let's see what kind of performance gain we can expect from the RTX 4090 AMP Extreme AIRO over the RTX 4090 Founders Edition.
Specifications
| | | |
| --- | --- | --- |
| GPU | GeForce RTX 4090 | GeForce RTX 4090 AMP Extreme AIRO |
| CUDA Cores | 16384 | 16384 |
| Tensor Cores | 512 | 512 |
| RT Cores | 128 | 128 |
| ROPs | 176 | 176 |
| GPU Boost Clock | 2520 MHz | 2580MHz |
| Memory Data Rate | 21.2 Gbps | 21.2 Gbps |
| Total Video Memory Size | 24G GDDR6X | 24G GDDR6X |
| Memory Interface | 384-bit | 384-bit |
| Memory Bandwidth | 1,018 GB/s | 1,008 GB/s |
| TDP | 450W | 450W |
| Recommended PSU | 850W | 850W |
| Power Connectors | 1 x 16-pin (12VHPWR) | 1 x 16-pin (12VHPWR) |
| Dimensions (LxWxH) | 336mm x 140mm x 61mm | 355.5mm x 149.6mm x 72.1mm |
Overview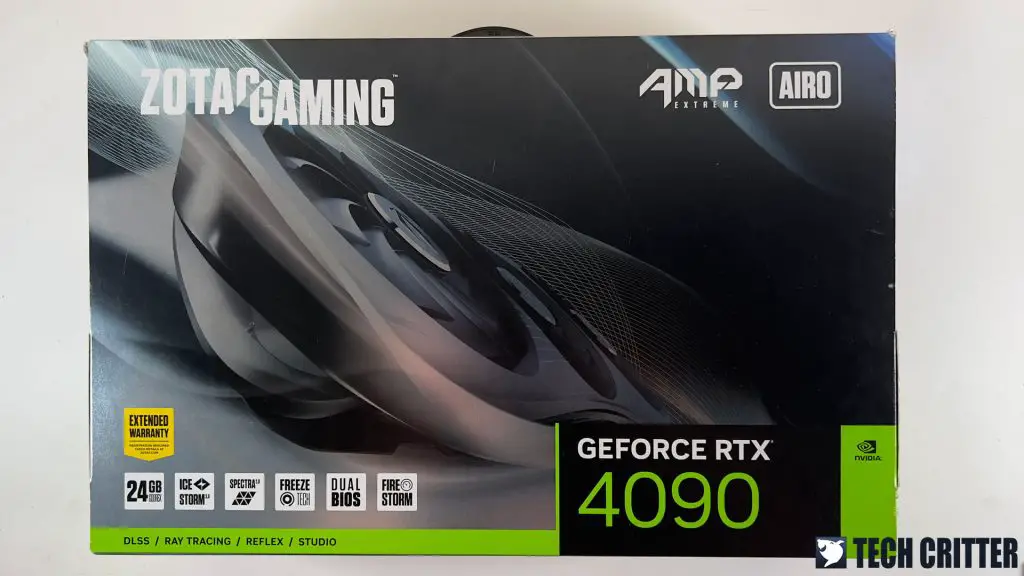 The RTX 4090 AMP Extreme AIRO ships in a huge box but it's something that we have already expected after seeing the sheer size of the RTX 4090 Founders Edition and the other partner cards all over social media not long after the official announcement from NVIDIA.
This is the first time we see the AIRO variant and according to ZOTAC's official product page, the design is inspired by aerodynamic concepts, the ZOTAC GAMING GeForce RTX 4090 utilizes an AIR-Optimized design to bring out the best in the world's most advanced gaming GPU powered by the NVIDIA Ada Lovelace architecture.
As of now, we have already confirmed that all RTX 4090 will have the 4 x PCIe 8-pin to 1 x 12VHPWR adapter included supporting the existing power supplies that don't come with a 12VHPWR cable. While you don't really have to immediately upgrade to a new ATX 3.0 power supply in order to enjoy the RTX 4090, I still strongly recommend upgrading to one if you can really afford it because the number of cables to deal with is truly horrendous when it comes to cable management.
Apart from the adapter and the usual accessories that come with a graphics card i.e user's guide, product catalog, and perhaps a sticker, the other two accessories that caught my attention are the graphics card stand and the RGB cable. Because of its sheer size, a support stand is definitely a must so the card doesn't sag, potentially damaging your graphics card and PCIe x16 slots in the long run.
Design-wise, the RTX 4090 AMP Extreme AIRO features a brand-new cooler design that has a triple 110mm large cooling fan with tall fan blades, a large heatsink with 9 copper heatpipes as the base that spans through the heatsink fins to maximize the cooling performance, a metal die-cast backplate and more.
Due to its size, the RTX 4090 AMP Extreme AIRO will require PC cases that have enough clearance not just for its 355.5mm length but the 3 x PCIe slot thickness as well. I haven't really tried installing this in any of my ITX builds yet but it's pretty clear that a lot of the existing ITX cases that only support two slot thick cards will not be compatible with almost all the RTX 4090 in the market.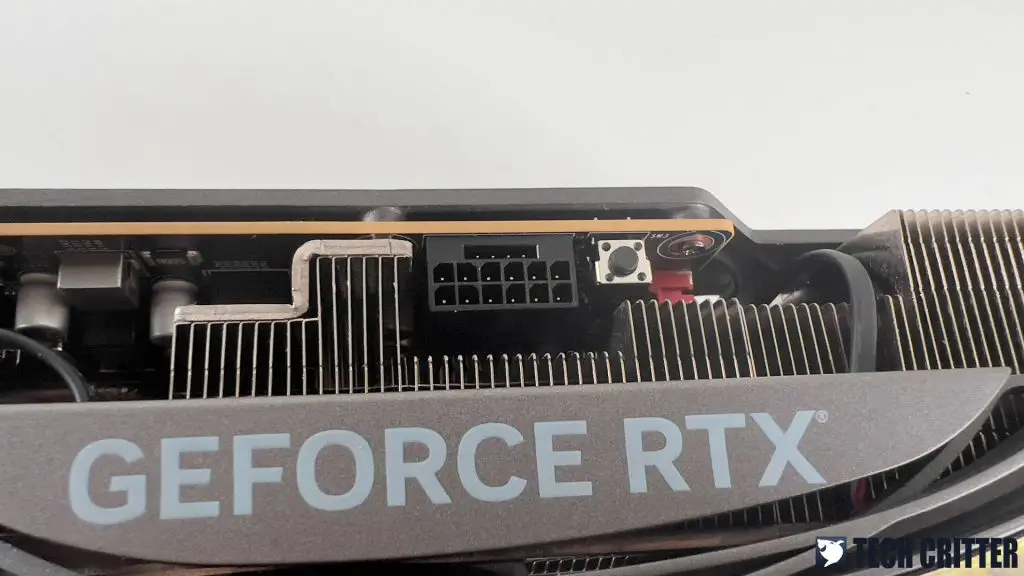 The 12VHPWR power connector design can be seen on every RTX 4090 and you can expect to see more of it on the upcoming RTX 40 series graphics card down the line. While NVIDIA and the board partners will include a 4 x PCIe 8-pin to 1 x 12VHPWR adapter together with the card, I'd still recommend going for a power supply that has the 12VHPWR cable ready, especially the newer ATX 3.0 power supplies to make cable management easier.
You'll also find a BIOS switch located next to the 12VHPWR power connector to toggle between Amplify mode and Quiet mode depending on your needs. Personally, I'd still prefer the switch design over these because it's easier to tell which profile you're currently on with just a single glance as compared to this.
The same cutout design at the near end of the card is still present on the RTX 4090 AMP Extreme AIRO, which is a very practical design that has been around for some time that actually helps with the cooling performance.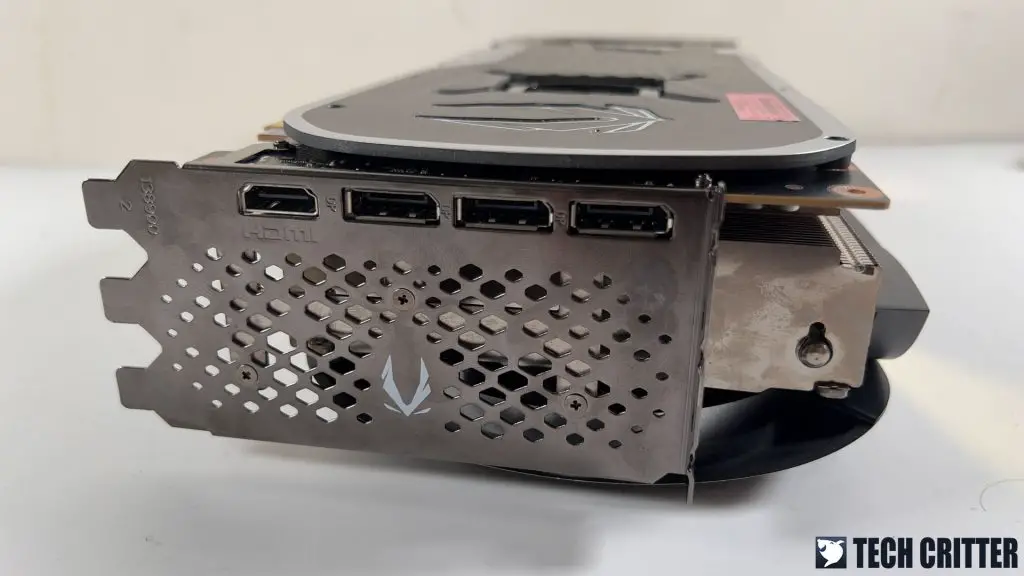 As for the display output, you'll find the standard 3 x DisplayPort and 1 x HDMI option on the RTX 4090 AMP Extreme AIRO.
Test System Setup
We have put together this review by testing the RTX 4090 AMP Extreme AIRO against the RTX 4090 and RTX 3090. For our games benchmark test, we've selected a number of AAA titles to run at their highest possible settings using the following setup under an ambient temperature of 28°C:
| | |
| --- | --- |
| CPU | Intel Core i9-12900K |
| Motherboard | ASUS ROG Maximus Z690 APEX |
| Memory | Kingston Fury Beast DDR5 RGB @ DDR5-6000 CL30 |
| Graphics Card | ASUS TUF Gaming GeForce RTX 3090 Ti / GeForce RTX 4090 Founders Edition / GeForce RTX 4090 AMP Extreme AIRO |
| Power Supply | Cooler Master M2000 Platinum |
| Primary Storage | Kingston KC3000 2TB |
| CPU Cooler | Cooler MasterLiquid PL360 Flux |
| Chassis | Cooler Master MasterFrame 700 |
| Operating System | Windows 11 64bit |
We've tested a handful of games, all the way from 1080p to 4K with the highest graphics settings. For games with the DLSS feature, we will go for the Quality preset and ray tracing at Ultra if available.
Games Benchmark – Raster Performance
Starting off with the raster performance, both RTX 4090 easily tops the chart but we can see these two trading blows in some of the titles we have tested. 1080P and 1440P is an easy game for all three cards, so 4K gaming is where the RTX 4090 truly shines and I must say, gaming on 4K 144Hz has never been this great.
1080P Results
1440P Results
4K Results
Games Benchmark – Ray Tracing Performance
Moving on to the aesthetics, we tested a few selected titles that support the ray tracing feature as well, some do come with DLSS support and some don't, but we'll just have our focus on the ones that have DLSS support for now. Again, 4K gaming is where the RTX 4090 truly shines and it's the proper card to go with if you're already equipped with pretty much everything for this. Notably Cyberpunk 2077, we're able to get the settings maxed out while still enjoying a butter smooth gaming experience with DLSS quality preset and ray tracing on Psycho.
1080P Results
1440P Results
4K Results
Thermals & Power Draw
Now for the thermals, since the RTX 4090 Founders Edition is doing surprisingly okay this time, I'm actually curious to know what kind of temperature we can expect from the partners with their custom designs.
While on load, the highest temperature recorded on the GPU and GPU hotspot is 72.4ºC and 82.3ºC respectively. This is about 2ºC and 4ºC lower on the GPU and GPU hotspot as compared to the Founders Edition design, so that's a good sign I'd say. In the past, we can see RTX 3090 and RTX 3090 Ti with insanely high GPU hotspot temperatures that can go up to 100ºC but that's not something you'll see on the RTX 4090 this time, especially with the custom design from the partners.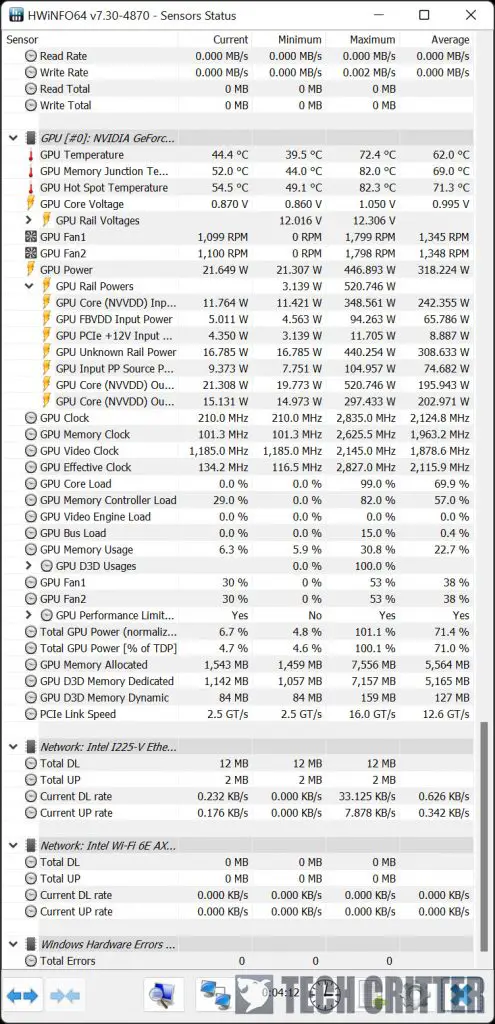 As for the power draw, it's about the same as what we saw on the RTX 4090 Founders Edition, which is at 446W. Although it's technically drawing the same amount of power as the RTX 3090 Ti on load, the performance it can deliver is just insane and I think the performance per watt is much more justifiable on the RTX 4090.
First Impression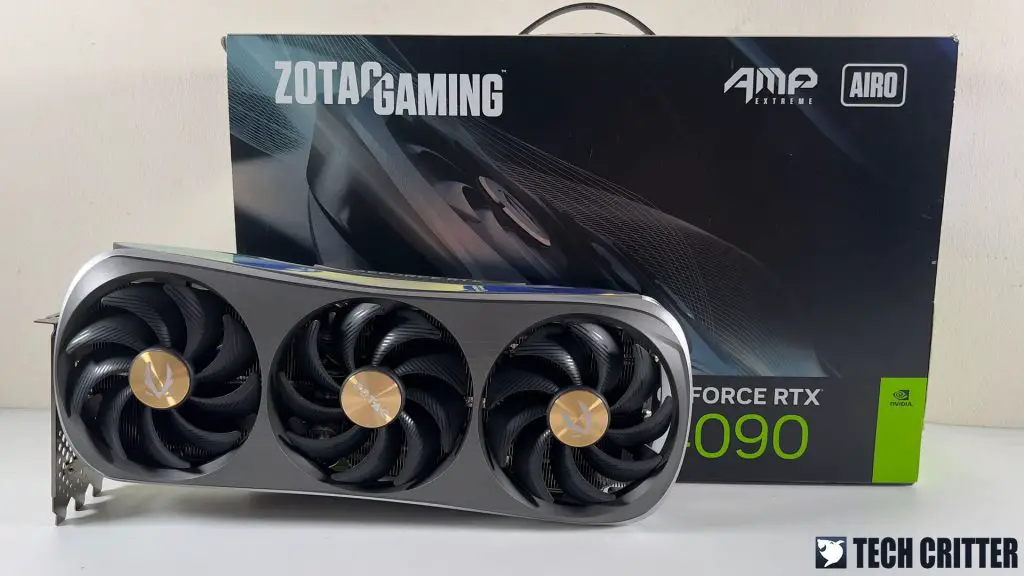 Apart from the subjective design and 4 x PCIe 8-pin to 1 x 12VHPWR adapter, I don't really have much to complain about the First . To me, the card looks decent and delivers great performance. The only factors that hinder the true potential of the card itself are the current hardware and games that are unable to fully utilize the power and resources that the RTX 4090 has. The only few ways I can see one to at least take advantage of what the GPU is capable of are probably games and applications that support DLSS 3, or content creation work that will utilize the 24GB worth of memory and the AV1 encoding capability of the GPU.
The GeForce RTX 4090 is easily the most powerful consumer GPU right now and even though the starting price of $1599 is a steep price to pay for most of us, it's only about $100 more than what the RTX 3090 is when it was first launched in September 2020, and $400 cheaper than the RTX 3090 Ti which was launched at a staggering price of $1999 earlier this year.
So price-wise, it's still justifiable enough for the performance it can deliver, and given that graphics cards price is finally reasonable again after so long, it's one of the options you can really consider if you're ready to join the 4K gaming league.