Introducing the new Dell Gaming G5 15 5500 – that's a lot of 5's for a product name. I should introduce this laptop as a "budget Alienware" because there are some similarities here and there but without the premium price. Still, this is a rather premium-priced mid-range gaming laptop. So, here's our full review of the Dell Gaming G5 15 5500.
There are some quirks here and there with this laptop – and if it worth the price or not – this review will help you make your purchase decision.
Design
Let's start with the design. For some reason, Dell opted for this… sparkly iridescent glitter effect on top of the lid. This also applies to the Dell logo. No comments there but luckily Dell didn't have this sparkly glitter on the deck.
The overall build quality is mostly plastic – if not all. There are some other build quality things to take note of – like the lid that bulges outwards. Pressing on that Dell logo will cause the entire lid to sink in – which is something to take note of.
And then the hinge. Dell opted to use this type of hinge that is just not really instilling confidence in the long term. For our unit, it sometimes creaks when we open the lid. We're not sure if it's because of all the plastic parts that are making the sound – but definitely something to take note of.
The screen
As the name suggests, this is a 15.6-inch screen with 144Hz refresh rate and also relatively thin bezels around the sides, and the webcam is at the top – where it should be.
The screen actually looks good – and to my eyes, it looks better than many other mid-range gaming laptops.
Keyboard
The keyboard – I have a few issues with it. Firstly. it might look like any other usual laptop, but the keyboard takes quite a lot of time to get used to. Its keycap size is smaller than usual – which means I have to type very accurately to prevent mistypes.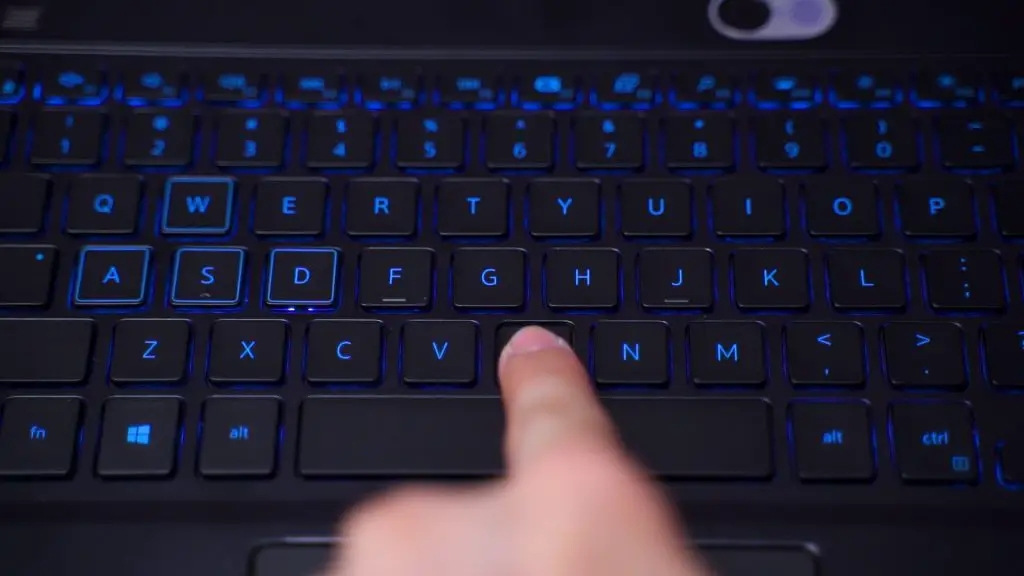 Secondly, the travel distance of the keys themselves. It's very short and also very soft, which makes the keyboard feel weird. It feels like the keyboard lacks tactility.
And yes – this keyboard does have backlighting but it's not RGB. The one we have here is in a single-zone blue backlighting, but you can opt in for a 4-zone backlit keyboard, but gotta pay extra for that, obviously.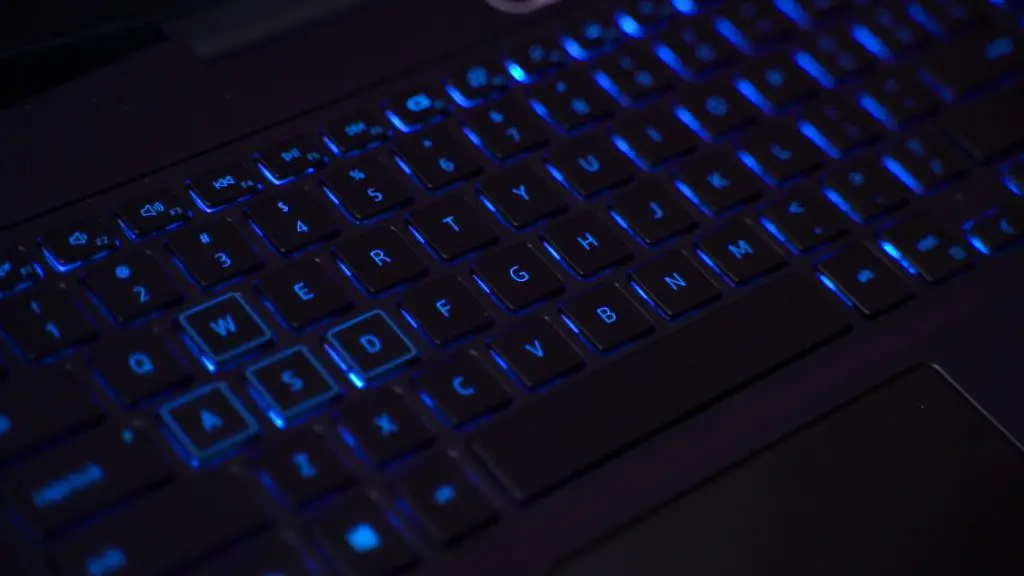 How about the trackpad?
Well, Dell makes amazing trackpads on their laptops and the Dell Gaming G5 15 5500 is no exception. By itself, it tracks well and it uses Windows Precision Touchpad drivers too – which means all gestures work without any issues.
However… the trackpad is just too stiff to click. I literally have to hammer it down to get a click.
And since the Dell Gaming G5 15 5500 uses an edge-to-edge keyboard design and has a left-biased trackpad, just like the Acer Nitro 5 that we reviewed recently. This means that there is not much space left for my left wrist on the deck rest – half of my palm is on the trackpad.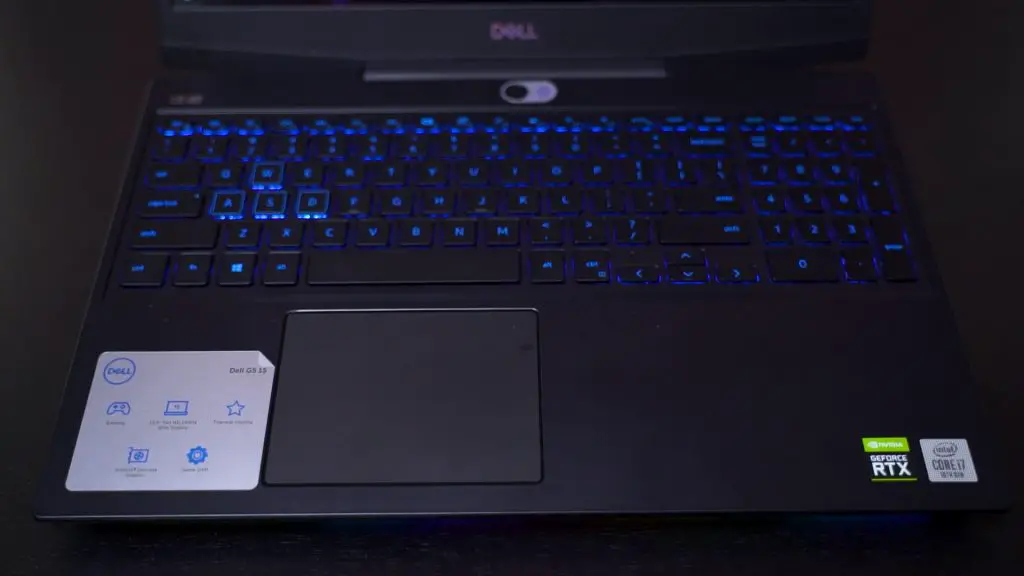 But then again – Dell's excellent trackpad mitigated the palm rejection issue – which I truly appreciate.
Performance
As for the performance, this Dell Gaming G5 15 5500 comes with this list of specs:
Intel Core i7-10750H
NVIDIA GeForce RTX 2060
16GB of DDR4-2933MHz
512GB of SSD
Before we talk about the benchmarks, we made the laptop use the "high performance" power mode in the Alienware Command Center. Now, the benchmarks.
With the list of specs, the Dell Gaming G5 15 5500 pretty much ran everything at or above 60FPS, which is to be expected for this kind of mid-range gaming laptop. However, the same story applies like any other laptops too – to take advantage of that 144Hz refresh rate screen, you gotta lower the graphical settings.
Temperatures
I think this is worth highlighting. The GPU by itself is running about 80ºC – which is good, but the CPU though. It averages at about 95ºC but with CPU-intensive games, it can go beyond the 3-digit mark, particularly with Apex Legends.
It's definitely kind of toasty, especially when compared to the CPU temperature on the Acer Nitro 5 that we reviewed recently that has the same CPU as this but we think that there's a good reason for it.
From what we found out, the Dell Gaming G5 15 5500 has a much more aggressive CPU governor which makes the CPU either boost or maintain a high core clock most of the time. In turn, it achieves higher frame rates in CPU-intensive games like Apex Legends, CS:GO, and Overwatch.
Battery life
This Dell Gaming G5 15 5500 does come with a pretty big battery too – 68Wh – but the battery life is quite disappointing. It lasted for about 4 hours of battery life with RGB in 25% brightness, fastest color cycling mode, screen at 30% brightness, and the keyboard backlighting in its lowest brightness.
We can squeeze out some extra battery life out of it by disabling the RGB bar at the front of the laptop. And yeah… that RGB bar is like a car's underglow kinda situation.
As for the charging time, it takes slightly more than 2 hours to charge from 15% to 100%, which is also pretty standard.
Ports
I honestly have mixed feelings when it comes to the ports available on the Dell Gaming G5 15 5500. On the right side, we have:
Double USB 2.0 port
Combo audio jack
Full-sized SD card reader
While on the left, we have:
Barrel jack
Mini DP
HDMI
USB 3.0 5Gb/s
Thunderbolt 3 port – exclusive for the GTX 1660 Ti and above model
The reason why I have mixed feelings is because of the dichotomy of high-speed and low-speed ports. There's a high-speed Thunderbolt 3 port on the left, but the right side is all USB 2.0 ports – including the SD card reader. Well, at least it's there.
USB 2.0 should be obsolete by now, honestly.
Upgradability?
Thankfully, this laptop is pretty serviceable if you want to do things by yourself. Just be careful of that ribbon cable that connects to the back panel. That cable is for the RGB.
The Dell Gaming G5 15 5500 lets you access both SODIMM RAM slots and the double M.2 SSDs to your heart's content. The WiFi card is also serviceable, but it already comes with a WiFi 6 card so there's no reason to upgrade, really.
Should you buy the Dell Gaming G5 15 5500?
That's not an easy question to answer. The configuration of the Dell Gaming G5 15 5500 that we have here is the specced out version that is available to us Malaysians. It is priced at RM6,199 – which is a tough pill to swallow considering that I for one, have issues with a few aspects of this laptop.
Even with Dell's fantastic aftersale support, I think the extra price premium compared to other similar laptops – like the ASUS TUF Gaming A15 that we have reviewed here – is still too much.
But, if you're adamant about getting this laptop, then wait for a discount.

Where to buy?