The idea of cloud gaming has been around for several years with some platforms delivering decent ROI while others struggled and failed despite being created by one of the largest tech overlords of our world, brands are not hesitating in terms of exploring the sector since there is more creativity in the room to spin up something "innovative" and "fun" (Game streaming services are already quite mature and usable, on the other hand).
With a new year, a new challenger rises and it is Dell this time around with their prototype Concept Nyx controller.
Take a quick look at it and you may think of it as one of those custom Xbox controllers with special parts and I don't blame you. The usual D-Pad was replaced by a flat pad reminiscence of the Steam Controller of the old days with the center logo sporting a small Alienware face. Thanks to its modular design, it is indeed an elite-class controller in a practical sense because you can move around different inputs and face buttons for a truly customized and personalized layout just for you.
As for the real special sauce, Dell says that with Concept Nyx, you can just start the controller, point it at a supporting display, and start gaming. What?
Also, that logo functions as a fingerprint reader to allow users to access their own personalized settings and content in an instant. So let's say you just buy one of these for your household, and viola, everyone has their own games and settings ready to go with a simple scan. Too lazy to move your fingers? Use your voice instead to command it to execute something for you.
The hardware packed inside matches with what current-gen consoles have as well, more or less to a degree. For starters, it contains haptics and self-adjusting variable resistance thumb sticks to provide you with a dedicated gaming experience for specific titles across different categories while the extra shift buttons, scroll wheels, and intelligent touchpad are all quality-of-life inputs.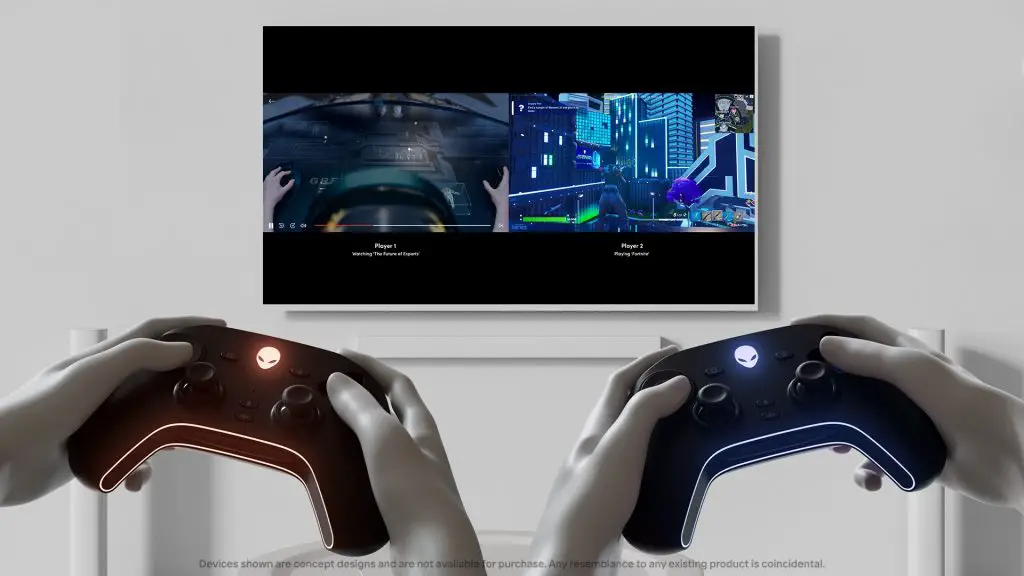 Since it is technically streaming video to the connected display, 2 players can easily enable split-screen and play their own games without bothering each other. A simple dashboard will also be there to help you access all the settings and features menu while taking a look at your friend's gaming activities and subsequently joining them in a flash (Just like a Steam Game Invite).
What to look forward
Since this is still just a concept, perhaps what they could do is make sure all of their feature sets and software optimizations are fully compatible with popular cloud gaming platforms such as GeForce NOW and XCloud as most users would not want to shell out for yet another digital copy of a game that they already own. Second of all, the price – If it can be sold at a number that is just a bit more expensive than the elite controllers in the market (Since they need to include proprietary hardware to make all of that unique stuff happen), we could really see cloud gaming starting to pop off in 2023 or 2024, or any year they decided to launch it.