Introducing, the new Acer Nitro 5. I'd consider this to be a budget gaming laptop – and for the price of RM4,899, it comes with an incredible list of specs. But, the specs aren't telling the complete story and there are a few other things that we need to take note of.
I highly suggest you watch our video here because we show you what we mean, instead of just describing them.
Specs
| | Acer Nitro 5 |
| --- | --- |
| CPU | Intel Core i7-10750H (6C/12T) |
| GPU | NVIDIA GeForce GTX 1660 Ti |
| RAM | 1x 8GB DDR4-2933 |
| Storage | 512GB SK Hynix PCIe NVMe SSD |
| Chipset | Intel HM470 |
| Display | 15.6-inch 1080p IPS 144Hz |
| Battery | 48Wh |
| Weight | 2.3kg |
| Dimensions | 363.4 * 255 * 23.9 mm |
| Price | RM 4,899 (as configured) |
Starting with the performance
If you want a laptop that's low priced with lots of performance packed in, then I think the Acer Nitro 5 is definitely the one to look at. From what we can see, this laptop is a competitor against the ASUS TUF Gaming series of budget gaming laptops.
Anyway, this Acer Nitro 5 – the exact variant that we have here, packs in a powerful list of hardware.
Its performance is as expected as you can play most games at a comfortable 60fps at a relatively high or maximum graphical quality, but you'll need to drop the quality a little to make use of that 144Hz.
Temperatures are surprisingly good too as the thermal solution here manages to tame the temperatures relatively well – especially the GPU. Overall, it's good enough.
Literally edgy design with a subpar build quality
Aesthetically speaking, it's not bad. At first glance, it doesn't strike me as a gaming laptop. The entire laptop is made out of plastic, though the lid has a smooth and brushed look. Better take care of this laptop if you're carrying it around frequently.
This laptop is edgy. It's like a rectangular block with its two edges cut off – and that is one thing that I don't like. There is no taper or curvature between the keyboard deck and the edge of the laptop. When I'm typing on this laptop, the 90º edge will bite into my wrist or palm.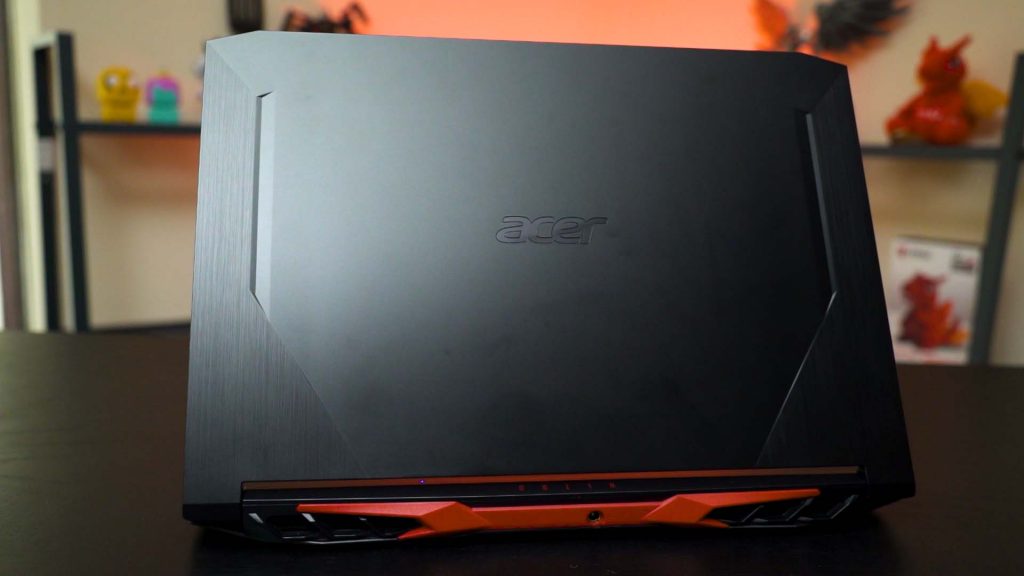 Keyboard
Speaking of the typing, the Acer Nitro 5 comes with a nearly edge-to-edge keyboard with number pad, and they also managed to retain the full arrow key size too. That's a huge plus for me. And it also has 4-zone RGB backlighting as well.
The keyboard layout does need a little bit of getting used to since the delete key is not at the top right corner of the backspace key – like many other keyboards – but placed in this weird position.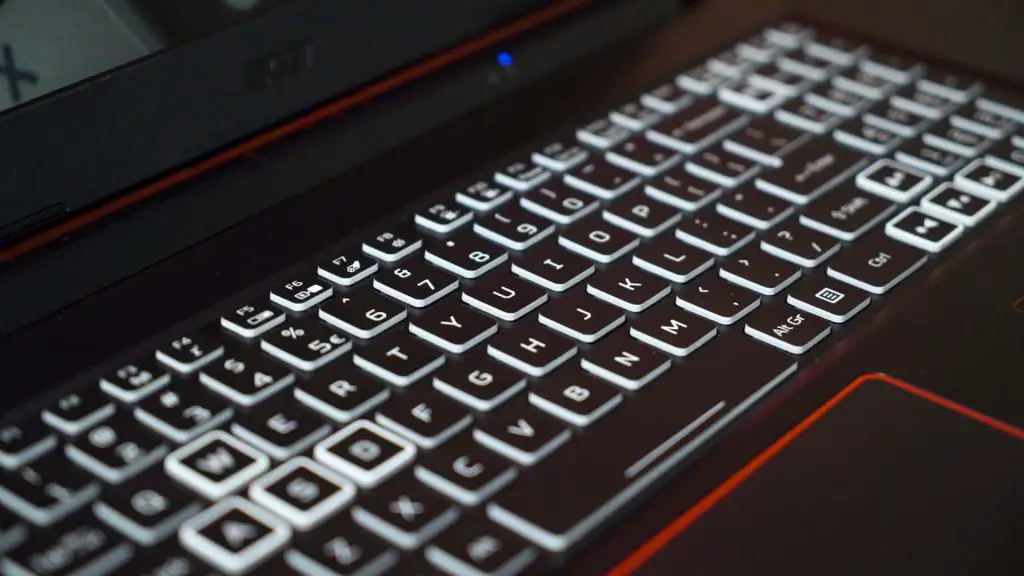 Other than that, the keyboard is actually quite okay. It's springy but a little stiffer for my liking, but I think many people will have a generally positive experience typing on this laptop.
But because of how much space this keyboard takes relative to the laptop's size, the entire alphanumeric cluster – which we type on – is shifted or biased heavily to the left side of the laptop. It's not uncommon to see such designs in a laptop with number pad, but it's just something to take note of.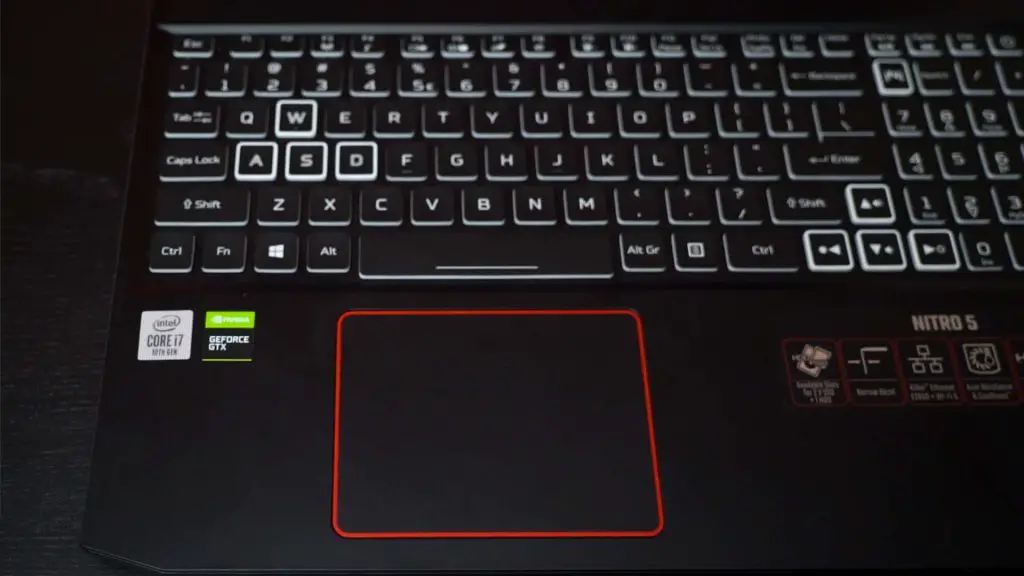 The one-sided trackpad
And since the alphanumeric cluster is biased to the left side, Acer thought… why not make the trackpad follow and center around the alphanumeric cluster too? And they did it because you can see that the trackpad is aligned with the spacebar.
I don't know how to feel about it. The trackpad has been shifted too far to the left side and half of my left hand will be on the trackpad itself. To make matters worse, the palm rejection on Windows is still horrible, which makes the cursor dance all over the screen. I consistently have to pay attention to where the cursor is because I already accidentally deleted paragraphs of text because of this trackpad.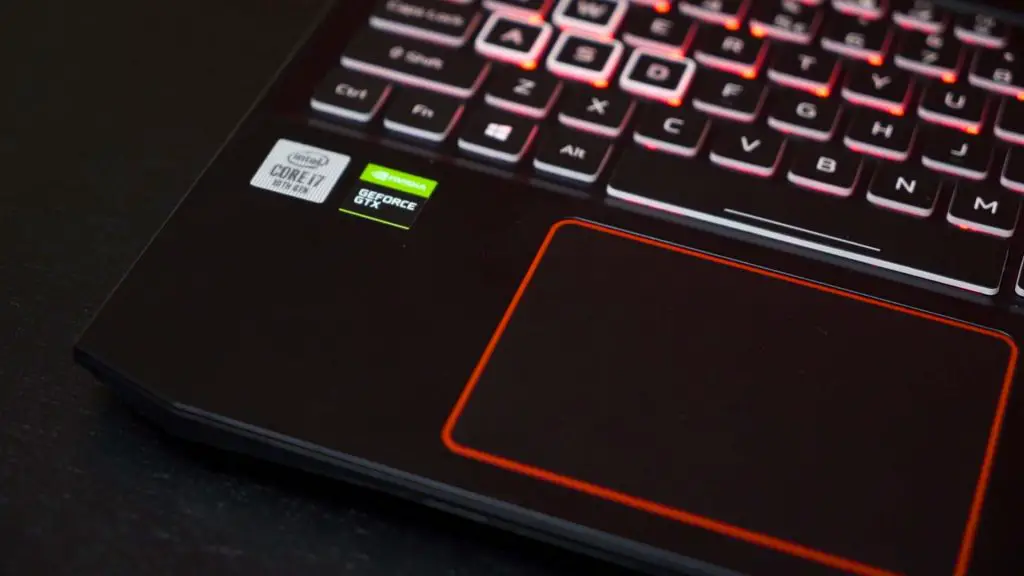 While using the trackpad itself though, it's quite decent. It uses Windows Precision Touchpad drivers and all the gestures work well. Surprisingly, the trackpad is relatively large in size too, actually.
The screen
Equipped with a 15.6-inch IPS LCD screen with 1080p resolution and 144Hz refresh rate, this display great for gaming. Unfortunately, it's not particularly that good for creative work. I instantly realized that the display colors are a little washed out and tend to go a little yellowish. It's definitely not something that I'll realize or bother I'm while playing games.
The bezels are relatively thin overall and there's also a webcam at the top, where it should be. One thing that I like about this laptop is the hinge because it can open up to a pretty wide angle. Not many gaming laptops have such a hinge, actually.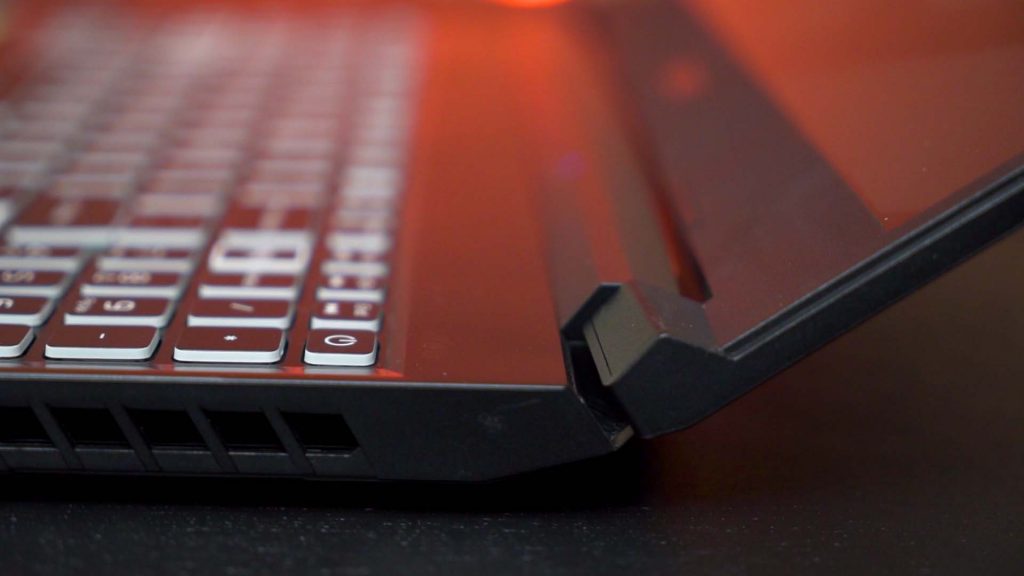 Ports
And of course, the ports. I think Acer did quite a good job here because the Nitro 5 has:
Ethernet
2x USB 3.0 Type-A (5Gbps)
Combo audio jack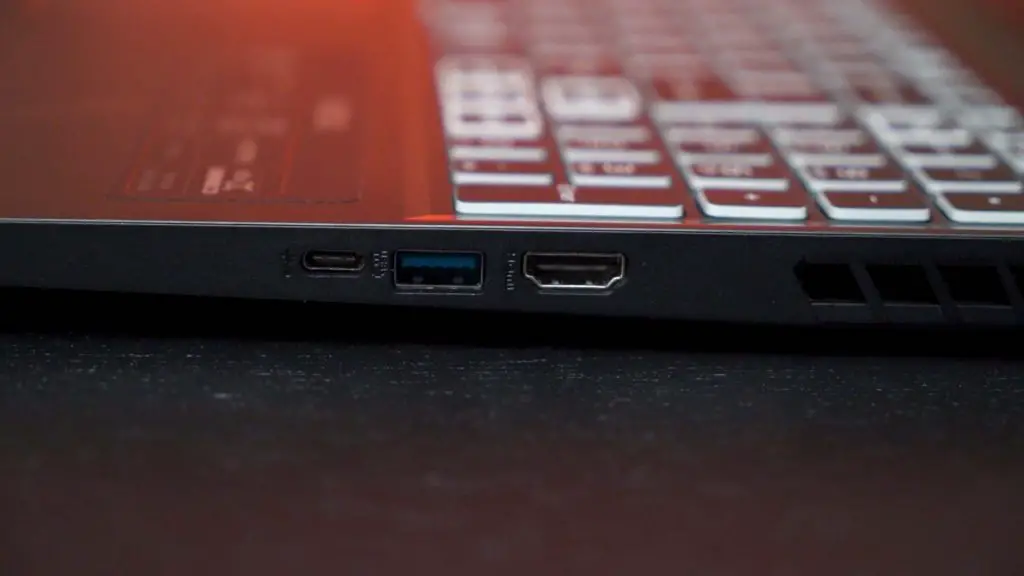 USB 3.2 Gen 2 Type-C (10Gbps)
USB 3.2 Gen 2 Type-A (10Gbps) with offline charging
HDMI port
Acer has completely forgone USB 2.0, which really shouldn't exist at this point in time. And they packed in high-speed 10Gbps USB ports in both Type-A and Type-C connectors. Bravo.
Oh, by the way – there's one more important I/O port – the power jack that is located at the back of the laptop. I think for a gaming laptop, yes – please put the power jack at the back. But because Acer included a 90º connector for its power jack and there's this piece of plastic embellishment, the power jack cannot be rotated from left to right once it's connected. I literally have to take out the entire power jack, rotate it to face the other way, then plug it back it.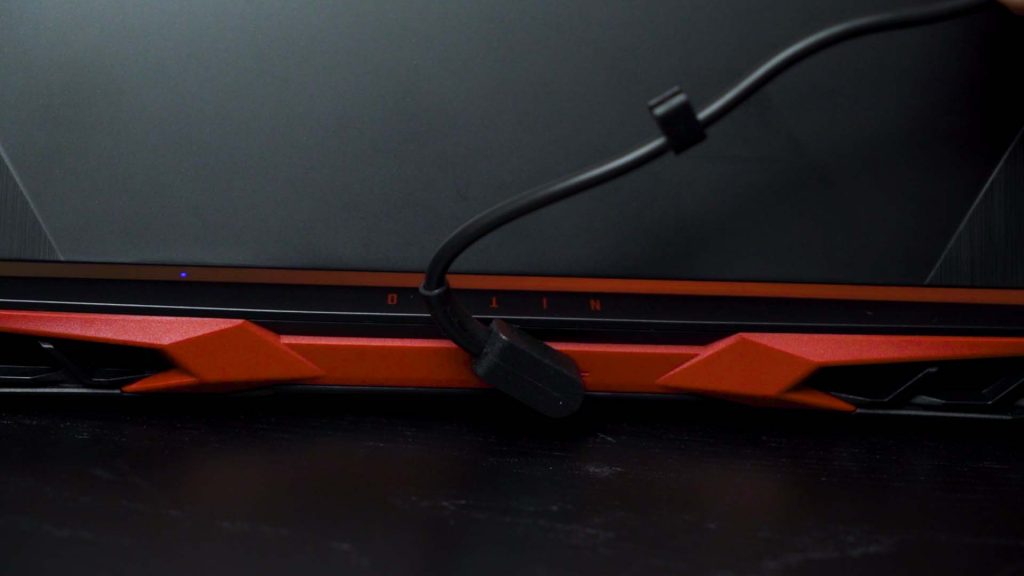 I truly hope Acer retains this rear-plugging power jack for the next generation of Acer Nitro laptops, but also move some other ports – like HDMI and Ethernet – to the back of the laptop. That'll make more sense since those are the ports that we just leave them plugged in.
Upgradability
Now, it's kind of weird that Acer highlighted specifically that this laptop supports double M.2 SSDs and another 2.5-inch drive, but it's obvious that opening this laptop means your warranty is voided. I have no idea why Acer touts the upgradability, yet deters people from doing it. It's just contradicting themselves.
Anyway, we opened up the laptop to see what's going on. Everything here is can pretty much be upgraded as you like.
The second M.2 SSD slots is a little… dangerous since it mounts across from the motherboard to the sisterboard. Personally, I wouldn't do it since it makes the M.2 SSD bulge or curve upwards because of the cables underneath it. You'll have to… do something creative to get around this issue.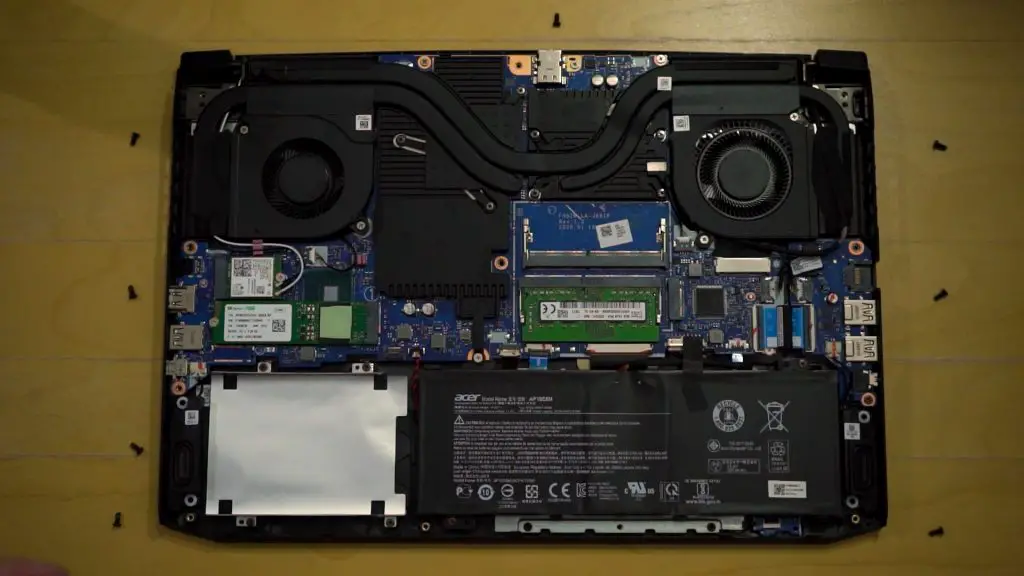 Both RAM slots are also user-serviceable here and the WiFi card can also be swapped out if you like.
Acer also included a "HDD upgrade kit" like the older ASUS VivoBook laptops, so you can slot in another 2.5-inch HDD or SSD if you want to. Once again, Acer touts upgradability – but blocks us with that warranty sticker.
Battery life
It's not too bad. It has a 55Wh battery and through our usual use case, it can last for about 5 hours, which is quite decent considering all the performance that it packs.
This laptop also comes with a 180W power supply, and chargers from 15% to 100% in about 2 hours. There's no fast charging here, which is why the entire charging curve is quite linear.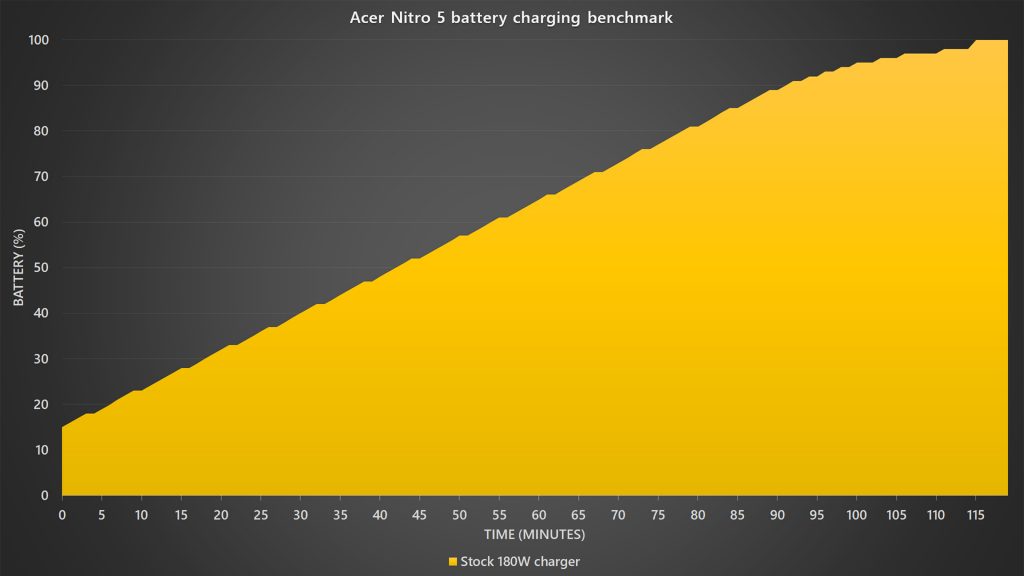 Do I recommend the Acer Nitro 5?
Okay, so the exact configuration of the Acer Nitro 5 that we have here is actually the highest-end available on Acer Malaysia's website. It's priced at RM4,899.
It's a good price for its specs, but there are a few glaring issues when it comes to the overall laptop itself. The trackpad position is definitely going to bother me a lot, so I'll have to bring an external mouse with me. And adding storage bays – which is one of this laptop's highlight feature – will void your warranty. What irks me the most is the design and build quality of this laptop.
But then again, I'd say that's a good price if you're buying it because of the specs. The I/O ports are surprisingly good but the build quality is something to take note of. Plop this on your desk and use it as a makeshift desktop – you'll get a great experience out of it.