We've come across many different types of laptops. And this is a high-end laptop focused on content creators. The biggest selling point of this Gigabyte AERO 15 OLED is going to be its display. As the name suggests, it uses an OLED screen.
This is actually pretty much the same as before but with updated specs.
That display
Let's talk about the display first. This is my first time using an OLED display on a laptop. What Gigabyte offers with the AERO 15 OLED is truly something magnificent as it is not only because it's an OLED panel – but despite the fact that this laptop uses a glossy screen, it doesn't have the annoying reflection or glare issue.
Maybe that the OLED screen is just too bright, or maybe it's just some sort of anti-reflection coating that's doing the hard work.
Anyway, the Gigabyte AERO 15 OLED uses a 15.6-inch AMOLED screen that is made by Samsung, and it is 4K in resolution. According to the specs, it matches VESA Display HDR 400 standard and also has 100% DCI-P3 color gamut coverage.
This display is truly nothing like I've ever seen before. Well, I obviously have seen phones using Samsung's Super AMOLED and Dynamic AMOLED screens before – like the Galaxy S10+ that I'm using every day. But there's just something different about using a Samsung AMOLED screen at this size.
I watched a lot of YouTube and Netflix on this Gigabyte AERO 15 OLED and it looks absolutely stunning – even on SDR, or non-HDR videos.
But I feel like there's a big divide when I'm creating content using the Gigabyte AERO 15 OLED's beautiful screen. Since a large majority of devices in general – be it desktop, laptop, or even phone screens are still using IPS LCD, what I see is definitely not representative of what you'll see on your screen.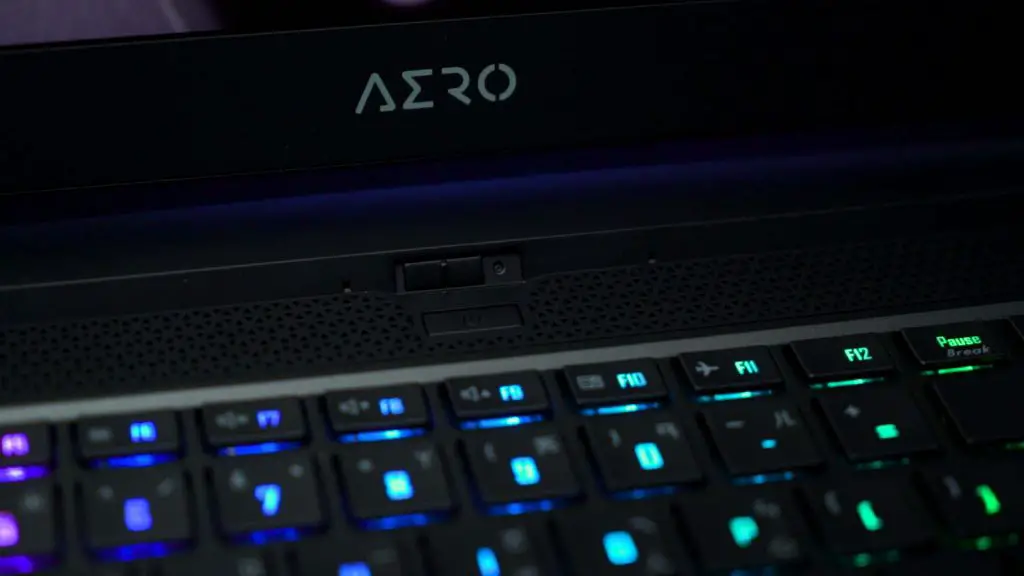 And before I forget – the bezels around the screen are very thin, with a pretty sizeable chin at the bottom. But then again, Gigabyte placed the webcam in front of the keyboard instead. It does have a physical slider to cover up the webcam, though.
The performance
Okay, so the specific version of the Gigabyte AERO 15 OLED that we have here is very powerful. It comes with:
15.6-inch 4K AMOLED screen
10th Gen Intel Core i7-10875H (8C/16T)
NVIDIA GeForce GTX 2070 Super Max-Q
16GB of DDR4-2666MHz
Obviously, this laptop can handle pretty much everything I threw at it. I had Premiere Pro, Photoshop, and Audition opened at the same time – like I always do – and this laptop juggles between all 3 apps flawlessly.
Of course, I can game on it too since it has a beautiful AMOLED screen and very high-end specs to match – but that's a story for another time.
Battery life
What I've done differently this time is to edit a video using the Gigabyte AERO 15 OLED on battery. Now, I'm treading into uncharted territories because OLED screens such up a lot more power. Combined with the Core i7-10875H and RTX 2070 Super Max-Q, that 94Wh only lasted about 2 hours.
Not the best in terms of battery life, but hey – I'm impressed nonetheless because it can still last for 2 hours while editing videos.
But then again, if I'm not editing videos on the AERO 15 OLED, that 94Wh battery can last for about 4 hours while I'm listening to music on Spotify while using Chrome at about 40% brightness with the RGB keyboard turned on.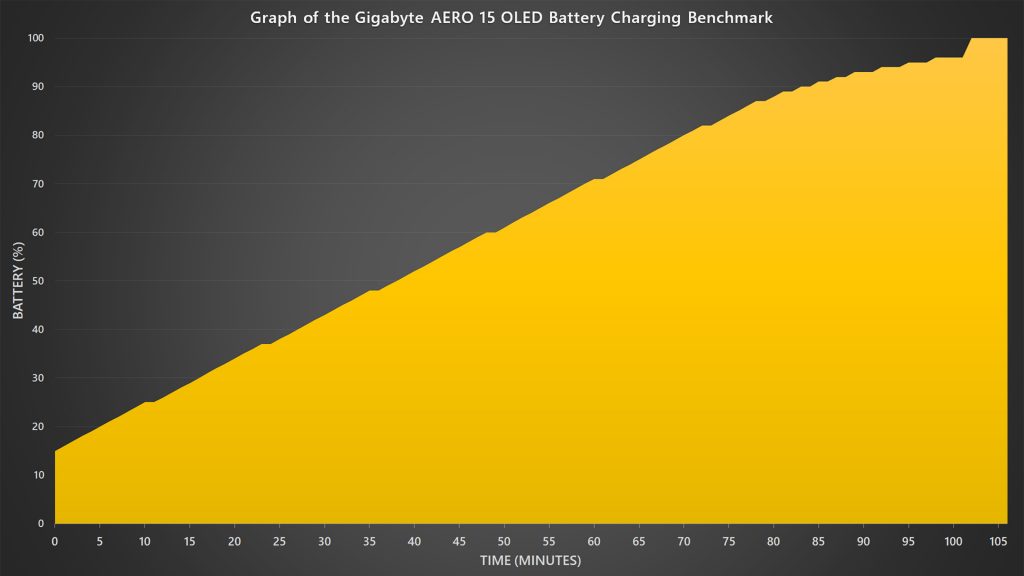 As for the charging time, it takes about 2 hours to reach from 15% to 100%. Pretty standard.
Keyboard & trackpad
Honestly speaking, Gigabyte made good kept this laptop as small as possible. The AERO 15 OLED has an edge-to-edge keyboard and the trackpad is slightly biased to the left side of the laptop. Gigabyte struck a good balance here.
The keyboard is great to type on as it is bouncy and responsive. And it is also per-key RGB backlit if that's your thing.
There's also nothing wrong with the trackpad. I had a good time using this laptop as a laptop and surprisingly, the palm rejection works great too.
Those ports!
And oh – let's not forget about the ports. Since this is a laptop made for content-creation, it has a fantastic selection of ports.
On the left, we have:
Full-sized HDMI 2.0 port
Mini DisplayPort 1.4
USB 3.0 Type-A (5Gb/s)
Combo audio jack
Ethernet
On the right side, we have: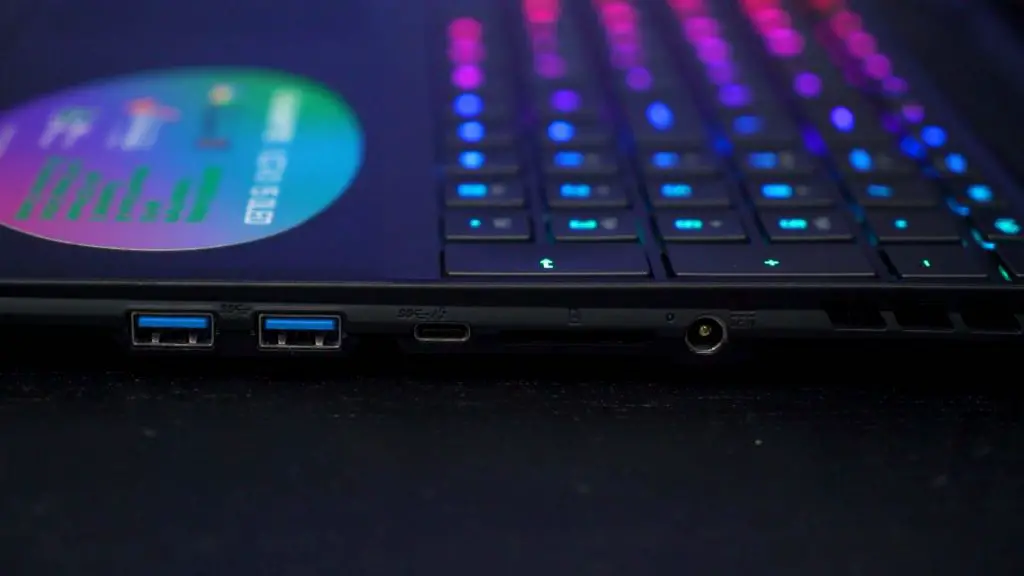 2x USB 3.0 Type-A (5Gb/s)
Thunderbolt 3
UHS-II SD Card Reader
Barrel jack for power
As a content creator, I love these ports. Gigabyte has a great selection of ports for the AERO 15 OLED – especially the full-sized SD card reader.
What about upgradability?
Fortunately, Gigabyte kept everything accessible. There are two SODIMM RAM slots and double M.2 SSD slots that are user-serviceable. That second M.2 SSD slot is beside the battery, by the way.
You can also swap out the WiFi card if you want to – but it's already using a WiFi 6 network card already. So don't swap it out.
Design and build quality
Okay, so the entire Gigabyte AERO 15 OLED is a dense laptop. What I mean is that Gigabyte managed to keep this laptop small in terms of footprint and still relatively thin. But they still need to fit in all of the powerful hardware and a matching powerful cooling system, hence the weight.
I like its black professional look – except for the sticker on the deck – with a glowing white AERO logo on the lid. There's also another sort of a "car number plate light" situation going on here which I think is unnecessary.
Overall build quality is magnificent as it uses metal, so it can withstand a lot of thermal and physical abuse.
Should you buy the Gigabyte AERO 15 OLED?
Now, this is a question that I don't know how to answer. If I ask back myself if I should buy this laptop or not, I'll say yes – for content creation, this is a great laptop. The performance, battery life, ports – especially the card reader – are just a few of the things that I absolutely love about this laptop.
That OLED screen although it is good to look at, I still haven't talked about the OLED burn-in issue. That is something that we can only test in the long-term. So far after leaving this laptop to show the same thing for about a week at 100% brightness, there's no sign of burn-in.
And the price. This laptop is definitely not meant for everyone. It's priced at RM11,999 and it's not an easy price to pay. I mean, it's a well-built laptop overall and there's nothing that irks me.
Where to buy?
Kuala Lumpur @ Lowyat
Johor @ Plaza Pelangi
Ipoh