NVIDIA has announced its RTX 3060 Ti a little earlier than expected but it's definitely good news for those who are looking forward to this powerful mid-tier for their next upgrade.
In this review, we'll be taking a look at one of the latest RTX 3060 Ti from GALAX, the RTX 3060 Ti EX, and see what kind of performance we can expect from this card. Just so you know, we've compared the RTX 3060 Ti EX against an RTX 3070 Founders Edition out of curiosity and we hope this can serve as a reference for those who are currently deciding to get either an RTX 3060 Ti or RTX 3070 for their build.
Specifications
| | | |
| --- | --- | --- |
| GPU | GALAX GeForce RTX 3060 Ti EX | GALAX GeForce RTX 3070 EX |
| CUDA Cores | 4864 | 5888 |
| Tensor Cores | 152 | 184 |
| RT Cores | 38 | 46 |
| Texture Units | 152 | 184 |
| ROPs | 80 | 96 |
| GPU Boost Clock | 1695 MHz / 1710 MHz (with 1-click OC) | 1770 MHz / 1785 MHz (with 1-click OC) |
| Memory Data Rate | 14 Gbps | 14 Gbps |
| Total Video Memory Size | 8G GDDR6 | 8G GDDR6 |
| Memory Interface | 256-bit | 256-bit |
| Memory Bandwidth | 448 GB/sec | 448 GB/sec |
| TDP | 200W | 220W |
| Recommended PSU | 600W | 650W |
| Power Connectors | 1 x 8-pin | 2 x 8-pin |
| Dimensions | 299mm x 139mm x 58mm | 299mm x 139mm x 58mm |
Unboxing
GALAX is off with its usual style and the 'what's your game?' tagline for the box design. Not much information at the front of the box, so you'll have to flip to the back to find out what kind of features the card has to offer.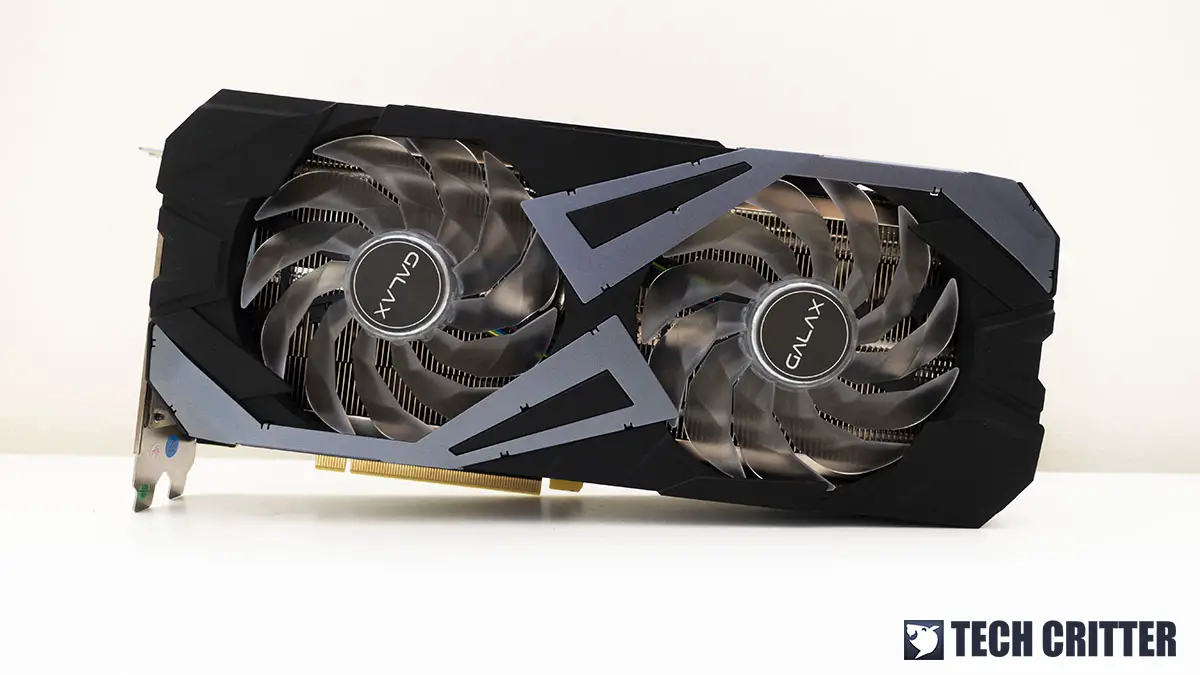 For the RTX 3060 Ti EX, GALAX has included a 4-pin 12V RGB cable together with the card so you can sync the RGB lightings on the card to your motherboard. A rather inconvenient way of getting the job done I'd say, and GALAX might want to improve a little bit more on this part to make things easier for the end-users, instead of having to rely on an external cable to make this feature work.
The GALAX GeForce RTX 3060 Ti EX
At first glance, you can already tell that the RTX 3060 Ti EX is equipped with the same cooler as the RTX 3070 EX – dual-fan cooler, about 2.5 slots for its Z-height, and the same unusual looking fans that will light up in RGB if enabled. The unique-looking fan blades, according to GALAX, are known as the 'WINGS' fan blades which are capable of high airflow and air pressure while it operates at a minimum noise level.
The fans are probably the only part on the card that has RGB lightings and can be controlled using GALAX's XTREME TUNER software, both desktop and mobile version, or the RGB software on your motherboard using the included 4-pin 12V RGB cable.
Measures at 299mm x 139mm x 58mm (LxWxH), the RTX 3060 Ti EX is looking pretty big as compared to the more compact RTX 3060 Ti Founders Edition. It'll take up 2.5 slots on your PCIe expansion slots, which is fine and it'll still be able to fit in some of the small form factor cases like the SG13 from SilverStone if you're planning for an ITX build with this card.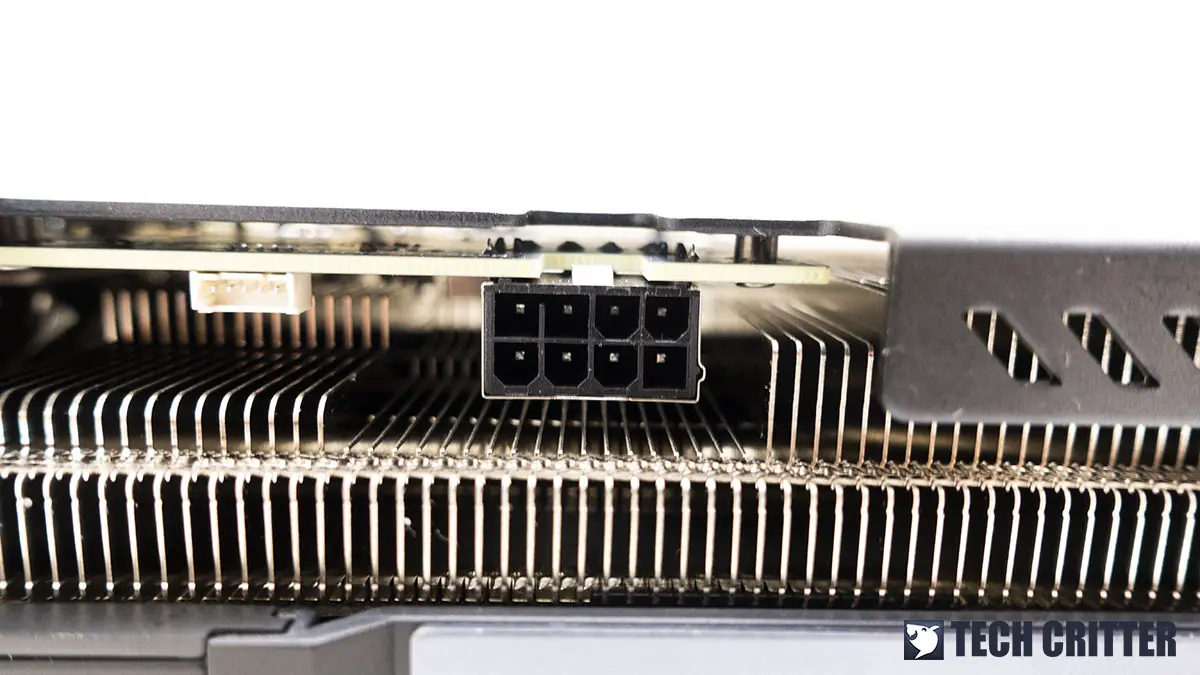 For the power requirement, a 600W power supply with an 8-pin PCIe power connector is recommended for the RTX 3060 Ti EX. Like the rest of the NVIDIA board partners, GALAX opted for the existing 8-pin PCIe socket for its card instead of the new 12-pin PCIe that is currently only available on the NVIDIA Founders Edition cards. Though GALAX did add something extra here, a metal shield around the PCIe socket, which we don't really see any good reason for having it on the card apart from giving it a slightly premium feel than the rest.
A metal backplate is included with the RTX 3060 Ti EX, which is a really common practice nowadays for most of the graphics cards you'll find in the market. Although it's not at obvious as the rest, the RTX 3060 Ti EX too has its cutout on the metal backplate of the card which will serve as the ventilation that works similarly to the Founders Edition cards design to channel the heat to the top section of your case to be removed via the rear exhaust fan.
The display output on the RTX 3060 Ti EX is the standard 1 x HDMI and 3 X DisplayPort layout. We can't help to notice the XOXO cutout, not sure if it's intentional but it's definitely an interesting move by GALAX to be different than the rest of its competitors.
Test System Setup
For our games benchmark test, we've selected a number of AAA titles to run at its highest possible settings using the following setup under an ambient temperature of 31°C:
| | |
| --- | --- |
| CPU | Intel Core i9-10900K |
| Motherboard | ASUS ROG Maximus XII Apex |
| Memory | XPG Spectrix D60G DDR4-3600 CL14 |
| Graphics Card | GeForce RTX 3070 Founders Edition / Gigabyte GeForce RTX 3060 Ti Gaming OC 8G |
| Power Supply | Enermax MaxTytan 1250W |
| Primary Storage | Force Series Gen.4 PCIe MP600 2TB NVMe M.2 SSD |
| Secondary Storage | WD Black 6TB |
| CPU Cooler | Cooler MasterLiquid Master ML360R RGB |
| Chassis | Streacom Open Benchtable BC1 |
| Operating System | Windows 10 64bit |
Games Benchmark (1080P)
Games Benchmark (1080P + Ray Tracing On)
Games Benchmark (1440P)
Games Benchmark (1440P + Ray Tracing On)
Games Benchmark (4K)
Games Benchmark (4K + Ray Tracing On)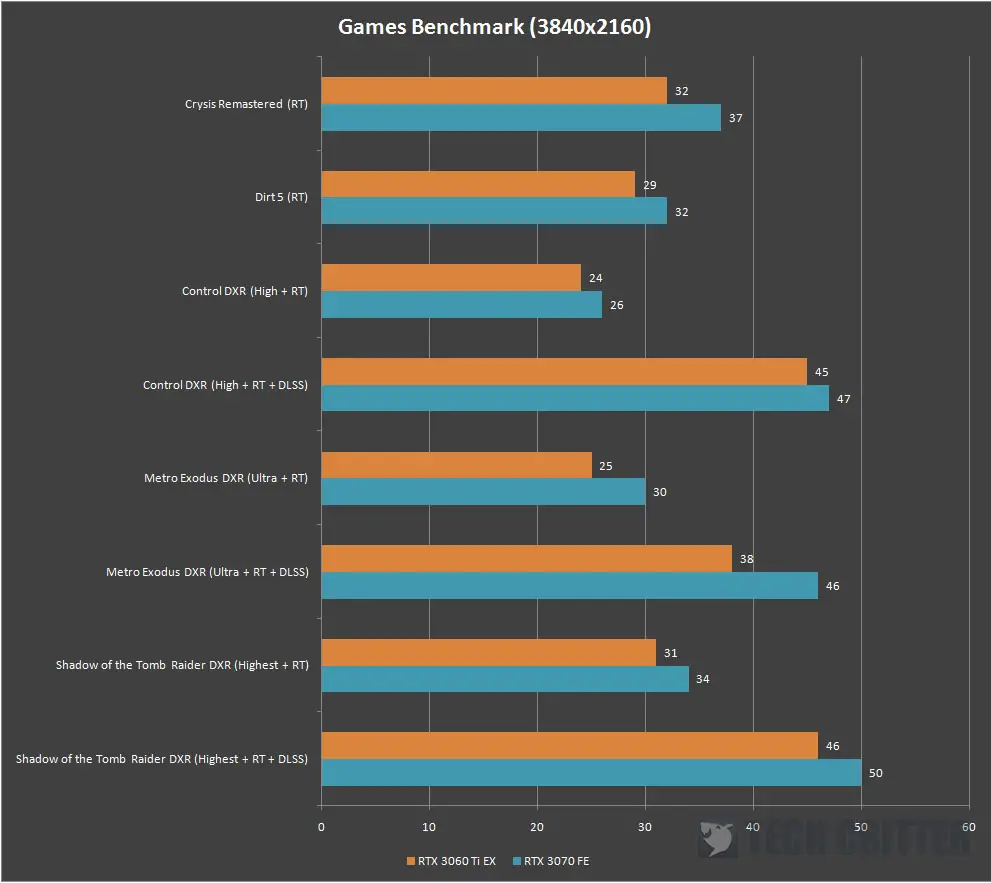 The RTX 3060 Ti is a pretty powerful card that fits pretty well in the 1080P and 1440P gaming segment if we look at the performance numbers, but that's pretty much the best it can do because 4K gaming is just too much for it to handle. It can deal with some of the most demanding AAA titles nowadays with ease even though it's not as powerful as the RTX 3070 which is leading with a margin of 10-15%.
Thermals & Power Draw
We've done the usual FurMark stress test with the RTX 3060 Ti EX just to see how well it can handle the heat. Honestly, we did overestimate the thermal performance a little, mainly because of the rather unusual looking fan and the rather big heatsink. The 70°C is not something we're expecting from a cooler of this size but because it's spinning at a rather low RPM on default. You might want to increase the fan speed if you the card to run a little bit cooler than 70°C.
As for the power draw, the RTX 3060 Ti EX itself is drawing approximately 213W during full load, it's only slightly lower than the 220W power draw on the RTX 3070 Founders Edition but we think that it's still fair enough for the performance it can deliver.
Final Thoughts
Other than the slight inconvenience in syncing the RGB lightings on the card to your motherboard, the GALAX RTX 3060 Ti EX is a pretty solid card overall, performance-wise. Personally, I think that the 10-15% performance difference is something that can be easily overcome with some minor overclocking, though it'll still be slightly slower than the RTX 3070. If your game mostly on 1080P or 1440P, the $100 difference is definitely something and you can probably invest that money on a better PC case, faster DRAM, or a beefier CPU cooler, depending on how you look at it.
The GALAX RTX 3060 Ti EX might still not be available in Malaysia at the time this review is published but our sources have confirmed that it's already on its way and the RM 2099 price tag is pretty reasonable if you're looking for the extras i.e RGB lightings and control app. If you're one of those who don't like RGB lightings in your system, the RTX 3060 Ti (1-Click OC) will be your best bet at the price of RM1999.
Pros
Excellent performance out of the box
Excellent build quality
Runs silently even during full load
Adjustments can be done using the XTREME TUNER mobile app
Reasonably priced
Cons
Optional, but external 4-pin 12V RGB cable is required to sync the RGB lightings with motherboard
Subjective
Location for PCIe power connector will slightly affect the look of your build