1stplayer is rather new in the gaming peripherals industry but they quickly gained the attention of many with a series of affordable and well-built gaming peripherals, especially for its mechanical keyboard. They have recently teased their self-developed G switch, which will make its first debut on their latest Steampunk mechanical keyboard.
We have the 1stplayer Steampunk mechanical keyboard with us this time, special thanks again to 1stplayer for sending over the Steampunk mechanical keyboard for today's review. The overall presentation looks great and it comes with a promising retail price of $79.99 on Amazon.com, and RM289 from local retailers. With the price going pretty well at this point, it's all down to what 1stplayer can deliver with this keyboard. So… read on!
Unboxing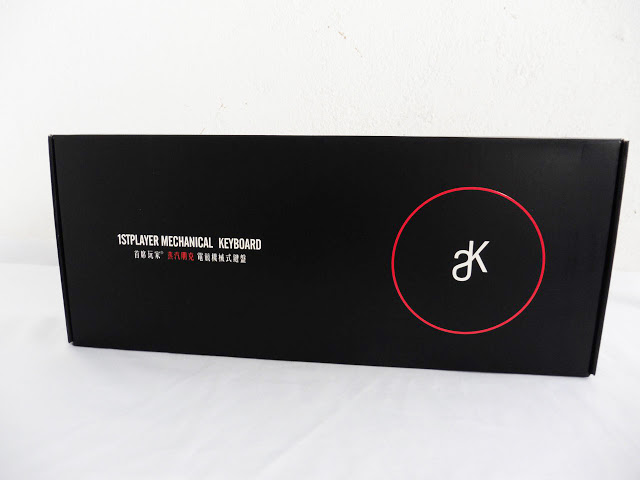 The Steampunk mechanical keyboard comes in a simple and minimalist design, looks great and it's what differentiates 1stplayer from other keyboards from the China market.
The layout of the keyboard being printed on the box has been an identity for 1stplayer keyboards to date and it looks good as always.
Inside the box, you'll get a user's guide, a plastic ring keycap puller, a plastic armrest and the Steampunk keyboard.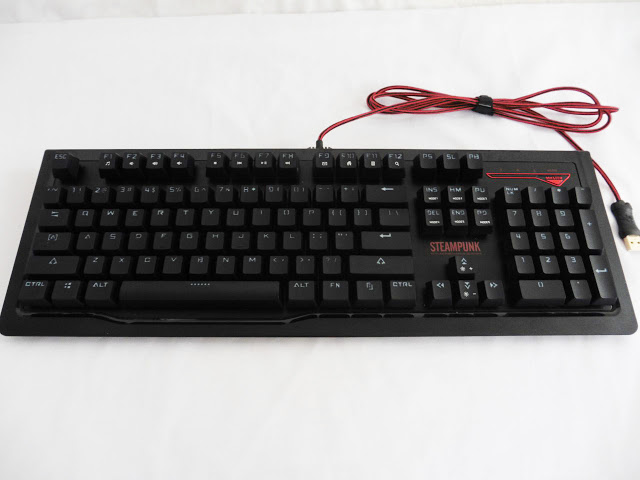 The Steampunk keyboard comes with a standard US ANSI layout that most of us are familiar with.
Looking good so far, the keyboard comes with a braided cable that's accompanied by a velcro tie to keep the cable neat, a gold-plated USB connector not only for aesthetics but also prevents oxidation that results in a dull looking USB connector.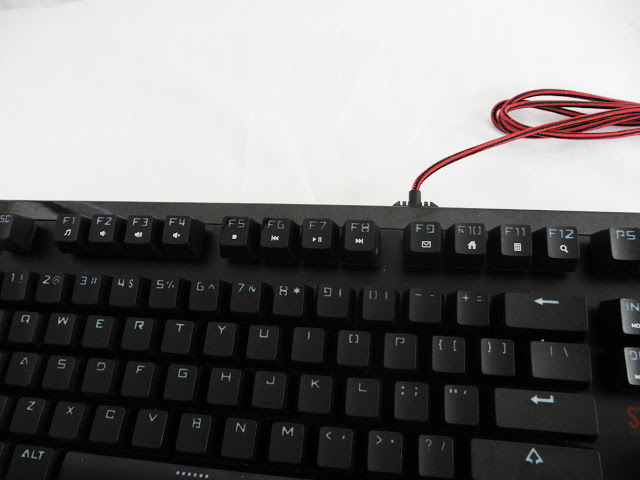 F1 to F12 consists of the media control keys and other shortcut keys that comes in useful in some ways.
There's a total of 6 LED modes for the keyboard, brightness toggle control on the direction keys.
LED Modes Highlight
There are 6 modes in total, but we'll be highlighting the interesting ones that caught our attention.
Breathing mode and fading mode are quite some pretty common LED modes nowadays but not everyone did that perfectly. The Steampunk isn't as perfect, but the got the LED fading done right, smooth transition that's worth a praise.
Ripple mode and wave mode are the ones that we considered as how much effort the brand has put into their product and 1stplayer did an impressive job on both. Very reactive ripple mode, smooth LED fading on the wave, nicely done.
Here's a unique mode that you don't get to see very often, the soundwave like pattern. It's a challenging mode to program to the board and trust us, it's not as easy as it looks. We've done similar LED mode for the Deck Hassium and it took us quite some effort to get it right. More points for 1stplayer!
A view from the side, we can see that the Steampunk shares quite some similarity to SteelSeries Apex keyboards.
1stplayer once teased their own mechanical switches, the G switches, and this is the first 1stplayer keyboard that uses its self-developed mechanical switch.
It's good to see that 1stplayer stepped up their game with doubleshot ABS keycap, longer lasting, sharper legends.
1stplayer is using a Costar like metal wire stabilizer for it's longer keycaps, but it's slightly rubbing against the switch as you can see the metal wire bends. This can be fixed easily by bending the section of the metal wire that is touching the switch.
The base of the keyboard is clean and the striking red rubber feet did enhance the overall aesthethic of the keyboard.
The keyboard feet is one of the very best designed feet that we've come across so far, it can be easily raised without having to flip the keyboard, it's thick and it doesn't break as easily as most keyboard feet made of thin plastic pieces.
Keyboard Armrest
The plastic armrest has a matte finishing that goes really well with the keyboard, magnet pieces on the contact point for easy installation.
Here's how the Steampunk keyboard looks like with the armrest installed.
Key Rollover Test (KRO)
The key rollover is really commendable overall, we're able to hold down each and every key with no signs of signal blocking and ghosting effect, just wonderful.
Final Thoughts
The 1stplayer Steampunk has that attractive look of a high-end mechanical gaming keyboard and fancy lightings, the built quality is good but not perfect, full key rollover (NKRO), doubleshot keycap, consistent switch alignment and the best of all, it comes at a very good price of $79.99 or RM289.
While its self-developed mechanical switch looks just like another Cherry MX imitation switch, we can see a good effort in terms of quality control on the G switch. The consistency is there, the brown G switch we've tested on the Steampunk feels a lot better than a Kailh brown switch and feels really near to the original Cherry MX brown.
All in all, the 1stplayer Steampunk is one of the best bang for the buck mechanical keyboard that we've come across so far and will not hesitate to recommend it to those who wants a budget friendly and good looking mechanical keyboard.
Pros
Clean, solid build quality
Doubleshot keycaps
Very good LED modes
Full key rollover (NKRO)
Very good keyboard feet design
Very good value
Cons
Metal wire on the stabilizer is rubbing against the switch
Magnet on the armrest isn't strong enough
Plastic ring type keycap puller isn't great and it has tendency to damage the keycap and pulling the entire stem out from the switch directly