We have previously reviewed the 1STPLAYER UNI-Q DIY mechanical keyboard kit and we have been liking how 1STPLAYER has been taking the mechanical keyboard more serious than ever. Today what we have here is the 1STPLAYER LANG MK980 mechanical keyboard and we shall have a look at whether if this keyboard has what it takes to compete in the market.
Video Review
1STPLAYER LANG MK980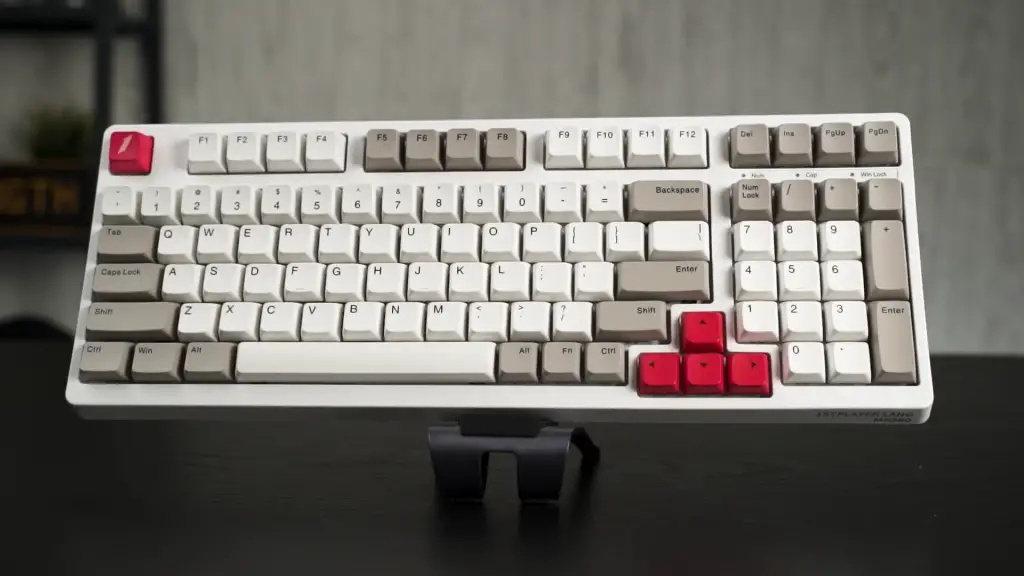 As the name suggests, the MK980 is a 98-key mechanical keyboard. There are a couple of names you can call this layout, for example, 1800 layout, 96% or compact full size. The big idea about this layout is by retaining as many keys as possible while shrinking the keyboard footprint. The number pad is moved closer to the typing zone by slightly offsetting the arrow cluster to the bottom and repositioning some of the navigational keys. Of course, some of the keys are completely removed and you will have to rely on function combinations to trigger it, such as Print Screen. That makes this user manual extremely important because the shortcuts are not printed on the keycaps.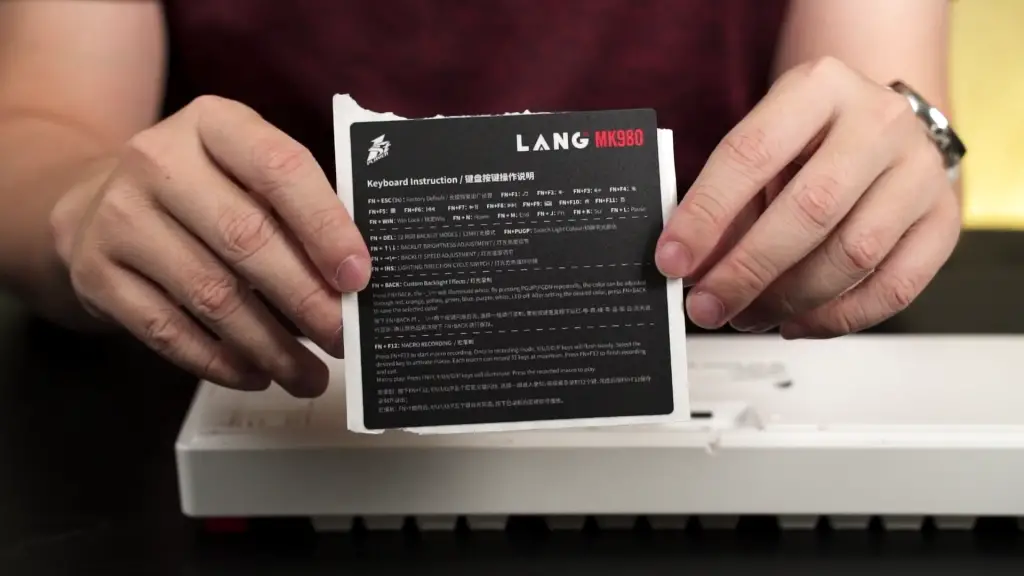 Perhaps that's the reason why this quick user manual is actually a piece of sticker and it fits just nicely under the keyboard. Now, some might complain why 1STPLAYER don't just straight away stick it, are they being lazy?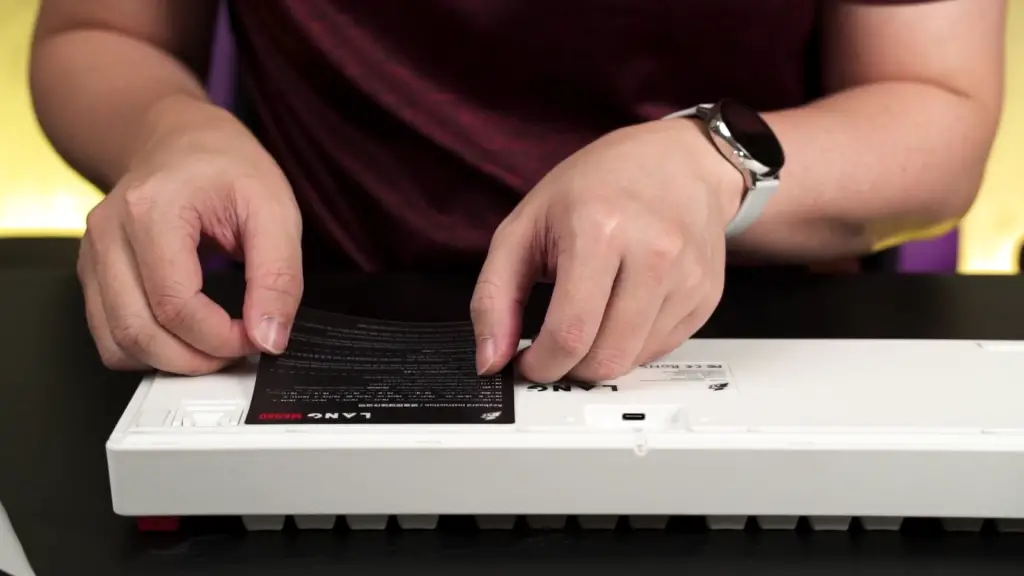 Well, personally I think this is better because not everyone would fancy having a big piece of user manual plastered under their keyboard. Having it prepared allows users to decide on their own.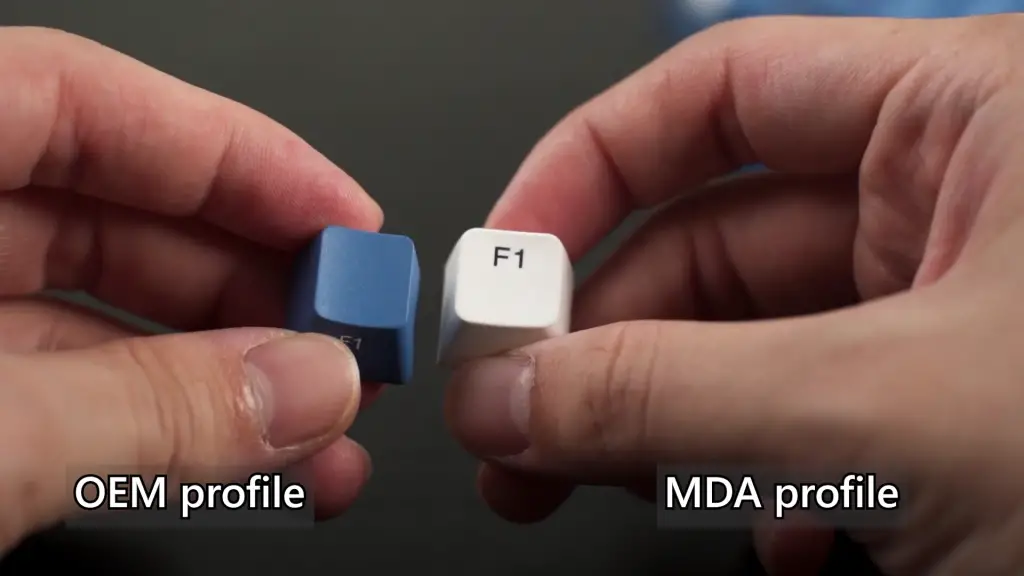 The main reason why they are not printing the additional shortcut functions text on the keycaps is largely due to their decision to use this unique keycap set – cost. The keycap has an MDA profile which is extremely rare even for the custom keycap market. That means it is not as widely produced as the Cherry, OEM, DCS, SA, XDA profile keycaps.
On top of that, it uses PBT material for high durability as well as the dye-sublimation printing method. Personally, I really love how it feels to type on this keyboard. The MDA profile is a joy to type on due to its added key surface area.
If you don't like how SA is being overly tall, perhaps you may like MDA as it is almost as tall as the standard OEM profile.
There are two different colour options available for the MK980, black and white. The keycaps will have a matching colour scheme to go with the chassis.
One thing I did notice is that the black colour version will also come with a white colour plate for better RGB light distribution.
Underneath the keyboard, you'll find 4 pieces of rubber feet and a set of dual-height kickstands. The 4 pieces of rubber feet are not doing a good job at keeping the keyboard in place because the keyboard is way too wide.
If you use the kickstand, it will solve the problem.
The USB-C port's positioning could've been better as the current one is so old school and can be very tricky to plug in if you're using a custom cable with a slightly thicker header.
As for the switch option, Malaysian units will only come with Gateron Yellow linear switch. Since this keyboard supports hot-swap feature, you can just purchase any switch you like and customise it to your heart's content. 1STPLAYER also included under PCB foam padding and factory lubed stabilizers. To be honest, I think they do deserve some compliments as the keyboard is definitely miles better compared to their older models. Check out the review video for typing sound showcase.
Conclusion
For the official retail price of RM299, the 1STPLAYER LANG MK980 is a decent plug-and-play mechanical keyboard if you're just getting into the hobby. Clearly, my review is quite positive so far with the features you're getting. However, there are a couple of things 1STPLAYER need to look into, especially the software. You see, I have never mentioned the software in this review simply because Windows would mark the installer as potential malware and quarantine the file. It is a very common issue with Chinese developed software. Then again, you don't need the software to be able to use the keyboard. So in the end, it doesn't really matter.
In short, the MK980 is a great keyboard especially for those who are looking for a compact full-size layout. It has a unique MDA keycap profile which is already very rare in the market and you're getting all the modern mechanical keyboard features such as the hot-swappable switch design and removable USB-C cable. It is one of the most satisfying keyboards to type out-of-the-box.
Where to buy 1STPLAYER LANG MK980 (affiliate links)
Amazon – https://amzn.to/3jw1HF1
Lazada – https://invol.co/cl6vgl4
Shopee – https://invol.co/cl6vgl7