The first generation of Keychron K2 was one of the most hyped mechanical keyboard from Keychron. It has received a lot of media coverage and even the famous tech reviewer MKBHD is daily driving a K2. So, it must be really good since it gets all the limelights and attention right? Well, depends on your requirements.
You see, the first generation of the K2 was not perfect. The keyboard case has a uniform height from the front to the back. Which means it lays flat on the table, but what makes it worst is the overall keyboard height being taller than any keyboards out there in the market. This issue was so dramatic where some users actually recommended the K2 must be paired with any sort of wrist rest to type comfortably. Read on to find out what they have improved in the second revision.
Video Review
Keychron K2v2
The K2v2 solves this issue by giving the bottom chassis a slanted profile. At least typing on the K2v2 won't feel that awkward anymore.
Apart from that, the K2v2 also receives the new Bluetooth 5 update and got a dedicated Caps Lock LED light indicator.
What comes in the box:
Keychron K2v2 with aluminium top case
Transparent dust cover
USB-A to USB-C cable (right angled)
Wire keycap puller
additional keycaps for Windows modifier keys
quick start guide
If you're buying from Keychron website, there are a couple of options you can choose for the K2v2. We're not sure why they removed the PBT keycaps option. Else you can just purchase it separately. Then again, if you're buying from Malaysia's official retailers you only have the RGB backlight with aluminium frame option. There are 3 switch choices – Gateron Reds, Gateron Blues and Gateron Browns. The one we have here is the Gateron Blues. Not everyone's cup of tea but that's what we received in the mail. You may check out the review video for typing test. There is also another K2 with hotswappable feature but it is absent on this one. While the stablizers are factory lubed, yes, they are smooth but they still need more work to make it less rattly.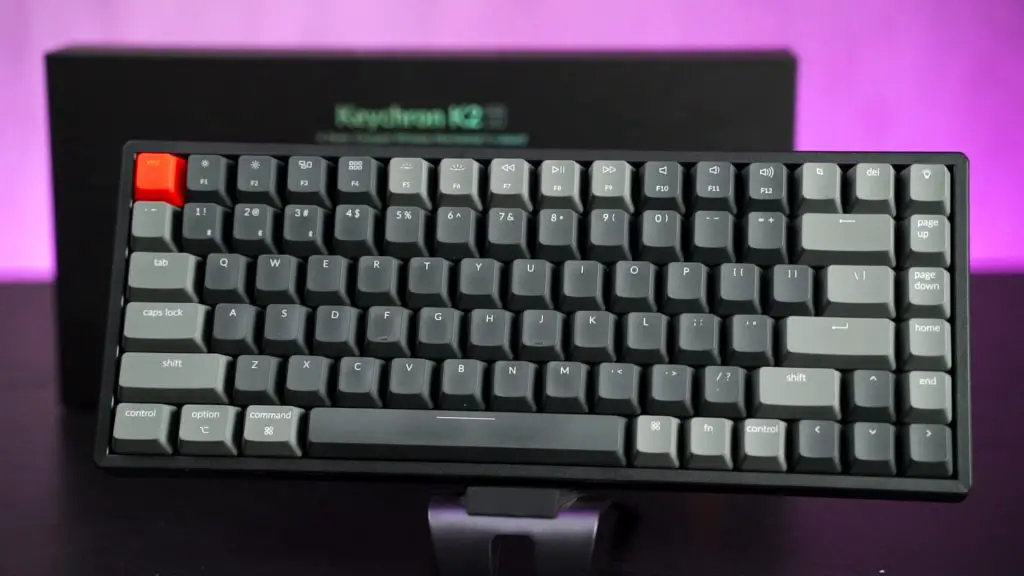 They keyboard is slightly heavier thanks to the aluminium frame.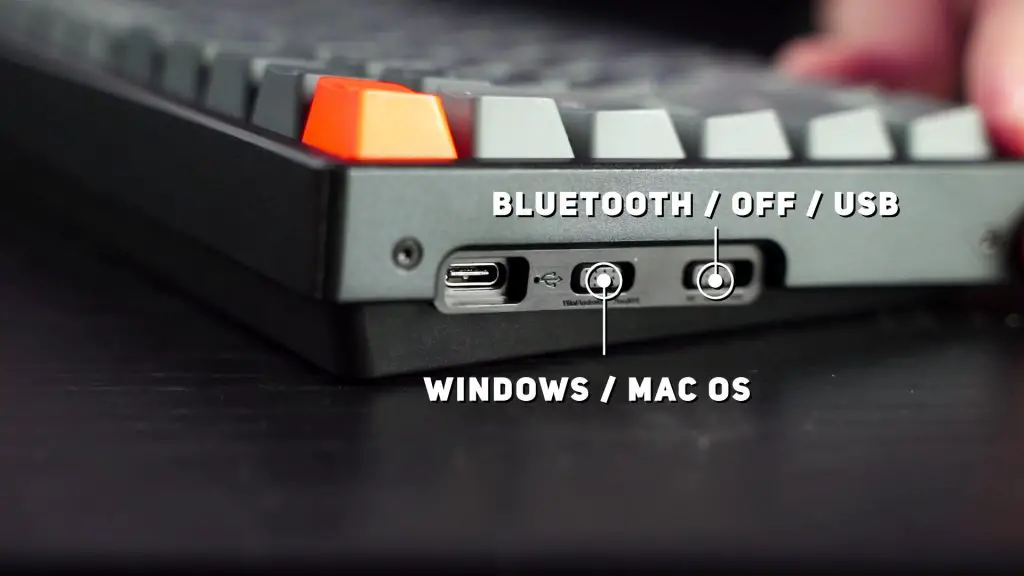 The USB-C connector is located on the left alongside the two mode switches. One of it serve to toggle between Windows or MacOS while the other switch allows you to change between wired mode or bluetooth mode. I'm not sure why they are including "off" as an option because switching to wired mode should turn off the bluetooth.
At the bottom you'll find four rubber feets and dual-angle kickstand. A major upgrade from the K2v1 which only has 1 angle.
The k2v2 comes with ABS single-shot backlight OEM profile keycaps. In short, they are usable but it's 2021, even some of the cheaply made keyboards in the market already come with double-shot PBT keycaps. Keychron should just phase out these keycaps.
Onboard the keyboard's memory contains about 18 types of RGB lighting styles. Pressing the light bulb key or FN+left right arrow to look for your favourite lighting effect. The switches are mounted in north facing orientation to maximise the RGB lighting effect. If you're planning to use GMK or cherry profile keycaps, expect interference with the switch top housing.
Conclusion
So, Keychron K2v2, generally, this is a decent keyboard for compact and dual connectivity mode. Personally, I think it is lacking a lot of important features especially in year 2021. Right now, PBT keycaps, double shot keycaps are so common, there's no reason to stick with these cheap ABS keycaps anymore. In fact, if you still remember i mentioned about the there's a hotswappable version of the K2? Yes that would be a better choice. As for the price difference, you're just paying RM30 more for the hotswap feature.
Where to buy? (Affiliate links)