As NVIDIA continues to put effort into generalizing the formula of DLSS to attract more developers ranging from game studios to industrial applications by lowering the technical barrier, we can really see these hard works come into fruition as the company announces that the total number of participating titles that utilize RTX technologies have reached an astounding 120 which is a good sign of fast adoption rate thanks to ample technical support provided by Jensen Huang and his team.
The milestone is achieved partially thanks to 10 new titles joining the DLSS family in which NVIDIA announces on a monthly schedule. Let's find out what is in store.
As one of the most anticipated titles of 2021, Back 4 Blood definitely brings back the old memories of co-op shooters of both adrenaline and all-day fun but rendered and built by modern tools and technologies. GeForce RTX gamers can rest assured that they are getting a smooth experience by an extra up to 45% FPS by enabling DLSS under 4K resolution at Max Graphics settings.
For Baldur's Gate at 4K Max settings, NVIDIA DLSS can deliver a significant boost of up to 88% and for gamers rocking at least a RTX 3060 Ti, the supersampling feature will turn a laggy experience into a fully smoothed out 60+ FPS gameplay.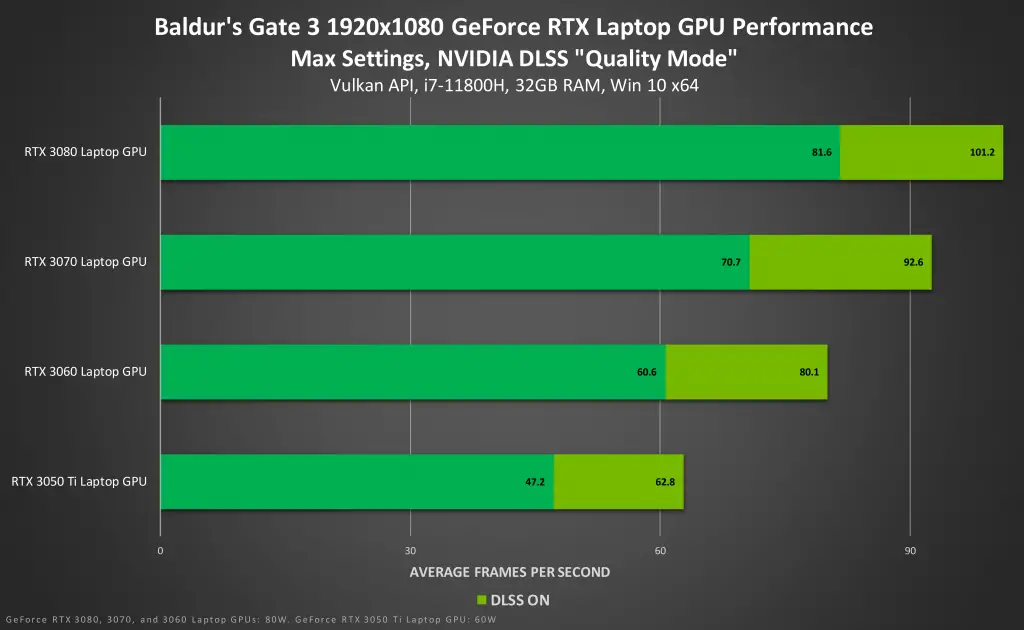 The good news is that at 1080p, RTX 30 series laptop GPUs can also utilize NVIDIA DLSS to the fullest in which all currently available offerings in the market can provide decent frame rates in "Quality Mode" that prioritizes visual fidelity.
Following the release of Crysis Remastered, Crytek and Saber Interactive have released the Crysis Remastered Trilogy at long last that equips all 3 titles with ray-traced reflections, enhanced models, textures, lightings and more and of course, NVIDIA DLSS so that gamers don't have reexperience the terrifying computing horsepower requirements brought by the original thanks to NVIDIA DLSS handling the upscaling process smartly and efficiently.
Square Enix's Rise of the Tomb Raider 4K benchmarks with "Performance Mode" DLSS profile also saw quite an improvement particularly for the less powerful RTX 2060 and RTX 3060, turning them from "unplayable" to an enjoyable experience while the more juiced-up cards turn those extra FPS to benefit players running high refresh rate displays for more snappy and responsive gameplay.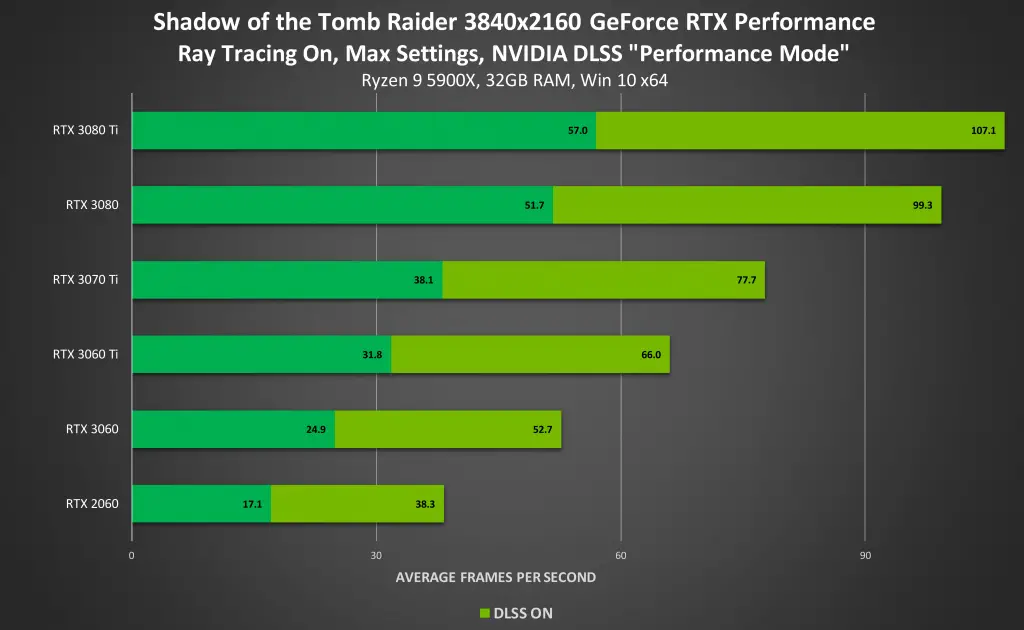 Shadow of the Tomb Raider, on the other hand, as one of the earliest titles debuted together with the original NVIDIA DLSS several years back, is also getting the latest revision and for gamers that have experienced the DLSS back then, they'll definitely see the lift in performance powered by DLSS 2.0 as the FPS count doubled up after turning the feature on.
Chivalry 2 is also getting improvements across the board with up to 45% performance boost through the power of NVIDIA DLSS that essentially made 4K 144FPS of superior image quality and smooth and slick experience a reality for those rocking at least an RTX 3070 Ti while the rest of the cards also getting a moderate FPS to increase applicable even to the last-gen Turing card.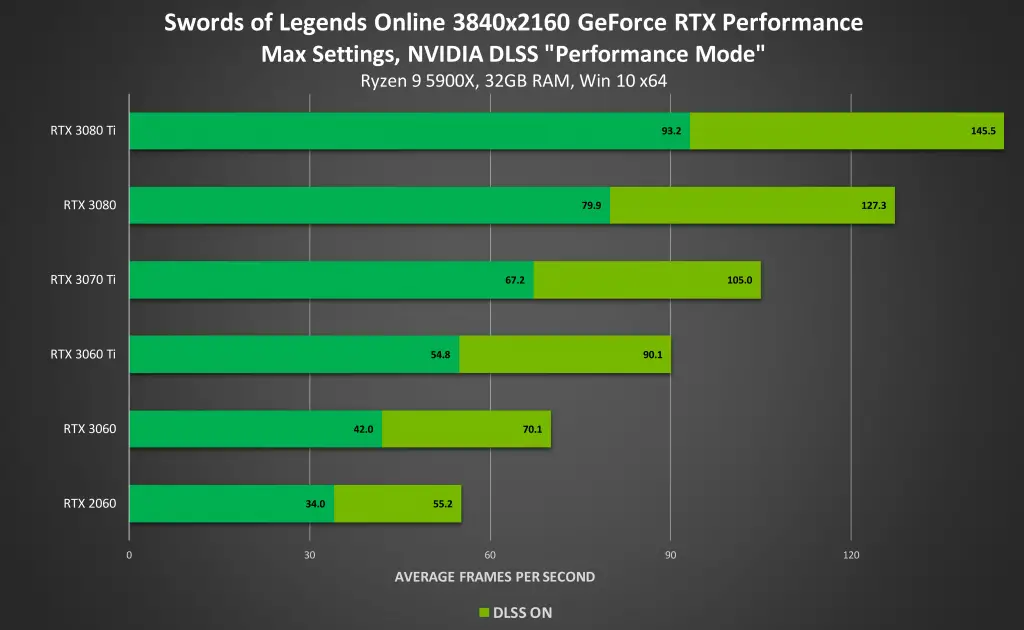 Hailing in from China, the Swords of Legends Online launched back in July may have been a bit too costly to run on even modern hardware at 4K Max settings with only the RTX 3070 Ti and above barely handling the game engine properly. Thanks to DLSS, it doesn't seem to be the case anymore as the top tier RTX 3080 Ti has managed to break through the 144FPS barrier while enabling other cards to hold the ground against their old self, and are now capable of churning out respectable frame counts.
Also carrying the oriental theme, the Sword and Fairy 7, a long-running Chinese franchise is slated to launch on October 21st together with a full set of RTX-powered features including reflections, shadows, ambient occlusions, caustics, and global illumination – all ray-traced to the fullest. To enjoy all of this goodness without hurting the FPS count, turn on NVIDIA DLSS to enjoy more than double the frame rate.
Metroidvania and Dieselpunk fans will be delighted that the signature game of that genre for 2021, F.I.S.T: Forged In Shadow Torch can acquire more than double the performance by letting NVIDIA DLSS do the upscaling tasks instead of rendering in native resolution. Aside from that, being a game directly supported by NVIDIA other notable features such as NVIDIA Reflex are also made available for the game.
Remedy Entertainment's latest remastered title Alan Wake Remastered's 4K performance is definitely a surprise as NVIDIA DLSS has brought the mid-tier cards to match with the top dogs while the last-gen flagship RTX 2080 Ti even surpass Ampere's RTX 3080 Ti in the benchmark results. This essentially proves that AI-based upscaling technology is definitely the way to go and as new hardware becomes older as time passes, they still can get a refresh and become competitive again simply through a feature update.
To enjoy these DLSS-empowered titles in your RTX equipped desktops and laptops, simply update the games to the latest versions alongside your GeForce Game Drivers either through GeForce Experience or manually from the official download page.