Aside from revealing the OnePlus 11 5G smartphone and Buds Pro 2 TWS, a newcomer has entered the chat which is the OnePlus Featuring Keyboard 81 Pro.
For some context, the product is created to fulfill the demands of the OnePlus Featuring community, a program where the brand takes in community feedback on what should their next product be aside from the usual smartphone and TWS stuff. Well, the top-voted choice is, you guessed it, a keyboard.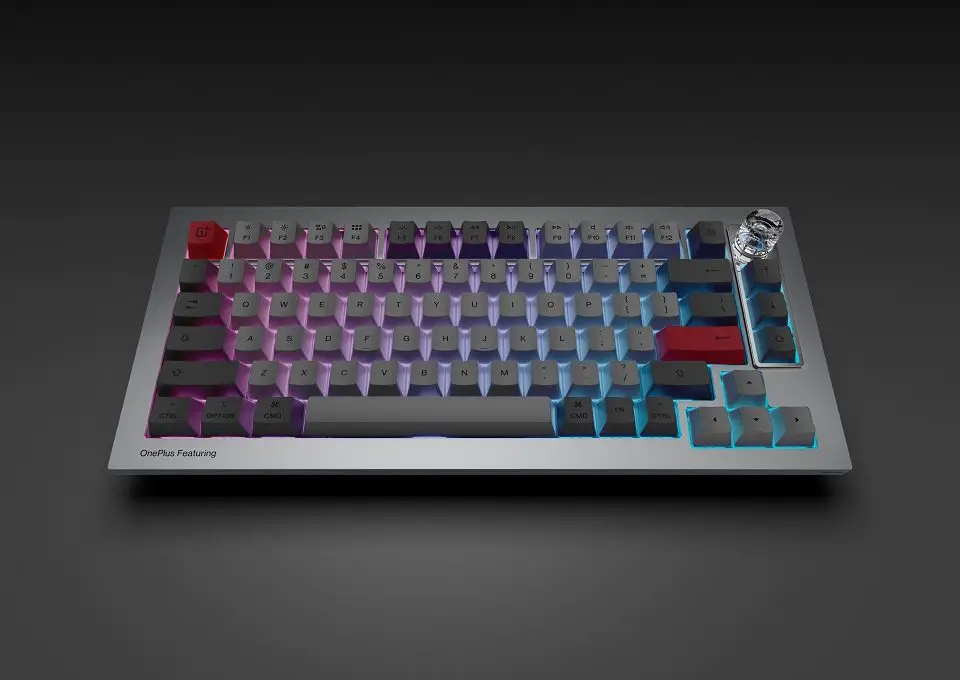 But OnePlus isn't about keyboards from top to bottom so they went out and found their partner which is one of the hottest brands in the mechanical keyboard scene right now – Keychron. Looking at the keyboard itself and its naming, it is pretty much confirmed that this is a Keychron Q1 Pro slapped with some 1+ sauce.
Encased within the shiny grey case is the dark grey/light grey/red color keycap with a special transparent knob that kicks things up a notch in terms of aesthetics.
According to official sources, the keycaps will be made out of PBT but tuned to provide a little bit more bounce in addition to the renowned durability of PBT.
The switches on the other hand, are called the Winter Bonfire switch which has the same name as the keyboard model itself, is a tactile switch and seems to have a POM stem housed within a full PC case but we'll know when the time comes.
To alleviate the "design oversight" of the original Q1 which is without the leg risers to adjust the height, OnePlus figured out their collab model needs one but has to be a flashy/edgy one so they added a long metal wire with 3 stage adjustments. Kind of funky but if it works especially for a full aluminum keyboard that is heavy, well that checks out.
But anyway, technicality wise it works like a Keychron Q1 Pro such as south-facing LEDs, double gasket mounting structure, 4000mAh battery, wired+Bluetooth connection, multi-platform layout support, and more.
Availability
As the OnePlus event is going to happen on February 14, I guess the OnePlus Featuring Keyboard 81 Pro will be revealed and be shipped into Malaysia as well.