Here we are almost at the end of 2022, and Sun Cycle has brought us some updates on the new products they are ready to bring into the Malaysian market; let's check them out.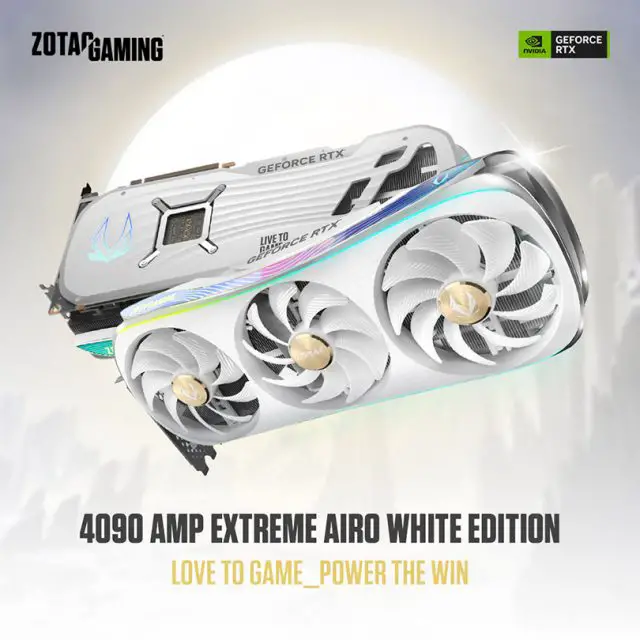 This week's first item is the ZOTAC GAMING GeForce RTX 4090 AMP Extreme AIRO White Edition which adopts an AIR Optimized design and IceStorm 3.0 Advanced Cooling that keeps the GPU cool when running on high performance while maintaining minimal noise. It also comes with GPU Support Bracket to enable users to position it how they like.
On to the keyboard section, there are a bunch of Keychron mechanical keyboards that have been brought in this time around. To begin, the V1 is a completely customizable mechanical keyboard that is a good choice for newcomers to the world of custom keyboards. Boasting a 75% layout with QMK/VIA support, it is fitted with an acoustic silicone pad and double-shot PBT keycaps for a comfortable typing experience.
Similarly, the V2 also provides users with tons of customization to meet their demands in a 65% ultra-compact layout with QMK/VIA support, as well as pre-lubed switches.
Also from Keychron, the V3 is a classic TKL layout keyboard, whereas the V5 is a 96% layout one. Both of them also have identical functionality just like the V1 and V2 above.
To top it off with the Keychron keyboards mentioned above, consider opting for this Keychron Q1/V1 Keyboard Carrying Case which can stylishly protect your keyboard and other accessories such as cables or keycap pullers within!

With all the keyboard stuff done, we have the MSI Optix G32C4 E2, Optix G27CQ4 E2, and Optix G2722 gaming monitors. All of them feature a 170Hz refresh rate along with a quick 1ms response time, as well as Anti-Flicker and Less Blue Light that help gamers to play for longer periods of time without getting eye strain or tiredness.
In addition, they adopt the AMD FreeSync Technology which prevents screen tearing, a wide 178° viewing angle, and also a wide color gamut that makes game textures and colors look more realistic and refined.
Following that are the CMP 520 ARGB ATX PC Case and MWE 1050 Gold V2 & MWE 1250 Gold V2 PSUs from Cooler Master. The CMP 520 has three pre-installed 120mm ARGB fans as unique centerpieces, alongside a mesh geode front panel while having versatile cooling options for users to build their dream setup.
As for the PSUs, they are 80 PLUS Gold rated and feature 100% high-quality capacitors from Japan as well as a 140mm Silent Fan, making them a good option for those planning to upgrade to the latest RTX 40 series GPUs.
Last on the list is the Cooler Master Coiled Cable, which comes in six different color schemes and further elevates your setup's aesthetic point. Strengthened and braided for greater durability and flexibility, the USB-A to USB-C nylon cable enables universal keyboard compatibility while the coil provides extra convenient and tidy cable management.
Pricing and Availability
Good news this week as all of the items discussed today are currently available for purchase in Malaysia at the pricing listed below:
ZOTAC GAMING GeForce RTX 4090 AMP Extreme AIRO White Edition — RM8,869
Keychron V1 Hot-Swap RGB Fully Assembled Knob (Carbon Black) — RM389
Keychron V1 Hot-Swap RGB Barebone (Carbon Black) — RM289
Keychron V2 Hot-Swap RGB Fully Assembled Knob (Frosted Black/Carbon Black) — RM389
Keychron V2 Hot-Swap RGB Barebone Knob (Frosted Black) — RM289
Keychron V3 Hot-Swap RGB Fully Assembled Knob (Frosted Black/Carbon Black) — RM389
Keychron V3 Hot-Swap RGB Barebone Knob (Frosted Black) — RM289
Keychron V5 Hot-Swap RGB Fully Assembled Knob (Frosted Black/Carbon Black) — RM419
Keychron Q1/V1 Keyboard Carrying Case (Aluminum) — RM119
MSI Optix G32C4 E2 — RM1,038
MSI Optix G27CQ4 E2 — RM1,199
MSI Optix G2722 — RM879
Cooler Master CMP 520 ARGB ATX CASE — RM269
Cooler Master MWE 1050 Gold V2 (ATX3.0) — RM889
Cooler Master MWE 1250 Gold V2 (ATX3.0) — RM1,089
Cooler Master Coiled Cable — RM89