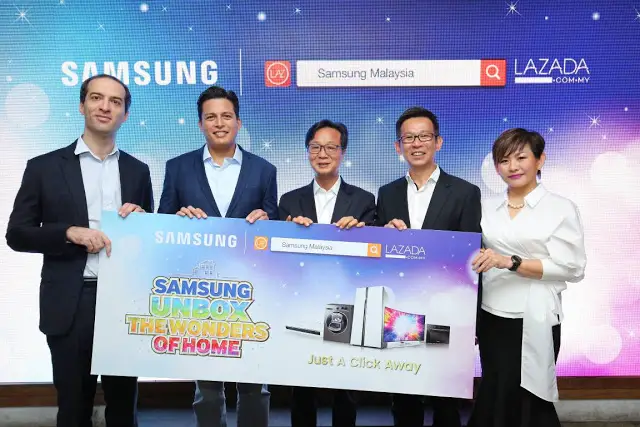 Samsung Malaysia Electronics, in partnership with Lazada Malaysia, is proud to unveil the first portal-in-portal site in Southeast Asia that turns offline Samsung stores online. Beginning with the 'Unbox the Wonders of Home' year-end online campaign which commenced on 11th November in conjunction with Lazada's Online Revolution campaign, Samsung is bringing its products closer than ever before to consumers all over Malaysia. 
Through this partnership between Samsung and Lazada, more consumers will get the chance to shop online for their desired Samsung home appliances with ease knowing that they can enjoy savings and convenience compared to the conventional way of shopping. How it works is Lazada helps to track every brand shop within the onsite portal according to postcodes to ensure that each is geographically tagged and catalogued to fit the shoppers' address, automatically entitling them for free and fast delivery.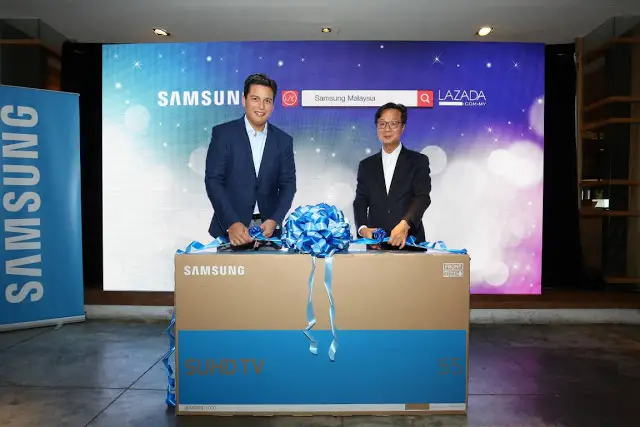 "Today, many consumers are tech savvy and enjoy online shopping in their own space. Thus, the need to spend time driving to shopping malls, pushing through crowds and queuing to make purchases has decreased significantly. As we have seen a 45% increase in mobile usage for online purchases outside cities, we concluded that Lazada is the ideal platform to showcase Samsung home appliances, and the ideal channel for us to reach out to our loyal and potential customers nationwide as we continue to deliver innovations that will re-shape Malaysians' modern lifestyles. With only just a click away, we want Malaysians to unbox and experience the wonders of their home!" said Jimmy Tan, Head of Consumer Electronics Business Unit, Samsung Malaysia Electronics.
We are indeed very excited to partner with Samsung Malaysia Electronics in bringing more options and quality home appliances to Malaysians. With 81% of our customers residing outside of Kuala Lumpur, we are now able to reach more consumers nationwide through both our online platform and mobile applications. This initiative with Samsung is also timely as it supports our recently launched month-long campaign – the Online Revolution that will be able to drive traffic to both our portals," said Hans-Peter Ressel, Chief Executive Officer of Lazada Malaysia.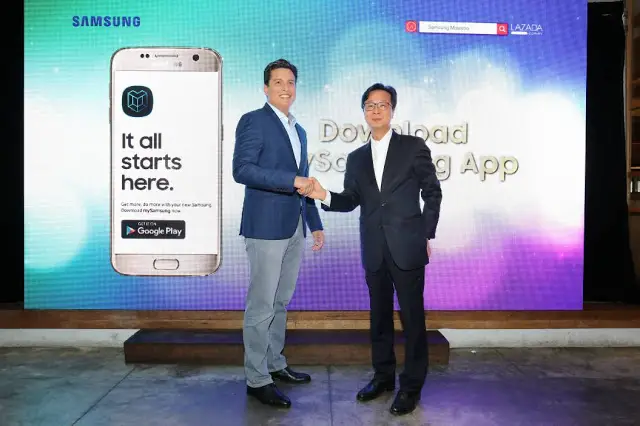 For every purchase made, shoppers can enjoy up to 30% cashback, free gifts and 2-years Samsung Warranty for all consumer electronics products purchased through Lazada, alongside free delivery and 0% Instalment Payment Plan (for purchases above RM500). Accessible via mySamsung app, mySamsung app users only need to click on the 'E-store' link and will be redirected automatically to Samsung's official onsite shop at:
http://www.lazada.com.my/samsung-malaysia/
. 
Samsung is also extending more irresistible deals as part of the 'Unbox the Wonders of Home' year end promotion for its range of digital appliances that include refrigerator, washing machine, triangle air-conditioner, vacuum cleaner and microwave oven; as well as home theatre products that include the brand's immersive SUHD TV, Blu-Ray Player and SoundBar. Customers can now enjoy bundled free gifts, purchase-with-purchase deals and extended warranties.
So what are you waiting for? Click your way to a complete home and experience the unboxing of great deals and even better home appliances! Samsung Malaysia Electronics' 'Unbox the Wonders of Home' Promotion on Lazada is happening right now up to 31st January 2017. 
For more information on this promotion, please visit
www.samsung.com/my/offer
. Terms and conditions apply. Promotion is valid while promotional stocks last. Promotion price is inclusive of GST.