I have been an avid believer of ultrawide monitors since its inception. I was already using the U2913WM back in 2013 or 2014 – and that monitor is still working now, by the way – it's at my office desk. Fast forward to today – we have another ultrawide monitor by Dell – this is the Dell UltraSharp 40 Curved WUHD Monitor, model name U4021QW.
It's a huge monitor – but is it a good monitor? Let's find out.
I gotta start off with a little backstory. Ever since I started using ultrawide monitors, it's something that I dipped my toes in and it immediately sucked me in. I can't go back to using a 16:9 or 16:10 monitor now, which is why I update to the Acer XV340CKP last year – check out the review here.
With that little backstory told, I think it's safe to say that I'm very familiar with 21:9 monitors.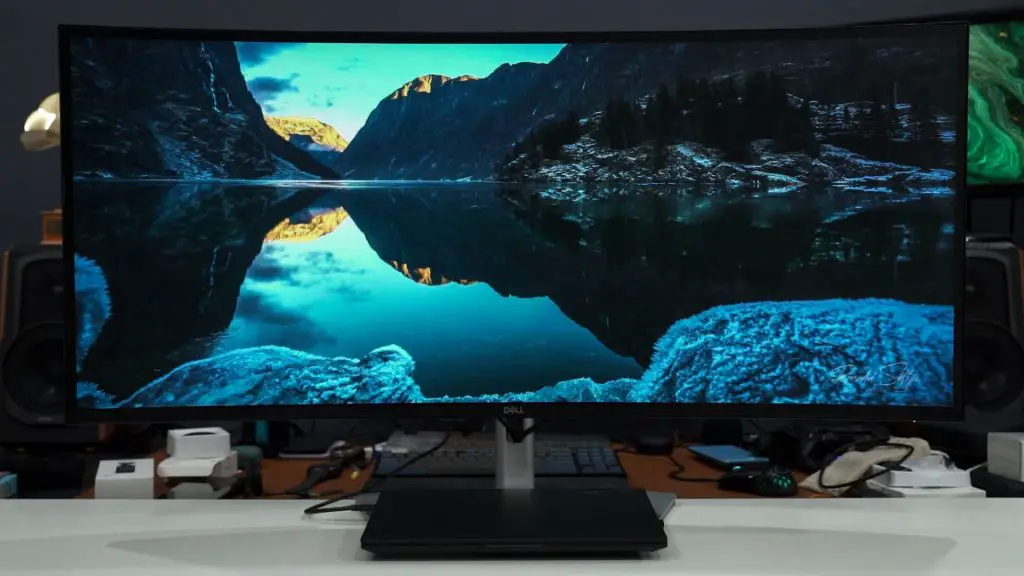 Anyway, let's start with the Dell U4021QW. The setup and installation process is still easy and completely toolless just like the P2721Q that we reviewed a while ago. Opening up the box reveals the parts needed for installation. Take out the base and the neck, attach both of them together, and then there's a small incision for the whole neck and base to snap onto the monitor, and the whole thing can be taken out.
And no joke – I recommend you to get another person to help you install this monitor because it can be unwieldy due to its sheer size – and especially its weight if you plan to mount this monitor onto a monitor arm. Yes, this monitor has VESA support.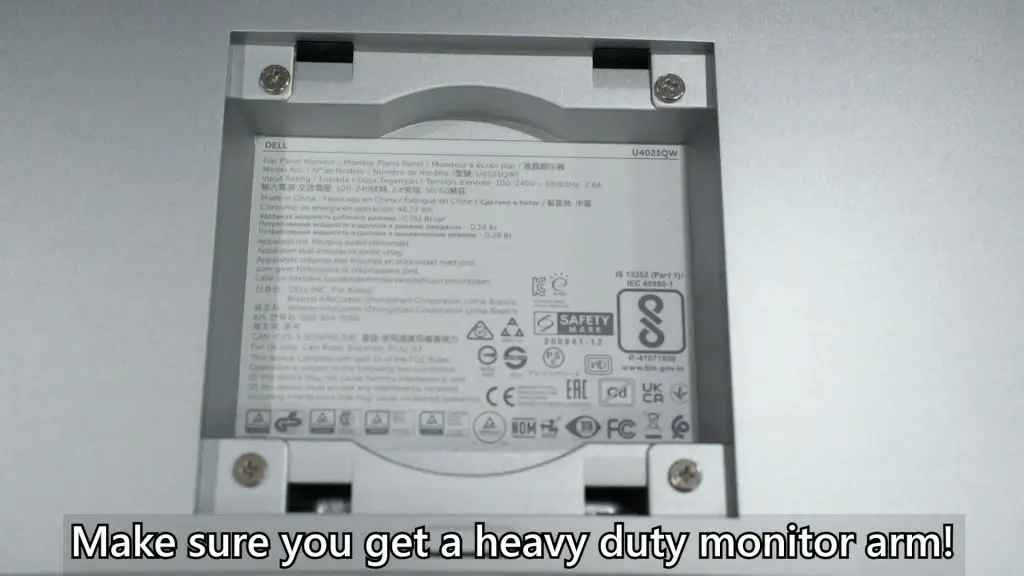 But, I don't think a monitor arm is necessary here since this monitor has swivel, tilt, and height adjustment. But can it rotate? Obviously not, right? Well, not quite. It obviously doesn't pivot 90° but it does have about 15° or so to help level the monitor.
Back to the unboxing part – there are a total of 4 different cables included in the box with the Dell U4021QW.
1 x DisplayPort cable – DisplayPort to DisplayPort – 1.8 m
1 x USB 3.2 Gen 1 upstream cable – USB Type A to B – 1.8 m
1 x HDMI cable – 1.8 m
1 x Thunderbolt 4 active cable – USB-C
A quick rundown of the specs – this new Dell UltraSharp 40 Curved WUHD Monitor with the name U4021QW is a 40-inch monitor with 2500R curvature – more on this later – and it has 5120×2160 pixels in resolution – also known as 5K2K (which is not really a good name, honestly), and it has 60Hz refresh rate.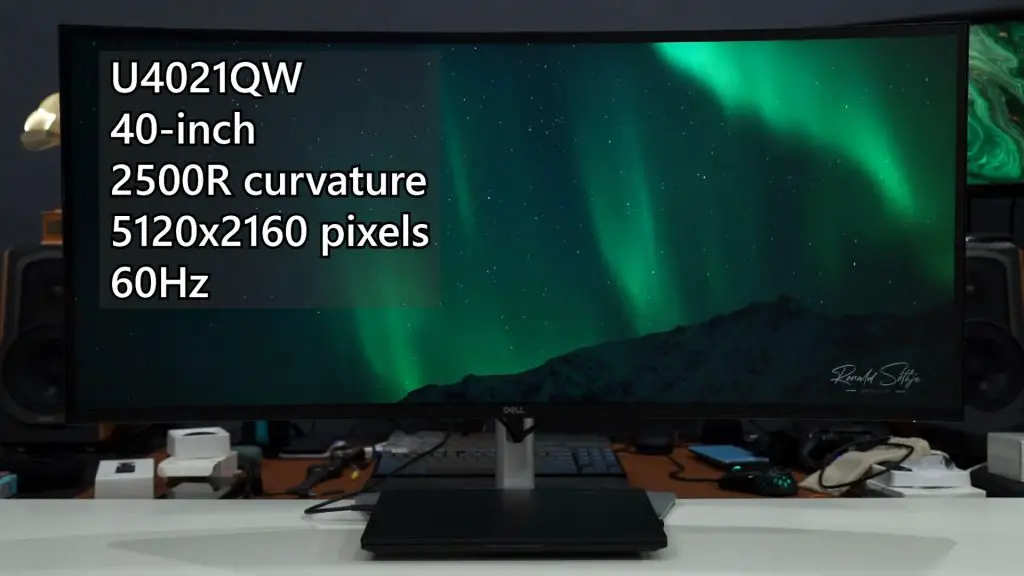 Using this monitor is seriously a trippy experience. Let's take a step back via a quick flashback to the time before I got this Acer XV340CKP. At that time, I thought I wouldn't like curved monitors at all since it messes with the perspective, especially while editing pictures.
But, because of the sheer wideness of a 34-inch ultrawide monitor the 4 corners are a little difficult to look at. I have to move my body around to look at all 4 corners properly.
Coming back to today, I have changed my opinion, honestly. The Dell U4021QW with the 2500R curvature is actually very subtle – and the little subtle curvature made it perfect in terms of perspective if I just move my neck and not my body.
Editing pictures on this monitor actually feels… good! That subtle curvature is amazing, honestly. The overall user experience is great – especially with this size and this subtle curvature.
And Dell claims this monitor to have fantastic colors – so we tested it out. At 75% brightness, it got to a very high color accuracy at sRGB color gamut and the same goes to DCI-P3 as well. It's not quite 100%, but I'll give Dell the benefit of the doubt since it's a curved monitor and our colorimeter is flat, which creates gaps and can cause inaccuracies during testing.
Now, as for the ports – the Dell U4021QW comes with a lot of ports.
2x HDMI 2.0 ports (30Hz)
Single DP 1.4 (60Hz)
Thunderbolt 3 port with 90W power output to charge your devices and it also supports DisplayPort Alt Mode version 1.4
Looking at the ports and its specs here, you really need to pay attention to what ports your computer has. HDMI is completely out of luck, but if you're already using DisplayPort, great – just make sure it supports DP1.4, and you can run this monitor at its maximum resolution at 60Hz. This is also listed in the user manual of the Dell U4021QW.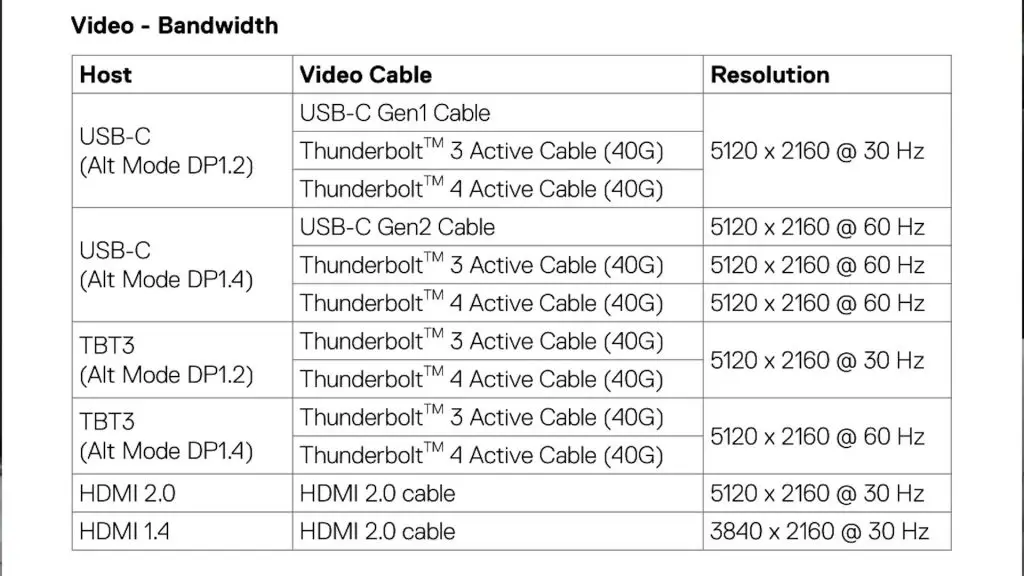 But, if you're like me and want to use the monitor with just a single cable connected to a laptop and hope everything works without any issues, then you're in for a treat – because the Dell XPS 15 9500 that I have here only supports DisplayPort Alt Mode version 1.2, which means it can only go up to 5120×2160 at 30Hz.
This ROG Flow X13 however, supports DisplayPort Alt Mode version 1.4 – running at 5120×2160 at 60Hz. So, make sure you pay attention to what display output version your laptop's USB-C ports support.
Okay, back to the ports available on the Dell U4021QW because we're not done yet. This is what I like about Dell monitors the most. They never cheap out on the number of ports. We have a lot of USB Type-A and USB-C ports, all of them can go up to 10Gb/s which is amazing.
There are also two more ports at the bottom left side of the monitor which allows easier plug-and-play, but it's not that easy since it's still plugging in the USB cables blindly.
What I'm not loving is the complications surrounding the maximum bandwidth available for each type of upstream. It's something very difficult to explain quickly, but essentially – only Thunderbolt 3 or Thunderbolt 4 connection can use this monitor at its full resolution at 60Hz and full 10Gb/s speed on all its USB ports.
Just refer to the user guide of the Dell U4021QW on Dell's website for the full details.
With all of that said, we're still not done yet. This is where the Dell UltraSharp 40 Curved WUHD Monitor – U4021QW start to become more… enterprise-y, if that's a word.
There's yet another Ethernet port available on the monitor. This is essentially an Ethernet port extension from your laptop or desktop as it also has MAC Address pass-through for enterprise use cases, PXE Boot, and Wake-on-LAN features.
Looking at the OSD menu, it's very nicely laid out and I absolutely love the amount of controls available, yet it's not overwhelming or frustrating to find the settings or to navigate the menus.
It is here that we can find the option to assign USB ports to be connected to specific display inputs by default. For example, when a Thunderbolt input is connected, then all USB ports are to be switched over to the Thunderbolt device. Or maybe when HDMI is connected, the input goes over to the USB upstream port.
Because of this ability, a keyboard and a mouse can be connected to the monitor and the monitor itself can act as a KVM switch. These are very advanced features. and while it is not useful for me, it might be useful for many other use cases.
And let's not forget that since this monitor is humongous, it has PiP and PbP as well – and you can select from a variety of different preset sizes and positions.
Should you buy the Dell U4021QW?
We'll have to talk about the price first. RM6,809 is the price that you have to pay for this monitor. Yes, the price is hefty but I don't think this monitor is made specifically for home users. Well, you can – but many features will most probably be unused – like the Ethernet port and maybe the KVM feature in its entirety.
Thinking back, this Dell U4021QW seems like it has a whole Thunderbolt 3 dock shoved into a monitor – and that grants us USB 3 10Gb/s speeds through all the USB ports it has.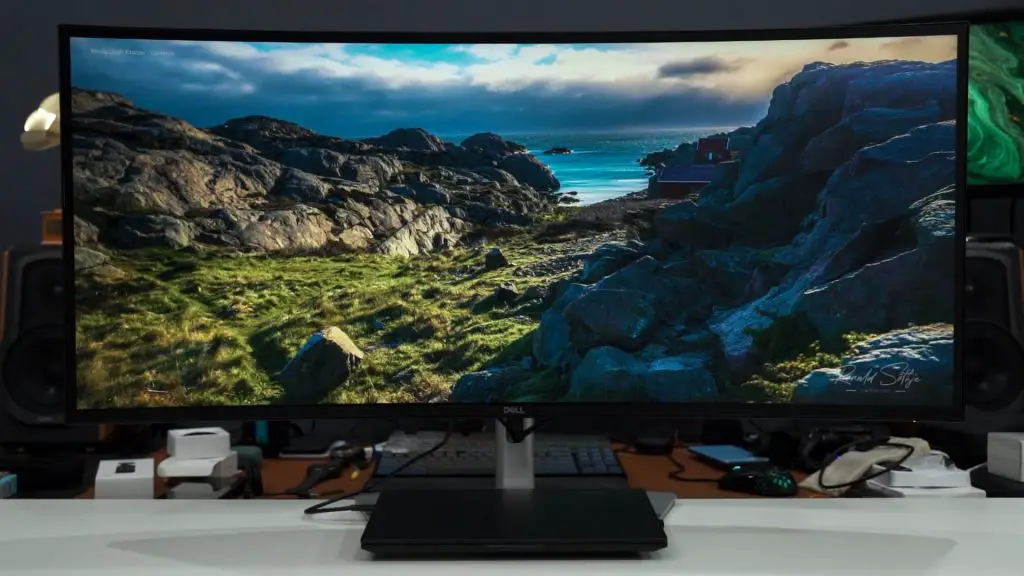 Overall, this is a niche monitor and there are lots of technical limitations like only DisplayPort 1.4 can use this monitor at its full resolution at 60Hz and only Thunderbolt 3 and above can run all its USB ports at 10Gb/s.
But, if you're already living at the absolute bleeding edge of technology and you want an ultrawide monitor to complement that, then the Dell U4021QW is the perfect monitor for you.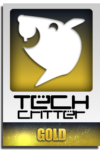 Where to buy? (Affiliate links)