Recently, Acer Malaysia announced a total of 7 new monitors to the Malaysian market. Two monitors caught my eye during the announcement – the new Acer ProSumer CB342CK and also the Acer Nitro XV340CKP. These two are very similar in specs – they're both flat 21:9 monitors with 1440p resolution. The main difference here is the refresh rate. The CB342CK is at 75Hz, whereas the XV340CKP is at 144Hz. So I bit the bullet and went for the XV340CKP instead.
I actually bought this monitor for myself, but I thought of doing this review just to share my thoughts and opinions of the new Acer Nitro XV340CKP with all of you.
So, a little backstory here. I've been using a Dell U2913WM, a 1080p ultra-wide monitor, for about 5 years or so. I can't go back to 16:9 because of the productivity value that it offers. I've been looking for a flat ultra-wide monitor with 1440p resolution for a while now, and Acer is the first one to bring it to market.
Specifications
Technical Information
Response Time
1ms
Horizontal Viewing Angle
178°
Vertical Viewing Angle
178°
Mount Type
100x100mm VESA Mount
Screen Size
86.4 cm (34″)
Display Screen Type
LED
Display Screen Technology
IPS
Backlight Technology
HDR10
Ergonomics
Height and pivot
Video
Maximum Resolution
3440×1440
Standard Refresh Rate
144Hz
Contrast Ratio
100,000,000:1
Brightness
250nits
Native Contrast Ratio
1000:1
Tearing Prevention Technology
G-Sync Compatible
Interfaces/Ports
HDMI
2
DisplayPort
2
USB 3.0 Ports
2
Audio Line Out
1
Warranty
Warranty
3 years On-Site Warranty
The Acer Nitro XV340CKP
The overall look of the Acer Nitro XV340CKP is rather simple for a gaming monitor. It's sleek and quite understated, actually. Another reason why I chose this monitor rather than the CB342CK is because of the black chin instead of a silver-colored one, which could be distracting.
Inside the box, we get these things. The DisplayPort cable came in a separate parcel:
User guide
Pack of screws
Monitor neck for the stand
Monitor base stand
Power cable
USB 3.0 Type-B uplink cable
HDMI cable
DisplayPort cable (not included in the box)
The installation process of the stand isn't tool-less as you'll still need a Philips screwdriver to screw the neck to the monitor itself. That's a bummer, but that also means the Acer Nitro XV340CKP is compatible with VESA mounts with 100x100mm mounts. Nice.
I should also point out that its base is a big dome-like circular structure. I mean, yeah – it's a bit big compared to my previous monitor's stand. It's also bulging out, which means I can't put stuff on top. That's quite a bummer.
In terms of ergonomics, Acer is pretty smart. The big dome base has a rotating plate underneath so that you can swivel around. It also has height adjustment and tilt as well – which are important ergonomic features to ensure the most comfortable position.
Ports
There is a wide selection of them. There are two HDMI ports and two DisplayPort ports, a single audio line-out jack, a USB 3.0 Type-B uplink port, and two more USB 3.0 Type-A ports. One of these ports – the one in yellow – is meant for charging other devices.
Coming from a monitor with more USB ports, I was initially worried about having fewer ports. But then again – this monitor has two USB 3.0 Type-A ports. Just get more USB 3.0 hubs and I'm good. So I did. I also got some velcro pads with double-sided tape to stick the USB hub behind the monitor, so it doesn't dangle below the monitor.
Another good thing is that the Acer Nitro XV340CKP uses an integrated power supply. I would rather have a thicker, heavier monitor than to deal with an external power supply for the monitor, honestly.
There's also a Kensington lock on the Acer Nitro XV340CKP, if you are going to use that.
Monitor on-screen display
The on-screen display, or OSD for short, is rather straightforward for the Acer Nitro XV340CKP. To access this menu, there are 5 buttons at the bottom right part of the monitor. Acer is very thoughtful in making these buttons as the power button is placed further than the rest, and has a nipple on it too.
The OSD has a bunch of typical features that we have shown in the video. There are a few particularly interesting gaming-centric features here.
Firstly, we have the black equalizer, which is called "Black Boost". There are a total of 10 levels to choose from – and  I just leave it at 5. Your mileage may vary, and you can always go back to the OSD menu and change the black boost level. Lowering the black levels obviously does provide better contrast.
This monitor also supports HDR, which I'm personally not a fan of. It does the job well, like this video right here. With extreme bright and dark areas together at the same time, the HDR feature on the Acer Nitro XV340CKP actually does a good job. It carries a warmer tone, though.
For gaming features, the Acer Nitro XV340CKP also has FreeSync. Acer has also stated that it is G-Sync compatible – so I tested. I used Witcher 3 with the HD reworked mod at the highest graphical settings, motion blur turned off and unlocked frame rate. I ran around town and hey – there's no screen tearing even though the GTX 1080 that I'm using (review here) while gaming at 144Hz.
This monitor also has a built-in FPS meter which can be enabled via the OSD. Another handy tool and it's good for troubleshooting if anything goes wrong. Another gaming-centric feature that many gamers might find useful is Aim Point – which adds a crosshair to the center of the screen. Talk about getting an unfair advantage, right?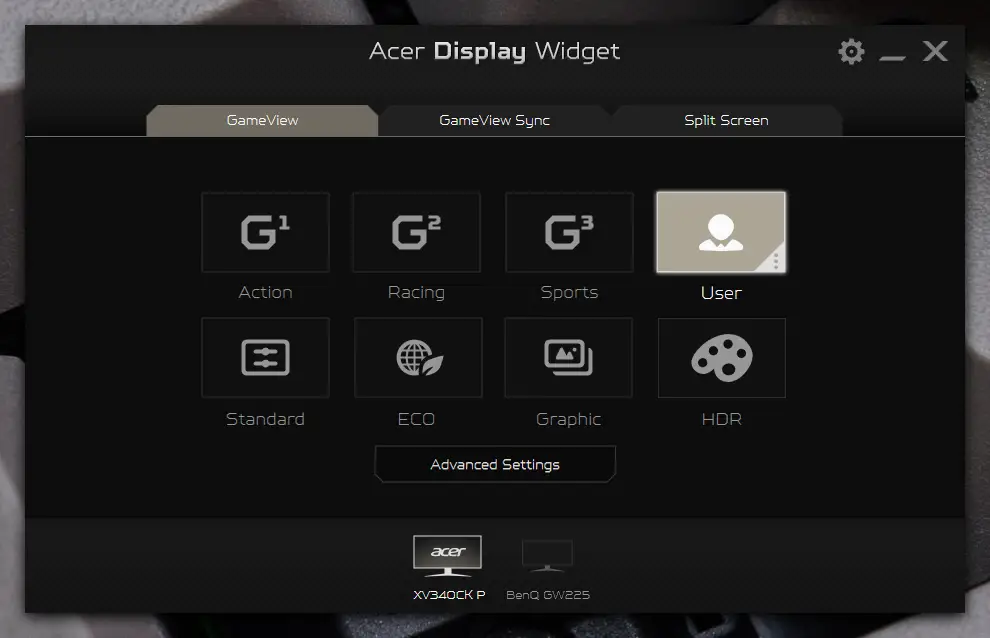 To help you take advantage of the ultra-wide screen estate, Acer also has a tool on Windows to communicate with the monitor's settings. Just enable the DDC/CI and install the Acer Display Widget app and you can tune your monitor's settings without touching the OSD or the monitor itself.
This Acer Display Widget also has window size management so that you can quickly snap your windows in place.
User experience
Immediately after plugging in, I realized that there's an auto source function built into the monitor. So, regardless of which port you plug it in to, the monitor will cycle through all the ports and detect which port is plugged in. It's always the little details that make it a great experience.
The Acer Nitro XV340CKP with its massive, 34-inch, 21:9 monitor with 3440×1440 pixels in resolution and 144Hz refresh rate plus 1ms response time is blissful to use. I used this monitor to do everything. Video and photo editing, web browsing, YouTube, Netflix, you name it. The color accuracy on the Acer Nitro XV340CKP is great with the settings that I have here.
Backlight bleeding is also kept to a minimum and only appears on the top left and bottom right corners. I have to turn off the lights and view a purely black image on the screen, then start to pixel-peep to find the backlight bleed. The IPS glow however, is as expected.
I mean, we're dealing with an extreme situation here. Throughout my time of using the Acer Nitro XV340CKP thus far, it's safe to say that the IPS glow and backlight bleed are unnoticeable.
To test the response time, I used the UFO test. There are lots of tools and so far, I don't notice any trailing or ghosting effects. Even the "G-Sync compatible FreeSync" works well as there is no screen tearing.
My only complaint here is not even Acer's fault, but Windows. I have this multi-monitor setup – the Acer Nitro XV340CKP is connected via DisplayPort 1.4 and the other monitor is using DVI. Whenever the display goes to sleep and wakes up, all of my window arrangement and size goes haywire. That's because Windows "detects" the monitor each time as though I just plugged it in – which is ridiculously annoying.
Wrapping up the Acer Nitro XV340CKP review
Let's take a step back. There is wrong with the Acer Nitro XV340CKP as it gets everything kinda right. The included monitor stand does provide good ergonomics but I am kind of disappointed by the large dome-shaped base. I can't put anything on the base without my things sliding off – but I can get a monitor stand to fix that issue.
Overall features on the Acer Nitro XV340CKP is kind of expected. I do like the fact that this monitor has FreeSync support with G-Sync compatibility, which in turn saved us a lot of money.
The overall color accuracy on the monitor is also good. I've done many photo and video editing on this monitor and I'm happy to report that its colors are at a satisfactory level.
For the price of RM1,999, this Acer Nitro XV340CKP is a monitor that I'll recommend for those who want a flat 21:9 monitor with 1440p resolution, 144Hz refresh rate with 1ms response time. It does what it promises to do and performs very well.