ALSEYE is a brand that we've recently come across by coincidence and the H120D we're reviewing today is brought to us by a very close friend from his recent curious purchase. We did a quick search on the company's product page and it shows that the H120D is one of the products from its HALO series air cooler lineup, which we believe to have gotten its name from the halo ring RGB lighting on the fan itself.
The price of the cooler at RM129 is what caught our attention, rather than the 6 heatpipes design which was supposed to be the selling point of the cooler. The specs might seem to be a bit too much (too good to be true) for a budget cooler at this price, but will it be able to blow our mind with its performance as well?
Specifications
| | |
| --- | --- |
| Product Dimensions | 123x154x106 mm |
| Heatsink Dimensions | 154x123x58 mm |
| Heatsink Weight | 518 g |
| Heat pipe | Ø6 mm×6 pcs |
| Fan Dimensions1 | 120x120x25 mm |
| Fan Rated Voltage | DC 12V |
| Fan Rated Current | 0.15~0.3 A |
| Fan Speed±10% | 800-2000 R.P.M. |
| Fan Airflow | ≤18.3~≤45.2 CFM |
| Fan Air Pressure | 0.41~2.14 mm/H2O±10% |
| Fan Noise | 24.1~35.5 dB(A) |
| Fan Connector | 4-pin(PWM) |
| Bearing Type | Rifle |
| Fan MTTF | 40,000hours |
Unboxing
ALSEYE kept things very simple and straight forward on the packaging design, but I do want to point out that some of the points there doesn't really make any sense, i.e innovative design and bright black texture, and the ALSEYE S-RGB.
At the back of the box, we can see that the 6 heatpipes design is what ALSEYE wanted to highlight the most for this cooler. It's unclear how much can the H120D handle with its 6 heatpipes, but we can see that it is compatible with Intel LGA775/115x/1366/2011 socket and AMD FM1/FM2/AM2/AM2+/AM3/AM3+/AM4 socket.
The ALSEYE H120D CPU Cooler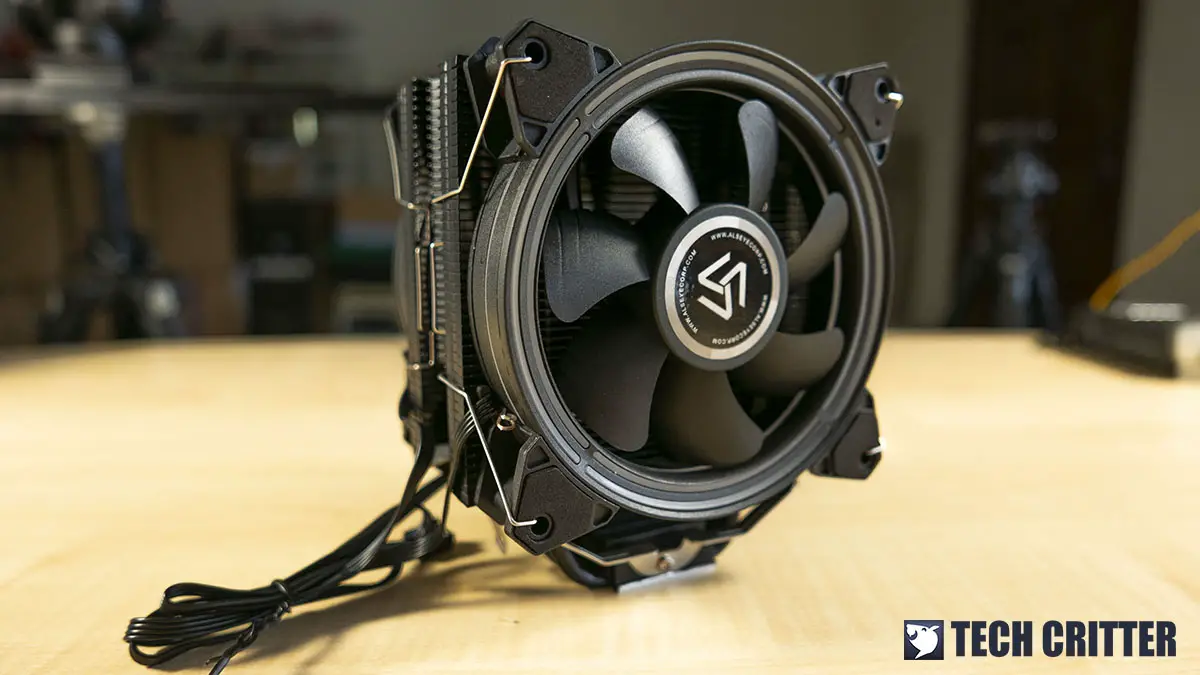 Design-wise, the H120D is a really good looking single tower CPU cooler that comes in a full matte black design. It comes included with pair of 120mm RGB fans for a push-pull setup on the heatsink, a very common approach used by many brands.
The fans are held to the heatsink using these metal fan clips, one that I personally liked the most. There are many kinds of metal fan clips out there but this design is my personal favorite mainly because it's very easy to install and remove.
The 6 Copper heatpipes is one of the highlighted features of the H120D, but I couldn't find any accurate information on the TDP of the cooler itself even after going through the official product page. Browsing through the internet doesn't really help much though, as I can see different websites showing different TDP ranging from 150W to 220W.
The included 120mm RGB fans remind me of the RGB fans on the Thermaltake Floe Riing 360 but with more RGB on it. You'll find these anti-vibration pads on each corner of the fan to reduce the chances of noise being produced due to vibration.
From the design, you can immediately tell that the cooler is AMD-ready right out of the box. It utilizes a push to loc/release locking mechanism that is very similar to the one on the AMD Wraith Prism cooler, which is fairly easy to install on an AMD motherboard.
If you're not using it on an AMD platform, ALSEYE also included a mounting bracket that allows you to install the H120D on an Intel motherboard. Interestingly, the included bracket doesn't come with any screws nor backplate for you the secure bracket to the motherboard but instead, the push pins design similar to an Intel stock cooler. Looking at the design so far, our main concern is the individual insert pins which I find difficult to remove once the cooler is installed – maintenance is going to be a pain in the future.
Moving on to the installation, I realize that installing the H120D on an Intel motherboard is surprisingly difficult. Unlike the preinstalled brackets on an AMD motherboard, there is some clearance issue on the top VRM heatsink area with the custom bracket for some Intel motherboards.
Installing the H120D is a pain for Intel motherboards but once you're done with it, you will have an RGBfied CPU cooler ready for your system. At first glance, we can say that the RGB lighting on the fan is bright and vibrant enough to meet the demand of those who cannot live without RGB lightings. The only downside here the lack of RGB headers on the fans, meaning that the RGB lighting on these fans will run on its own and cannot be controlled by any means.
Test System Setup
The test is done using the following setup under an ambient temperature of 30°C, and CPU stressed with RealBench, 3 sets of tests, each at a duration of 1 hour and utilizes as much memory as possible.
| | |
| --- | --- |
| CPU | Intel Core i7-8700K |
| Motherboard | ASUS ROG Maximus X Apex |
| Memory | G.Skill Trident Z Royal 16GB @3600MHz |
| Graphics Card | Gigabyte GeForce GTX 1050 D5 2G |
| Power Supply | Enermax MaxTytan 1250W |
| Primary Storage | Kingston KC2000 1TB |
| Secondary Storage | WD Black 6TB |
| CPU Cooler | Various CPU Coolers |
| Chassis | Cooler Master Test Bench V1 |
| Operating System | Windows 10 64bit |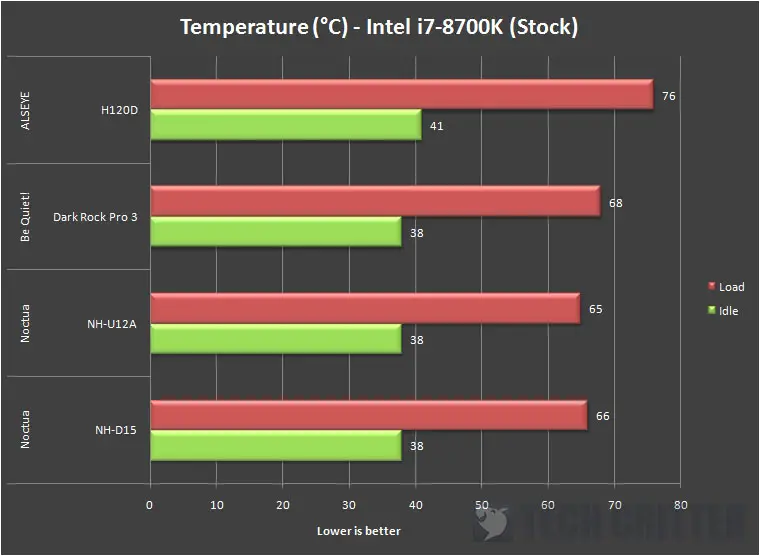 While running at its default clock speed, the Intel Core i7-8700K will boost up to 4.7GHz on a 100% load, which is the baseline for our thermal test for this CPU. Compared to some of the best air coolers we have, the ALSEYE H120D is just enough to keep the load temperature at 76°C. Honestly, this is not exactly the kind of temperature that I'm expecting from this cooler?
The CPU clock is then bumped up to 5.0GHz so we can see how well can it handle the heat. Looking at the result, we can see that the ALSEYE H120D is really struggling with our Intel Core i7-8700K at 5.0GHz. Despite having a total number of 6 heatpipes, the performance is nowhere close to what we've initially expected. But then again, we have to keep in mind that the H120D is a budget cooler that is like 1/4 the cost of the high-end coolers we've used for this test.
Final Thoughts
The ALSEYE H120D is a really good looking CPU cooler without a doubt, a great CPU cooler for display if you're on a tight budget. For those of you who are building a budget system and still want the RGB lighting without breaking the bank, this is probably one of the best CPU cooler for that purpose. The RGB lighting can't be controlled by any means, but it's bright and vibrant enough to put on a good show and impress your friends if they too, like RGB lightings.
Other than that, you can't expect too much from this cooler, really. It's basically a CPU cooler that is designed for mid-end or lower-end CPU that doesn't give a lot of heat like the Intel Core i7-8700K that we're using for this test. At the price of RM129, you can't really complain much on its performance. It will get the job done as a CPU cooler as long as you don't push it too hard, like what we did with our Intel Core i7-8700K.
Pros
Good aesthetics
Good RAM clearance
Very easy to install on AMD motherboard
Very affordable
Cons
RGB lightings cannot be controlled
Performance is underwhelming
Difficult to install on Intel motherboard