Palit has been on its JetStream and Super JetStream cards with the all familiar red-black, silver-black and gold-black accents for years and they have finally decided to come up with new branding this year, the GameRock series. A new white-blue accent has been added to its new cooler design and it's specially designed for enthusiast gamers who desire to have the ultimate gaming experience.Special thanks to Palit for the provision of the GeForce GTX 1080 GameRock Premium Edition for today's review and with no further ado, let's proceed with the review!
(The Palit GeForce GTX 1080 GameRock will be available in both Standard Edition at RM2998 and Premium Edition at RM3280)
Specifications
Graphics Processing
GeForce GTX 1080
Core Clock
Boost: 1885 MHz / Base: 1756 MHz ( with 2560 CUDA Cores)
Memory Clock
10500 MHz
Process Technology
16 nm
Memory Size
8 GB
Memory Bus
256 bit
Card Bus
PCI-E 3.0 x 16
Memory Type
GDDR5X
DirectX
12
OpenGL
4.5
PCB Form
ATX
Digital max resolution
7680×4320 (requires 2*DP1.3 connectors)
Analog max resolution
4096×2160
Multi-view
4
Output
Dual-link DVI-D *1
HDMI-2.0b*1 (Max Resolution: 4096×2160 @60 Hz)
Display Port-1.4 *3 (Max Resolution: 7680×4320 @60 Hz)
Recommended PSU
500W
Power Connectors
8 pin*1
Card size
H=58 L=285 W=133 mm
Unboxing
The Palit GameRock logo design reminds us of the renown rhythm game 'Guitar Hero' but just to make things clear, the GameRock is Palit's latest graphics card lineup meant for the gamers and it has nothing to do with the Guitar Hero we know.
Prominent features of the graphics card can be found under the front lid.
Inside the box, you'll find the Palit GeForce GTX 1080 GameRock graphics card, a 2 x 6-pin PCIe to 8-pin PCIe adapter, drivers CD and a Quick Installation Guide.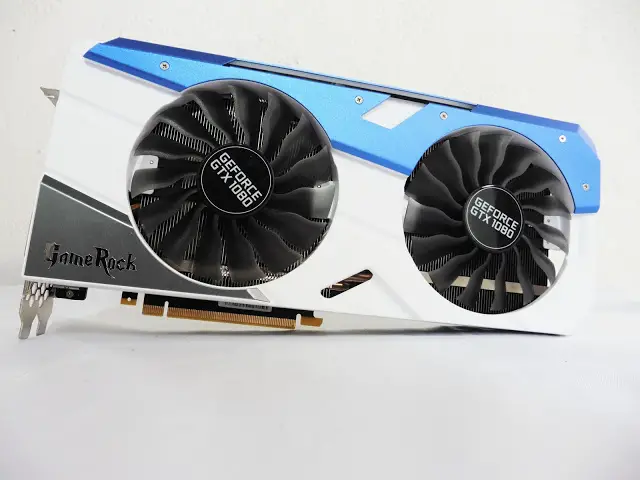 The GTX 1080 GameRock comes available in both standard and premium editions that with a higher Base Clock, Boost Clock, and Memory Clock. The standard edition comes with a lower Base Clock of 1645MHz, Boost Clock of 1784MHz and Memory Clock of 10000MHz. Those who prefers higher GPU Clock and Memory Clock can opt for the premium edition with some top-up for Base Clock of 1746MHz, Boost Clock of 1885MHz and Memory Clock of 10500MHz.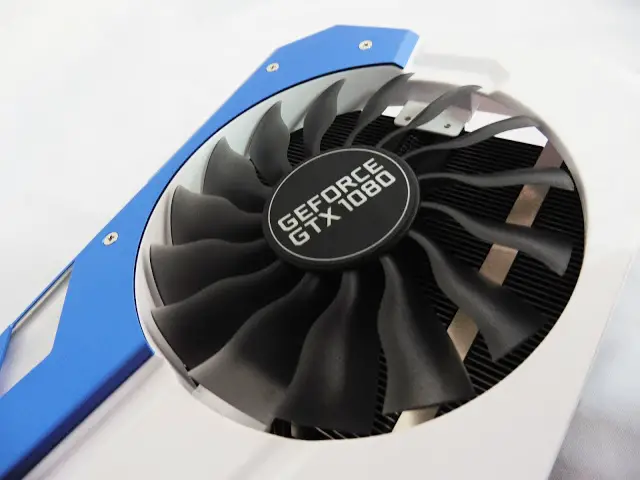 The cooling fans used is the TurboFan Blade which Palit claims to generate powerful air streams and pressure to improve cooling performance compared to NVIDIA's reference design. However, the cooling fans don't light up like any of Palit's previous graphics cards.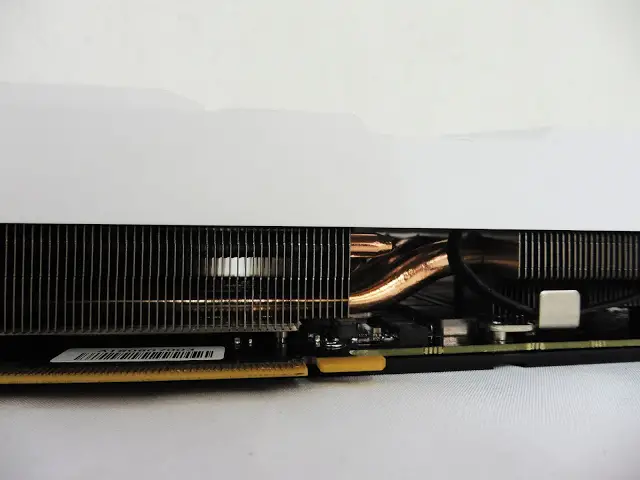 The GameRock series graphics card is given an ultra-thick heatsink with a copper base to handle the heat from the GPU, mainly for its GTX 1080. The cooler itself is more than enough to tame the heat from this GTX 1080 which has a slightly higher TDP of 200W compared to the GTX 1080 Founders Edition with a TDP of 180W.
The shroud has a built-in RGB LED that changes color according to the GPU temperature on default and may be customized with the ThunderMaster software with up to a total of 16.8 million colors that suits your rig and its theme.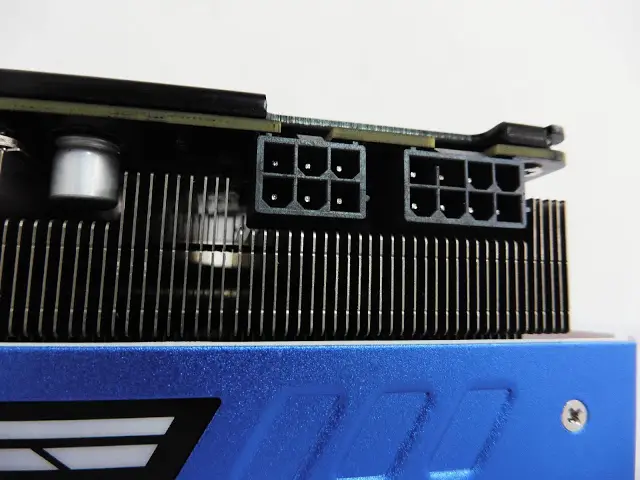 While both the GTX 1070 and GTX 1080 Founders Edition now runs only on a single 8-pin PCIe power and PSU requirement as low as 500W, AIB partner's offer will usually comes with extra. The GTX 1080 GameRock Premium Edition appears to be a more powerful one with 8+2 power phase design compared to the 5+1 power phase design on the Founders Edition, but the power requirement has gone up from a single 8-pin to 6+8pin PCIe connector.
The GTX 1080 GameRock Premium Edition comes with a metal backplate with brushed metal finish and GameRock logo printed on. Like any metal backplate you've ever seen, the metal backplate here does pretty much the same by enhancing the overall rigidity of the card to prevent PCB sagging that usually occurs on graphic cards with a large heat sink.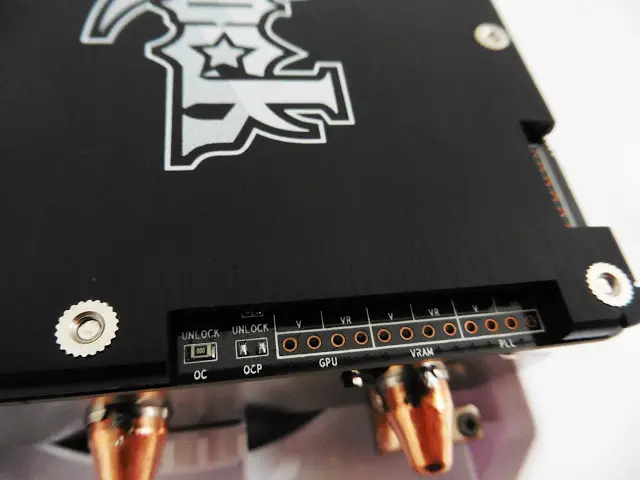 There are also features that support the overclocking elites, where extra modification can be done to achieve better results in benchmark scores.
The dip switch located at the back of the graphics card is Palit's playing safe feature which allows you to toggle between the 2 BIOS available. BIOS 1 is Palit's overclocked version for higher GPU Clock and Memory Clock while BIOS 2 is what appears to be the BIOS for the Founders Edition card as the GPU Clock and Memory Clock observed is identical to the GTX 1080 Founders Edition. If you're a power user in mind and plan to flash the GPU with a much powerful BIOS, you can backup the BIOS via Palit ThunderMaster software as a safety measure in case if you still need the original BIOS.
SLI fingers are still available on the card, but as NVIDIA discourages any setup beyond 2-way SLI. NVIDIA and its partners have released a new SLI bridge that is supposed to support only 2-way SLI and improved performance compared to the older version of SLI bridge that used to come along as an accessory with motherboards.
The display output option is pretty common nowadays, 1 x DVI-I connector, 3 x DisplayPort and 1 x HDMI port.
Performance Test
Test Rig Configuration

CPU Cooler
Raijintek Triton 240
CPU
Intel Core i7 4790K @4.6GHz
Motherboard
ASUS Maximus Hero VII
Memory
G.Skill TridentX 2400MHz
Primary Hard Drive
Crucial M500 120GB
Power Supply
Be Quiet! Straight Power 10 600W
Chassis
Vector Bench case
We mounted the GeForce GTX 1080 GameRock Premium Edition on our test bench as above and each and every benchmark is conducted in a room of about 30C° ambient temperature.
Performance
We ran a few graphically demanding games and synthetic benchmarks in our possession on a selected settings at 1080p, which is considered as high for much of our test as usual.The final result of each benchmark is presented in the form of the graph below: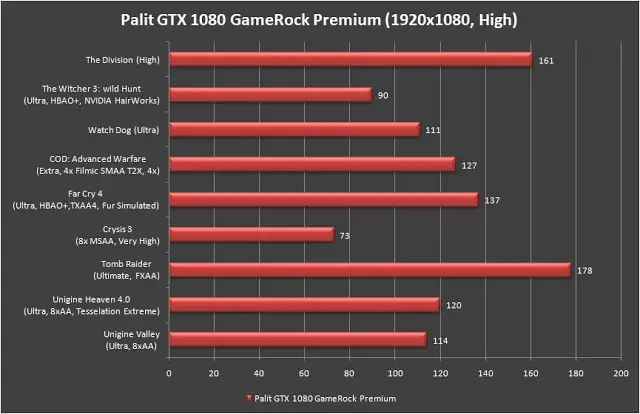 Performance Comparison With NVIDIA GeForce GTX 1080 Founders Edition
We've done a performance comparison with a Founders Edition of the GeForce GTX 1080 and the result of the clash between the two beast of a card is as following: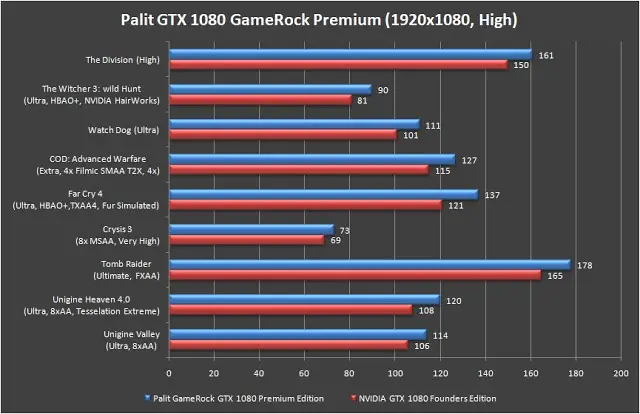 Overclocking
We ran the same graphically demanding games and synthetic benchmark on 1080p with the highest achievable clock speed for both its memory and GPU that is stable enough to be able to complete each benchmark with the following values:
77MHz raise on the GPU core clock
584MHz raise on the memory clock
Extra 20% gain on the power
That isn't much due to the card has been highly overclocked by Palit, but we managed to hit a beefy 2108MHz GPU clock speed on boost during our benchmark session.
Performance Comparison With NVIDIA GeForce GTX 1080 Founders Edition
We've done a performance comparison with a Founders Edition of the GeForce GTX 1080, both overclocked and we're seeing a quite near results as following:
Temperature
Temperature wise, the GameRock cooler is doing its job very well as we've observed a very decent temperature record of 45°C during idle and 72°C on load while running on default clock speed when the card is stressed with the FurMark burn-in test for an hour. Bumping up the GPU core clock with an extra 77MHz results in slightly higher temperature of 74°C for the FurMark burn-in test.
Verdict
Performance wise, the Palit GeForce GTX 1080 GameRock Premium Edition is no doubt one of the most powerful GTX 1080 around based on its out of the box performance.  It can easily overpower the GTX 1080 Founders Edition without needing to overclock the card. While you can overclock it to squeeze for more performance, its overclocking headroom appears to be limited to 77MHz at most. Still, the effective boost clock recorded are very close to an overclocked GTX 1080 Founders Edition with extra 248MHz boost.The cooling performance with the GameRock series graphics card cooler is just awesome, with the temperature topped only at 72°C on default clock and 74°C after overclocked. An even better performance can be achieved with the fans running at 100% without sacrificing too much of its acoustic performance, all thanks to its TurboFan design and ultra-thick heat sink.
Down to the prize, both Palit GeForce GTX 1080 GameRock Standard Edition and Premium Edition comes at the price of RM2998 and RM3280 respectively. It's not really a friendly price to begin with but if we were to compare it with all custom GTX 1080 in the market, Palit is probably one of the few brands with the best deal around – it has a way better performance and it's few hundred bucks cheaper than a Founders Edition card at RM3399.
Pros
Combination of both aesthetics and solid build quality
Easily overpowering both GTX 980Ti and GTX Titan X
Dual BIOS feature allows user to play safe with custom BIOS
Good overclocking headroom on BIOS 2
One of the best performing and most affordable GTX 1080 in the market
Cons
BIOS 1 has limited overclocking headroom due to its already high GPU Clock and Memory Clock
Not easy to match with themed build that is not white and blue
It takes up to 2.5 slot, which is not an ideal choice for SLI if you're using a mATX form factor motherboard
ThunderMaster software GUI needs some improvement – the blue is overwhelming