Monitors. We all need one for desktops, and we all need one more if we already have one – so that we can see more and do more.
In today's review, we're talking about a monitor by Dell – this is the P2721Q. A 27-inch IPS LCD with 4K in resolution, 60Hz refresh rate, has a plethora of inputs including USB-C, and it is compatible with a soundbar.
First thing's first – we need to talk about the unboxing experience and setup time. From opening up the box and getting it all set up and displaying whatever's on my PC, it takes less than 5 minutes in total.
Let's go through the process. We first open up the lid and we have a tray of all the accessories and cables. Removing the tray, we can see all the 3 parts of the monitor are laid out separately – the base, the neck, and the display itself.
I mean, it's not easy to show you the installation process with words and descriptions – so I suggest you watch the video at the top of this review instead.
To install everything together, first – take out the base and there's a screw underneath. Then, take out the neck of the stand and attach both the base and the neck together – then twist that thumbscrew to secure them together.
I gotta praise Dell for making the installation process quick, easy, and also don't require any screwdrivers to install.
But if you don't want to use the included stand, the Dell P2721Q has VESA mount support as well.
Back to the display – this Dell P2721Q is a monitor that is pretty standard in terms of specs. It is a 27-inch IPS LCD screen with 16:9 in aspect ratio and 4K in resolution – also known as 2160p – and caps at 60Hz refresh rate.
In terms of display inputs, the Dell P2721Q has quite a lot of selections. We got a full-sized HDMI port, a DisplayPort, USB-C port.
What's special about this monitor is the USB-C. By just one single cable, we can get display, all the USB ports on the monitor working, and also charge your device.
Best of all, this USB-C port can output a total of 65W in power – and it can charge your laptop or phone too.
Even all of the for USB ports on this monitor just work.
When we plugged it in, everything worked and I was surprised by its quality. I mean, I used a Dell monitor before and I expect nothing less from their monitors.
But, the Dell P2721Q monitor isn't advertised to be color-accurate or "professional grade" or whatever, but I'm still curious about its color accuracy because it looks good to my eyes.
So, at its default out-of-the-box settings, the Dell P2721Q can indeed go beyond 300 nits of brightness and for color accuracy, it covers about 97.56% of the sRGB color gamut, and has a very low average Delta E. This means that despite the P2721Q is not a "professional grade" monitor, it can still provide some amazing colors.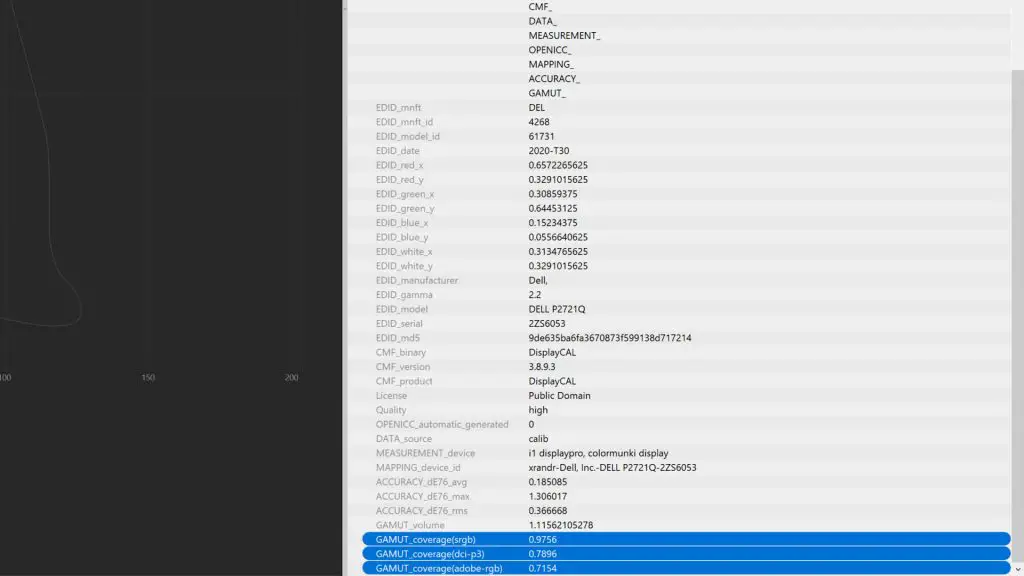 And of course, you can head into the OSD menu and tune the colors further if you want to do so. The OSD menu is laid out cleanly and navigation is natural. Overall, I love what Dell did with this OSD menu.
There's also DDC/CI feature that goes hand-in-hand with the Dell Display Manager software – so you can adjust the screen's brightness without actually touching the screen.
But, there's one more accessory that I want to show you guys. This is an optional purchase – the "Slim Soundbar". Well, it technically is a soundbar – just not what we expected it to be.
What Dell made here is rather funky solution for the soundbar. This Slim Soundbar is only "compatible" with 4 different Dell monitors – including the P2721Q. That is because these monitors have magnets under the display so that the Slim Soundbar can just snap into place.
But, it still needs to be connected to the monitor via a USB Type-A cable. I mean… Dell could've done better by implementing pogo pins that are instantly connected when attaching it to the monitor magnetically. That will be much more elegant and I don't have to sacrifice a USB port for this little soundbar.
And from the specs sheet, this Slim Soundbar has 3.6W RMS speakers that can output 180Hz to 20kHz sound frequency. Actually, perfect for vocals – which means perfect for meetings but not so much for music and movies.
With that said, maybe Dell can also add a webcam and microphone into the monitor to make it the best monitor for meetings.
Better yet, make everything magnetic and snaps onto the monitor so that it can be sold as optional accessories and also has a high level of modularity in case anything breaks or in need of an upgrade.
As it stands now, the Slim Soundbar is just there but I'm not sure if I can recommend anyone to actually buy it.
Should you buy the Dell P2721Q monitor?
And now – the price. The Dell P2721Q monitor is priced at RM1,779. Slightly high in terms of price but for what it has to offer – it's a fair price. The Dell quality on monitors is outstanding.
The Slim Soundbar?
As for the Slim Soundbar though… I find it difficult to recommend – especially with its RM209 price tag. It's sleek – sure, but if you can live with another wired earphone dangling out of your laptop or desktop – then it's for the better.
Again, Dell – having pogo pins so that any accessories can just snap on and work instantly will be fantastic. Also, perhaps expanding the ecosystem of compatible accessories will be even better.
Where to buy? (Affiliate links)