Coming from DDR4 memory since 2014, DDR5 offers a handful of upgrades such as increased capacity per DIMM, higher memory bandwidth, higher memory frequency, and lower operating voltage. We have our sweet time with some nice DDR5 memory kits while exploring the memory overclocking capabilities of the 12th Gen Intel Core processors and today, we take a quick look at another DDR5 memory kit, the Patriot Signature Line DDR5 UDIMM 16GB Single Kit.
Since the Patriot Signature Line DDR5 we have is a single kit module, we'll take this opportunity to collect some data to see how well will a single kit DDR5 memory perform in games compared to a DDR4 memory kit. So if you're curious to see if a single stick DDR5 that is shown to be dual-channel in CPU-Z can hold up against a pair of DDR4 memory kits, this is the content for you.
Specifications
| | | | | | |
| --- | --- | --- | --- | --- | --- |
| Part Number | Capacity | Frequency | CL | Voltage | Downloads |
| PSD532G48002 | 32GB (1x32GB) | 4800MHz | CL40 | 1.1v | Info |
| PSD532G4800K | 32GB (2x16GB) | 4800MHz | CL40 | 1.1v | Info |
| PSD516G48002 | 16GB (1x16GB) | 4800MHz | CL40 | 1.1v | Info |
| PSD58G480041 | 8GB 91x8GB) | 4800MHz | CL40 | 1.1v | Info |
Overview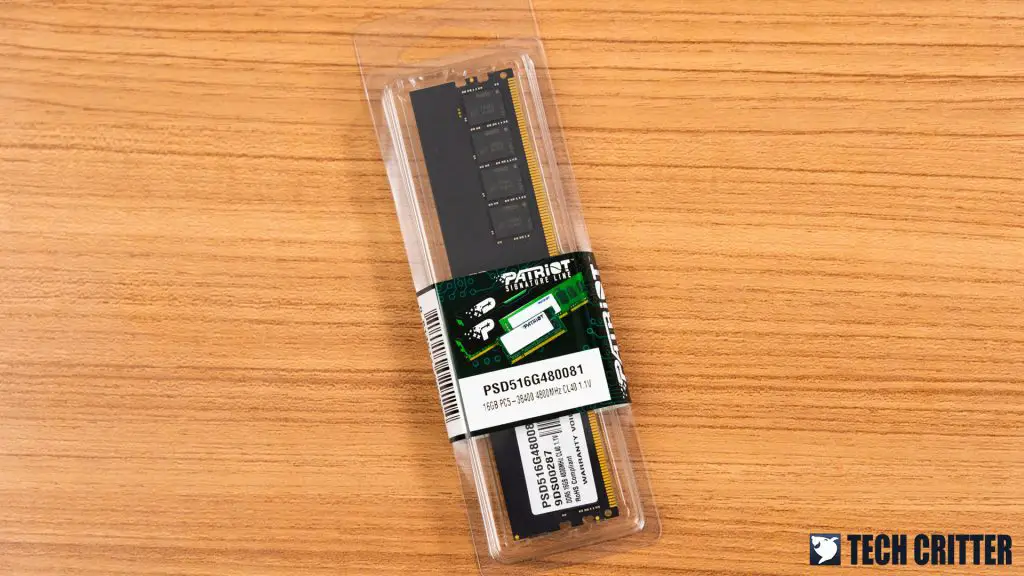 The Signature Line DDR5 is the value RAM variant of DDR5 memory from Patriot, featuring a memory frequency of DDR5-4800, a capacity of up to 32GB that is available in a single kit or kit of two. Unlike the gaming DDR5 memory kits with fancy heatsink, RGB lighting, and XMP profile, the Signature Line DDR5 has none of those. Though you can still overclock it to a certain extent, depending on the memory ICs used.
Upon closer inspection, we can see that the Signature Line DDR5 we have here are using the memory ICs from Micron. Based on our past experience, the earlier Micron ICs work just fine for most use cases but aren't exactly pleasant when it comes to memory overclocking. Compared to Samsung and Hynix ICs that can go up to DDR5-6000+ with ease, we're only able to get DDR5-5400 in our previous tests on DDR5 memory kit with Micron ICs.
Test System
We've done some quick games benchmarks and overclocking tests with the Patriot Signature Line DDR5 using the following list of hardware just so we can see what the Patriot Signature Line DDR5 is capable of:
Overclock Test
For the simple overclocking test, we managed to push the Patriot Signature Line DDR5 to DDR5-5400 but after not being able to get it stable enough for the TM5 stress test and some games' benchmarks after various attempts. In the end, we settled down at DDR5-5200 CL36-39-36-52 2T, which is stable enough to pass the TM5 stress test and some games benchmark.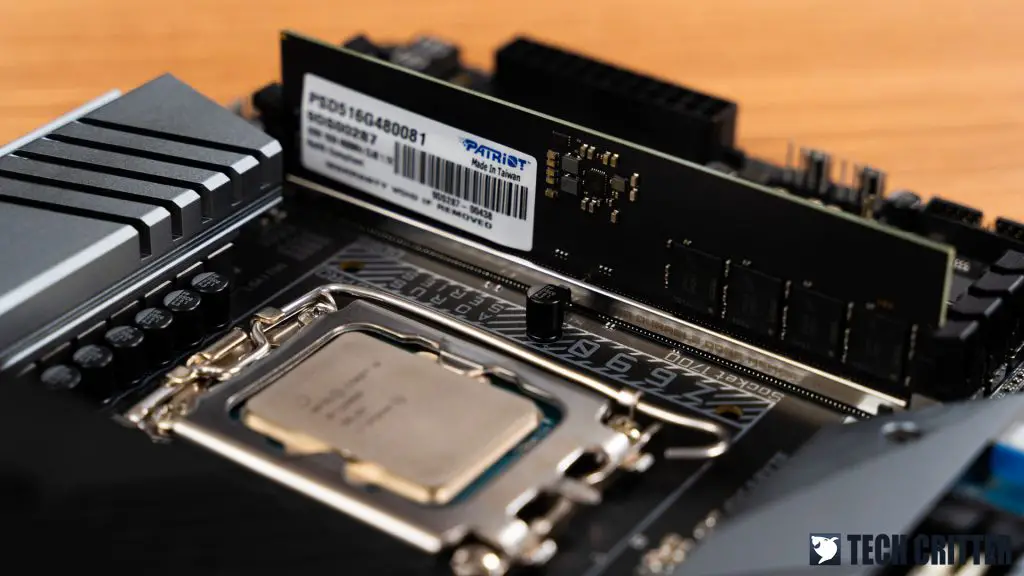 Memory chips aside, the PMIC on DDR5 memory also requires sufficient cooling in order to maintain stability while operating on high clock speeds but for most generic memory kit that doesn't come with a heatsink, it will run just fine. A little increase in the frequency to DDR5-5200 with about 1.3V± on the VDD is reasonable and the temperature will stay at around 56-58C°.
There's not much we can do with the Patriot Signature Line DDR5 on memory overclocking at the moment but that's mainly because of the limitation of the Micron ICs. So if you're looking for a reasonable non-XMP DDR5 memory kit for overclocking purposes, you'll want to avoid any kit that uses Micron ICs.
Game Performance Test
Moving on to the game performance test, we have compiled some data using the Patriot Signature Line DDR5, Kingston Fury DDR5-5200, aNd XPG SPECTRIX D50 Xtreme DDR4-4800 for easier comparison: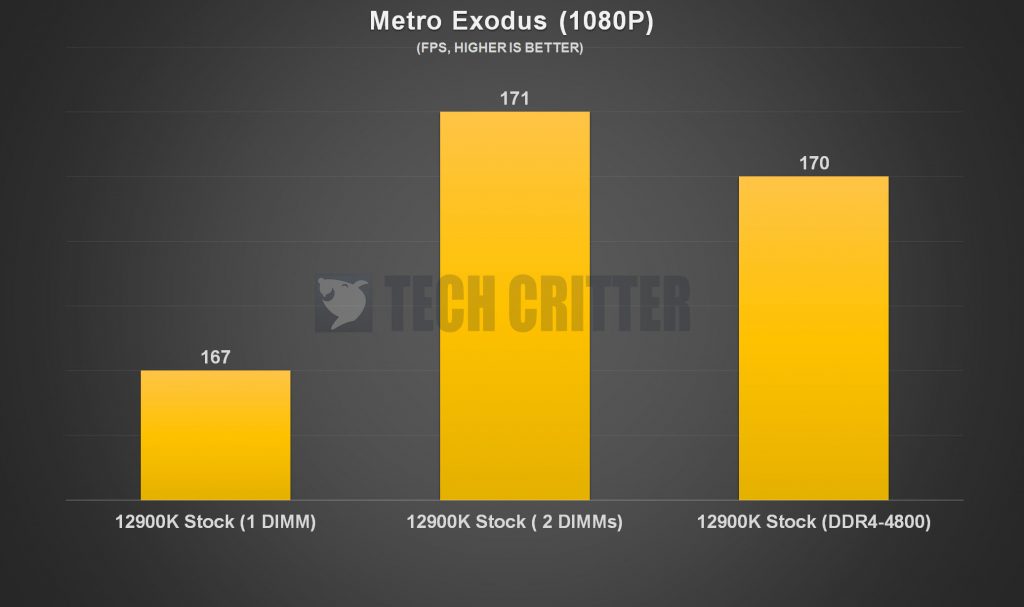 While a single DDR5 stick might have been identified as dual-channel on CPU-Z or programs that have similar functionality, it's not really the dual-channel configuration like what we've seen on DDR4. From the game benchmarks results above, we can see that the single DDR5 stick is always behind our two DIMMs configuration even though it has been overclocked to DDR5-5200. For games that can take advantage of DDR5, you'll see a notable performance increase over DDR4 but that's only when you're on a two DIMMs configuration.
So unless you're in a tight spot for an upgrade, a proper two DIMMs dual-channel configuration is always recommended for better overall performance regardless of DDR4 or DDR5.
Verdict
For most common use cases such as light gaming, and web browsing, it will work just fine as a DDR5 memory module for your new 12th Gen Intel Core processor system but that's pretty much it. As far as overclocking goes, the Patriot Signature Line DDR5 we have here comes with Micron ICs that are not really suitable for this purpose.  You might be able to get a reasonable clock at DDR5-5600 with a good kit but anything higher is almost unseen at the moment. We are unsure if Patriot will release any newer Signature Line DDR5 with Hynix ICs but you can easily spot one if they do because of the transparent hard plastic packaging.
Some might argue that why manufacturers still release their memory module in single kit form in 2022 but that fact that if we look at systems that are made only for light usage i.e digital signage, kiosk for events, or even office PC that only requires a usable memory, a single kit pack is still pretty relevant in the market. As for systems that are specifically built for gaming or creative works, the PSD532G4800K variant that comes in a kit of two (2x16GB) is what you should be looking for instead.