With both Intel and AMD now supporting DDR5 memory, users on both platforms get to take advantage of the new memory. That's somewhat true if you're using a desktop PC that comes with 32GB worth of DDR5 memory as we can see a handful of gaming laptops that are given 16GB DDR5 memory instead of 32GB. But then again, is there really any significant performance improvement in going from 16GB to 32GB?
Well, we put that to the test some time ago, using the KCP548SS8K2-32 from Kingston which we put to test against the stock DDR5 memory that comes with the ASUS ROG Flow X16. So, here are the findings from our test for you to see if it's worth investing in a bit more DDR5 memory for your gaming laptop, or not.
Specifications
| | |
| --- | --- |
| Model | KCP Series KCP548SS8K2-32 |
| Module Type | SO-DIMM |
| Error Check | Non-ECC |
| CAS Latency | CL40 |
| Pins | 262 |
| Operating Temperature | 0°C to 85°C |
| Data Rate | 4800MT/s |
| DRAM Density | 16Gbit |
| Operating Voltage | 1.1V |
| Memory Depth | 2G |
| Data Width | X64 |
| Chip Organization | X8 |
Compatibility Check
Before making a purchase, it's best to do a compatibility check just to make sure your system can support the memory kit you wanted to get for the upgrade even though Kingston memory is known to be compatible with the majority of the system out there.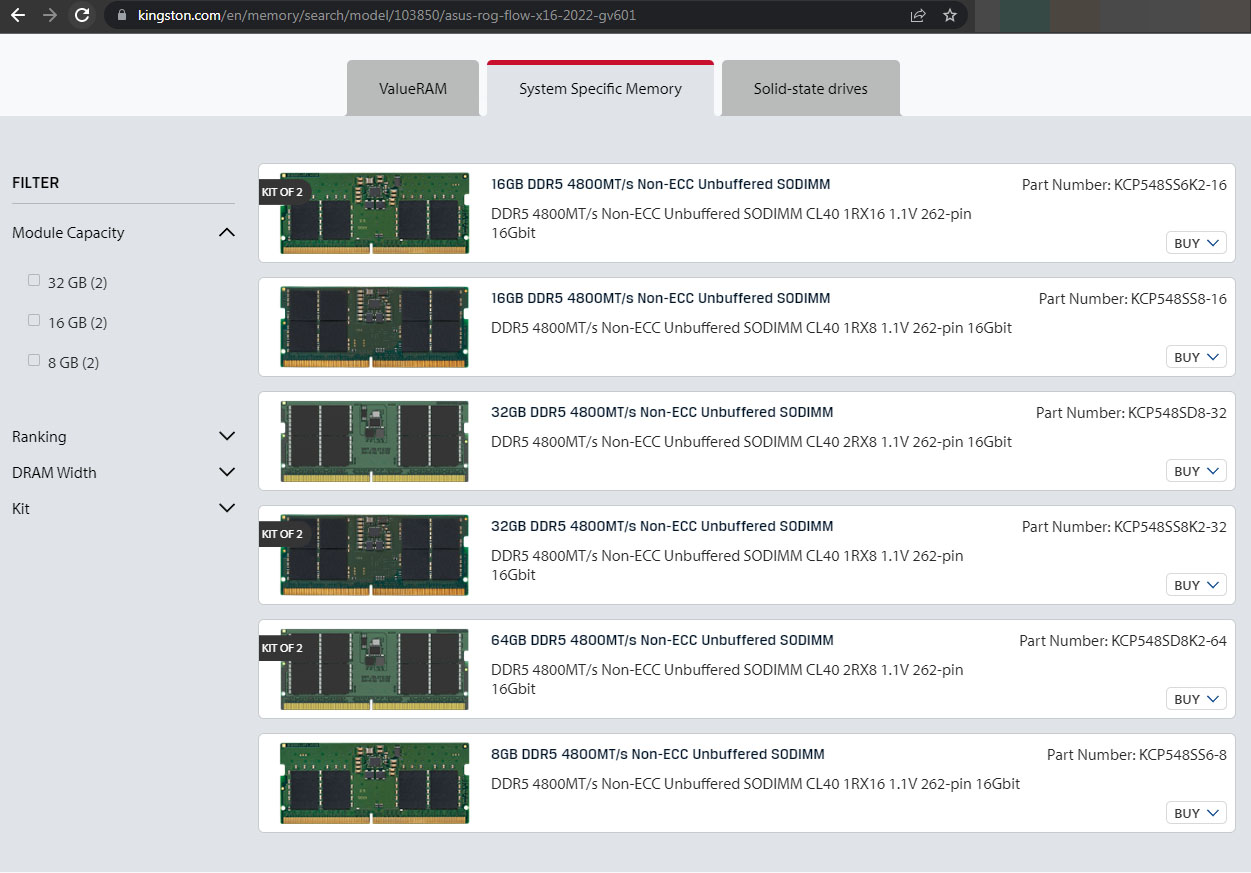 For our case, we did a quick check on their website and we manage to find the model of the ROG Flow X16 we're using for this test. With the KCP548SS8K2-32 on the list, we can confirm that it will work just fine with the ROG Flow X16 we're using for this test.
The installation is fairly simple and since we have both the SO-DIMM slots occupied by the stock memory kit, we can just replace both and upgrade to the KCP548SS8K2-32 to finally get a total of 32GB memory for our system.
Game Performance Comparison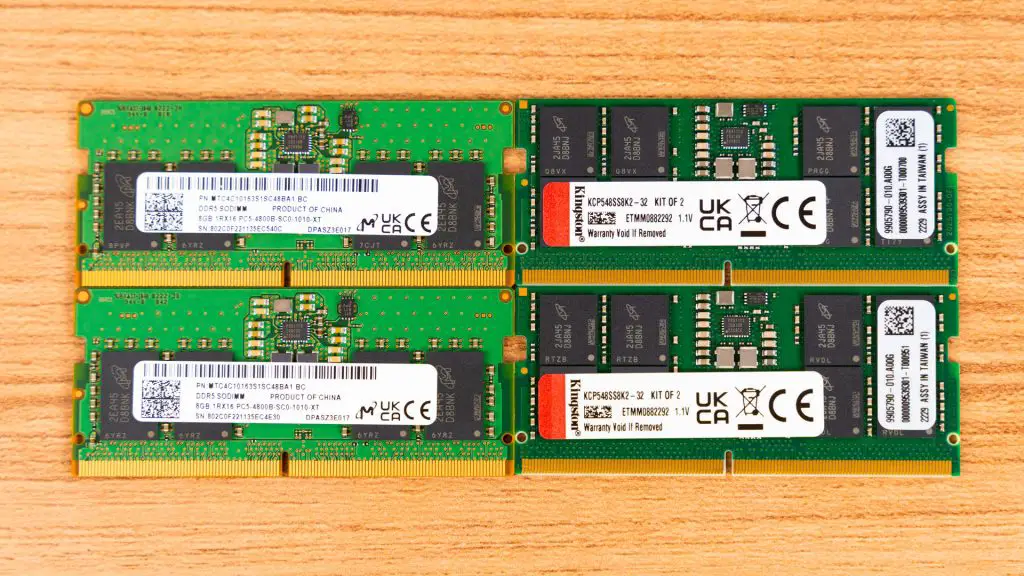 While the upgrade process is fairly simple, does it really makes any difference by going from 16GB to 32GB? Apart from the increased bandwidth that is obviously going to be unnoticeable unless you're working on tasks that will really utilize that, we've done a quick test with a few selected titles to see if that really matters when it comes to gaming.
No additional adjustments were done to the memory settings and both memory kits are running at the same speed of 4800MT/s. From the frame time graph above, we can definitely see the improvement with the KCP548SS8K2-32 where the graph appears to be more consistent as compared to the 16GB stock memory kit despite both kits running at the same speed. The result does vary by the titles played but overall, it's a reasonable improvement with just the increase in capacity alone.
It's true that it might not be that significant to some users but with the results we have, it's clear that the bigger capacity does have its impact on the performance and it's recommended to upgrade to a bigger capacity kit if you're looking for a better consistency in game performance. Or perhaps, an even faster kit if it's supported by your gaming laptop.
Verdict
Although the performance improvement is not like night and day, the improvement is definitely noticeable. Unlike desktop PCs that have plenty of options lying around, a high-performance DDR5 memory kit for gaming laptops is not easy to come by – and we haven't even looked into the compatibility list yet.
Memory kits like the KCP548SS8K2-32 are some of the easy ways out for those who are looking for a safe upgrade. Despite the looser timings, the more generic KCP548SS8K2-32 is much easier to come by and almost guaranteed to work as long as your system is on the supported list.