DRAM module isn't the first thing most of us will think of when the name Colorful is mentioned but they've been in the memory product industry for quite some time. We managed to get our hands on the CVN ICICLE RGB DDR5-6600 and have a fair amount of time to test, so here are the results of our hands-on test with the kit.
Specifications
| | |
| --- | --- |
| Capacities | 32GB Kit (16GB x 2) |
| Speeds* | 6600MT/s |
| Latencies | CL34-44-44-108 |
| Standard | Intel XMP 3.0 |
| Voltage | 1.4V |
| Operating Temperature | 0 °C to 85 °C |
| Dimensions | 133.38 x 43.39 x 8.96 mm |
Unboxing
This slideshow requires JavaScript.
The CVN ICICLE RGB DDR5-6600 ships in a rather simple package and unlike most of the memory kits we've seen so far, there is no information on the specs or any label that indicates the kit has an Intel XMP or AMD EXPO profile. That's probably something they can really look into, as having enough information on the package will make things easier for the end users as well.
This slideshow requires JavaScript.
The CVN ICICLE RGB DDR5-6600 comes with a bright silver heatsink, not a common choice of color but it actually pairs really well with the ROG Maximus Z790 APEX, which shares a very similar color scheme. You can, of course, pair it with other motherboards that have the same color scheme but I believe this is somewhat intentional.
Based on the frequency and timings of DDR5-6600 CL34-44-44-108, we can easily tell that Colorful is using the SK Hynix A-die memory ICs on the CVN ICICLE RGB DDR5-6600. As the SK Hynix A-die is renowned for its excellent overclocking headroom, you can expect to see some impressive results from this kit if it's paired with a motherboard that is specially designed for memory overclocking, and of course, a good CPU with a strong IMC as well.
Test System
| | |
| --- | --- |
| CPU | Intel Core i9-13900K |
| Motherboard | ASUS Maximus Z790 Apex |
| Memory | Colorful CVN ICICLE RGB DDR5-6600 |
| Graphics Card | NVIDIA GeForce RTX 4060 Ti |
| Power Supply | Cooler Master M2000 Platinum |
| Primary Storage | Kingston KC3000 2TB |
| Secondary Storage | WD Black 6TB |
| CPU Cooler | Cooler Master MasterLiquid PL360 Flux |
| Chassis | Cooler Master MasterFrame 700 |
| Operating System | Windows 11 64bit |
Memory Overview
Regardless of Intel XMP or AMD EXPO profiles, manufacturers are known to be quite conservative when it comes to the choice of frequencies and timings to ensure the best compatibility and stability. Depending on the quality of the memory ICs used, you can actually find a handful of DDR5 memory kits out there that can actually perform better if you're willing to invest some time in optimizing the memory frequency and timings.
This slideshow requires JavaScript.
Starting off with the XMP profile, the timings here is definitely better than the CL40 timings we've seen on the early DDR5 modules but the voltage is actually much higher than what the kit really needs at this frequencies and timings.
It might be different on other motherboards but we're able to get this kit working fine and passes our stability test using 1.38V for VDD and VDDQ. The memory controller and system agent voltage can be left on auto, but we've reduced it to 1.26V and 0.86V respectively.
This slideshow requires JavaScript.
If you only plan to work on the default frequency, DDR5-6600 CL30 is doable but we settled with CL32 instead as we couldn't get a stable TM5 and Karhu test with CL30. The voltage we're using for this is 1.4V on both VDD and VDDQ, 1.26V on the memory controller voltage, and system agent voltage at 0.86V.
This slideshow requires JavaScript.
Moving on to DDR5-7200, since it's using the same Hynix A-die as majority of the DDR5-7200 kit out there, you can achieve the same result easily with the XMP settings and very minimal adjustments to the voltage.
If you're going for lower CL and tRAS, higher system agent voltage and memory controller voltage is required. For our case, we're using 1.2V for the system agent and 1.3V for the memory controller. VDD and VDDQ is at about 1.45V, and VPP is set to 1.82V.
This slideshow requires JavaScript.
The highest we're able to achieve with the kit is at DDR5-8000 CL36, which is the highest we can get while having a 120mm fan blowing directly at the kit. As we can't really see any significant gain in game performance during our test, DDR5-7200 is probably the highest recommended settings for this kit right now.
Verdict
After seeing what the CVN ICICLE RGB DDR5-6600 is capable of, my only complaint now is the 3-year limited warranty which starts from the day of purchase.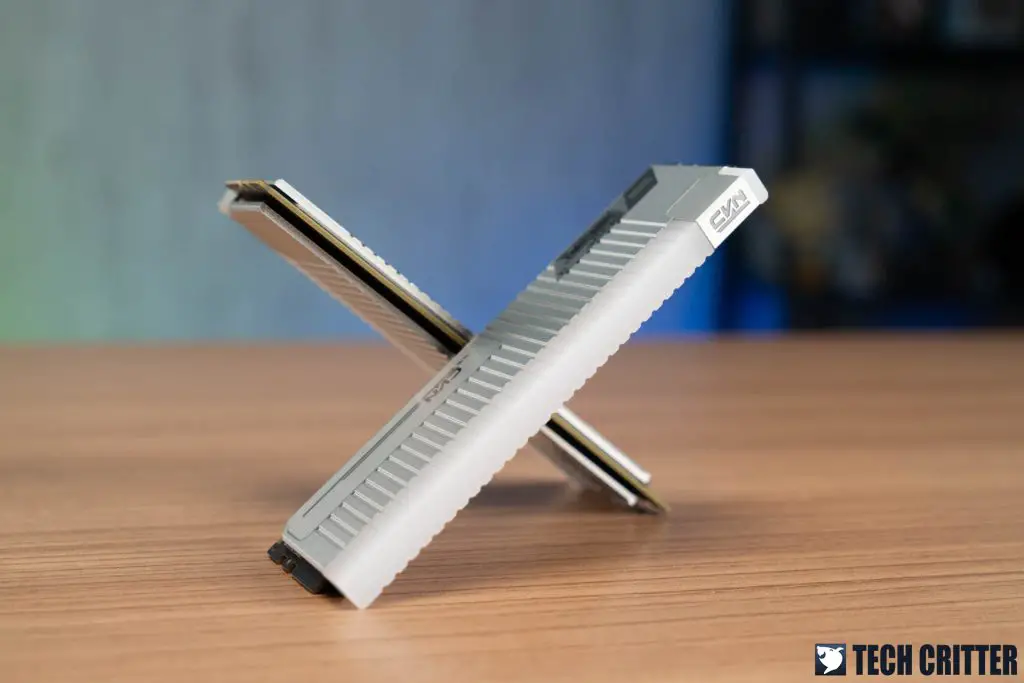 Just like majority of the Hynix A-die kits we've tested, the CVN ICICLE RGB DDR5-6600 offers a really promising overclocking headroom and it's actually one of the very few kits we've tested that can achieve DDR5-8000 with very minimal adjustments.
Even if you don't intend to push high on the memory frequency, tightening the memory timings from the rated XMP speed doesn't require too much effort as compared to some of the early DDR5 kits, which is actually a good thing. Though the results might vary, depending on the motherboards and the quality of the IMC you're using.
For the price of $105, the CVN ICICLE RGB DDR5-6600 is easily a noteworthy option for those who are looking for a decent DDR5 memory kit for not just overclocking purpose but possibly, gaming as well.