PCIe 4.0 SSD is getting more affordable nowadays and there are plenty of choices nowadays as compared to the time when it was first launched together with the AMD X570 chipset, the first to support PCIe 4.0 at that time. In this review, we'll be taking a look at the Patriot P400, a DRAMless PCIe 4.0 SSD that is equipped with InnoGrit's IG5220 controller and Micron's 176Layer TLC NAND flash. As all of the PCIe 4.0 SSD we've tested so far are equipped with a DRAM cache, we're looking forward to seeing how will the DRAMless Patriot P400 will perform in our usual tests.
Specifications
Capacity
512GB, 1TB
Interface
NVMe 1.3, PCIe Gen 4.0 x4
Controller
InnoGrit IG5220
Dimensions
80mm x 22mm x 22.1mm
Weight
9g
NAND
Micron 176-layer 3D TLC NAND
Operating Temperature
0°C to 70°C
Total Bytes Written (TBW)

512GB – 400TBW
1TB – 800TBW

Sequential Read/Write

512GB – 5,000/3,300MB/s
1TB – 5,000/4,800MB/s

MTBF
2,000,000 Hours
Power Consumption
Full:  2.38W, Idle: 0.38W
Warranty
Limited 3-year warranty
Overview
The Patriot P400 ships in the standard card package that is commonly used for a lot of SSDs nowadays, this also means that there are no extra accessories that come together with it. Looking at the specifications, the Patriot P400 is available in two different capacities of 512GB and 1TB, which is quite a bummer because most of the PCIe 4.0 SSD we've seen so far can easily go up to 2TB or more.
While it's technically the same as most of the M.2 2280 form factor SSD we've seen so far, it's actually equipped with a Graphene and Copper sheet heatshield which Patriot claims to provide better heat dissipation. On the PCB, you'll find all of the components of the Patriot P400 – InnoGrit's IG5220 controller and Micron's 176Layer TLC NAND flash.  Do note that in order to be able to look at the components on the SSD, tearing off the heatshield is required and we don't really see any reason for doing that if you're going to use it for the long term.
Test System Setup
Synthetic Benchmark
CrystalDiskMark
Developed by a Japanese coder that goes by the nickname Hiyohiyo, CrystalDiskMark is one of the most frequently used SSD Benchmark utility to measure SSD's read and write performance. There are 2 options for the test data used, compressible (0 fill) and incompressible (1 fill).
ATTO Disk Benchmark
The most frequently used benchmarking utility by many manufacturers for performance specifications. As ATTO Disk Benchmark uses compressible data rather than incompressible data, it results in higher benchmark scores.
AS SSD Benchmark
Widely used SSD benchmarking utility that uses incompressible data to simulate the worst possible scenario for an SSD. Therefore, giving a much lower sequential read and write speed result than what has been stated by the manufacturer as a result of the heavy workload.
Sustained Write Performance
Moving on to the sustained write performance, the Patriot P400 did okay with an average write speed of 2,286MB/s throughout the benchmark. The write speed started out at about 4,500MB/s and sustained for a while before dropping to about 462MB/s  as data is continued being written to the drive. Overall, I think it's not too bad for a DRAMless drive and it's actually performing better than some of the budget M.2 NVMe SSD that comes with an actual DRAM cache on it.
While we have yet to see any significant throttle with the SSD left without any 3rd party heatsink attached, it's recommended that you attached any heatsink that comes with your motherboard to reduce the chance of the SSD performance being held back by any potential thermal throttle. With the heatsink on our Maximus Z690 Apex installed, we're only seeing about 52-54°C max on the SSD load temperature, which is a lot lower than the 66-68°C range observed when the SSD is left without any 3rd party heatsink.
File Transfer Test
For this test, we're using different sizes of test data from 8GB to 64GB to see how well the drive performs with large files. The test scenario is as usual, in which the file copy test is done with the drive freshly formatted, followed by filling it up to at least 80% of its maximum capacity. We're also using another PCIe 4.0 SSD for this test so we can see how well it can actually perform when paired with another storage device that can deliver a similar performance.
File Copied to KC3000 from another PCIe 4.0 SSD (Write Performance)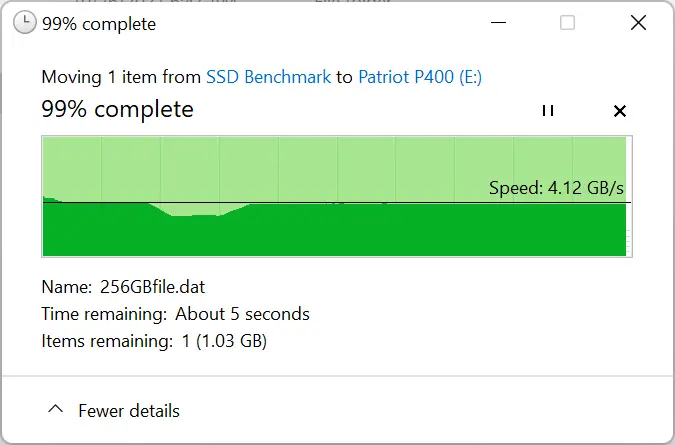 File Copied from KC3000 to another PCIe  4.0 SSD (Read Performance)
Compared to the long sustained write test we've seen in the synthetic test, the actual file copy performance that usually lasts for a short period of time is doing pretty okay even with the SSD filled to 80% of its total capacity. We can also see that the write performance is able to get pretty close to the advertised 4,800MB/s sequential write, but this is only when the file transfer is done between two very fast SSDs.
Final Thoughts
While it's true that many of us have seen RAMless SSD performance being capped due to not having a dedicated DRAM cache, that's not really the case for newer DRAMless SSD like the Patriot P400. I'm actually surprised upon knowing that instead of going with the mainstream controllers from Silicon Motion or Phison, Patriot actually went with the InnoGrit DRAMless controller for the P400, which is something we have yet to see on any other PCIe 4.0 SSDs. The result did turn out okay but I'm somewhat skeptical with all these Graphene and metal sheet heatshield or heatspreader, because the heatsink that comes with your motherboard is still clearly a better choice when it comes to cooling down the SSD.
As for the price, the Patriot P400 1TB has an official retail price is set at RM 739.00, which is not still not as affordable yet as the price is very close to the price of some cheaper models that come with an onboard DRAM cache. There are other PCIe 4.0 SSD with DRAM cache that comes at a higher price but as of now, I still find it a bit difficult to recommend it at the moment even though the performance is actually reasonable for most use cases. Hopefully, we'll be able to see some price adjustment from Patriot in the near future for the P400 to become more appealing to the end-users.
Pros
Reasonable performance despite not having an onboard DRAM cache
Reasonable TBW rating
3-year warranty from Patriot
Cons
Pricing, it's not cheap
Only come with two capacities (512GB, 1TB)
You will still need a heatsink for the SSD to avoid any potential thermal throttle
Subjective
The Graphene and Copper heatshield seems to be working?