Today's review is going to be straightforward. We have two SSDs with us – they're from the PNY CS2140 series of SSDs and both of them are PCIe Gen 4×4 NVMe SSDs that are using the standard M.2 2280 size. We have two capacities with us today to review – the 500GB and 1TB variants. Both of them will perform differently because that's the nature of how SSDs work.
So, we'll be doing an unboxing first then splitting the performance benchmarks into each individual SSD.
Unboxing
The packaging of these SSDs are of this kind and that means if you want to take out the SSD, you'll have to quite literally destroy the packaging. The advertised speed on the packaging is different for both the 500GB and 1TB version – which is a detail that I appreciate. Kudos to PNY for not trying to trick its customers.
A few things to highlight – this SSD comes with a 5-year warranty policy. At the back, we can see that there are a few more additional information and disclaimers. You can read them if you want.
Opening up the packaging reveals… only the SSD. Unfortunately, we do not have any spare SSD screws but that's okay since whatever enclosure or motherboard you want to install it on, should have provided those screws already.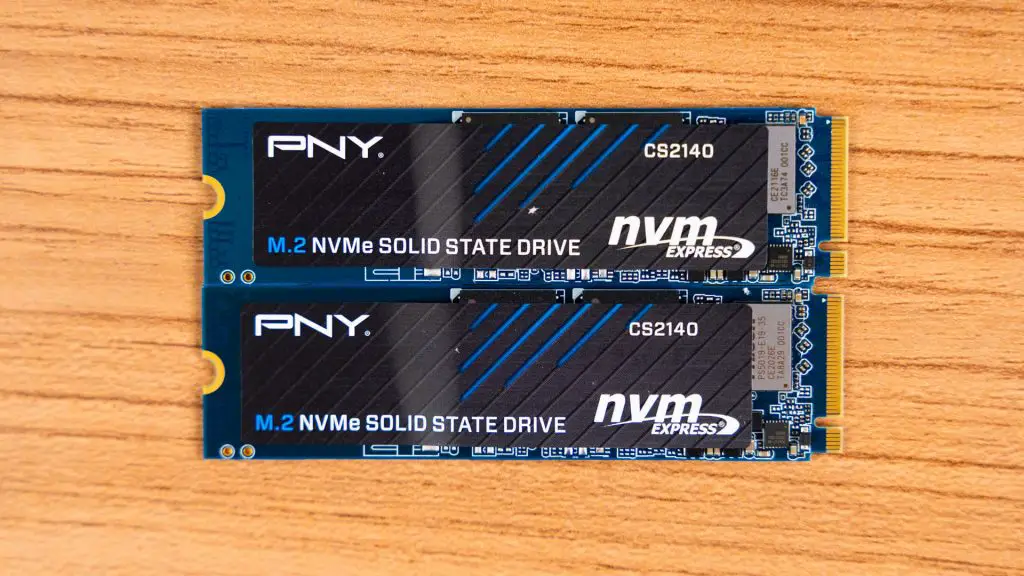 The SSDs themselves do not have any heatsinks or heatspreader stickers. If we peel it back a little, we can see that the SSD controller used on both the 500GB and 1TB models are using Phison E19T controller. This controller supports TLC NAND chips but  DRAMless cache.
As for the TLC NAND chips, I peeled back the 500GB version and revealed the IA7BG94AYA – which means it is using Micron's 176-layer 3D TLC NAND flash.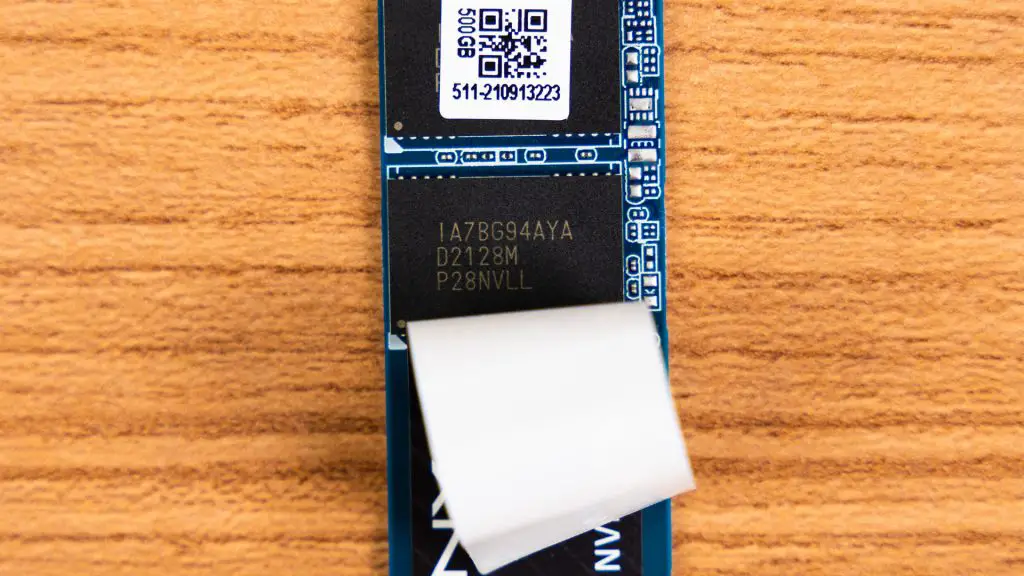 PNY CS2140 500GB performance test
We're using the very standard benchmark tools to measure its performance in this review. From what we know, the speed is definitely better than the high-end PCIe Gen 3×3 NVMe SSDs, but not by much.
The performance coming out of it – we can see that with the standard CrystalDiskMark benchmark, both read and write speeds are matching what's shown on the packaging. The random 4K read/write speeds are decent considering that this SSD doesn't have a DRAM.
As for the temperature, since this SSD doesn't have any heatsink or heatspreader, it goes up to about 75°C at most.
PNY CS2140 1TB performance test
Using the exact same benchmark tools and configurations as the 500GB, we can see that the write speed has improved drastically. Again, this is due to how SSDs have multiple NAND chips to essentially act as a RAID array.
As we can see, the vanilla CrystalDiskMark test reveals that the read and write speed is also in line with what is advertised on the packaging. One particularly interesting point to note is the 4K random write speed is within the margin of error when compared to the 500GB variant.
The temperature of this 1TB variant is (obviously) going to be higher since it is higher in terms of performance too. It can reach about 80°C which sounds concerning, but it's okay. Assuming that this SSD is installed on your motherboard, then there should be some airflow either from the GPU or by the case fans to move some air around. Even a light breeze can help in terms of heat dissipation.
Conclusion
Overall, the PNY CS2140 series of PCIe Gen 4×4 NVMe SSDs are pretty decent. They are indeed DRAMless to cut cost – and that is the most important point to take note of – the price.
The 500GB version goes for RM279 whereby the 1TB version goes for RM479. If we divide the price by its capacity, then this is the result that we get:
500GB @ RM279 = RM0.558
1TB @ RM479 = RM0.479
And this is where I think its a bit funny. Usually, there is a point of diminishing return when SSDs scale up in terms of storage capacity and price. However, this PNY CS2140 – going by the price that we've found on Shopee – is cheaper if we get the 1TB version.
But if you don't need that 1TB storage then I'd say – for the performance it offers, both of these SSDs are fantastic.
Where to buy? (Affiliate links)