Kingston has finally announced the KC3000 PCIe 4.0 NVMe M.2 SSD, the successor to the KC2500 which has served us very well over the past year. Aside from the higher capacity of up to 4096GB, the most notable upgrade you'll find on the KC3000 is, of course, the PCIe 4.0 interface for more speed, the latest E18 controller from Phison, and the 176-layer 3D TLC NAND flash from Micron to cater for users that is always hungry for a high-performance SSD. So without any further ado, let's get into it and see what kind of performance we can expect from Kingston's latest PCIe 4.0 SSD.
Specifications
Capacity
512GB, 1024GB, 2048GB, 4096GB
Interface
NVMe PCIe Gen 4.0 x4
Controller
Phison E18 (PS5018-e18-41)
Dimensions

80mm x 22mm x 22.1mm (512GB-1024GB)
80mm x 22mm x 3.5mm (2048GB-4096GB)

Weight

512GB-1024GB – 7g
2048GB-4096GB – 9.7g

NAND
Micron 176-layer 3D TLC NAND
Encrypted
XTS-AES 256-bit encryption
Operating Temperature
0°C to 70°C
Storage Temperature
-40°C to 85°C
Total Bytes Written (TBW)

512GB – 400TBW
1024GB – 800TBW
2048GB – 1600TBW
4096GB – 3200TBW

Sequential Read/Write

512GB – 7,000/3,900MB/s
1024GB – 7,000/6,000MB/s
2048GB – 7,000/7,000MB/s
4096GB – 7,000/7,000MB/s

MTBF
1,800,000 Hours
Power Consumption

512GB – 5mW idle / 0.34W avg / 2.7W (MAX) read / 4.1W (MAX) write
1024GB – 5mW idle / 0.33W avg / 2.8W (MAX) read / 6.3W (MAX) write
2048GB – 5mW idle / 0.36W avg / 2.8W (MAX) read / 9.9W (MAX) write
4096GB – 5mW idle / 0.36W avg / 2.7W (MAX) read / 10.2W (MAX) write

Warranty
Limited 5-year warranty with free technical support
Unboxing
Despite having a sleek and fancier design, the KC3000 still ships in the usual blister pack design that many of us are familiar with. As there is other information printed on the inside of the packaging, we'd recommend cutting a thin section of each side of the package if you want to read what's inside.
There's also a good reason to cut the package properly to access the SSD because you don't want to damage the label sticker with the free activation key for the included Acronis True Image HD license.
Apart from the greatly improved performance over its predecessors, the most notable addition to the KC3000 is the graphene aluminum heat spreader stick to the core components of the SSD. Speaking of the components, we didn't tear apart the graphene aluminum heat spreader because we wanted to see how well it can actually help to improve the heat dissipation but in case if you're still curious to know what's under it, here's a shortlist of the components used:
Phison PS5018-E18-41 controller
Rebranded Micon 176-layer 3D TLC NAND
2GB (almost) DDR4-2666 DRAM for caching
Test System Setup
Synthetic Benchmark
CrystalDiskMark
Developed by a Japanese coder that goes by the nickname Hiyohiyo, CrystalDiskMark is one of the most frequently used SSD Benchmark utility to measure SSD's read and write performance. There's 2 option for the test data used, compressible (0 fill) and incompressible (1 fill).
ATTO Disk Benchmark
The most frequently used benchmarking utility by many manufacturers for performance specifications. As ATTO Disk Benchmark uses compressible data rather than incompressible data, it results in higher benchmark scores.
AS SSD Benchmark
Widely used SSD benchmarking utility that uses incompressible data to simulate the worst possible scenario for an SSD. Therefore, giving a much lower sequential read and write speed result than what has been stated by the manufacturer as a result of the heavy workload.
Sustained Write Performance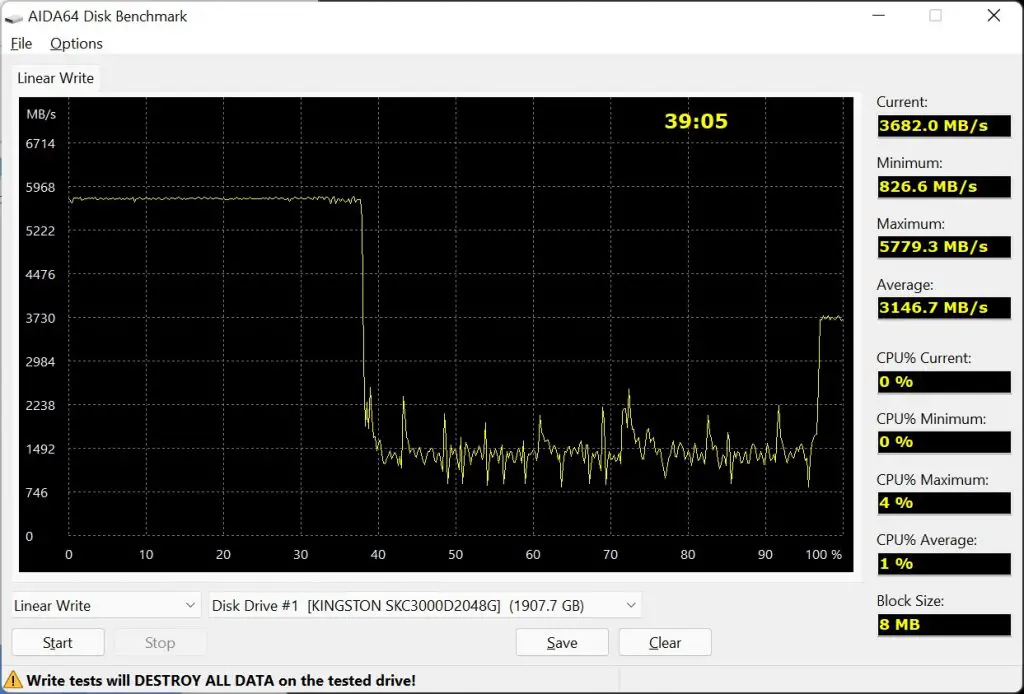 As for the sustained write performance, the KC3000 faired quite well with an average write speed of 3,146MB/s throughout the process, which is pretty decent I'd say. The write speed started out at about 5,779MB/s and sustained for quite a while until the cache is filled, then stayed at around 826MB/s while the test data continues. As soon as the cache is freed up a bit, we can see the write performance going up again to about 3,730MB/s range.
Although there's a thin layer of metal piece attached to the controller and other components on the KC3000, leaving the SSD without any 3rd-party heatsink attached will result in thermal throttle, which kicks in at around 70-75°C during heavy write tests and the performance drop is noticeable. Having a reasonable heatsink attached, for our case the heatsink that comes with the MSI MPG Z690 FORCE WIFI, the highest temperature recorded for the same set of tests is at around 50-54°C range.
File Transfer Test
For this test, we're using different sizes of test data from 8GB to 64GB to see how well the drive performs with large files. The test scenario is as usual, in which the file copy test is done with the drive freshly formatted, followed by filling it up to at least 80% of its maximum capacity. We're also using another PCIe 4.0 SSD for this test so we can see how well it can actually perform when paired with another storage device that can deliver a similar performance.
File Copied to KC3000 from another PCIe 4.0 SSD (Write Performance)
File Copied from KC3000 to another PCIe  4.0 SSD (Read Performance)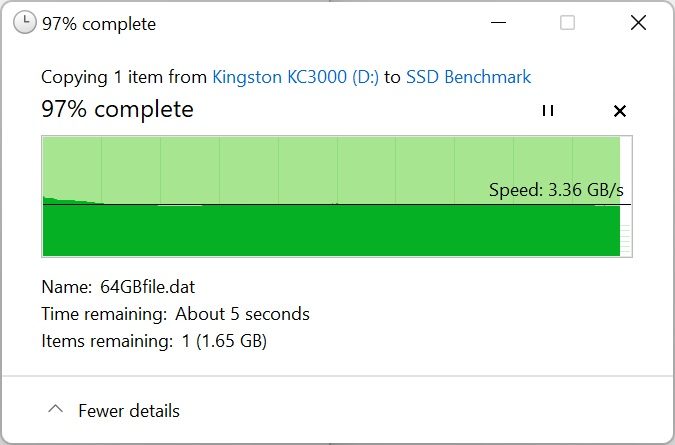 Unlike what we've observed in the synthetic sustained write performance, the file copy performance seems to be doing very well and we can barely see any kind of performance drop even with the capacity filled to 90% of its maximum capacity.
Final Thoughts
Price-wise, the Kingston KC3000 it's not the most expensive around but it's not the most affordable either when it comes to PCIe 4.0 SSD. According to the price listed on Kingston's official store, the KC3000 costs RM 2,099 ( RM 1,824 after discount) but the heatsink that comes with it is rather disappointing despite how great it is described because it doesn't really help with the heat dissipation at all and an M.2 heatsink is required to allow the SSD to perform at its best without hitting thermal throttle when dealing with heavy read and write operation. Though it's not really a serious issue because most of the motherboards that support PCIe 4.0 will sure to come with at least one M.2 heatsink on them.
As for the performance, the Kingston KC3000 performs really well and it's definitely one of the fastest PCIe 4.0 SSD we've tested so far. Equipped with the Phison E18 controller, Micron 176-layer NAND flash, and the large cache, the KC3000 delivers reasonably consistent performance when it comes to sustained write, which is a difficult feat for many of the existing PCIe 4.0 SSDs aside from having a blazing fast read performance. This makes the KC3000 a fair choice for gamers, enthusiasts, or even content creators who want the best for their system when it comes to the overall performance.
Pros
Decent performance
Large DRAM cache
Comes with a free license key for Acronis True Image HD software
Available in up to 4TB capacity
5-year warranty from Kingston
Cons
Not cheap
A dedicated M.2 SSD heatsink is required