Dell Malaysia has revealed a bunch of new monitors for both conference and general use alongside several PCs, all made to enable a better home and actual office environment as the world either continue embracing hybrid workforces or returns to square one.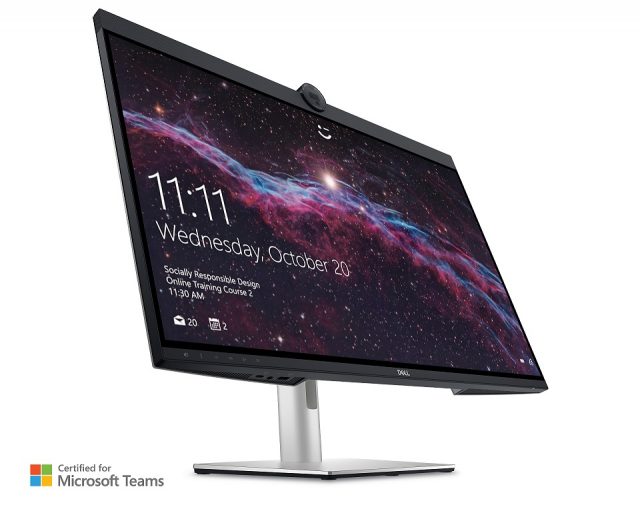 First, we have the gorgeous UltraSharp 32 4K Video Conferencing Monitor that provides the best video calling experience with intelligent functions. The mid sensor in the middle is a 4K Sony Starvis CMOS sensor and combines Dell's smart AI auto framing, Digital Overlap HDR, and  3D/2D Video Noise Reduction, you'll be sure that the center of attention will always be you when you're speaking. You may also tilt the camera to decide how much you want the surroundings to be captured via a selection of camera angles at 65°, 78°, and 90°.
It's not to say that only the webcam is professional class because the panel is also quite good. Running at 4K resolution with 98% DCI-P3 gamut and VESADisplayHDR 400 certification, enjoy some great videos and movies during your off time with the same monitor at your disposal.
If you want to be productive, it easily matches that aspect too by allowing two 4K monitors to be connected by daisy-chaining and the plethora of USB-C and Ethernet ports coupled with the KVM function makes it one of the penultimate displays for non-gaming usage to date.
On the other hand, if you need a second screen on the go with you at all times, the new 14 Portable Monitor effectively doubles your productivity with the extra screen estate. The FHD IPS panel will not be as taxing towards the battery life while viewing angles are guaranteed. The plug-and-play design enables it to be connected seamlessly via USB-C so as long as your machine has that port and supports downstream, you're good to go.
Aside from these couple of displays, Dell also showcased the 34 Curved Video Conferencing Monitor and 24 Video Conferencing Monitor if the first one doesn't suit your needs and instead you're finding a curved and larger display or a smaller and flat one. Both are great for their price point and the features set they offer.
Not doing any video calling and just a basic grunt? Then perhaps the Dell 24 monitor is good enough with ComfortView Plus reducing eye strain and 99% sRGB coverage basically meaning you'll get decent colors even for the year 2022.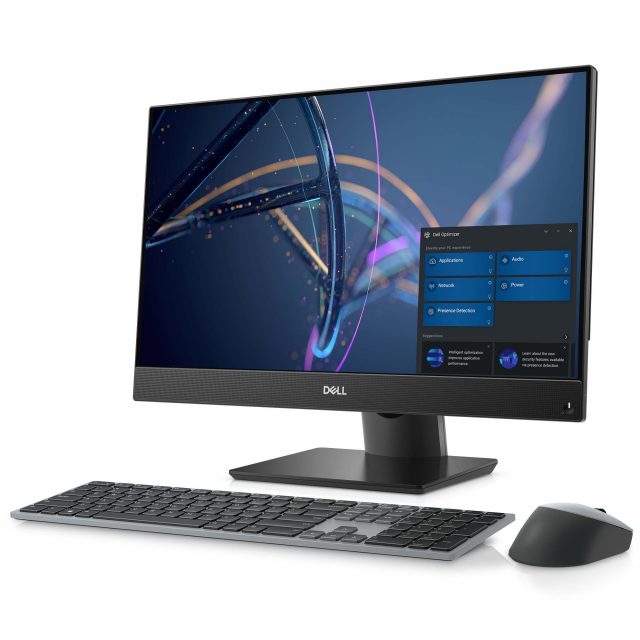 For the business side family OptiPlex, the OptiPlex 5400 AIO PC easily lets you set up a usable desktop environment anywhere you go as all you need is a power outlet. And courtesy of Dell, the package includes a mouse and keyboard by default so it is really a full set PC, ready to contribute the moment you unbox it. Inside of the 23.8-inch display, the 12th Gen Intel Core CPU powers through your entire day easily.
Ditching the monitor and the new OptiPlex 3000 will be the best candidate for providing low-powered machines in a small form factor chassis at an attractive price point. Running Intel's 12th gen T-series CPU, if all you need to do revolves around documentation and simple web surfing, this will be your best friend.
To keep your OptiPlex Micro Desktop and Dell monitor clean and tidy while consuming as little space as possible, the OptiPlex Micro AIO Stand will do that job for you as not only does it have a handle for easy grabbing and moving around, but you can also pivot, tilt, or adjust the monitor to your best likings.
Starting Price and Availability
For those who are eager to get one of these, your eagerness will be rewarded as Dell Malaysia has made every single thing within this post available starting today at the following base price tag over at their official website.
UltraSharp 32 4K @ RM 7,149.00
14 Portable Monitor @ RM 1,499.00
34 Curved Video Conferencing Monitor @ RM 8,179.00
24 Video Conferencing Monitor @ RM 1,439.00
24 Monitor P2422H @ RM 999.00
OptiPlex 5400 All In One @ RM 3,880.29
OptiPlex 3000 Micro Form Factor @ RM 2,158.95
OptiPlex Micro AIO Stand @ RM 404.32