When it comes to knowing the latest tech products, nothing beats the best experience of getting to experience the new technology directly from the vendors themselves. Today, we're given the golden ticket to pay a visit to the head office of ViewSonic which located in New Taipei City, Taiwan.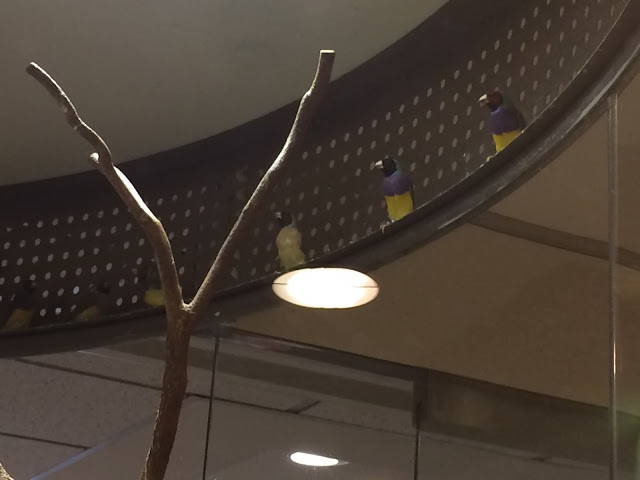 Greeted by the lovely mascots of ViewSonic, tweedly-deet!
Highlights
While there's a ton of interesting products on display during our visit, we spotted few pieces of technology that we personally think that is worth to be highlighted as per following.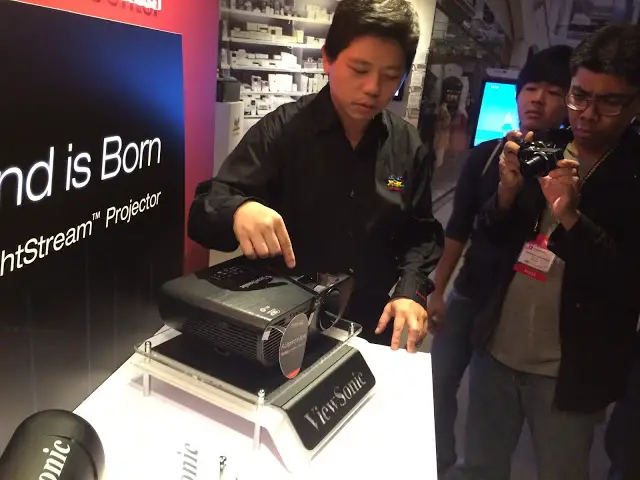 ViewSonic staff briefing us on the specifications of ViewSonic's latest LightStream Projector, the PJD5153. 
Up close view of the ViewSonic PJD5153 LightStream, the metal brushed finish tickles our interests the most.
 but also outputs louder in volume when compared side by side with one of its competitor's product. There's 3 sound profiles powered by SonicExpert technology: Standard, Movie, Music for that perfect atmosphere you need.
The PJD5153 outputs 3,300-lumen lamp with a 20,000:1 contrast ratio with DynamicEco® for clearer and brighter images compared to competitor's product, all thanks to ViewSonic's proprietary SuperColor™ Technology offers a wider color range than conventional DLP projectors. As shown in the picture above, ViewSonic's exclusive color wheel design (right) is able to provide a much better color accuracy compared to the color wheel design (left) of conventional DLP projectors. 
While it's not something that we would have in our home, ViewSonic has made a great setup to display how their NMP-302w HD Wireless Network Media Player can be put to a good use to benefit our lives other than being just another media player for you to enjoy your favorite movies and dramas.
As we enters the digital era, classroom teaching evolves from the traditional blackboard-chalk teaching to a more interesting multimedia based teaching where students enjoys animated objects moving around the screen. What if, you can interact with what's on the screen instead of just watching it moves by itself? At ViewSonic, they show us how this can be done.
Monitors has been a necessity for almost everyone who uses a computer and it advanced to the mobile phone users with the announcement of MHL standards. The ViewSonic VX2363Smhl-W is among the monitors that supports MHL input that allows you to connect it to your mobile phone and output what's on the screen of your mobile phone directly to the monitor.
While 4K resolution display is yet to redefine the mainstream HD standard, the 30Hz refresh rate limitation on most 4K monitors we've seen to date falls as a major concern to most users, especially gamer who wants to enjoy both high quality graphics and the minimum 60Hz refresh rate which they're fond with when gaming on a 1080p monitor. The ViewSonic VP2780-4K we're seeing here supports the latest HDMI 2.0 standard that allows new generation high end graphics cards to output smoother graphics on 60Hz refresh rate – NVIDIA GTX Titan X users ready? 
Here's another 4k resolution display from ViewSonic, the VX2475Smhl-4K. We've experienced the difference while playing the Call of Duty: Ghost, the satisfaction is guaranteed!
Last but not least, gaming monitor! G-SYNC has been around for quite awhile but it's not widely seen on the market due to the higher cost of G-SYNC implementation and it's only applicable to NVIDIA GPU powered graphics cards. 
Early of this year, AMD announced its own adaptive sync technology named FreeSync. It offers similar solution as the G-SYNC to minimize tearing issue while giving minimal impact to the performance, but with lower implementation cost compared to G-SYNC.