When it comes to picking the right NAS for your business or personal use, there's a list of brands that you can choose from. Synology is among those brand that offers feature rich NAS with a very user-friendly user interface.
In today's review, we'll be looking at the Synology DiskStation DS216+ that was just launched back in January 2016, mega thanks to Synology for providing us a unit of the DS216+ 2-Bay NAS for today's review!
(The Synology DiskStation DS216+ retails at $300, which is about RM 1319 incl GST)
Specifications
Hardware Specifications
CPU
CPU Model
Intel Celeron N3050
CPU Architecture
64-bit
CPU Frequency
Dual Core 1.6 burst up to 2.16 GHz
Floating Point
Hardware Encryption Engine (AES-NI)
Hardware Transcoding Engine
H.264 (AVC), MPEG-2 and VC-1; maximum resolution: 4K (4096 x 2160); maximum frame rate per second (FPS): 30
Memory
System Memory
1 GB DDR3
Storage
Drive Bay(s)
2
Compatible Drive Type(See all supported drives)
· 3.5″ SATA III / SATA II HDD· 2.5″ SATA III / SATA II HDD

· 2.5″ SATA III / SATA II SSD

Maximum Internal Raw Capacity
16 TB (8 TB HDD x 2) (Capacity may vary by RAID types)
Maximum Single Volume Size
108 TB
Hot Swappable Drive
?
External Ports
USB 2.0 Port
2
USB 3.0 Port
1
eSATA Port
1
USBCopy
?
File System
Internal Drives
· Btrfs· EXT4
External Drives
· Btrfs· EXT4

· EXT3

· FAT

· NTFS

· HFS+

Appearance
Size (Height x Width x Depth)
165 mm x 108 mm x 233.2 mm
Weight
1.25 kg
Others
RJ-45 1GbE LAN Port
1
Wake on LAN/WAN
?
System Fan
92 mm x 92 mm x 1 pcs
Fan Speed Mode
· Cool Mode· Quiet Mode
Wireless Support (dongle)
?
Brightness adjustable front LED indicators
?
Power Recovery
?
Noise Level*
18.2 dB(A)
Scheduled Power On/Off
?
Power Supply Unit / Adapter
60W
AC Input Power Voltage
100V to 240V AC
Power Frequency
50/60 Hz, Single Phase
Power Consumption*
17.57 W (Access)
7.52 W (HDD Hibernation)
British Thermal Unit
59.99 BTU/hr (Access)
25.68 BTU/hr (HDD Hibernation)
Environment Temperature
Operating Temperature
5°C to 40°C (40°F to 104°F)
Storage Temperature
-20°C to 60°C (-5°F to 140°F)
Relative Humidity
5% to 95% RH
Certification
· FCC Class B· CE Class B

· BSMI Class B

Warranty
2 Years
Notes
· Power consumption is measured when fully loaded with Western Digital 1TB WD10EFRX hard drive(s).· Noise Level Testing Environment: Fully loaded with Seagate 2TB ST2000VN000 hard drive(s) in idle; Two G.R.A.S. Type 40AE microphones, each set up at 1 meter away from the Synology NAS front and rear; Background noise: 16.49-17.51 dB(A); Temperature: 24.25-25.75°C; Humidity: 58.2-61.8%
DSM Specifications( See more )
Storage Management
Maximum Internal Volume Number
256
Maximum iSCSI Target Number
32
Maximum iSCSI LUN
256
Supported RAID Type
· Synology Hybrid RAID· Basic

· JBOD

· RAID 0

· RAID 1

RAID Migration
Basic to RAID 1
Volume Expansion with Larger HDDs
· Synology Hybrid RAID· RAID 1
Volume Expansion by Adding a HDD
Synology Hybrid RAID
File Sharing Capacity
Maximum User Accounts
2048
Maximum Groups
256
Maximum Shared Folder
256
Maximum Shared Folder Sync Tasks
4
Maximum Concurrent CIFS/AFP/FTP Connections
256
Windows Access Control List (ACL) Integration
?
NFS Kerberos Authentication
?
Data Protection Manager
?
Maximum Snapshots per Shared Folder
64
Log Center
?
Syslog Events per Second
400
Add-on Packages(See more)
Antivirus Essential
?
Antivirus by McAfee (Trial)
?
Audio Station
?
Central Management System
?
Cloud Station
?
Maximum Concurrent File Transfers
256
Cloud Sync
?
Directory Server
?
DNS Server
?
Download Station
?
Maximum Concurrent Download Tasks
80
Glacier Backup
?
HiDrive Backup
?
iTunes Server
?
Java Manager
?
Mail Server
?
Mail Station
?
Media Server
?
DLNA Certification
?
Note Station
?
Photo Station
?
RADIUS Server
?
Surveillance Station
?
Maximum IP cam (Licenses required)
25 (including 2 Free License) (See All Supported IP Cameras)
Total FPS (H.264)*
750 FPS @ 720p (1280×720)
300 FPS @ 1080p (1920×1080)
160 FPS @ 3M (2048×1536)
100 FPS @ 5M (2591×1944)
Total FPS (MJPEG)*
300 FPS @ 720p (1280×720)
120 FPS @ 1080p (1920×1080)
90 FPS @ 3M (2048×1536)
60 FPS @ 5M (2591×1944)
Video Station
?
Video Transcoding
4K Group 1 (See more)
Maximum Transcoding Channel Number
1 channel, 30 FPS @ 4K (4096 x 2160), H.264 (AVC) or 3 channel, 30 FPS @ 1080p (1920×1080), H.264 (AVC)/MPEG-2/VC-1
VPN Server
?
Maximum Connections
20
Notes
Surveillance Station throughput is tested with Axis network camera, using continuous recording with live view from Surveillance Station and motion detection by camera. Live view and recording are sharing the same stream from the camera.
Environment & Packaging
Environment
RoHS Compliant
Packaging Content
· Main Unit X 1· Welcome Note X 1

· Accessory Pack X 1

· AC Power Adapter X 1

· AC Power Cord X 1

· RJ-45 LAN Cable X 1

Optional Accessories
· Camera License Pack· VS360HD
Unboxing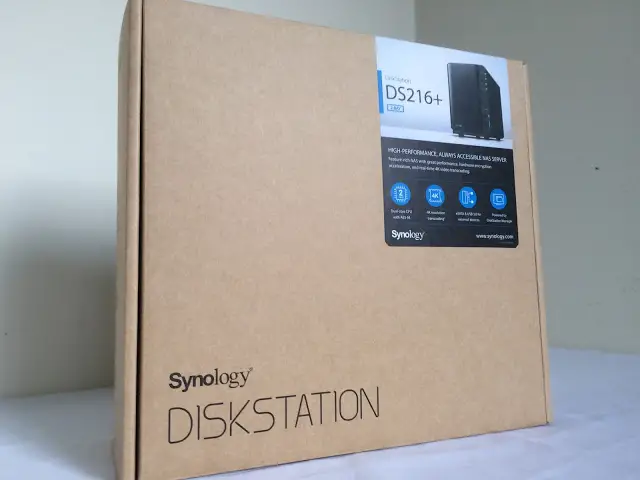 Synology keeps things simple for the DS216+ by shipping it in a recycle-able cardboard box that saves both the cost and the environment.
Some highlighted features of the DS216+ that give users some idea of what they can do with it if it's the first time they came across a NAS.
The included accessories are pretty basic, a power cord, AC to DC adapter and a CAT5/e Ethernet cable.
The DS216+ view from the front; on the top right you'll find the LED indicators for you to monitor the status, 1 x USB 3.0 port at the front for your convenient if you have something to share from your USB storage devices, a one-touch-copy button (green C) for quick and easy content backup from your USB storage devices to the NAS storage drives and the power button which is pretty much self-explanatory.
Removing front bay cover reveals the 2 drive bays for your hard drives, but the unit itself doesn't come with these hard drives – you'll have to buy the drives on your own. There's a few brands of hard drives you can choose from, our choice for NAS storage is the WD Red drives that is specially designed for this very purpose and it's backed by a 5-year limited warranty from WD.
Side view of the of the DS216+ unit.
At the back of the DS216+, you'll find an exhaust fan that helps to exhausts the heat that's trapped inside the confined space of this compact NAS, 2 x USB 2.0 port for other purposes such as a wireless dongle, an Ethernet port, a Kensington's security lock slot for security reasons, an eSATA port for quick external access to your drives and the DC-in port that is responsible for powering up the entire DS216+.
Setting Up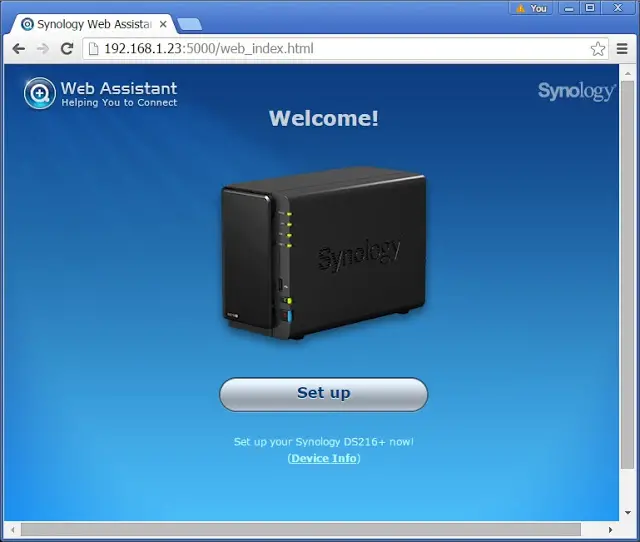 The DS216+ isn't a plug and play unit and you are required to setup the device before it can be used, but no worries on that as the installation wizard is very user-friendly and you'll be done with the setup before you even know it.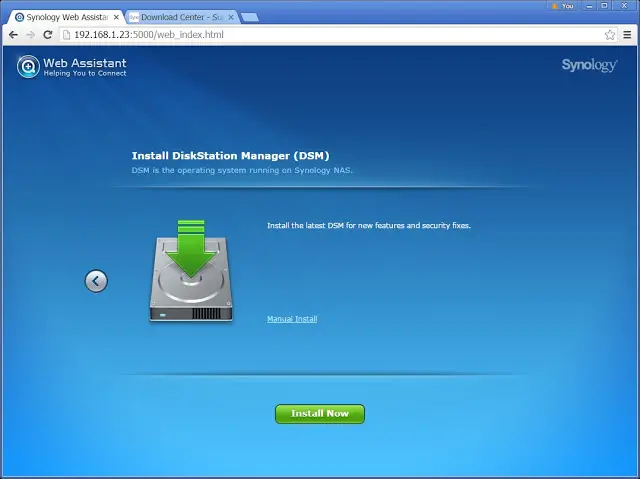 You can perform manual install if you prefer to stick with an older version of the DSM (DiskStation Manager), else you can just proceed with the latest version of DSM from Synology. In our case, we're installing the latest DSM 6.0 to find out what kind of new feature we can expect from it.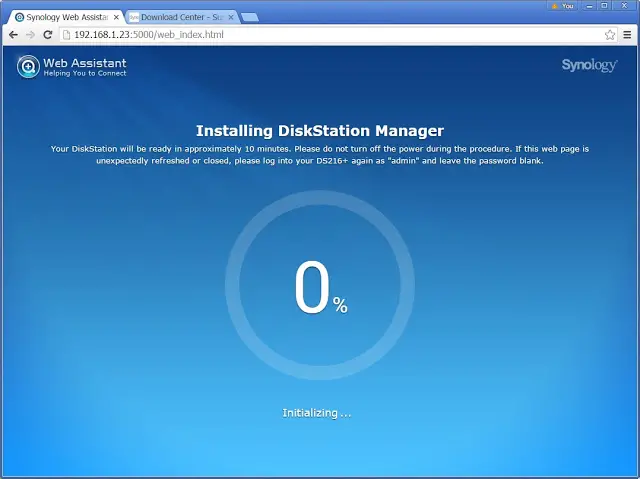 The installation will take a while to complete.
Once it's done, you'll be guided through the remaining steps.
Fill in the necessary details such as the server name that you want it to be shown as in your local network, the username for the admin account and a strong password. How can I know if the password is a strong one? Well, there's a password strength indicator there which you can refer to.
Configure the DSM update settings to your personal preference.
Configure the QuickConnect ID for your ease of access from somewhere outside of your local network, it's optional though and you can skip it if you don't need this feature.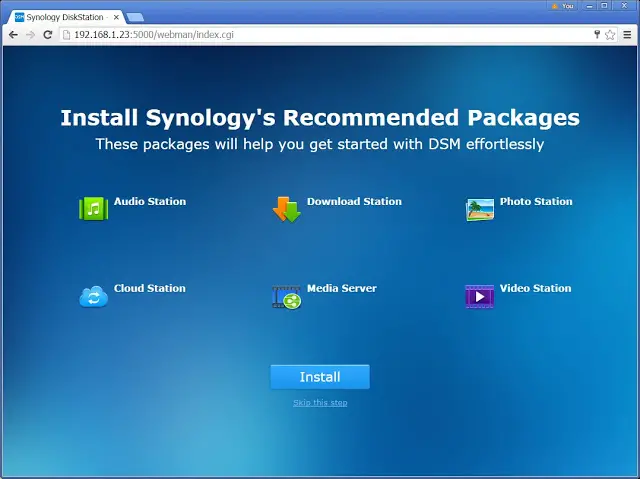 That's pretty much all you'll need to do for the initial setup. At the end of the installation wizard, a list of recommended package will appear on the screen and you can choose to install now or save it for later.
Once that's done, you're good to go with your newly configured NAS!
The User Interface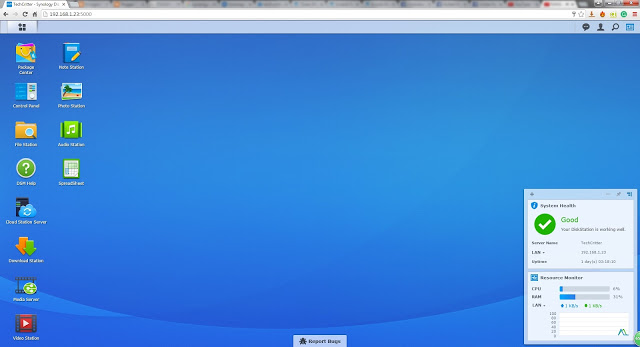 If this is your first time with Synology's DiskStation, that's a desktop you're looking at now on your web browser. The DSM or DiskStation Manager that we've installed earlier is the operating system for the DS216+ and it is the foundation of Synology's DiskStation that is based on the Linux Kernel.
The packages that we've installed at the end of the installation wizard is something like an App you install in your smartphone or the program you install on your operating system to access a specific function.
The Menu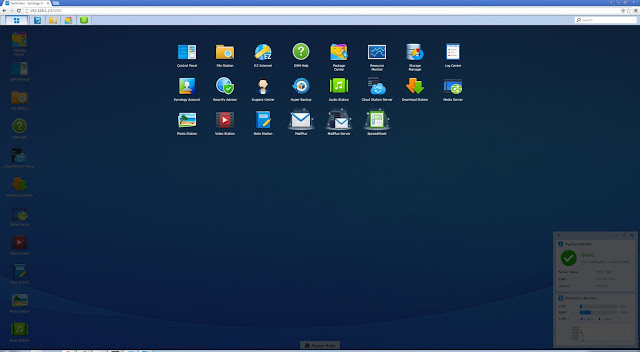 To access the packages installed, click on the start menu button on the top left and a menu with a list of the packages installed will appear. If there's a package that you need to access much more frequent, you can actually drag the icon to the desktop as a shortcut.
Package Center
If you need more that what's available with the packages you've installed earlier, there's a ton of packages that's available in the Package Center for you to choose from. Here's some of the packages that we find it useful for our work and would love to recommend you to give it a try:
Cloud Station
The cloud station offers features that allows you to create a cloud service of your own. What makes this package great for those who is on a business trip who needs the latest version of a document to be available as soon as changes are done. There are software for PC and apps for smartphones and tablet that will automatically sync with the cloud server (the DS216+) so you can always have the latest version of the document available on your smartphone, tablet or laptop whenever you need it.
Cloud Sync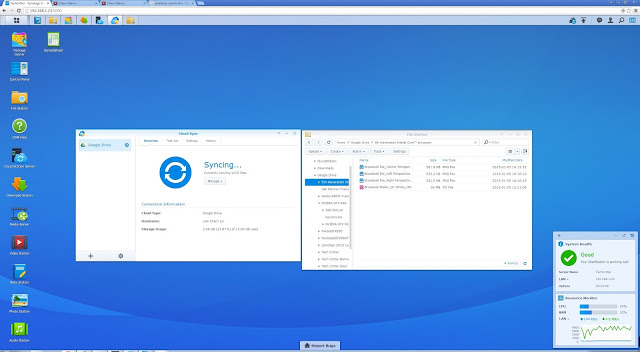 Have most of your data stored in cloud services like Google Drive, Dropbox? Link 'em all up with the Cloud Sync package and you'll get the exact copy of all your documents on both sides with ease.
Note Station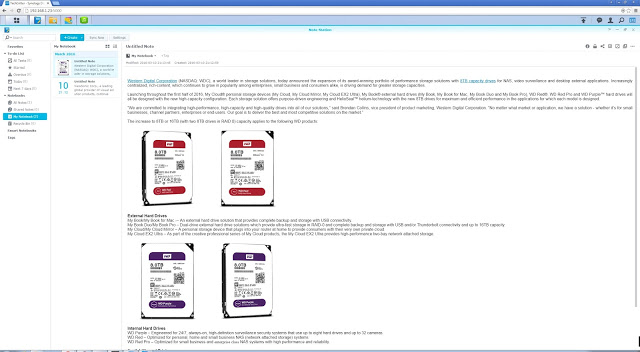 Who would have thought of having such feature on a NAS? Create content-rich notes and make it easily accessible from any devices anywhere whenever you need them. It has a surprisingly rich editing features that allow you to easily grab content from the web and paste it into the note or perhaps snap a photo from your tablet or smartphone and insert it into your note – endless possibilities for you to explore and this makes it a great package for those who create content on-the-go.
SpreadSheet
Here's one of the new package that is also our favorite, SpreadSheet. We've been sticking to Microsoft Excel to keep track of our hardware review data for future reference but writing down the numbers on a piece of paper or recording it in our smartphone or tablet isn't that favorable as it requires 2 times of work to trace back these record and insert it into the list of XLS we have. With the SpreadSheet now available, we can now save a lot of time and effort by having those data recorded directly into the spreadsheet via smartphone or tablet in real time.
Download Station
Have a huge bunch of things you wanted to download but leaving you PC overnight to handle the download doesn't seem to be the long term solution? Need to monitor your download status while you're away from your PC? Well, say goodbye to those hassles when you have the Download Station installed. You can download files from the internet ranged from HTTP, FTP, BT, eMule, Thunder, etc with the DS216+ using Download Station and manage them through Synology's DS Download app on your smartphone or tablet.
File Station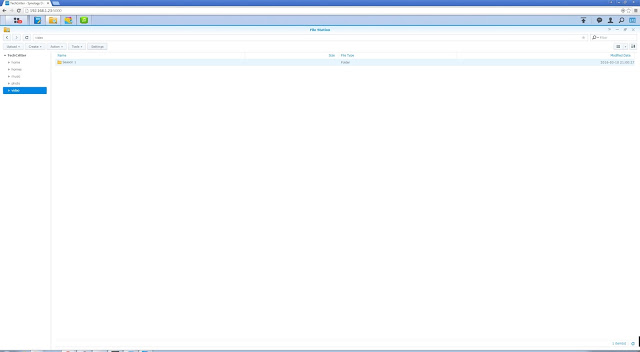 The File Station is already installed from the beginning and you don't have to install it separately. File Station is something like the Windows Explorer on Windows-based OS where you can explore the directories available, manage the files available, set the permission to files and directories for different users.
One of our personal favorite features of the File Station is its ability to link to cloud services like Dropbox, Google Drive so we can access its content directly on the File Station. Another feature that we favor is the document viewer which is something similar to the one on Google Drive that allows you to view the document directly on the File Station.
Photo Station
Wanted to share your photos with your friends and family, or perhaps to the world but not convinced enough to having your photos hosted by a 3rd-party provider? If that's the case, the Photo Station might just be the right solution you need – given that the internet package you've signed up has that much of bandwidth you need.
Video Station
Have a big list of movies, dramas, TV shows, etc in your drive but finding for the video you wanted to watch from a labyrinth of folders bores you? If that's what you're experiencing now, we'd recommend you to give the Video Station a try. Not only that you get to organize your movies, dramas, TV shows into a beautiful list that pleasures your eyes, it also comes with a powerful transcoding feature that does the job on the fly so you don't have to worry about video format that is not supported by the device you're playing the video on.
If you're planning to download the video to your device instead of streaming it from the DS216+, you can now pre-transcode that video and then download to your device using Synology's DS Video app – 4K transcoding anyone?
Final Thoughts
If you would ask us to rate the user-friendliness of the DS216+, we'd say that's a 8 out of 10. Given that you have an intermediate experience with computers, setting up a NAS using low cost alternative by running FreeNAS on a PC still requires a lot of work and time if you want to get something similar to run on it. With the DS216+ and DSM 6.0, you'll will pretty much get everything done in minutes as what you will be doing at most is only installing the necessary packages, upload the files you need to the drives and some minimal configuration that is fully guided by the installation wizard.
We're very happy with what's offered on the DSM 6.0, lots of great features that can be set up in such a short time. You can have your own cloud service with all the latest version of your document synced to all your devices, creating content-rich notes on the go, sharing photos professionally, your own professional looking video streaming library and more, at the cost of $300 or approximately RM1319. If you're one of those who just getting started with NAS and need all these features that's offered by the DS216+ for your home office or personal use, we'd say that paying $300 for the DS216+ is actually a very good investment that worth the money.
Pros
Sturdy metal enclosure
User-friendly and interactive web UI
Very easy to setup
Lots of awesome packages that can be installed from the Package Center
Supports USB Wireless dongle for wireless connection
Cons
Expansion is limited to only 2 hard drives