So we have another new line of peripherals to consider in 2016, a new brand based on a well-known e-sports team, Fnatic dubbed as "No BS Gaming Gear". We were at the launch of the peripherals last January (you can check that out here) and we're thankful for Fnatic Gear Malaysia for sending over the Flick, an optical sensor gaming mouse in their lineup for today's review.
Specifications
MCU/Processor: Holtek HT68FB560
Main switches: Omron
Sensor: PixArt ADNS 3310
Memory: 256 kB
Resolution: 5000 CPI
Frames per second: 6500
Tracking speed: 130 IPS
Max acceleration: 30g
Report rate: Adjustable, up to 1000Hz
Max acceleration: USB 2.0, Gold plated
(2 m braided cord)
System Requirements
Windows® compatible
Available USB port
10 MB free space on hard drive
Warranty Terms
2 Year Warranty from purchase date
Packaging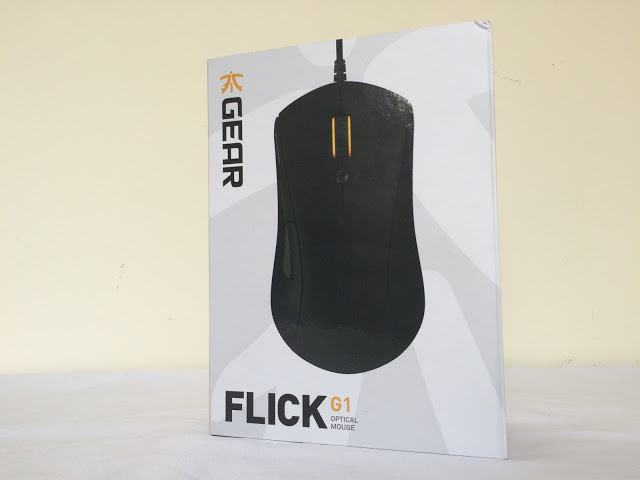 The Fnatic Gear Flick comes in a simple stylish packaging with no aggressive marketing gimmicks, thumbs up for that.
You can find the prominent features of the mouse highlighted at the back of the box.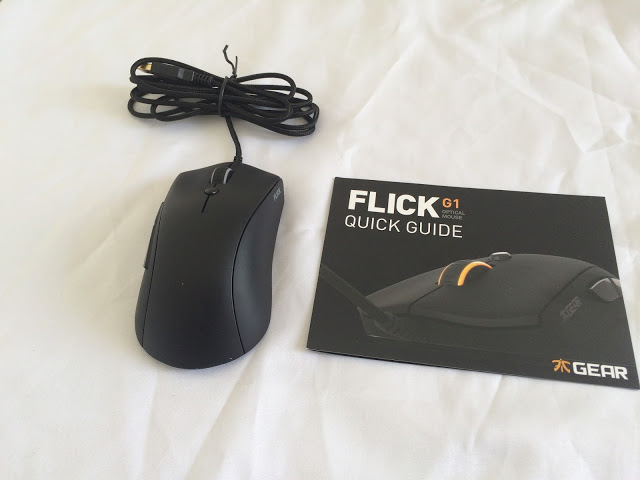 The content, a quick guide for starters and the Fnatic Gear Flick gaming mouse.
The first impression we have? Fnatic Flick is an ambidextrous gaming mouse alright, except for the side buttons. If you've been following Fnatic's growth back then, you'll probably aware that the gaming gears they've been using for the past few years are none other than the one and only SteelSeries – As most of SteelSeries's gaming mouse is made ambidextrous, does that rings the bell now?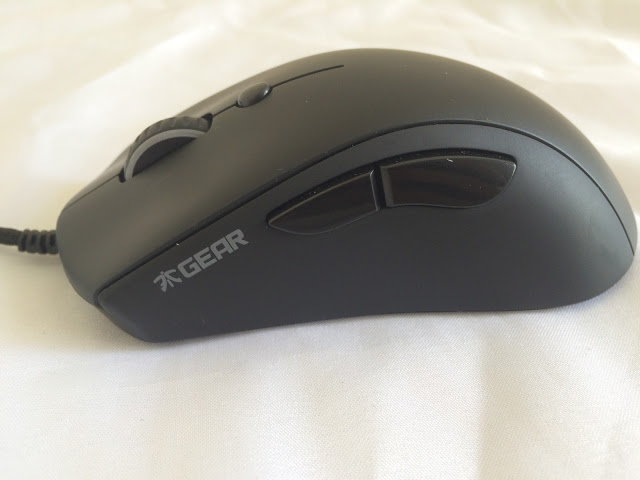 The side buttons are large enough and easily accessible by your thumbs.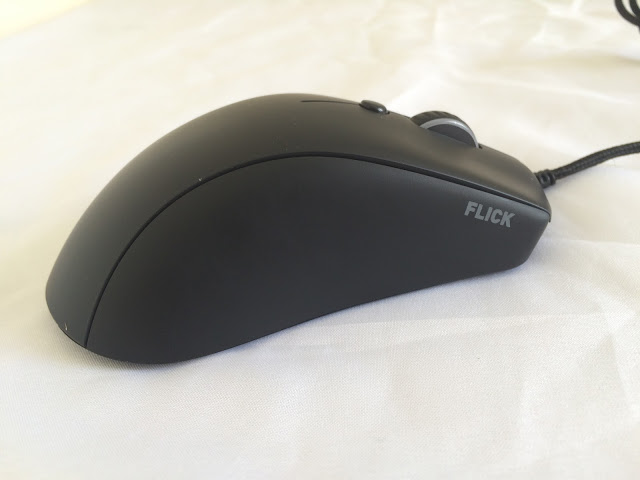 Ambidextrous but just not quite there yet. While Fnatic has been quite fond of SteelSeries's mouse design, the Flick doesn't actually comes with side buttons on both sides of it.
The Scroll wheel is surprisingly good we'd say, the solid scroll and clicks is just right on the spot. The left and right click, however, is a totally different story. The clickiness of both left and right click is rather heavy to the touch, not the kind of crispy clicks that we're familiar with.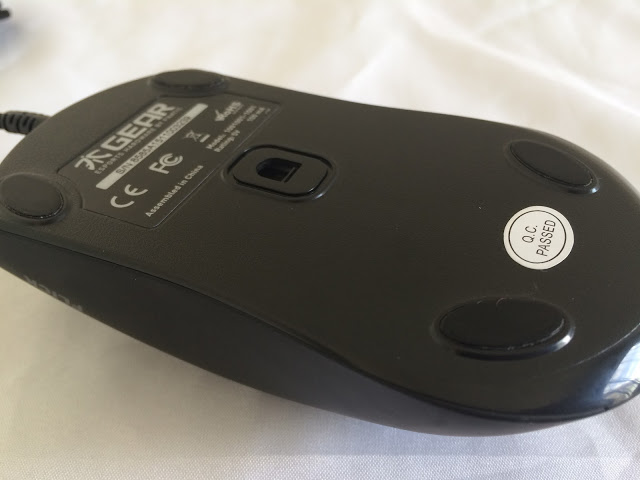 The Fnatic Gear Flick is equipped with the PixArt ADNS 3310 Sensor that is capable of up to a total of 6400 DPI.
Software
A maximum number of 3 profile is available for few different configuration to suit your needs. The GUI is very simple and straightforward, you're able to adjust up to 3 level of CPI and basic necessity such as the pointer sensitivity, double click speed, scroll speed, as well as the USB polling rate at the profile tab with ease.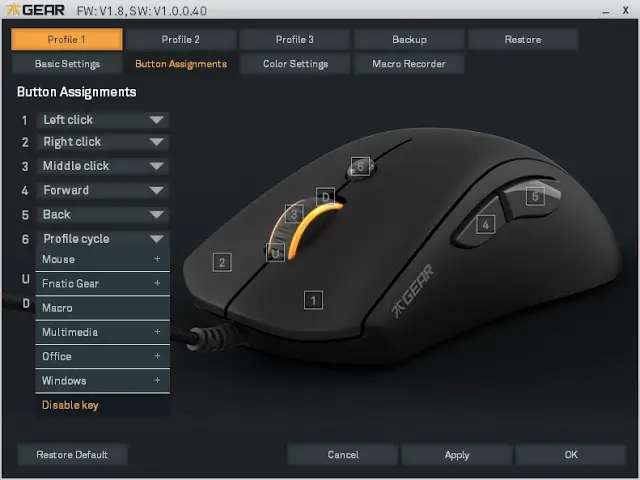 Button assignments are very straightforward and easily comprehensible, we have no issue with assigning the buttons we need with the features available.
LED adjustments feature is pretty easy to handle, but the modes available is pretty limited. Will Fnatic include more LED modes in its future update? we certainly hope so, as for now, you're stuck with on/off and color cycle.
Like most gaming mouse software we've tried previously, the software for the Fnatic Gear Flick comes with macro recording feature. As this is Fnatic's very first attempt to create their own gaming peripherals, the macro recording feature is very basic and limited as of now and Fnatic needs to work harder to perfect their macro recording feature in order to compete with other existing brands on the market.
User Experience
We've tested the Fnatic Gear Flick  on one of our favorite FPS game, Far Cry 4 and here's what we think about it, tip to the end:
Glide: There's nothing much we can complain here, the Fnatic Gear Flick glides smoothly on both cloth and hard mat alike.
Grip: The Fnatic Gear Flick isn't the kind of mouse for users with large palm. For those with large palm, the claw grip method is your only resort – ouch. While for those with a smaller palm,  you can pretty much go for any grip of your choice.
DPI Button: The DPI toggle button is fairly easy to reach with minimal movement on the index finger and is less prone to be triggered by accident.
Weight: The Fnatic Gear Flick is a fairly light mouse to us and there's no adjustable weight available – Do have a test before purchasing it if you prefer something heavier.
Profiles and Macros: While you're able to toggle between 3 different profiles and a decent macro execution time, we find the macro recording feature to be very limited. Unlike the macro recording feature we've used to deal with, you can only record a set of key combinations without the delay between keys feature, macro loop.
Verdict
As a new player in the gaming peripherals market, Fnatic Gear will need to exert the best effort in order to stand out as a worthy gaming peripheral brand. The team needs to work harder on it in order to be able to compete with the existing gaming peripheral brands, especially for the software which now, still isn't as robust as what we've seen on other brands.If we put the software aside, the build quality of the Flick is pretty good in overall and the matte finishing on the main body is a great compared to the rubber finishings on most gaming oriented mice we've used so far.
Retailing at the price of RM219, the Fnatic Gear Flick is a little pricey if you would consider on the software and macro feature limitations as of now. But If that doesn't actually bothers you much, we'd say it's worth to consider to go for it as the build quality and design of the Fnatic Gear itself is already worthy enough to earn our silver award here at www.tech-critter.com.
Pros
Feels great to the touch and last longer with the use of UV coating
Powerful Pixart ADNS 3310 optical sensor that allows a wide range of DPI selection
Tracks well on both cloth and hard mat
Easy to use software
Cons
Could have include more custom modes for the RGB LED
Macro recording feature is very limited